Yonex works hard to introduce new advanced technologies so that they can stay in the limelight. Their VCORE series is one of the most popular among professional & non-professional players for the improved features. Yonex VCORE 98 is slightly better than the previous Yonex VCORE 100 model. Yes, expecting groundbreaking changes from this racquet is very unlikely.
I've been using this racquet for the past three weeks as my primary racquet. As per my experience, this racquet provides more excellent maneuverability, and it's easier to swing freely compared to the previous model. This modern racquet has numerous features to talk about & I'll be discussing them in the next Yonex VCORE 98 review section.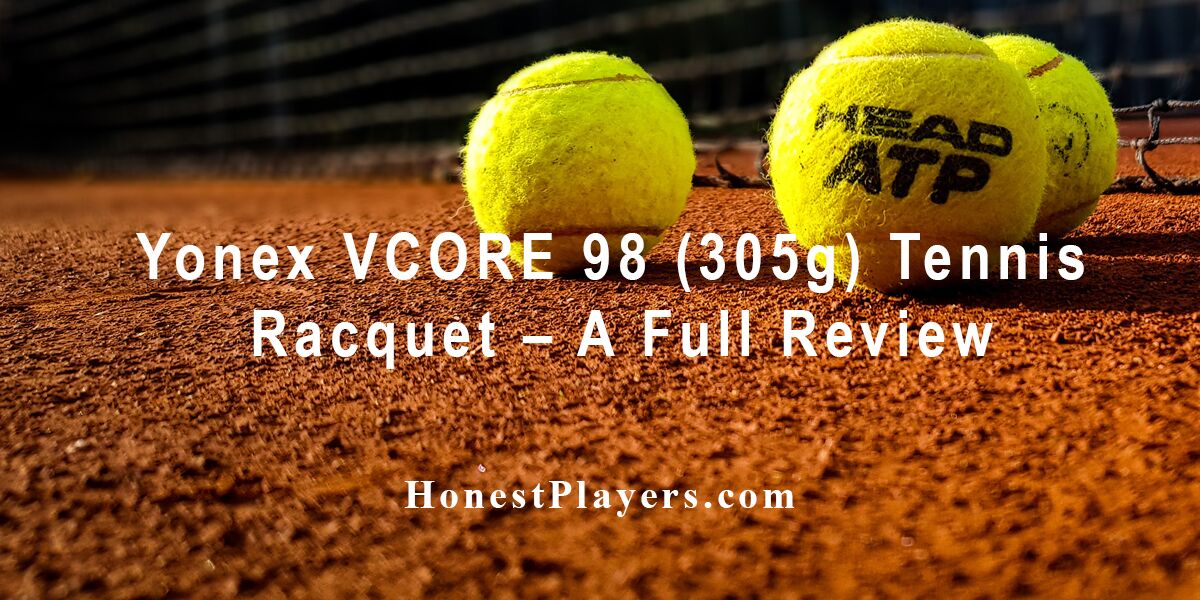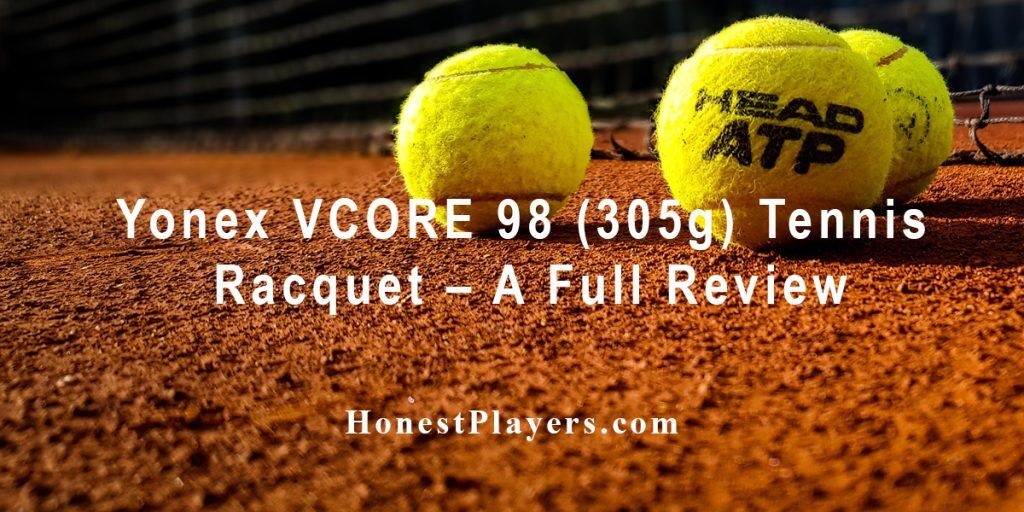 Table Chart of Page Contents
This is a spin-focused racquet with many exciting features like – NAMD Build, Aero Trench Technology & Larger Sweet spot. Stay tuned as I'll be explaining the key features & my personal experience with them. Also, I'll be adding simplified pros & cons in the end so that you can decide whether you need this racquet or not.


NAMD & NanoMetric Carbon Construction: Enhances Response & Feel
This tennis racquet is made for the pros – intermediate & advanced players. That doesn't mean it can't have sturdy build quality as we know, beginner racquets are the toughest & heaviest racquets. That being said, this racquet features NanoMetric XT Carbon construction. This carbon fiber technology enhances the response & feel of this racquet.
The technology stated above helped make this an incredible racquet without adding much weight. It weighs only 305 grams unstrung & 323 grams strung. Besides NanoMetric XT, this racquet is empowered by NAMD. It's just another feature that makes this racquet great from the flexibility perspective. NAMD will provide optimal frame snapback with each contact with the ball, which feels great.
Aero Trench Grommet Technology: Ensures Faster & Thinner Frame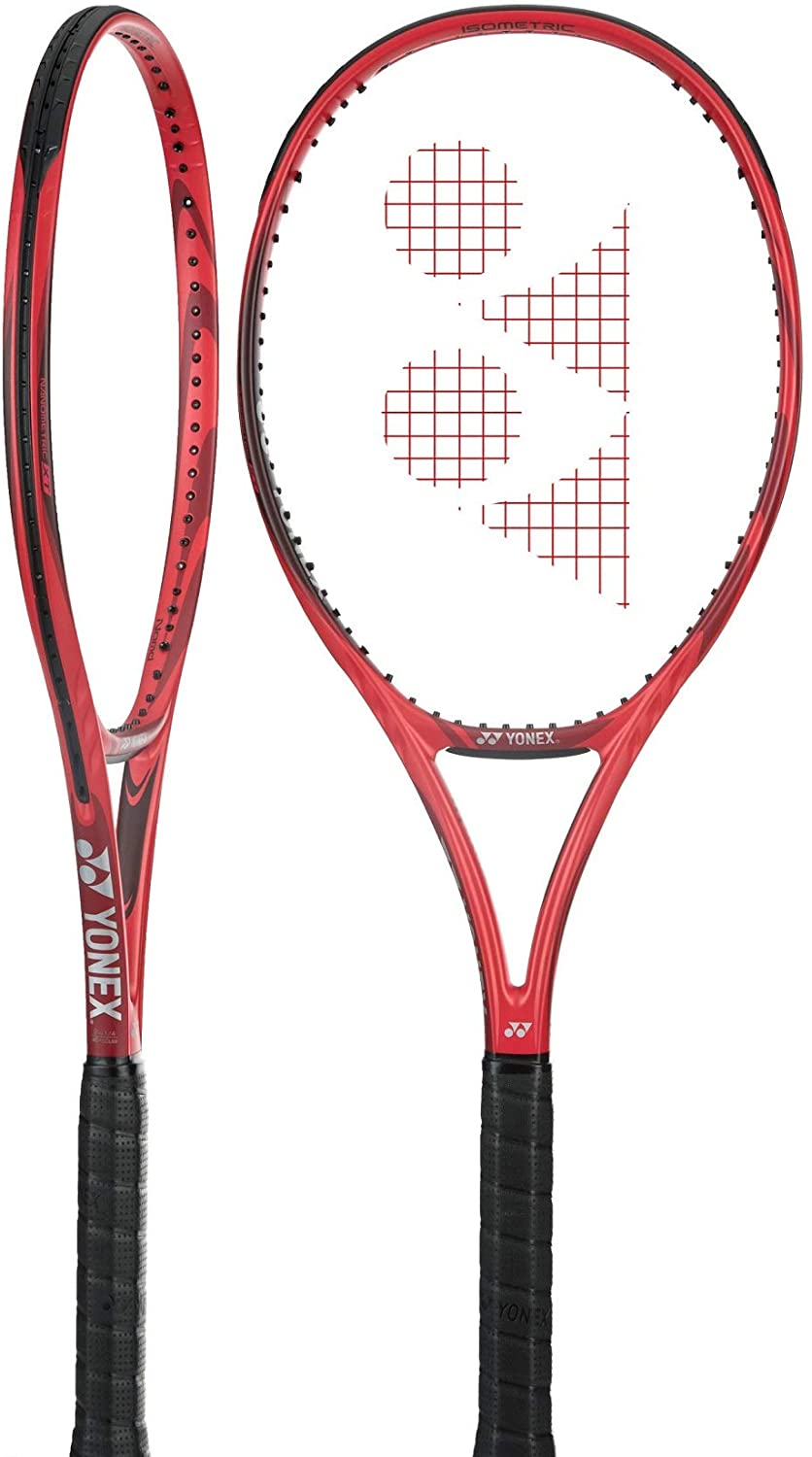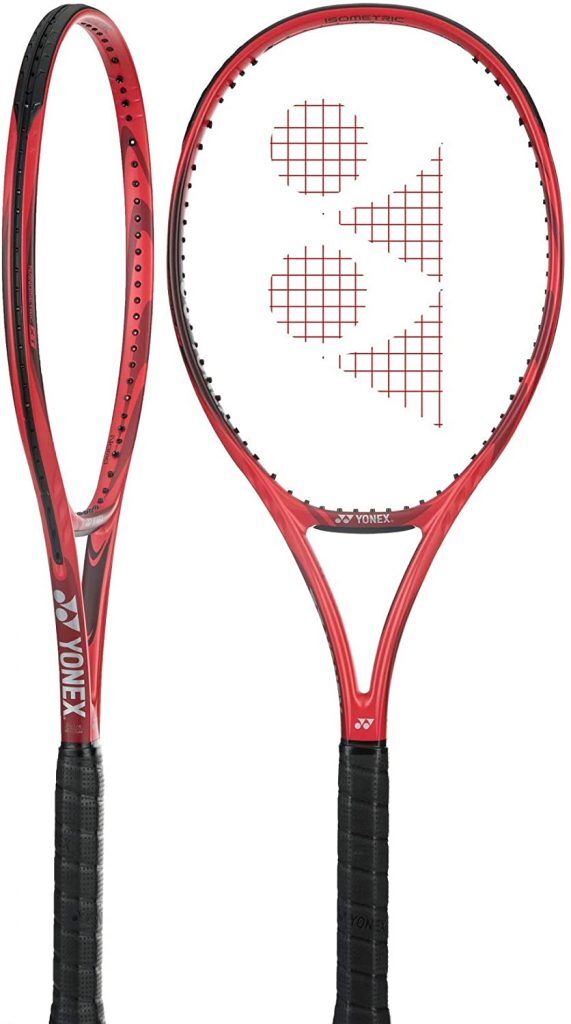 The swing speed of this racquet is excellent. It provides medium to fast swing speed by reducing wind drag. This incredible faster frame is made with Aero Trench Grommet technology. Also, you'll be enjoying medium to full stroke as well with this racquet's built-in technologies. All these features make this a superb racquet to have despite whether condition.
Not only reducing wind drag, but this technology also helps with making the frame thinner than others. The Yonex VCORE 98 Tennis Racquet has a 98sq.in the head with a thin beam width dimension of 22mm/22mm/21mm. It's a fast & balanced racquet that any individual will love to play with. My experience with this racquet is entirely satisfactory as it provided me great swing with a 12.79inches balance.
48% Larger Sweet Spot: Comes In Isomeric Square Head Shape
Larger sweet spot conquers baseline playing. If you're a baseline player, then you can't resist loving this 48% larger sweet spot. This racquet features ISO technology, which allowed this to be much larger in the sweet spot. Also, it comes with a string pattern of 16 mains by 19 crosses. They have revised the crosses from 20 to 19 to have more control over the ball.
Yonex VCORE 98 is a 27 inches racquet with a 48% larger sweet spot & string pattern of 16 mains by 19 crosses. Besides the extended sweet spot, this racquet comes with other incredible features like – OPS, 3D Vector Shaft & Aero Trench Grommet, making this a perfect choice for intermediate to advanced players.
I'm personally fond of baseline playing. Holding this racquet feels excellent, and the playing experience was incredible while serving topspin with plenty of swings. Though this racquet is specialized for intermediate to advanced players, controlling wasn't an issue as it features a decent blend of control, power & feel. You will get a similar feel at the Yonex EZONE 98 Tennis Racquet.
OPS & 3D Vector Shaft: Improves Stiffness & Reduces Vibration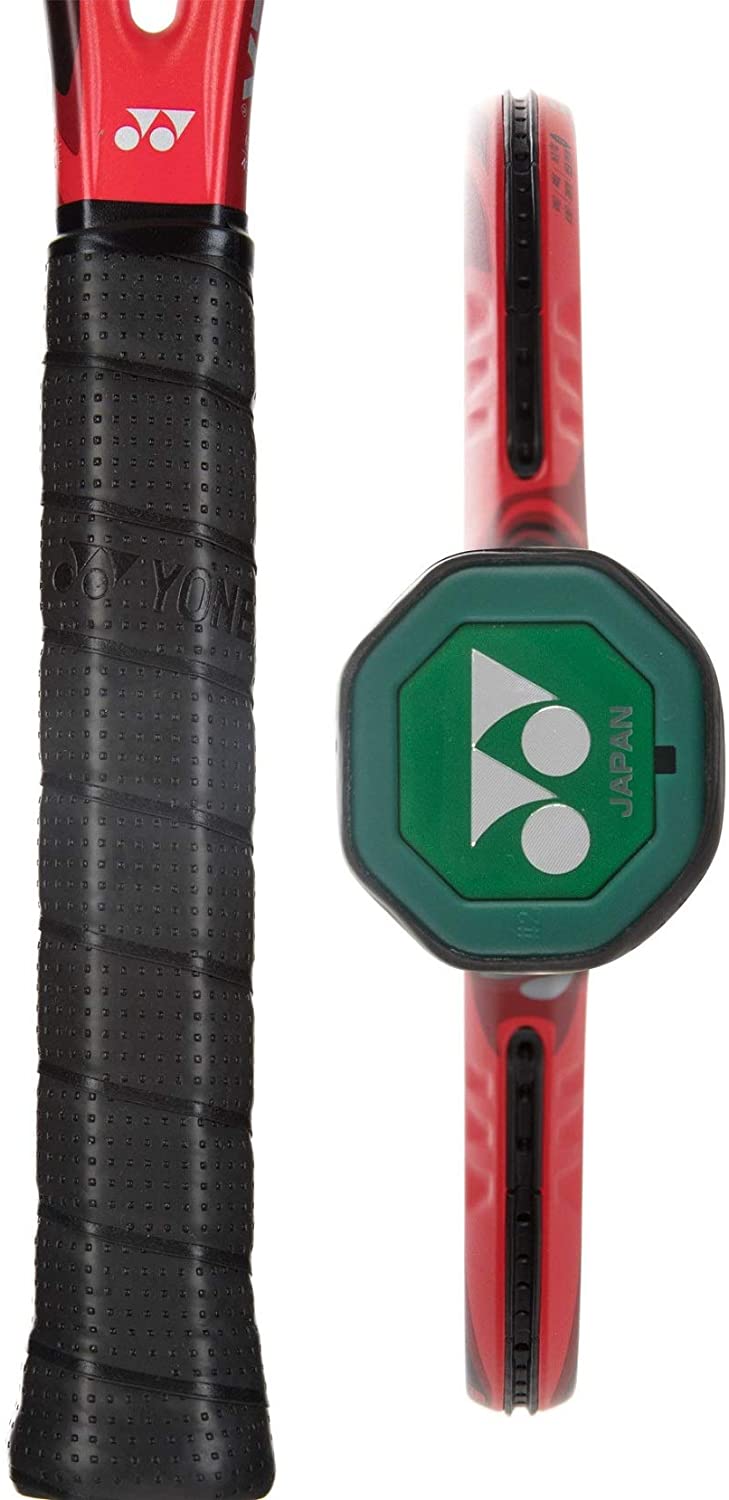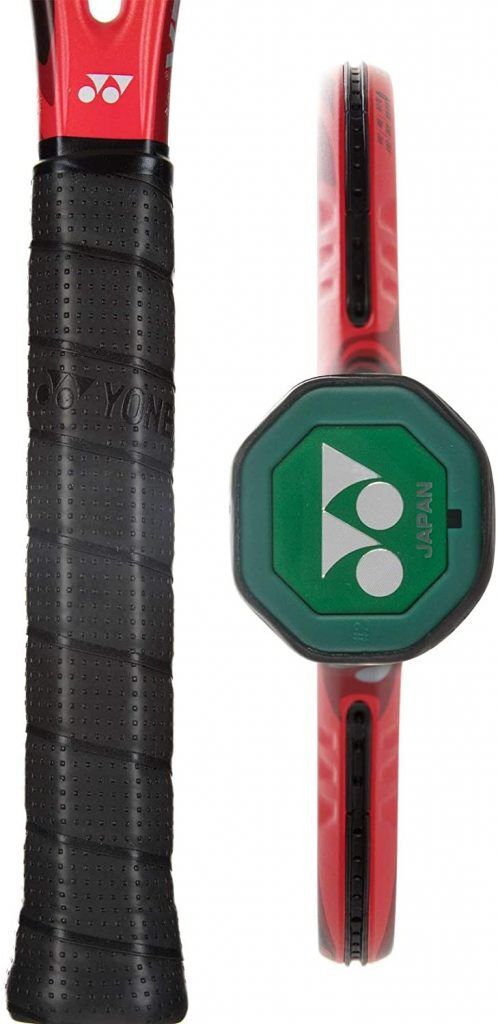 Whether you're playing a tournament or just flexing with local players, you'll be power playing in both defense & offense. That can lead to acute arm pain if your racquet is lacking in vibration absorption technology. Fortunately, Yonex VCORE 98 features OPS (Oval Pressed Shaft) technology that flexes the shaft on ball impact. This feature, along with Yonex Synthetic grip, reduces unwanted vibration for a pain-free gaming experience.
Besides OPS technology, this racquet also comes with a 3D vector shaft. This technology improves racquet stiffness (65) & reduces twisting by grooving deep in the shaft. Overall, this thin-beamed racquet provides excellent performance with medium-fast swing speed. Whether you're up to spin or controlled gameplay, this racquet will give the best gaming experience possible.
PROS
• Lightweight Under $230 Racquet, Made With Spin In Mind For Intermediate To Advanced Players.
• Comes With Oval Pressed Shaft: A Vibration Reducing Technology
• Great For Offensive & Baseline Playing: Comes With Thin & Stiff Frame
• Has a 48% Larger Sweet Spot That Helps Serving & Returning Aggressive Balls
• Excellent Build Quality Ensures Perfect Blend Of Power & Control

CONS
• Though It Performs Excellently In Offensive, Lacks In Defensive Mode
• Not Suitable For Beginners For Price & Power Level

Frequently Asked Questions – FAQ
Is Yonex VCORE 98 arm friendly?
Yes, Yonex VCORE 98 is arm friendly because it features OPS technology & Synthetic grip.
Oval Pressed Shaft (OPS) minimizes vibrations. Also, factory factory grip enhances user's comfort, that's why I can state Yonex VCORE 98 is an arm friendly racquet.
How will Aero Trench Grommet Technology benefit me?
This technology reduces wind drag for faster swing. If you're in someplace where wind current is a little bit stronger, this technology will reduce wind drag & will ensure a pleasant gaming experience.
Which one is better between Yonex VCORE 98 and Yonex VCORE 100 in terms of control?
In terms of control, Yonex VCORE 98 is better. If you want free power, then go for the Yonex VCORE 100 model. Besides control, Yonex VCORE 98 offers an excellent blend of power, control & feel.
Does it come strung or unstrung?
Whether a racquet comes strung or unstrung, pros can always complete the stringing process with ease. Fortunately, this racquet comes strung from the factory. Note to be taken, this racquet's unstrung weight is 305grams, and the strung weight is 323 grams.
Is Yonex VCORE 98 worth the price?
Yes, Yonex VCORE 98 is worth the price. First of all, this racquet is made for advanced & intermediate players who want quality. This racquet is loaded with Yonex technologies that ensure quality, which makes this racquet worth the price.
Final Words
That was all about Yonex VCORE 98 Tennis racquet. I tried to give thorough insights about this racquet, based on my three weeks of usage. I hope this Yonex VCORE 98 review was helpful enough to decide whether you should buy it or not.
Let me help you out in case you're still unsure about your decision. If you're a beginner who just started playing Tennis, then this racquet isn't for you. On the other hand, this racquet will be the best choice for intermediate to advanced players who want a decent blend of power, control & feel.