Table Tennis is a great recreational sport that can ease your stress & enhance mental peace. However, finding a quality table tennis table isn't that easy. If you're on a budget & still wants the best deal possible, this article is for you. I've been using several table tennis tables over the past four years as I love playing Table Tennis.
Recently I've been using JOOLA Inside Table Tennis Table – a great beginner & budget-friendly table. I was pleased with the build quality. This table can be split into two individual functional tables because of the excellent engineering. I'll be sharing more about this table in the next JOOLA Inside Table Tennis Table review & features segment.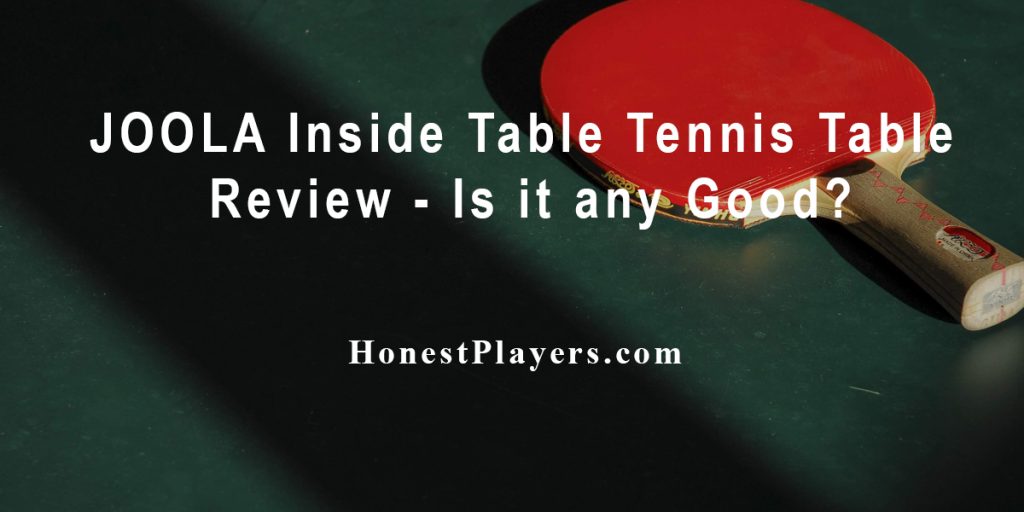 Table Chart of Page Contents
JOOLA Inside Table Tennis Table: Features & Review
In this JOOLA Inside Table Tennis table review, I'll be describing my personal experience along with some of the core features of this table. Besides a full review, I'll share simplified pros & cons in the ending to help you with your decision-making.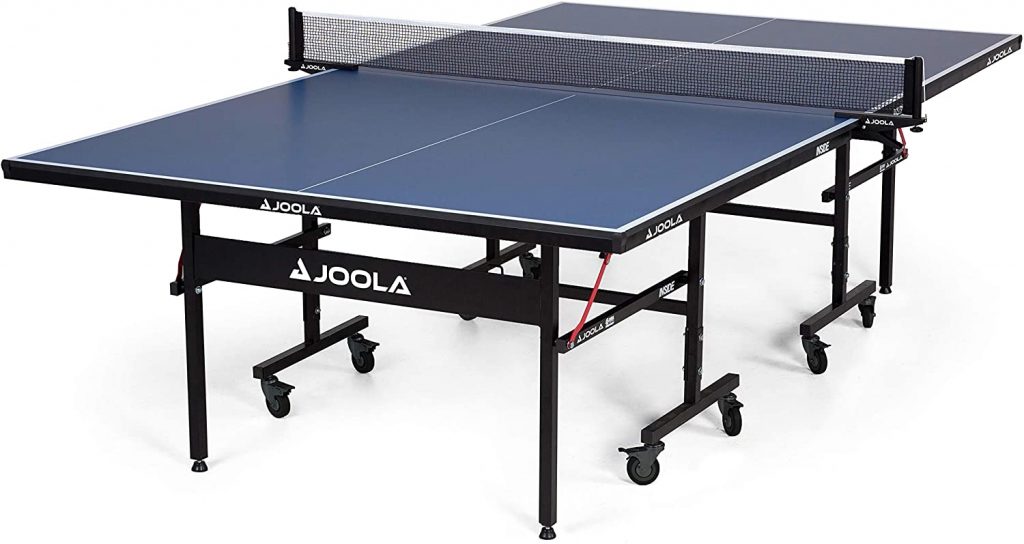 15mm MDF Surface: Gives Consistent Ball Bounce & Durability
This USATT approved table feels excellent while playing – thanks to its 15mm MDF surface. This surface mightn't be the thickest surface on the market, but you've to consider the price too. Professional or club table's surface thickness is around 22mm, costing more than 2-3times of this indoor table.
This table is pretty weight-heavy. It weighs around 140 pounds. Have at least two people to set up this table. After setting up correctly, even school students can use this table via folding & unfolding. I found the utmost pleasure playing on this table as it offered a satisfactory amount of ball bounce & maneuverability.
Easy & Quick Assembly: Takes Around 15 Minutes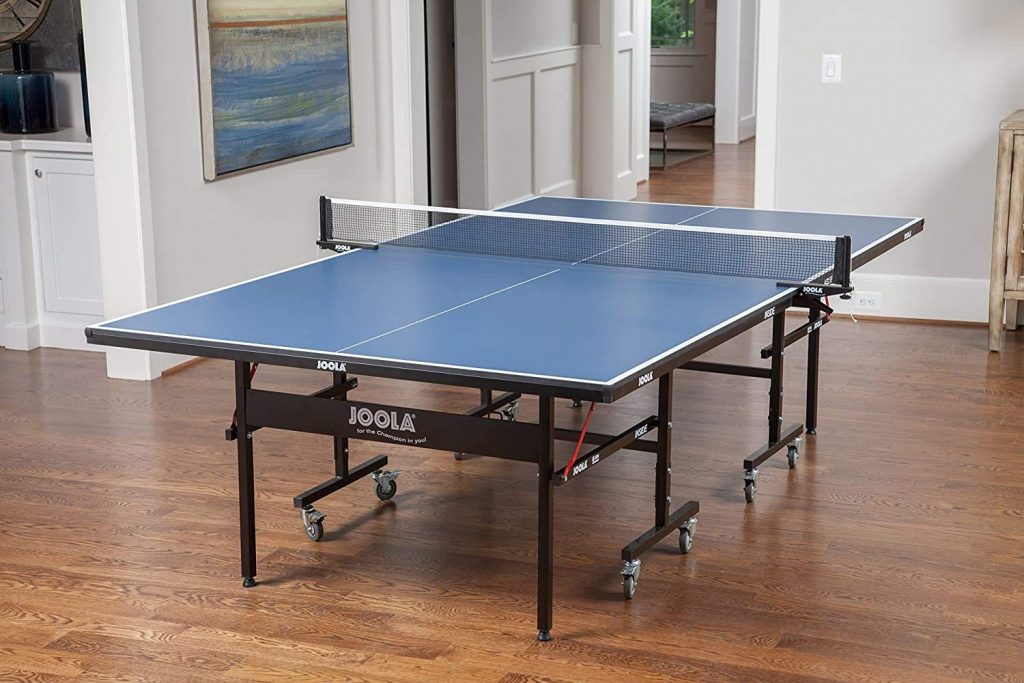 Though it's a heavyweight table, it doesn't require much work for a proper setup. It's almost pre-assembled, and you can set it up in less than 15minutes. All you need to do is attach the legs with eight bolts. However, you'll have to set up the 72″ net as well.
As it's a 108 inches tall & 60 inches wide table with a weight of 140 pounds, you'll need help from your friends or family to set it up correctly. After the installation, it will take less than 30 seconds for folding or unfolding – which is an excellent feature for those lacking in free space.
Single Player Playback Mode: Enjoy Yourself Alone
You can't always have friends around to fulfill your playing desire. But, JOOLA Inside 15 definitely can. The unique two-halves design of this table features a single-player playback mode. With this mode, you can have fun with table tennis on your own. Just lift one part of the table & you'll be good to go.
This table tennis table features a 15mm professional MDF wood surface that gives consistent ball bounce & stability. Also, it comes with Single Player Playback Mode so that you can have fun even without friends & family members.
In my experience, single-play playback mode was the most impressive part of this table. I love to play at night after completing my daily task. For this reason, I have to use the single-player playback mode most of the time – to ease my mental pressure. I would recommend this table for this convenient feature alone.
Split & Store: Compact Design Saves Storage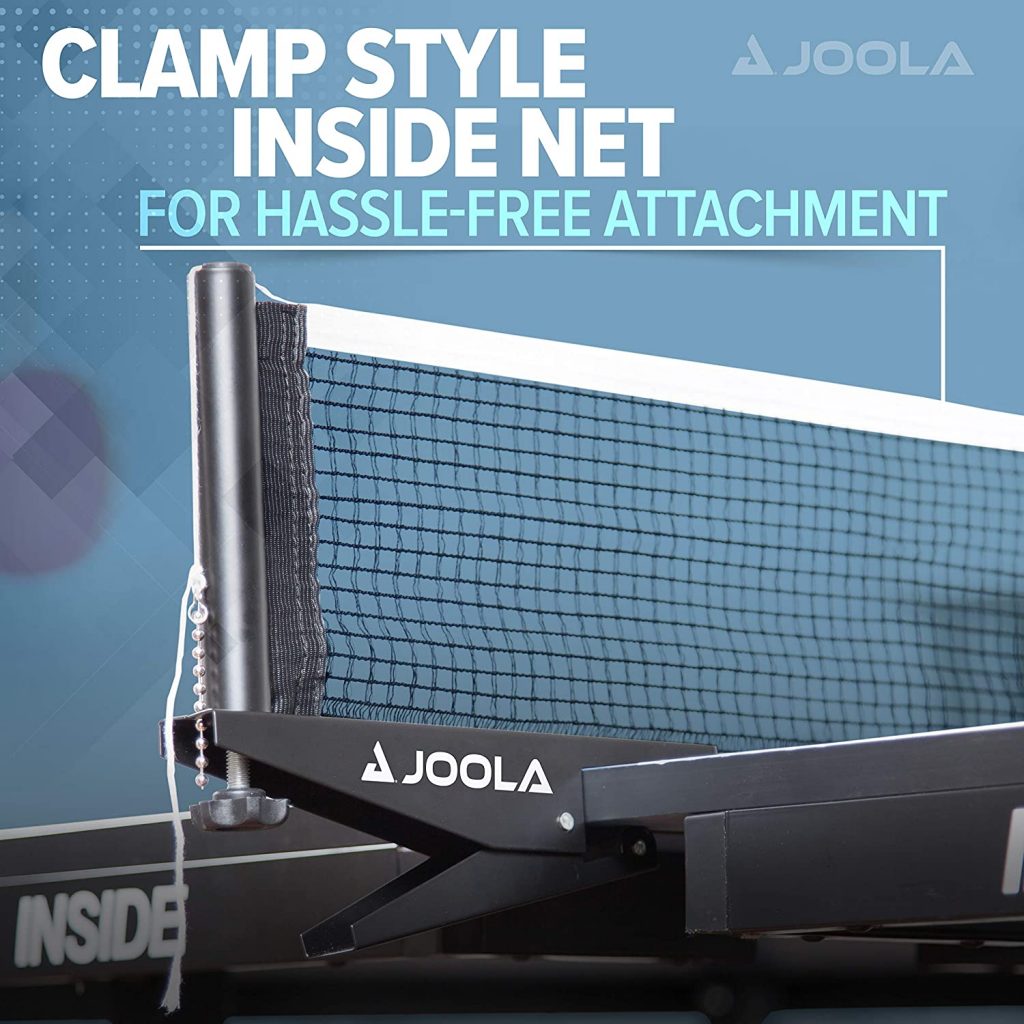 This table will fit anywhere after the playing period. You can either fold or split this table to store wherever you like. It approximately takes only 30 seconds to fold & less than 2 minutes to split it into half. Moreover, you can use those two parts as individual tables – thanks to JOOLA's excellent engineered design.
Each half of this table comes with four 3inch caster wheels. These wheels smoothly slide so that you can move your full table or two half tables with ease. Your flooring type (tiles or carpet) won't interrupt the moving process of this table. In summary, it's the most impressive indoor table you'll ever find in the online or offline market.
There is no confusion that this table is a value champ. But there is a similar Barrington Ping Pong Table you may find interest to look at.
PROS
• This Table Features A 15mm Blue Professional MDF Wooden Surface
• Gives Consistent Ball Bounce To The Beginners & Intermediate Player
• Single Player Playback Mode Helps With Practice When You're Home Alone, or Others Are Busy
• Easy To Set Up & Takes Around 15Minutes For Full Installation
• Unique Two-Halves Design Lets You Use Each Half Of The Table Individually As Multi-Use Tables

CONS
• Not An Ideal Option For Professional Players As The Thickness Of The Surface Is Only 15mm
• This table Doesn't Come With A Cover

Frequently Asked Questions – FAQ
Is This A Good Table For The Beginners?
Yes, this is the best table tennis table a beginner can have. This table comes with a 15mm wooden surface which is excellent for beginners as they won't pressurize the table much.
Can I Store This Set In The Garage?
Unfortunately, you can't store this table set in your garage. It's an indoor table, that's why you shouldn't use or store this table otherwise. Use JOOLA's outdoor table for garage & outdoor usage.
Can This Table Tolerate Florida or Asheville?
No, this indoor table can't tolerate Florida or Ashebille's temperature or humidity. You'll notice bubbles if you use one in those particular locations. However, outdoor tables will be good to go with Florida or Asheville.
Does it Come With A Cover?
No, this table doesn't come with a cover. As you'll be storing this table inside your room & will continuously fold/unfold it, there's no necessity to cover either. However, you can just put a cloth upon it if you feel necessary.
My Doorway is 6ft by 3ft, Will It Fit in?
Yes, not a problem. You can fold this table to move from room to room. You can even split this table in half for making your moving process much more comfortable. Also, the eight wheels help much as they slide smoothly despite the flooring type.
Final Verdict
This article was all about JOOLA Inside 15 table. I hope this JOOLA Inside Table Tennis Table Review was helpful enough for making your purchasing decision. By far, this table provides the best value for money when it comes to beginners to intermediate table tennis tables.
For the surface thickness, it can't compete with the club's table tennis tables. But it can indeed compete with all the private indoor table tennis available in the market. I highly recommend this table if you're learning table tennis or want to have fun when you're free.