A quality racquet can be a game-changer for anyone – if used correctly. Yonex EZONE 98 is one of the quality racquets you want to have to win a tournament or flex with opponents because this Japanese racquet endorsed by Naomi Osaka and Nick Kyrgios gives the best user experience possible under the $250 price range.
From volleys to returns – Yonex EZONE 98 racquet proudly excels in every part of tennis. You'll be amazed by this racquet's flexibility and usability just after playing a couple of rounds with it. Whether you're an intermediate or advanced player – this racquet can feed your needs from a tennis racquet.
After using this racquet for several days, I am confident enough to share my and my teammates' thoughts and experiences with this racquet. Stay tuned as I'll be discussing whether this racquet is worth the price or not just after the in-depth review guide.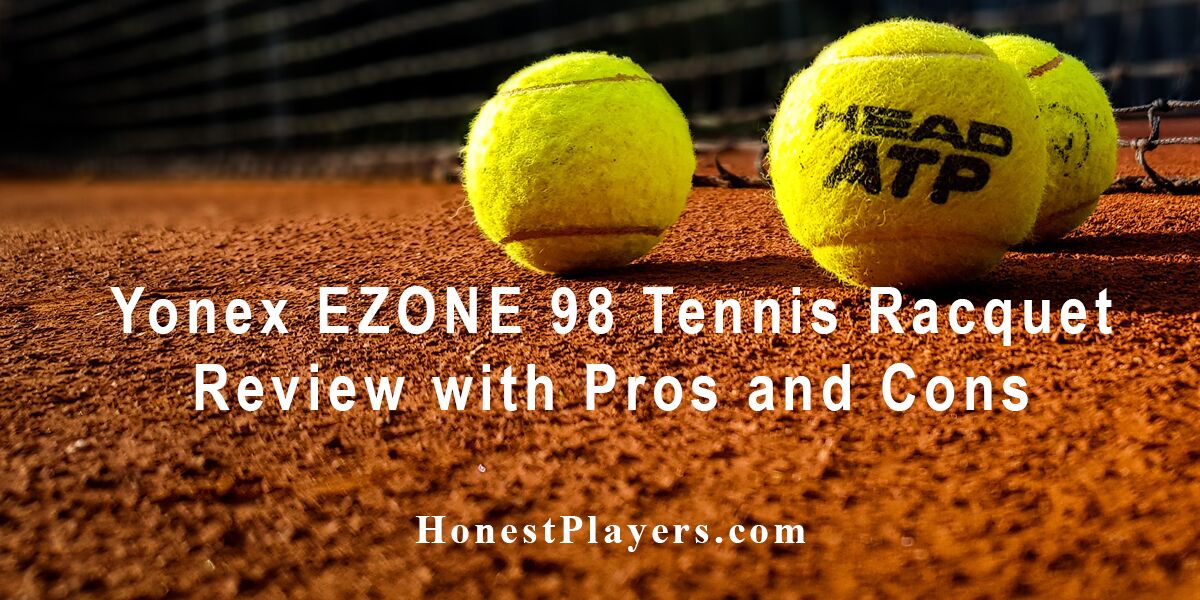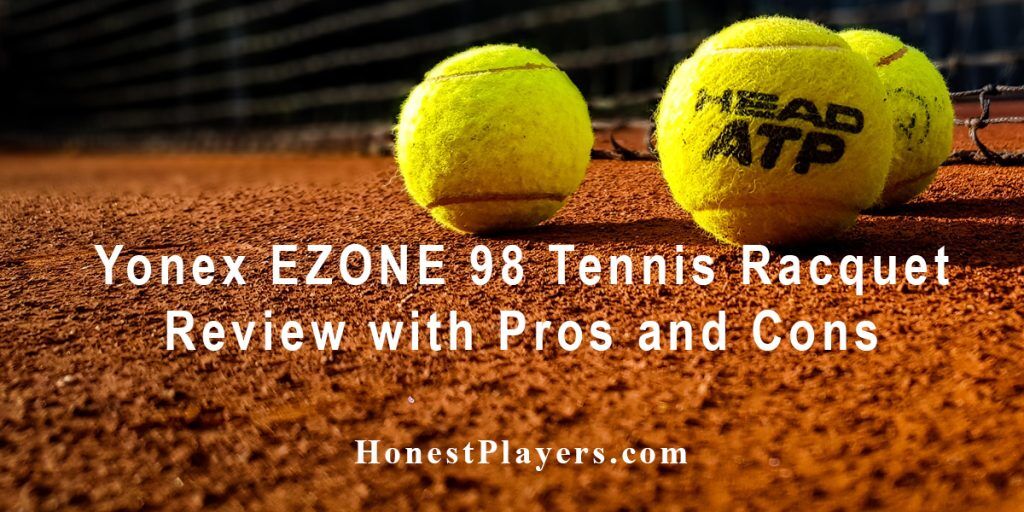 Yonex EZONE 98: Important Things Before Buying
Yonex EZONE 98(305G) is 'slightly better' than the previous version. Sorry for disappointing you if you're expecting groundbreaking changes in this updated Yonex EZONE 98 Tennis racquet. It's slimmer, sturdier, and more user-friendly than the previous version. Still, performance is lacking in one or two aspects compared to the earlier version. I'll be briefly explaining the features in the next segment.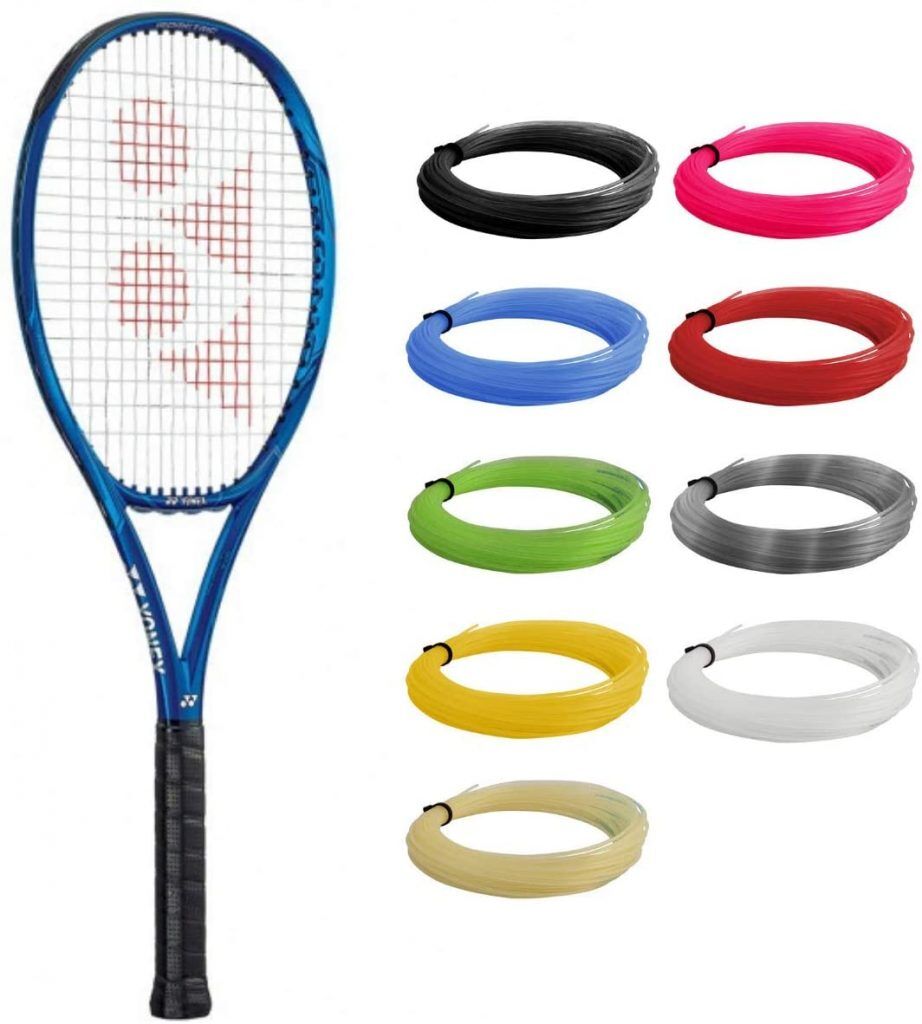 However, Do you know what are the Best Tennis Balls in the Market that worth your money?
Key Features of the Yonex EZONE 98 (305G)
This Yonex racquet is praised worldwide for the optimum performance and updated feel it gives while holding and playing. Thanks to the updated maneuverability – that offers excellent gaming experience. Aside from maneuverability, there are some other key features to talk about.
Impressive String Pattern
Yonex's EZONE series is famous for its wide head size. Hence, Yonex EZONE 98 Tennis Racquet comes with 16 by 19 string patterns – 16 main and 19 crosses. This wide head of 98 sq.in helps massively picking up a ball and serving with great comfort.
This racquet is specialized for baseline players. Though baseline players get an extra boost – big hitters are somewhere neglected. Like, if you're trying to hit bigger shots, you have to do some customization for optimum results. Try tweaking in string setup, and it will be good to go.
User-Friendly Height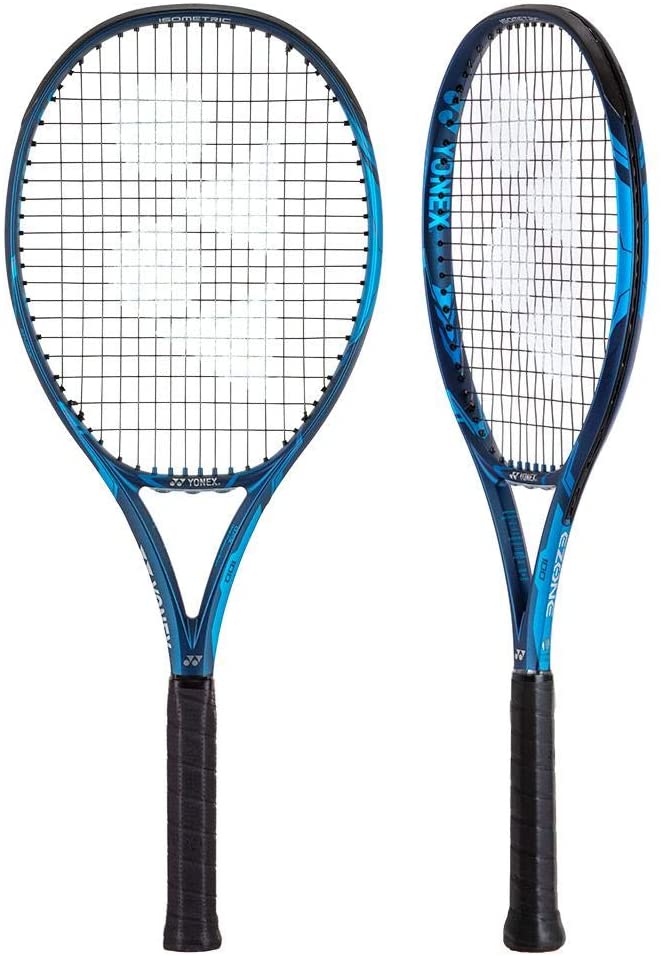 This 27 inches racquet knows how to please its user with a comfortable height. Whether you're trying to give a perfect smash (groundstroke) or tackling some aggressive shots – this racquet will ensure outstanding performance.
We loved shots like 'driving slices' with this racquet. Not because of the Height but also the wide sweet spot. Not to mention the sweet spot of this racquet is the largest of EZONE history. However, this racquet is quick to respond. It will be an excellent choice for you if you're capable of handling an aggressive racquet. One the other hand, you'll be missing a few great shots if you're weak at handling this massive speed.
Flexible Structure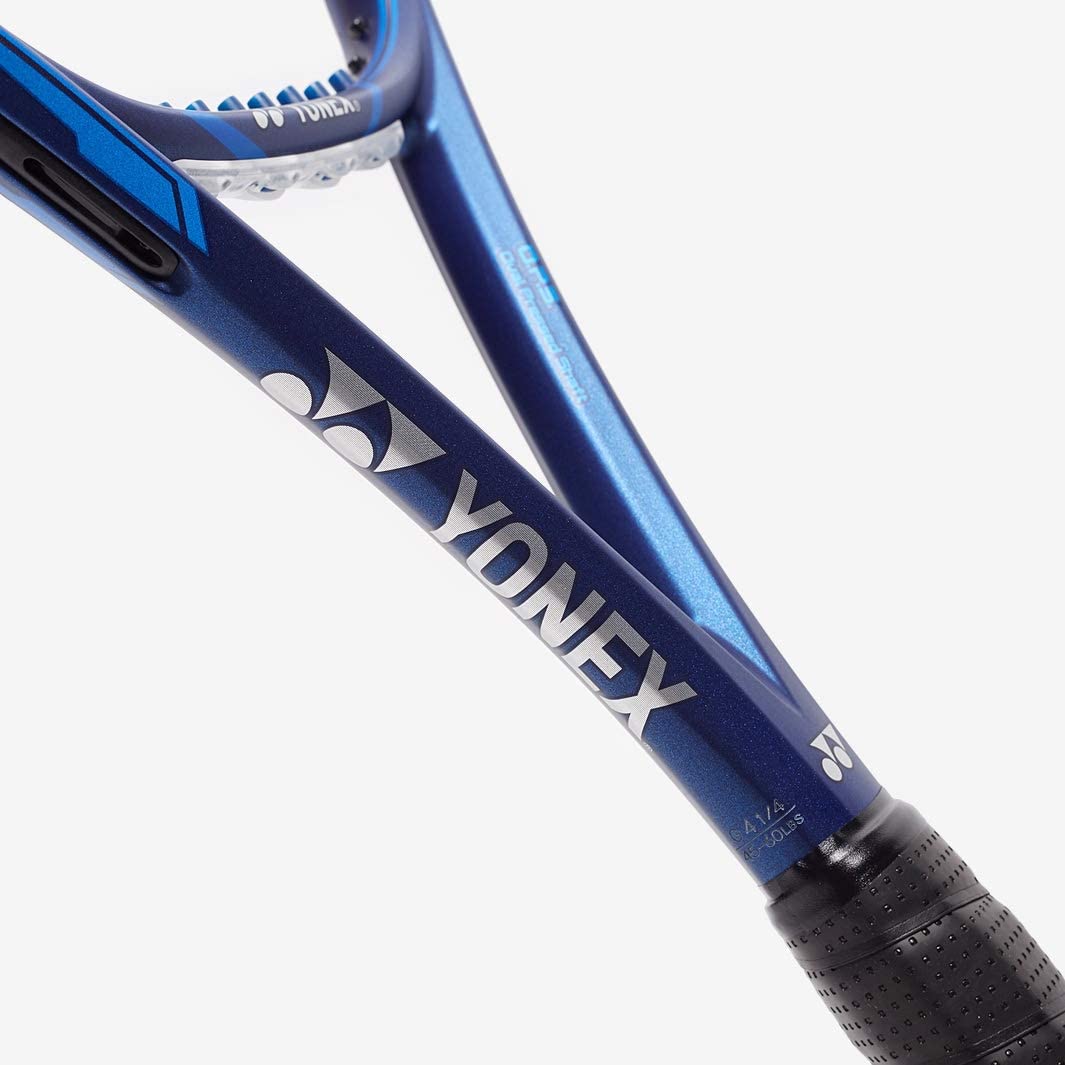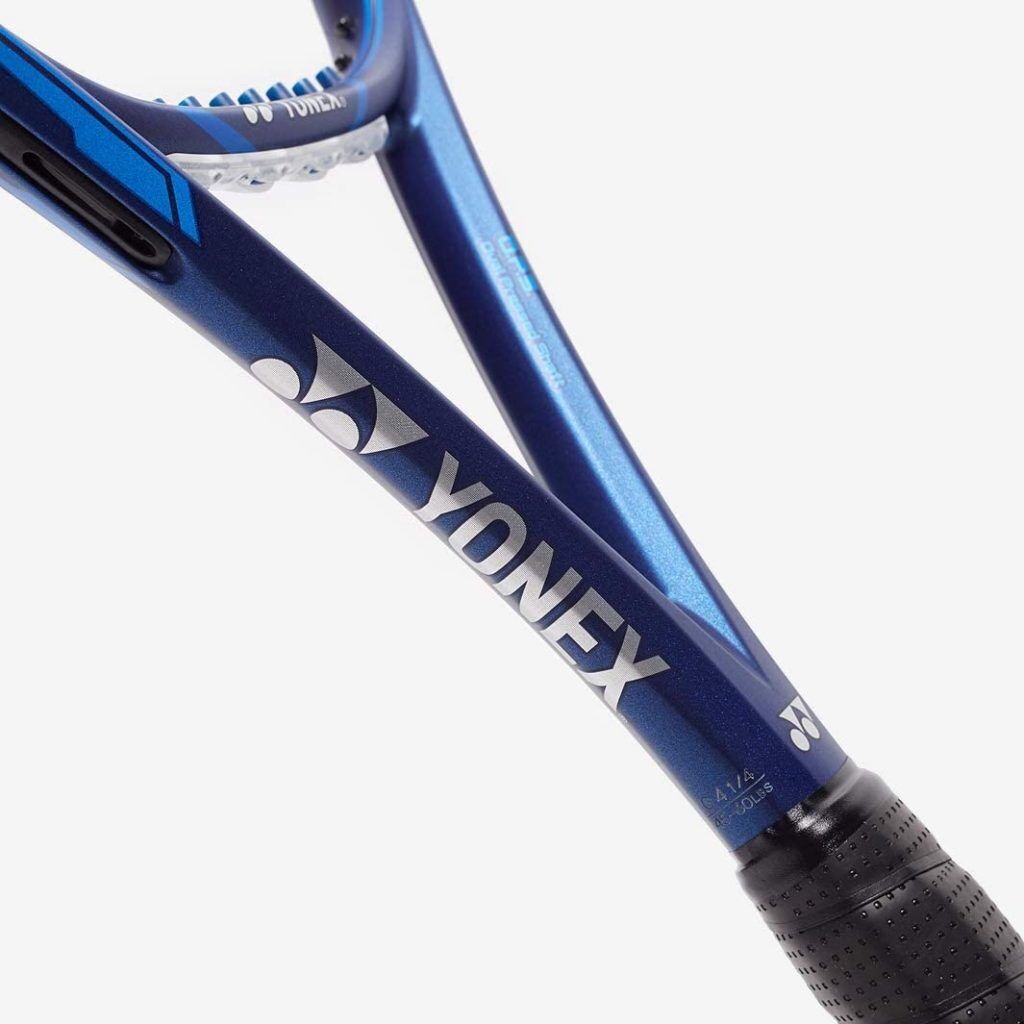 The stick of this racquet is stiffer than the previous EZONE version. As it's made of sturdy carbon material – you can expect to have great flexibility with this racquet.
Another fun part of this racquet is the VDM technology. Vibration Dampening Mesh is added with the handle for better grip while returning or serving volleys. This technology filters out unwanted vibration without making it too mute to responses.
Talking about kick and slice serves – it feels great. Also, the compact backswing is entirely satisfactory. However, this racquet is a little bit dampened than the previous version – so it's possible struggling quickly enough to get a clean hit.
Decent Weight

Weight management of Yonex EZONE 98 is excellent. As you may already know from other Yonex EZONE 90 reviews, this version is slightly heavier than EZONE 100. Still, it's a 305-gram compact racquet suitable for all types of players around the world.
Point to be noted that, strung weight is 320 grams, and the unstrung weight is 305 grams. You can choose the string colour according to your personal preference – black, blue, white and six more colours.
Weight decides the racquet's swing speed – fast or slow. Luckily you'll be enjoying a quick and long swing with a swing weight of 317. But the power level is a bit disappointing as it sets to medium.
PROS
• Medium Power With Fast & Long Swing
• Large Sweet Spot
• Comfy and Suitable For All Types Of Players
• Vibration Dampening Mesh Technology

CONS
• Not Enough Control For Big Hitters
• Less Spin Amount Than Expectation

Frequently Asked Questions – FAQ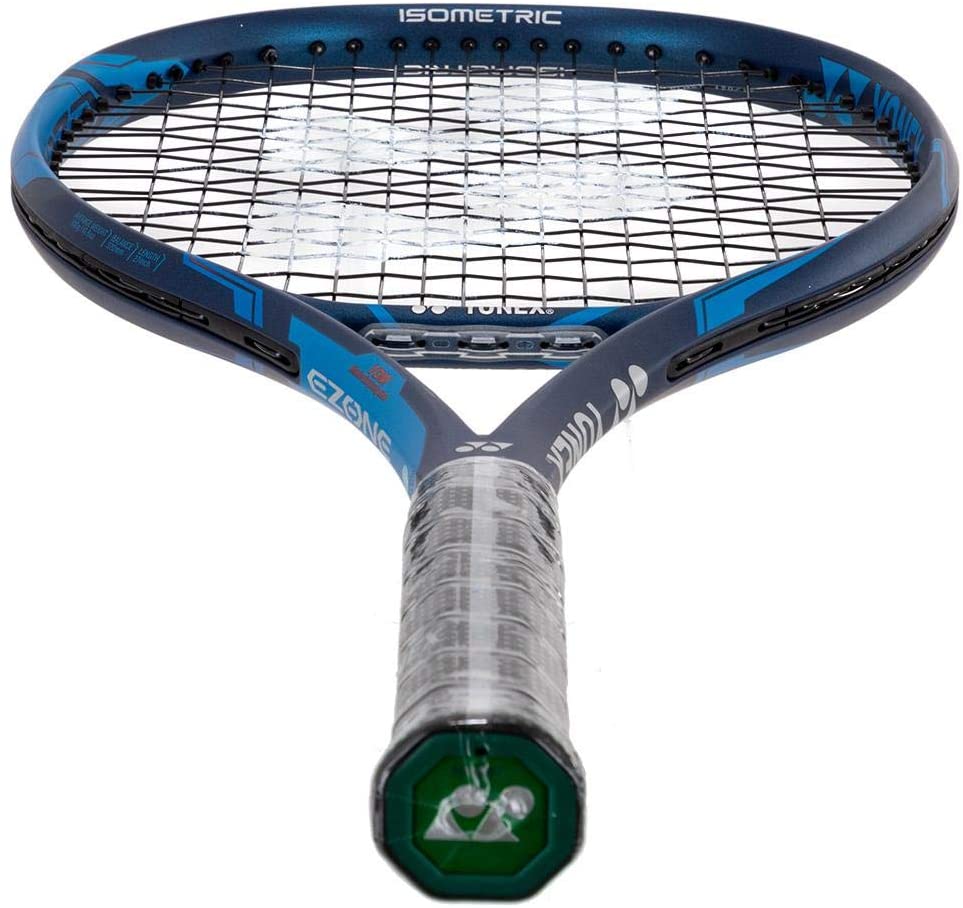 How many Pros use the Yonex EZONE DR 98?
Numerous pros use Yonex EZONE DR 98 for fast and reliable performance. As they found EZONE 98 more balanced than other racquets, they use it and recommend using it.
Who uses Yonex EZONE 98?
Professional players like Michelle, Chris, Simon use Yonex EZONE 98 for many reasons. This racquet stands out from the crowd with its unique and durable build quality.
Where to buy Yonex EZONE DR 98?
You can buy Yonex EZONE DR 98 from online stores like Amazon or buy directly from their website.
What are the best strings for Yonex EZONE DR 98?
If you want to change Yonex EZONE DR 98 strings, try using PolyTour Fire 125, atg850p, or PolyTour Pro125.
Who uses Yonex EZONE DR 98?
Professionals all over the world use Yonex EZONE DR 98 for their practice and tournament gameplay. It's still recommended if you're not a professional player.
Final Verdict of the Yonex Ezone 98 Review
That was all about the Yonex EZONE 98 tennis racquet. If you're preparing for a tournament and want to feel like Nick Kyrgios, then this racquet will be the best fit for you. After reading this whole Yonex EZONE 98 Review, I hope you got the idea if this racquet is worth the money or not. Still, let me elaborate that answer.
If you're a baseline player – then this racquet will be the best choice for you. On the other hand, if you're a big hitter, then you should consider buying the previous EZONE model – as that got more spin amount than this one.