You're just one step behind improving your skill level in Pickleball. Choosing a quality pickleball paddle can boost your skill level score, whether you're a beginner or intermediate player. But finding a quality paddle in the budget is a tiring job for real. So, I decided to do the heavy lifting job for you – testing & reviewing budget paddles from well-known brands like Head, Niupipu, Onix & Rally.
After testing several budget paddles, I found a budget-friendly paddle from Rally. In my opinion, this paddle served the best value for money as it costs less than $65. From textured graphite face to non-slip grip, this paddle excels in every part of a budget-paddle. I will be sharing my four weeks of experience in the next Rally Graphite Pickleball Paddle review & features segment.
Our expert players of HonestPlayers has written their real experience with you in this article so that you can get the best out of it!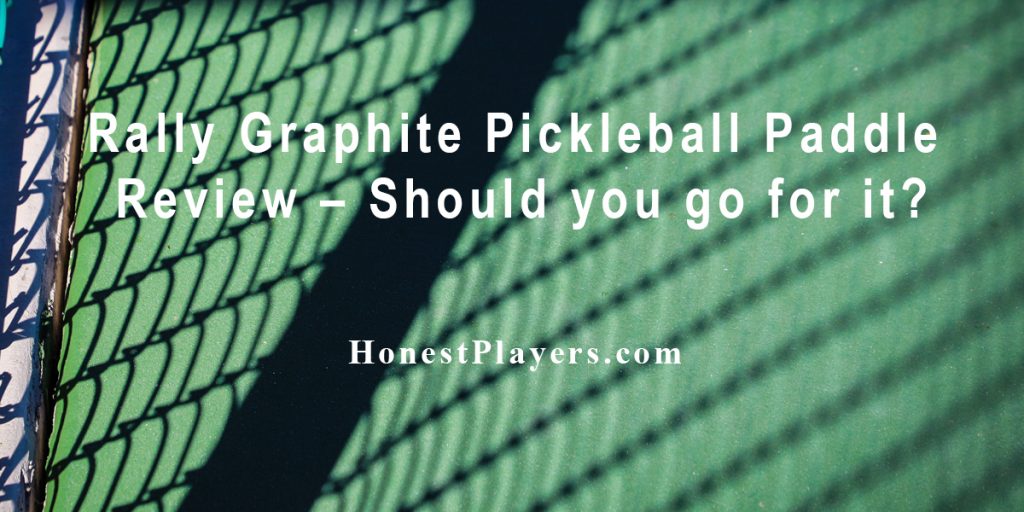 Table Chart of Page Contents
Rally serves excellent value for money in their budget & high-end pickleball paddles. Their Rally PX isn't an exception. In this Rally Graphite Pickleball Paddle review, I'll be sharing some of the key features along with my personal experience with them. Also, you'll find simplified pros & cons in the ending.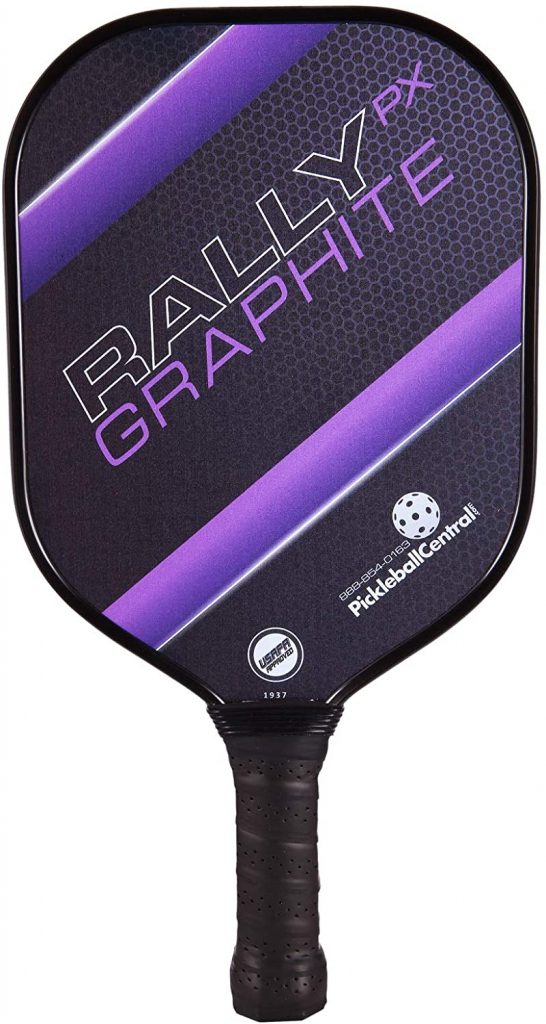 Durable Honeycomb Composite Polymer: Tough Yet Lightweight
Durable build quality is a must when it's for beginners as they'll be doing faults unwilling & unconsciously. Also, intermediate players need that level of toughness so that it can survive their aggressive gameplay. This paddle is made of honeycomb composite polymer core & it's powerful & smooth.
It's a tough, yet lightweight paddle weighs around 7.7oz-8.0oz. This medium weight paddle feels excellent in hand. Also, I could feel where balls are hitting the paddle. Fortunately, this paddle is USAPA approved and you can take it to any tournaments you like. To my experience, the build quality and weight serve the perfect blend of control over the ball.
XL Head Size: Minimizes Edge Guard Hit By Larger Sweet Spot

Rally Paddle features a great large head size of 8.125 inches. Though you'll be getting a super durable edge guard, there's a meager chance of edge guard hit. This paddle comes with XL head size that maximizes the sweet spot & lets you hit a perfect shot even if you're hitting off-center. This paddle is similar to the Onix Graphite Z5 Paddle.
From beginners to intermediates, everybody will enjoy playing with this paddle. Thanks to its graphite face & the larger sweet spot. As it's a balanced weight paddle, you won't feel an arm pain playing long sessions. This paddle was powerful enough for surviving my countless dinks, volleys & slams. I'm pleased with the overall performance.
Textured Graphite Face: Ensures More Spin & Control
If you've used paddles before, you'll know the textured graphite surface serves better in terms of spin & swing. This paddle's graphite face is fully textured & I had a satisfactory amount of spin with each shot. If you're a previous table tennis player, you'll feel even more comfortable playing with this textured face paddle.
Rally PX is a 15.68″ medium weight (7.7oz-8.0oz) paddle that serves value for money costing less than $65. This paddle features a honeycomb polymer build & extra-large sweet spot so that you can enjoy a fruitful gaming experience even if you're new to this game.
As a beginner, you should learn to control both paddle & ball. This rigid paddle provides much power to the balls while giving enough control to the beginners or intermediates. Also, don't worry about accidental ground shots as this paddle can withstand those hits easily. In summary, this paddle served me the perfect blend of power & control – thanks to its build quality & textured graphite surface.
Non-Slip Grip: Gives Smooth & Tacky Feel
If you're facing sweaty palm issues, then this paddle will significantly help you. This paddle features a non-slip 4.75 inches grip with a grip circumference of 4.25 inches. Whether you're playing in wet or dry weather, this grip will give you the best paddle handling experience. Even sweat won't decrease the tackiness of this extra cushioned grip.
The extra cushioned grip allows the user to enjoy gameplay with reduced vibration. Yes, this grip can absorb shocks as well as giving a premium smooth & tacky feel. Overall, this paddle is excellent from a price & performance perspective. If you're up to balanced control & power, choosing this paddle will be the best choice for you.
PROS
• Honeycomb Polymer Core Construction With Textured Graphite Face Gives Perfect Blend Of power & Control
• Non-slip Grip Feels Great In Hand Even Though You have A Sweaty Palm
• Medium Weight Serves Great Power With Each Shot
• More Sweet Spot Minimize Edge Guard Shots
• Sturdy & Budget-Friendly Paddle Suitable For Both Beginners & Intermediates

CONS
• Medium Weight Might Be Too Heavy For Some Of the Players
• Doesn't Come With A Cover

Frequently Asked Questions – FAQ
Who Should Buy Rally Graphite Pickleball Paddle PX?
This paddle is made by keeping beginners and intermediate players in mind. They will be benefited the best where advanced & professional players may not like this paddle. In summary, beginners & intermediate players should buy this paddle.
What's The Grip Size Of This Paddle?
The grip length is 4.5 inches. However, the grip circumference is 4.25 inches. This grip size fits perfectly in most of the player's hands. So don't worry about the grip size.
Does Rally PX Come With A Paddle Cover?
Unfortunately, this paddle doesn't come with a paddle cover. But paddle covers are available, and you can order them separately. The cover will cost an extra 10 to 15 dollars.
What's The Surface Type – Smooth or Textured?
This paddle features a textured graphite surface. The textured face gives more control & spin with each shot. If you're fond of spin, then you'll love this paddle.
Can This Paddle Improve Player's Skill Score From 3.5 To 4/4.5?
Yes indeed. Whatever your score is, this paddle will improve that if you play regularly. My friend's skill score improved from 3.0 to 4.0 after weeks of practice.
Final Words
That was all about this budget-friendly medium weight paddle. I hope this Rally Graphite Pickleball Paddle Review was helpful enough from an info & review perspective. If you're still confused about whether you should buy it or not – let me help you out. This paddle suits best to beginners & intermediates.
Overall, this budget paddle can provide a much premium experience than you'll be paying. Based on my four weeks of usage, I can say – no paddle can beat the Rally Pickleball paddle from a price & specs perspective. I highly recommend this paddle if you want the best value for money from a budget paddle.