Pickleball is easy to get started, as It's a very welcoming game to the beginners. But choosing the right paddle is the most challenging task as everyone wants quality within budget. So, I decided to do a hard job by testing & reviewing budget paddles available in the market.
After testing several budget paddles, I stumbled upon the Stryker 4 Pickleball Paddle – a lightweight & well-built paddle in the $80 price range. This USAPA approved paddle proved to be an ideal paddle for beginners & intermediate players. Stay tuned as I'll be writing a Stryker 4 Pickleball Paddle Review based on my four weeks of usage.
This article is written by the expert Pickleball team of HonestPlayers for your better experience.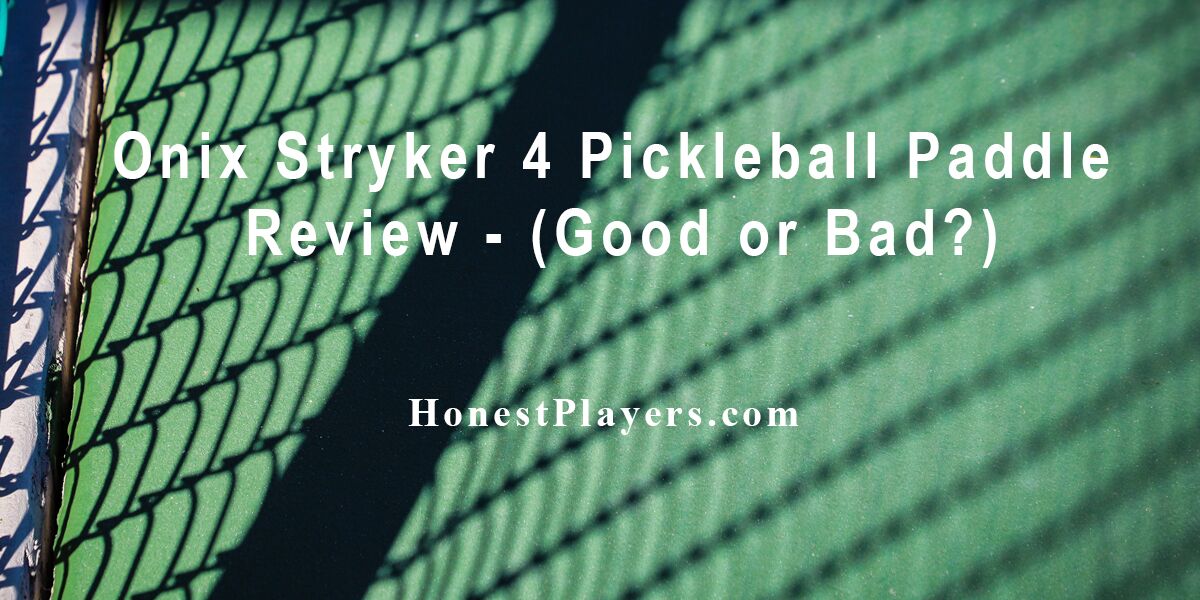 Table Chart of Page Contents
Onix Stryker 4 Pickleball Paddle: Features & In-Depth Review
This lightweight yet sturdy paddle is good enough to fulfill your expectations from a budget paddle. As it's a USAPA approved paddle, you can rock any tournament with this paddle. Onix is doing great with their Stryker Series. I'll be discussing more in the following Stryker 4 Pickleball Paddle review & features sections.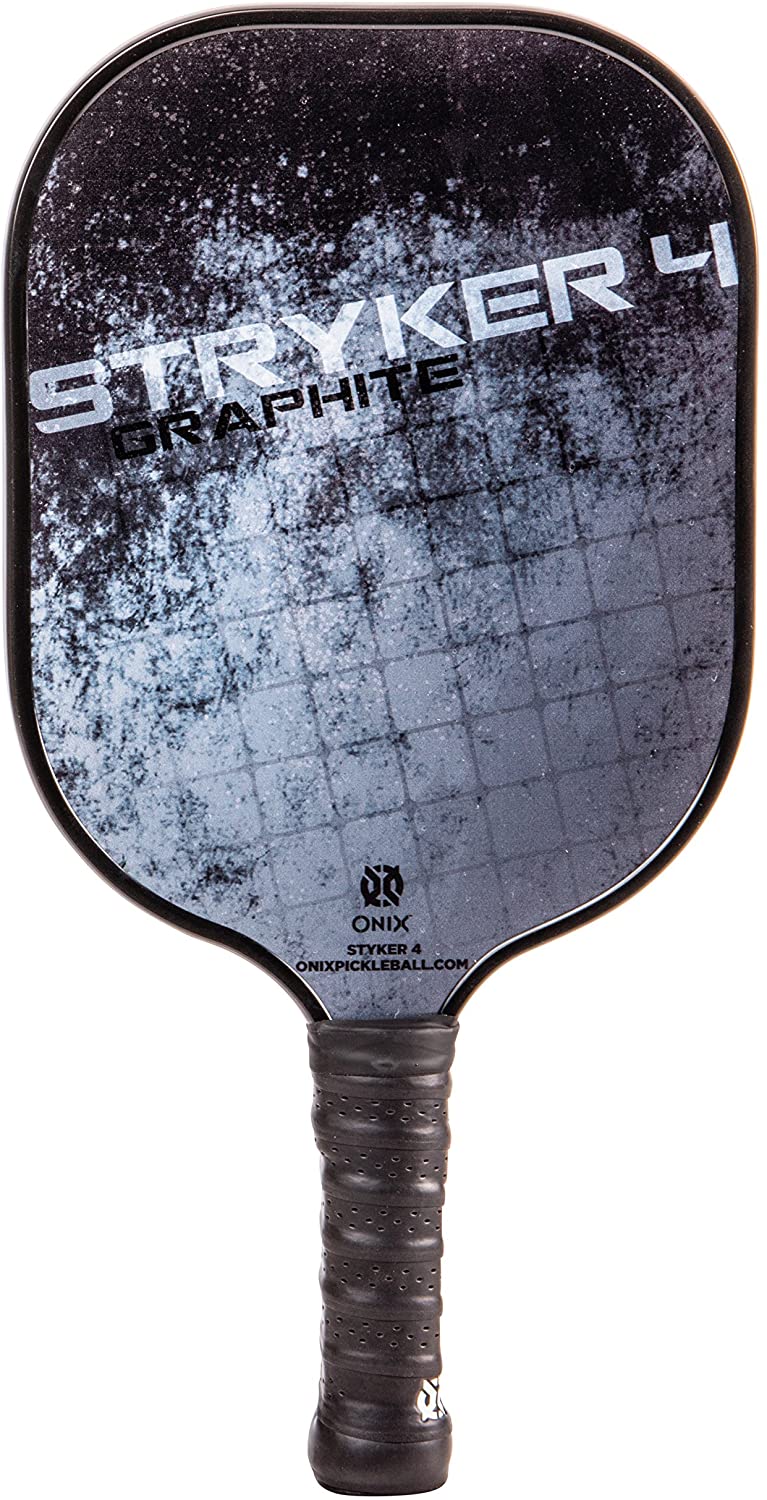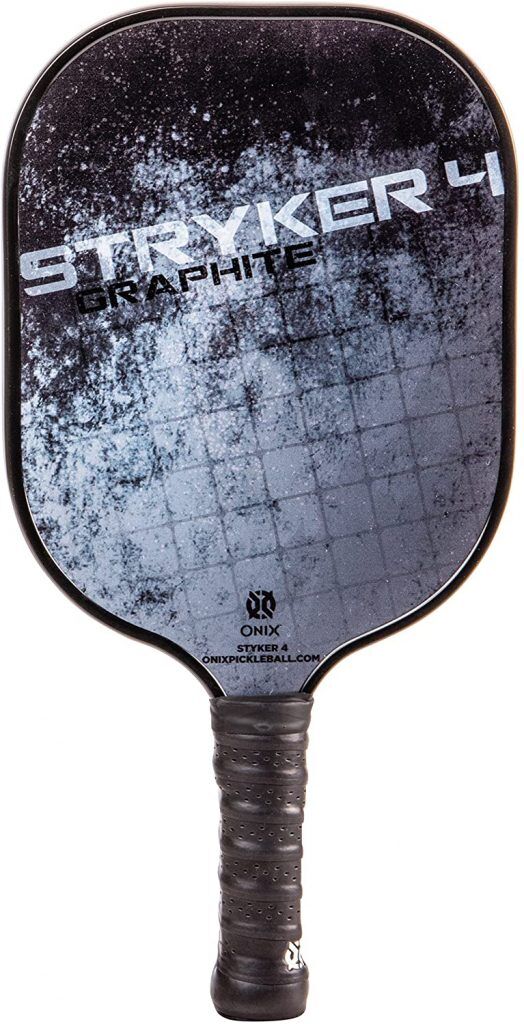 Polypropylene Core Construction: Provides Consistent Net Touch
Pickleball is like the modified version of Tennis. Fair enough you'll be facing a net that needs to be passed with each shot. This paddle features Polypropylene core construction, which will help you lead the game. Whether you're just starting or already have a decent knowledge, you can have consistent net touch with this paddle.
This paddle is lightweight (6.9-7.4oz) & comfy enough for giving a painless gaming experience. A beginner tends to seek for lightweight paddles, as it is easier to handle serving balanced power & control. Besides everything else, the construction of this paddle is rigid & it can tolerate beginner's unethical usage.
[Recommended:
Top 8 Best Pickleball Sets Review
]
Larger Sweet Spot: Greatly Beneficial To the Beginner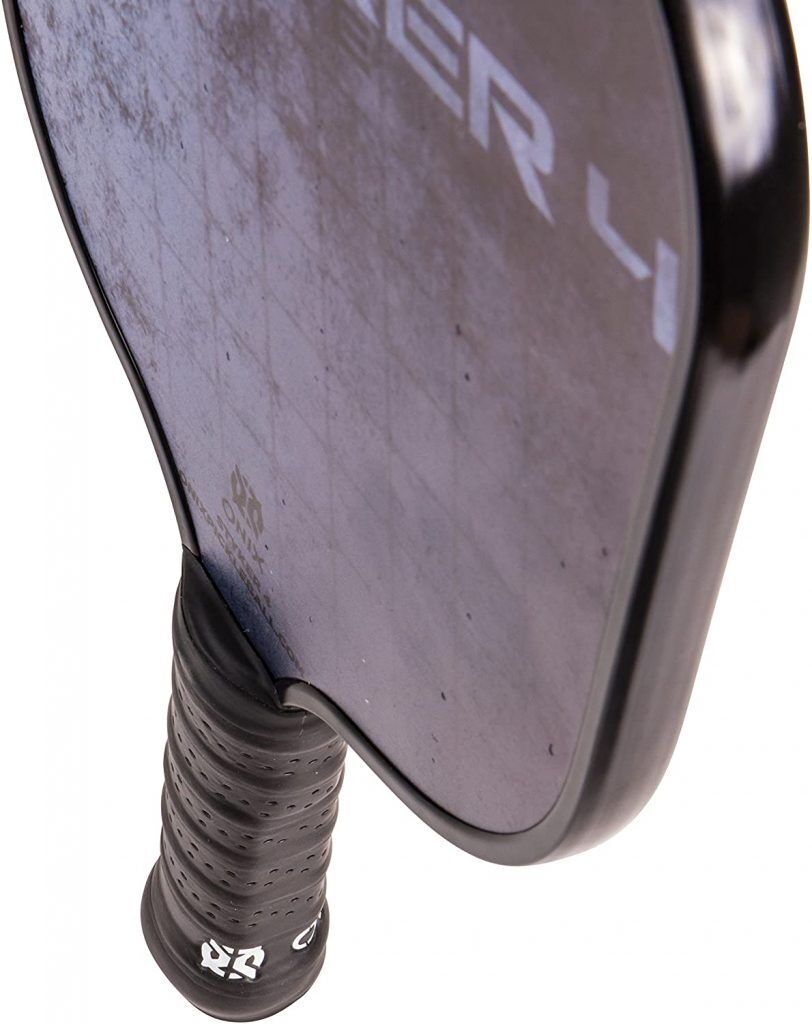 This paddle offers a wide-body panel which creates a larger sweet spot. Simply explaining, the sweet spot is the hitting area of the pickleball paddle. As you'll be getting a larger sweet spot than others, you can enjoy & handle your game more efficiently. However, advanced & professional players find a larger sweet spot very annoying as it reduces the paddle's power.
But for beginners & intermediates, a larger sweet spot helps a lot. You'll get more hitting area of the paddle, that's why it will be much easier to pick & serve the ball compared to professional paddles. Besides the wide sweet spot, the graphite surface of this paddle helps the players to enjoy a fruitful gaming experience.
Graphite Surface: Ensures Perfect Blend Of Touch & Power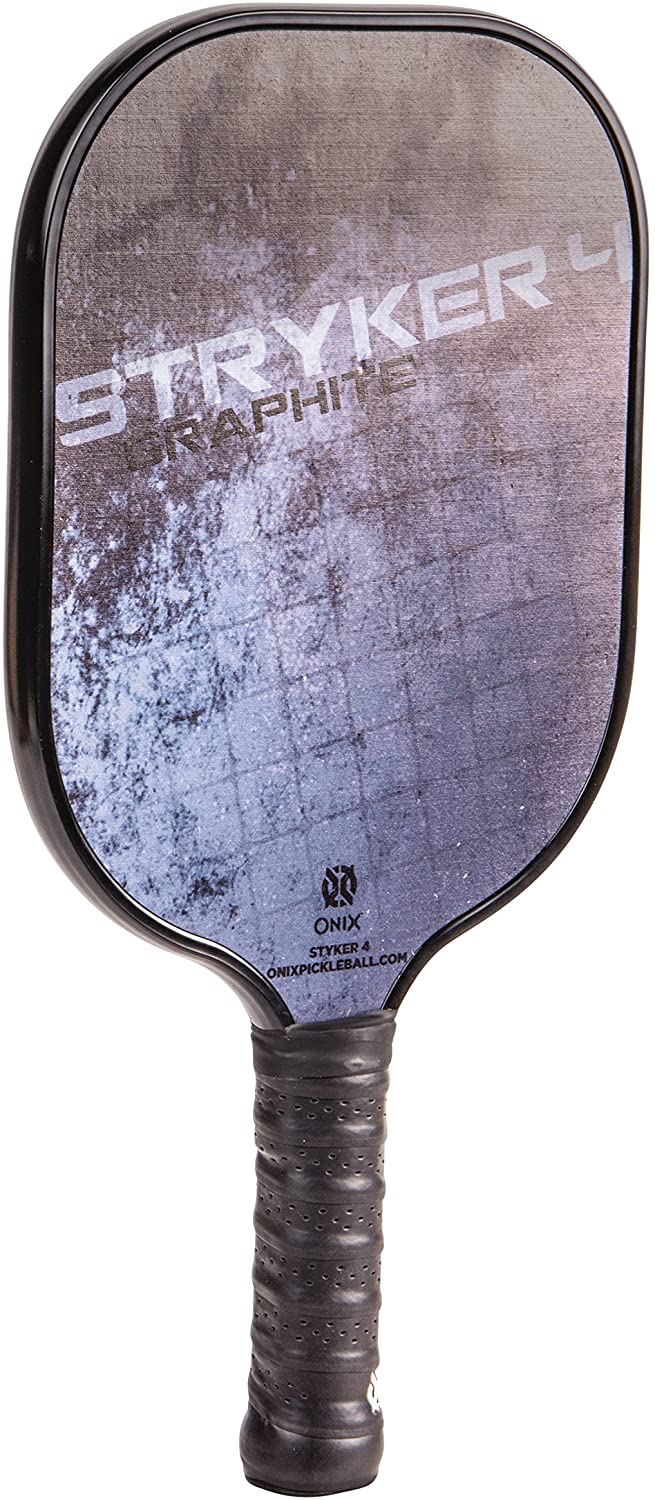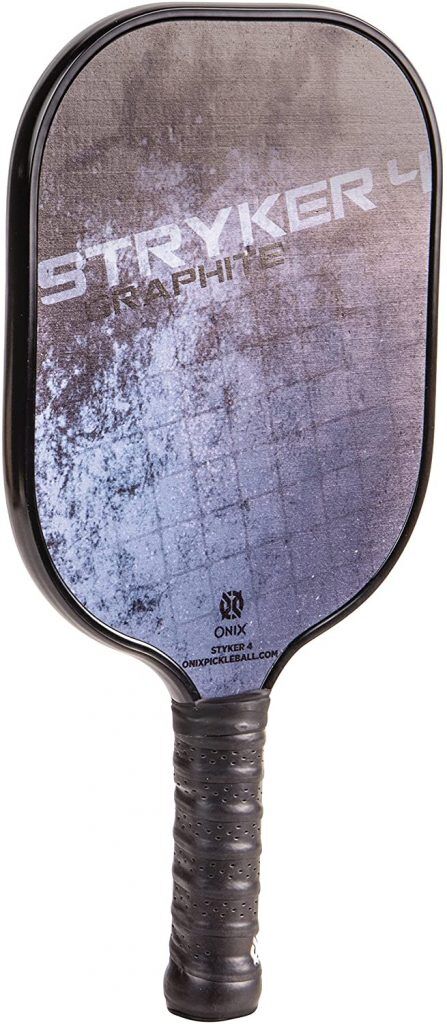 Combined with Polypropylene Core Construction & graphite surface, this paddle can serve a perfect blend of touch & power. You'll be getting an extra-wide body which ensures a larger sweet spot. With this amount of sweet spot & sturdy graphite surface, you can rock any match you play. The 4.25" grip of this paddle is good enough to let you enjoy the touch feel with every hit.
Onix Stryker 4 Pickleball Paddle is a lightweight budget-friendly paddle with a larger sweet spot. This Polypropylene Core Construction build paddle is an ideal option for beginners & intermediate players from a price & performance perspective.
As a beginner or intermediate, you should practice controlling the paddle with leveled power. Professional paddle serves enormous power with less control (to the beginners). That's why you should avoid jumping towards professional paddles just after starting Pickleball. Instead, you can pick this paddle as you'll be getting comparatively less power with more control & touch. Not only this paddle, but Rally Graphite Pickleball Paddle also provides the same feature in it.
USAPA Approved & Compatible To Both Beginners & Intermediates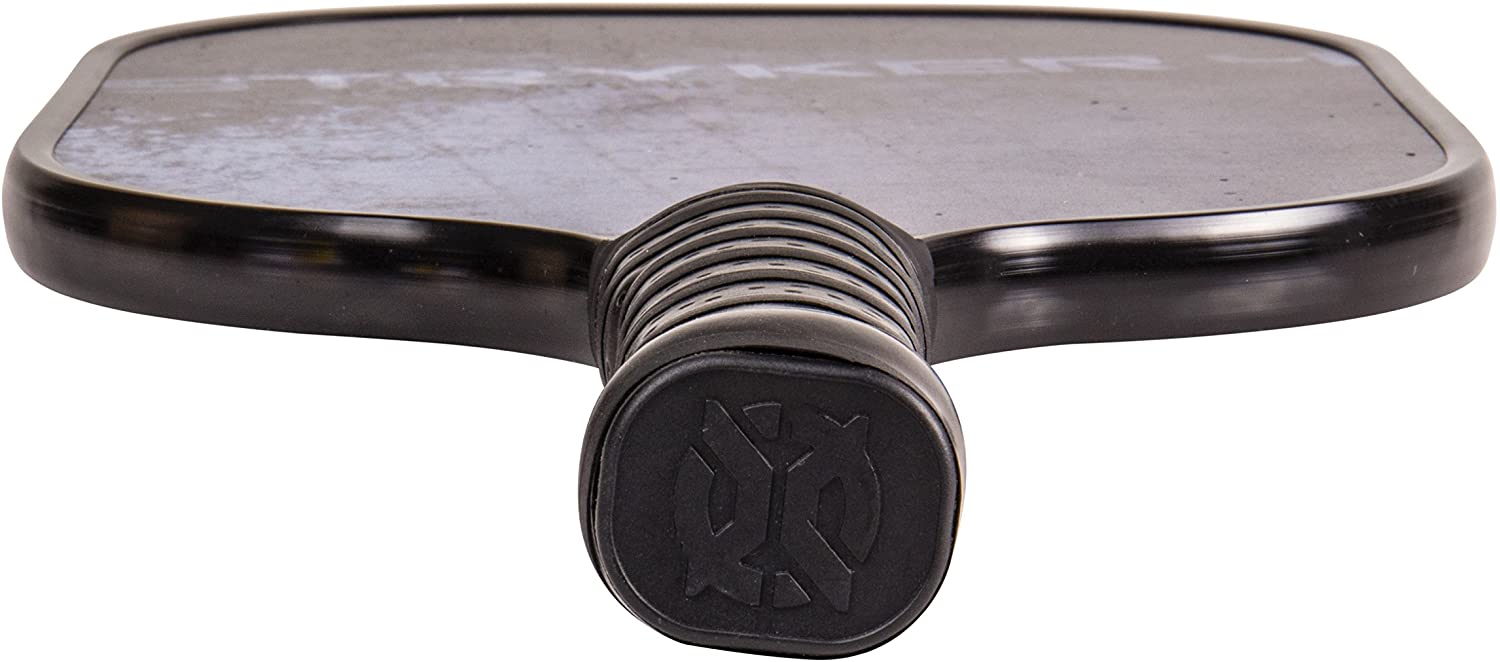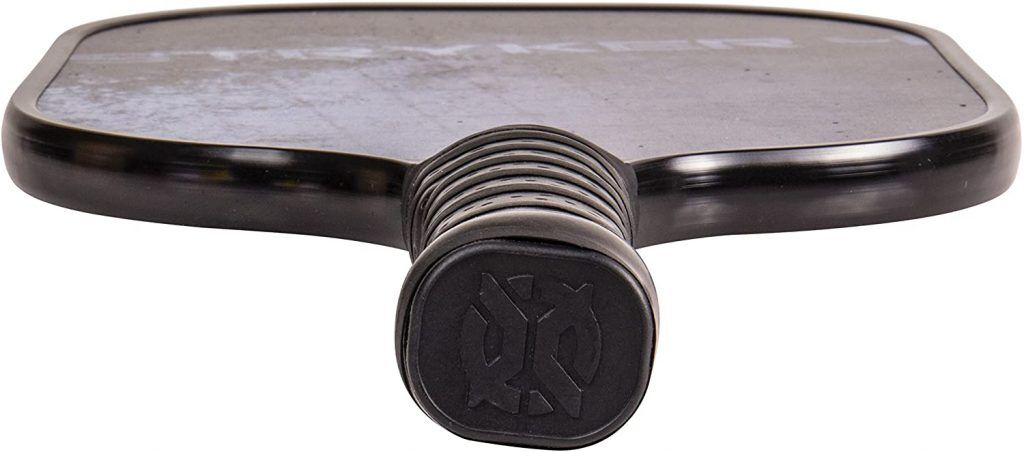 Stryker 4 paddle is USAPA approved as it passed all the quality tests for participating in tournaments. Though it's doubtful that beginners will participate in tournaments, still they'll enjoy the mental peace of having a quality paddle. However, intermediate players can have the privilege of playing tournaments.
In summary, this is a standard USAPA approved paddle without any fancy features. But, it offers excellent value for money as you'll enjoy playing no matter what your skill level is. From novice players to intermediates, anybody can have a satisfactory gaming experience with this budget-friendly paddle.
PROS
• Excellent Build Quality, Thanks To Polypropylene Core Construction
• Extra Large Paddle Body, Results In Larger Sweet Spot
• Comes With 4.25" Grip & 5" Handle
• Grip Gives Tennis-like Feel: Great For Previous Tennis Players
• USAPA Approved & Can Be Used For In Any Tournaments

CONS
• Intermediate & Advanced Players Mayn't Like The Weight
• Not Suitable For Professional Players

Frequently Asked Questions – FAQ
Does Stryker 4 Pickleball Paddle Come With A Cover?
Sadly, Stryker 4 Pickleball Paddle doesn't come with a cover. That's because they wanted to cut the cover cost, providing an excellent budget-friendly paddle. You can have additional cover for an extra 10 to 15 dollars.
What's The Grip & Handle Size of this Paddle?
The listed grip size is 4.5 inches. Initially, it's a bit off – 4.25", as I've personally measured it. The handle is significantly fitted in hand as it measures 5 inches.
Who Should Buy Stryker 4 Pickleball Paddle?
Beginners, who want a quality paddle without spending much on a paddle should buy this paddle. Besides beginners, intermediate players can buy Stryker 4 as well. Don't buy it if you're an advanced player.
What's The Benefit Of This Paddle Being Lightweight?
A lightweight paddle is comparatively easy to handle as it offers limited power & proper control. Again, people suffering from health issues like tendonitis in the wrist can also get benefitted from a lightweight paddle.
How Convenient Is The Return & Money Back Policy Of this Product?
Headquarters in Indiana, Evansville, Escalade Sports has a fully-staffed & in-house customer service team. You'll get a replacement within two days if the delivered paddle is faulty. As you'll be purchasing from Amazon (hopefully), you can enjoy their return policy too.
Final Verdict
I hope this Onix Stryker 4 Pickleball Paddle review was helpful enough so that you can make your buying decision. Though I said this before, I want to emphasize again – Don't buy it, if your skill level is advanced or advanced-intermediate.
In summary, this paddle is designed for beginners and intermediates as they will enjoy & learn playing with this paddle. That's why I highly recommend this lightweight paddle if you're one of them & wants a quality (USAPA Approved) paddle.
Comment down below your thoughts about this paddle and share the article with your friends. Help the world know about your next paddle!