Ping Pong can be relaxing after hours of daily tasks. But you've to be cautious before making this expensive purchase. A personal Ping Pong table can enhance the overall beauty of your house if purchased the right one. Typical Ping Pong table can't do that; you need something different & unique from a renowned brand like Barrington.
Over the past six months, I've been using Barrington Ping Pong Table – a dark, solid & classy table. The 18mm playfield of this table was so good that it served consistent ball bounce and stability. I enjoy playing with my friends, and they were too aggressive at this table. Still, it's entirely functional without needing any repair. I'll be sharing more about this table in the next Barrington Ping Pong Table review & features segment.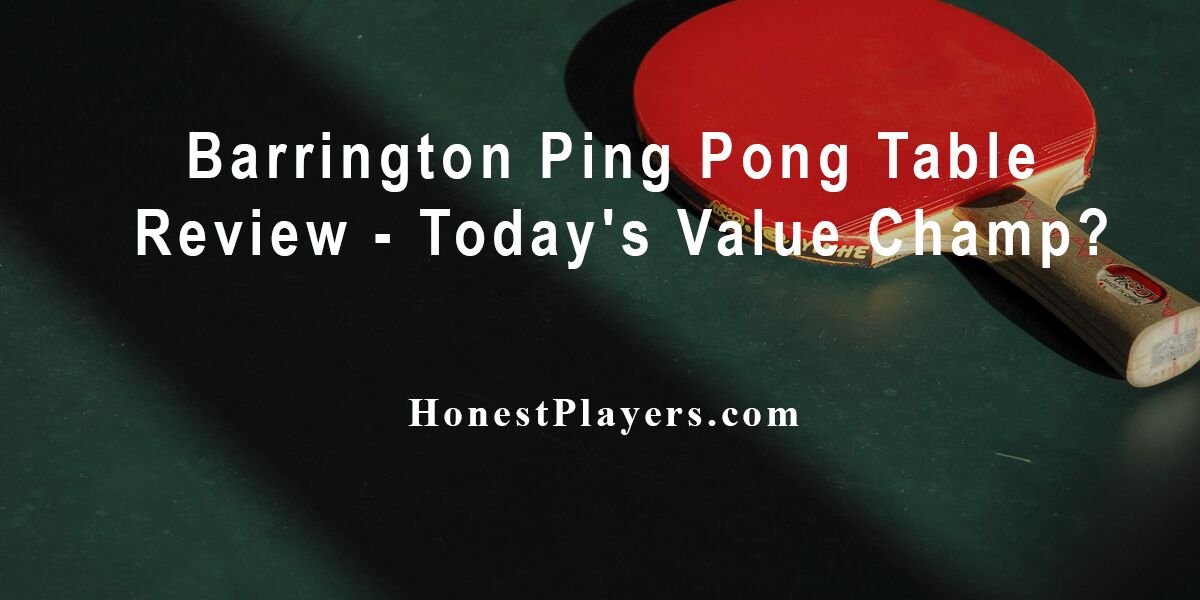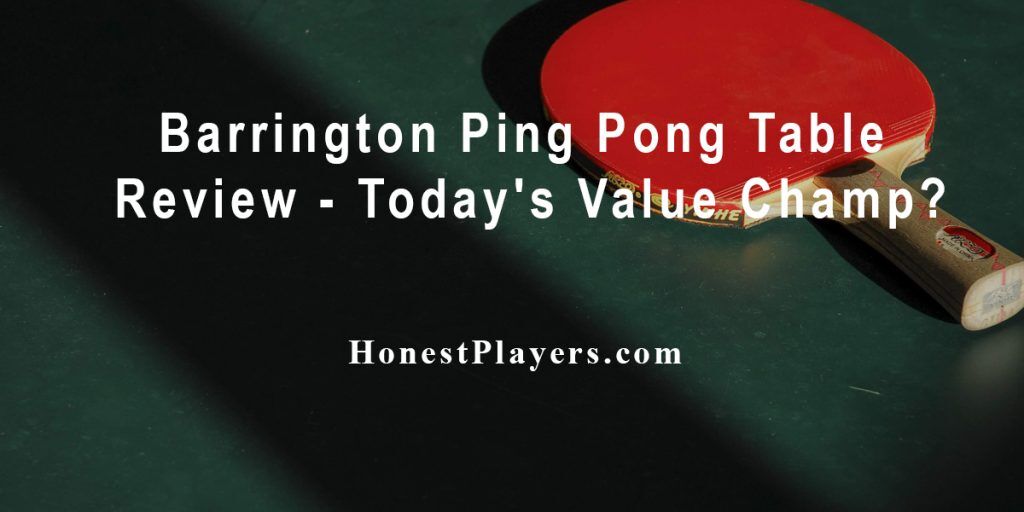 Table Chart of Page Contents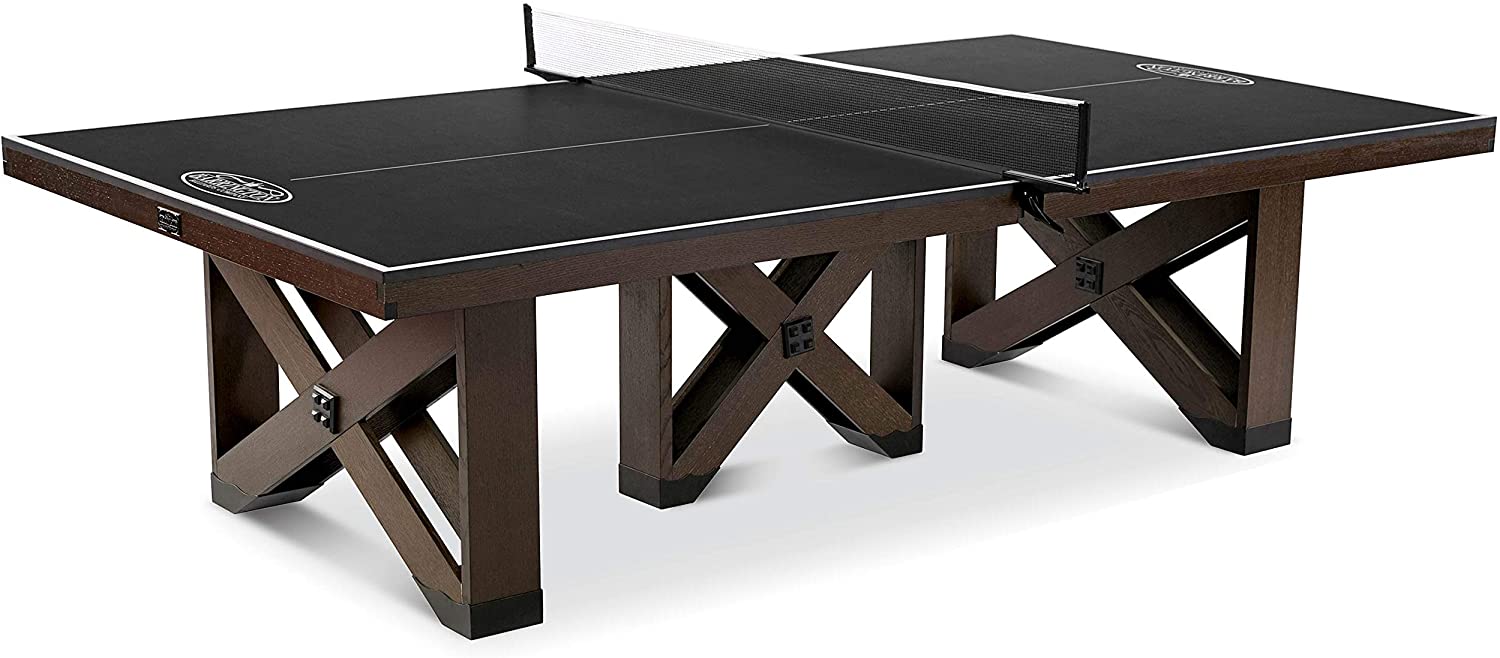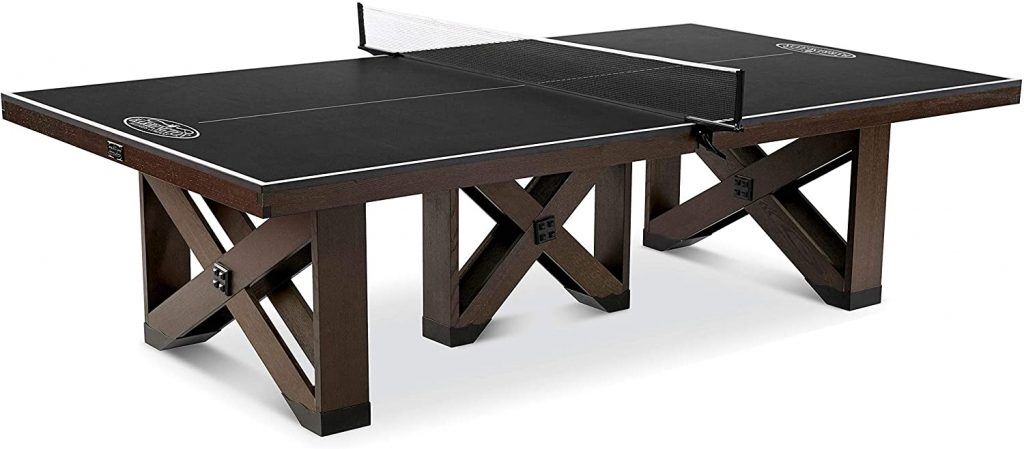 In this Barrington Ping Pong Table review, I'll share my six months of experience & the core features of this table. Keep reading as I'll be giving a few simplified pros & cons in the end, which will help you in making your purchase decision.
Most Refined Solid Wood Construction: Sturdy & Durable
Aluminum & Metal construction is excellent for reducing the total weight. But, solid wood gives the most premium look possible to a Ping Pong table. This table is made of the finest solid wood, which gives it a classy looks & feel. However, this table is weighty & you'll probably need your buddies around setting up this table.
Apart from being sturdy, this table features an 18mm playfield or surface. This amount of thickness gives consistent ball bounce to both advanced & beginner players. The surface color is dark black, and it will add volume to your room. Though my friends were too hard at this table, I never felt the necessity of repairing even after six months of usage.
Furniture-Like Deluxe Quality: Enhances Recreational Room Beauty
The outer appearance of the Ping Pong table matters if it's not a foldable one. As it will be used as furniture, you can't compromise with the look. Barrington Ping Pong table looks fantastic for the sturdy & elegant wooden construction. From top to bottom, this table is built with wood without compromising the build quality.
Barrington Ping Pong Table is a wooden constructed table that features an 18mm playfield, which gives consistent ball bounce & stability. This table is easy & quick to set up as it doesn't require any drilling & tearing work.
This table can be used in the dining as well. You can serve delicious meals to up to 12 people in this 9 feet by 5 feet table. However, don't forget to clean up everything to keep it dry. Even after this much wear & tear, you'll enjoy playing on this table for years as per my friend's opinion.
Official Tournament Size: Practice In Own Comfort Zone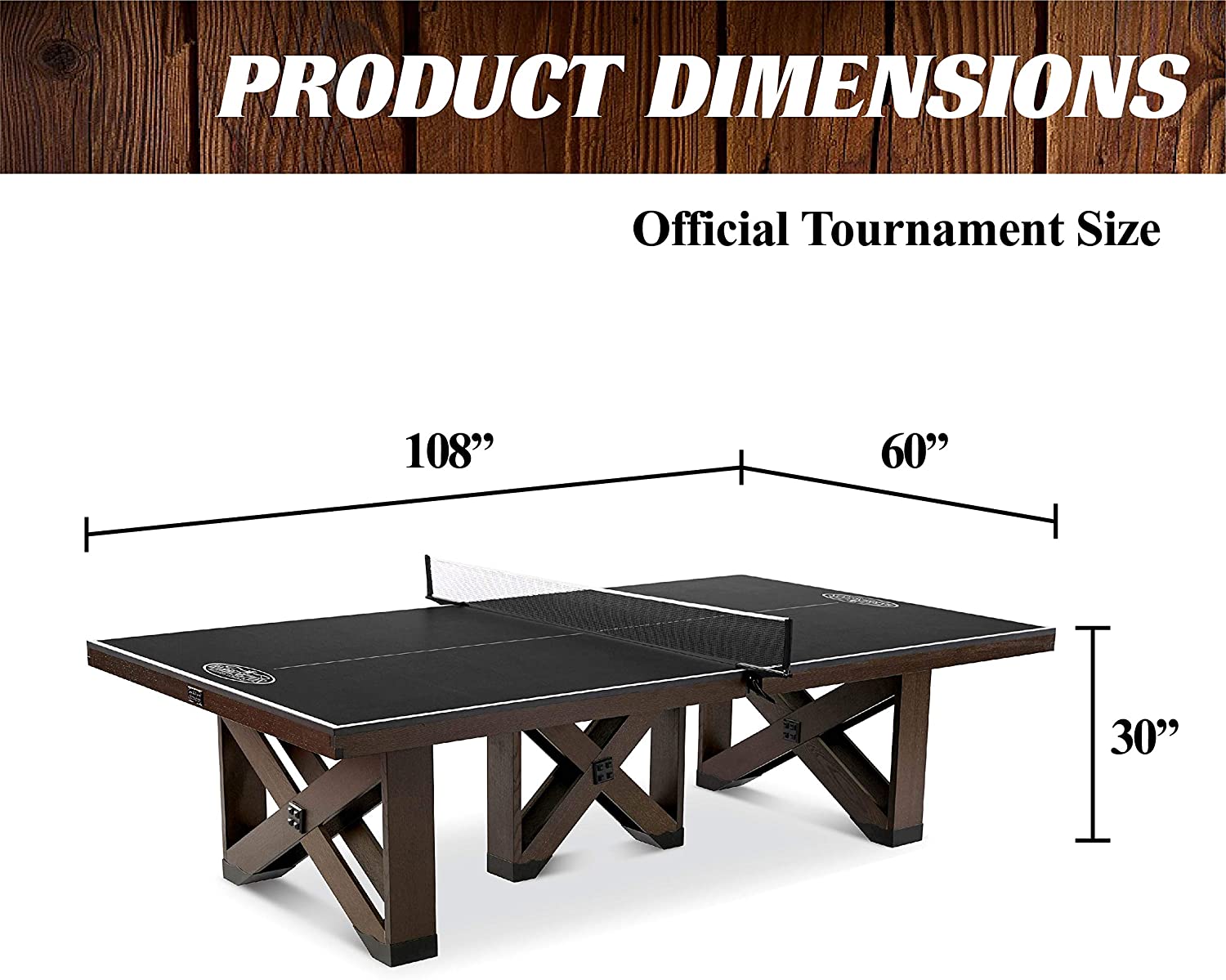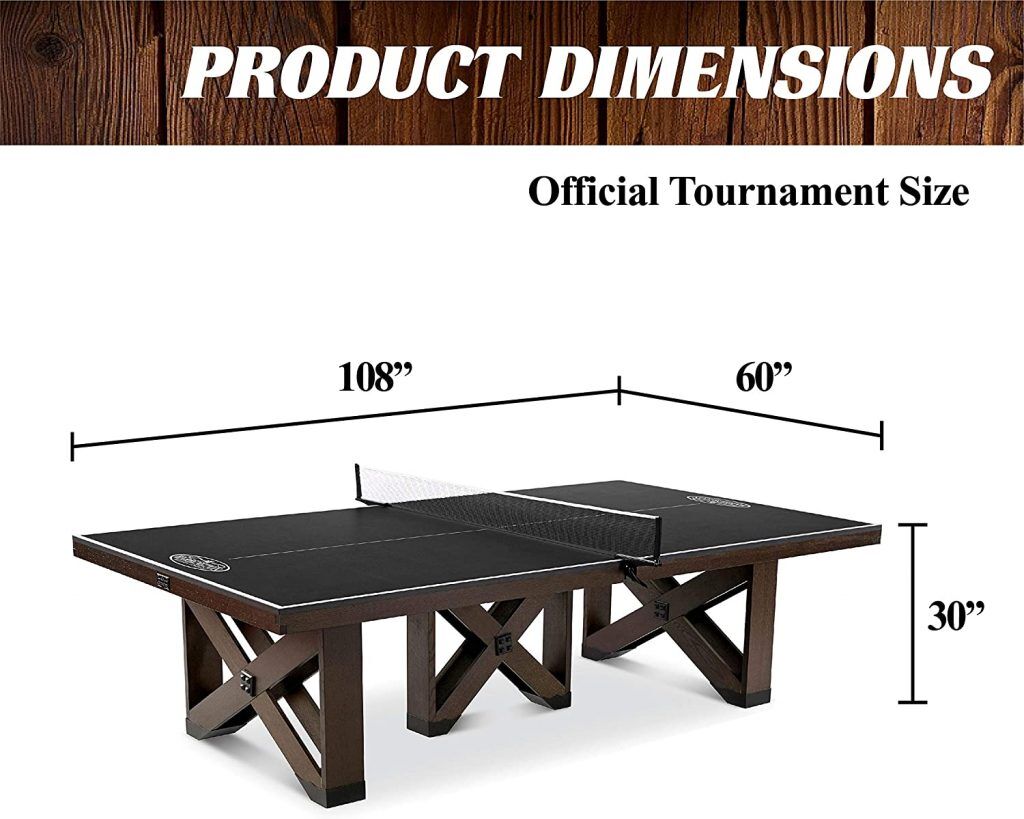 Ever felt anxious practicing at the club's table for your tournament day? With this table, you can have a tournament-like table experience in your living room. This table's total length is 108 inches or 9feet with a width of 60 inches or 5 feet. Also, the height satisfies the tournament table height as well. It's 30 inches or 2.5feet. You can also read the Handbook from ITTF to learn more about the Tournament Table Tennis Table's Size(s).
With this dimensional info, you can say it will give tournaments like experience in your comfort zone. However, playing in a club will make you comfortable with crowd overtime & I recommend that as well. Before that, you can stick to this table for practicing & enjoying your leisure with your friends and family.
Quick & Easy Assembly: No Tools Needed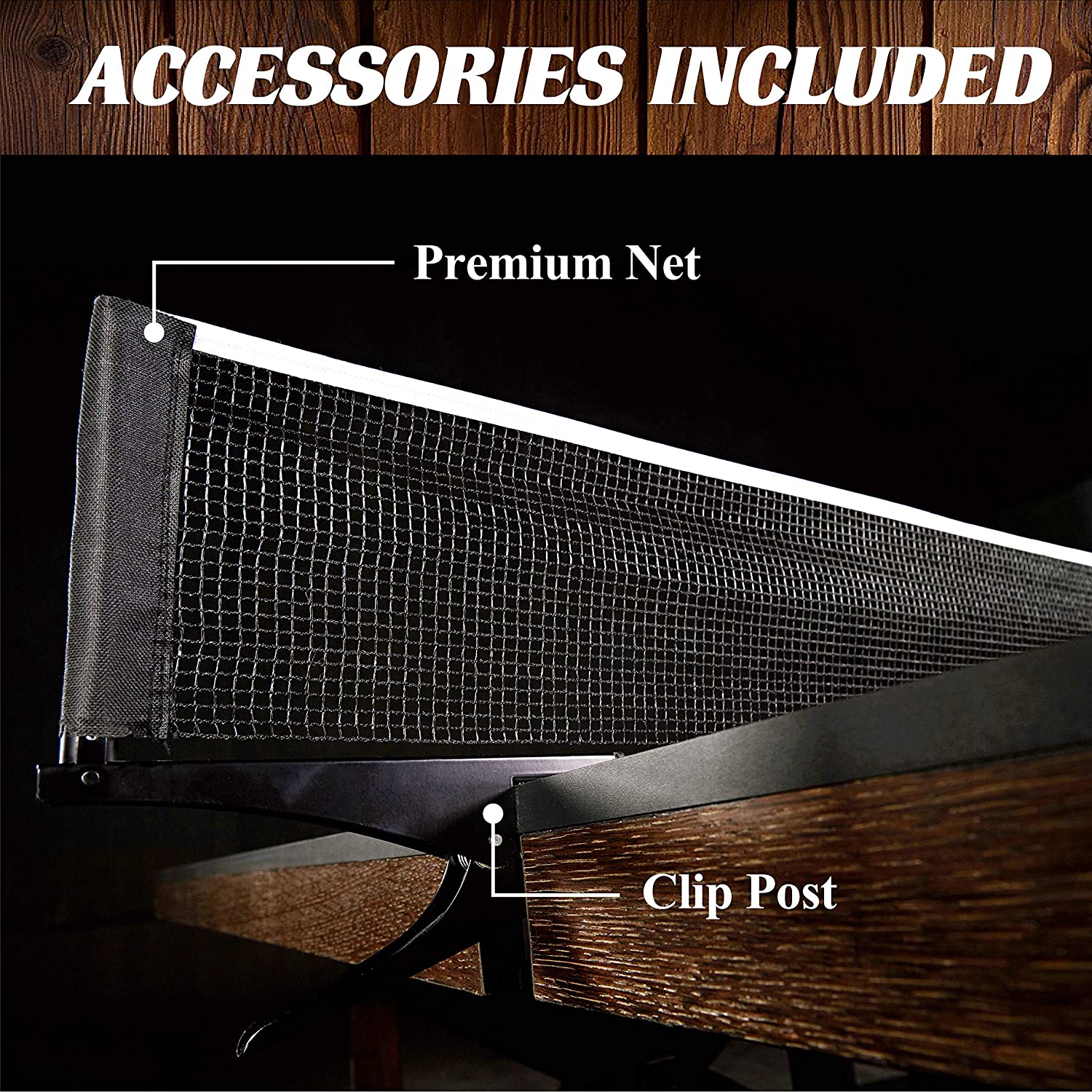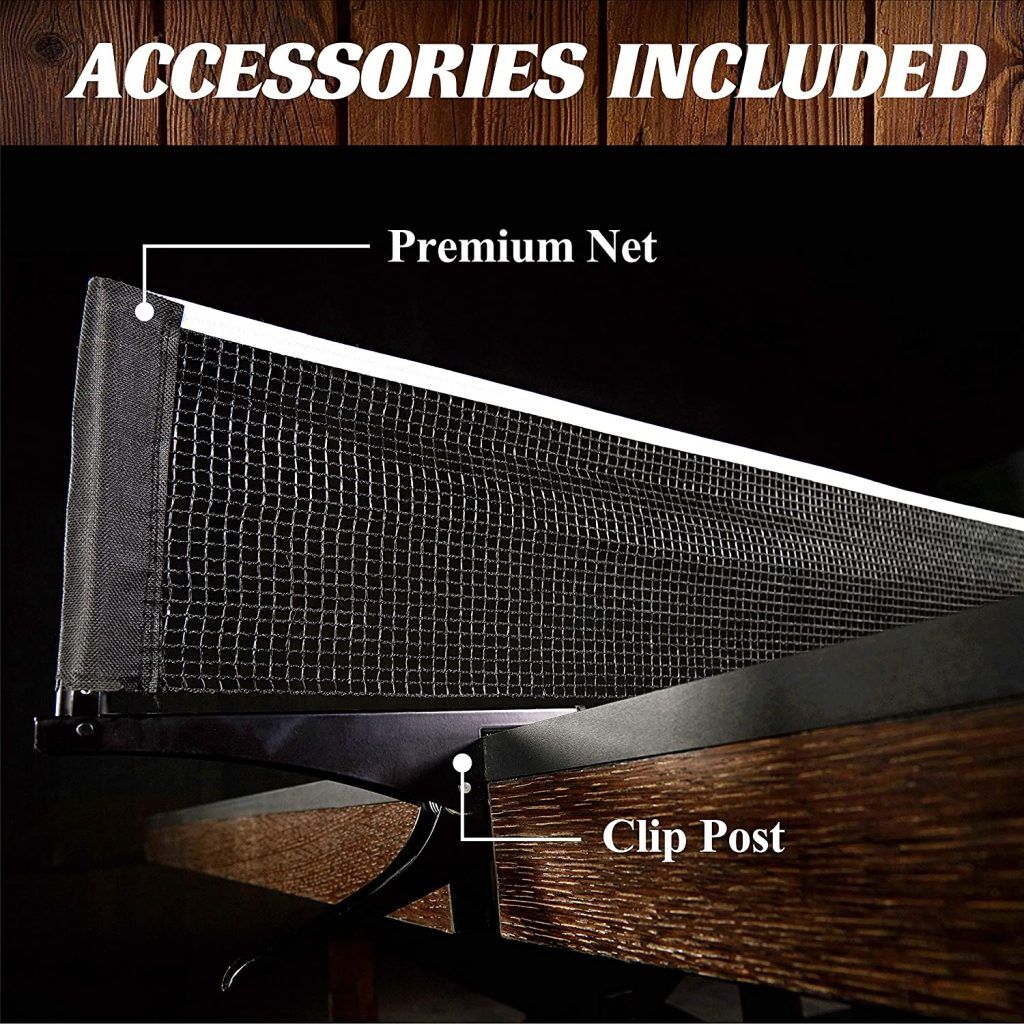 You don't have to be a carpenter operating or installing this table. Anybody with little to no furniture knowledge can complete the installation process – thanks to the Barrington's user manual. This table comes in two separate pieces with a weight of 115 pounds. You'll need to attach the legs with bolts provided with this table.
I needed my buddies around installing this table. It took roughly 25 minutes for the complete installation. If you're alone, you can do it yourself with the help of a few wooden stools. However, it will require much strength too. After the installation is complete, there's no way of folding or moving this table. So choose the location wisely before setting up your table.
Pros:
Easy To Setup & Takes Less Than 25 Minutes For Complete Installation
Solid Wood Structure Ensures Overall Longevity
Features 18mm Dark Black Playfield That Gives Consistent Ball Bounce & Stability
Can Be Used As A Dining Table For 12 Peoples
Enhances Room's Beauty With The Elegant & Premium Look
Cons:
You Can't Use It As An Outdoor Ping Pong Table
You Can't Fold This Table For Making Up Free Space
Frequently Asked Questions – FAQ
What's The Actual Weight Of This Table?
The actual weight of this table is around 115pounds. However, the package will be heavier than the actual product & it will be delivered via truck. Call out your friends in case you need them for the installation.
Can I Store This Table Outside?
No, you can't store this table outside. This table will be seriously damaged if you let it wet for a long time. However, if you can guarantee the dryness, then you can store it wherever you want. But remember, it's too heavy for quick transport.
Can I Fold This Table To Store After Playing?
Unfortunately, you can't fold this table. After the installation, you can't even move this table, let alone fold it. It acts as furniture more than a Ping Pong table. You can use it as a dining table if you lack free space.
What's The Return Policy Of This Table?
With Barrington, you'll be given a 90 days manufacturer warranty. You can contact them if you receive a damaged product. They take around seven days for a replacement. You can also benefit more if you use third-party stores like Amazon via their return policy.
Can One Person Set Up This Table?
The answer varies from person to person. If you're a sturdy guy capable of managing 115 pounds of weight, then you can set up this table. In this case, you'll need a few external wooden stools to make your work done quickly.
Read more: Killerspin MyT4 Table Tennis Table Review
Final Words about our Barrington Ping Pong Table Review
That was all about this furniture-like Ping Pong table. I hope this Barrington Ping Pong Table review was helpful enough so that you can make your buying decision. Without any second thought, I can say it's the most refined table available in the current market.
If you're bored with the typical Ping Pong table available in the market, then this table is for you. Think about your free space before making this purchase, as this table can't be folded. You can use this table as your dining table if you're running low in storage. Overall, it's a great table & I highly recommend this table to everyone.