Pickleball is one of the most fun games that are gaining popularity very fast at this time. It's fun, engaging, and a good workout for you as well.
As you need some equipment to play this game of pickleball, the paddle is the most important one that dictates your performance. The lighter the paddle is, the better. How annoying can it be to hit a ball with a heavy paddle?
If you have been searching for a suitable paddle for yourself, you must have come across a Gamma voltage 2.0 pickleball paddle review. These are the best paddles you can own so far. Read the detailed review of HonestPlayers to get the best of it.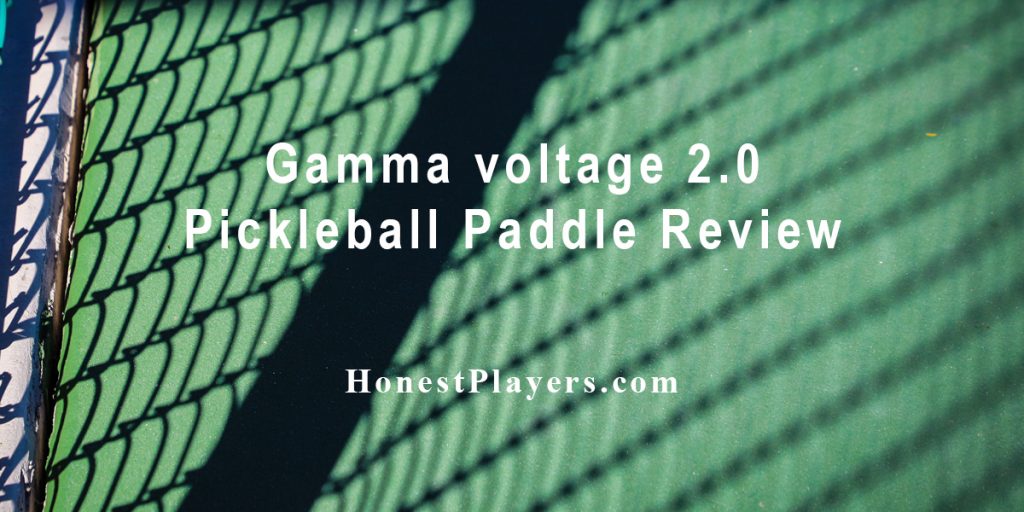 Table Chart of Page Contents
Features of the Gamma Voltage 2.0 Pickleball Paddle
There is a lot to talk about the Voltage 2.0 Paddle. Let's go over the main features of this beautiful paddle below.
Very Lightweight on Your Hands
As you probably know, it's essential to have a paddle that feels light in your hand, as it will help you get better control. Thus, you'll be able to use fast motions to hit the ball with more accuracy.
It helps you by improving your performance. Practicing with a lightweight paddle also helps to develop your skill faster. As the Gamma voltage 2.0 paddle weighs only 7.6 oz, you'll be able to get full control over your motion, which will allow you to get faster swings.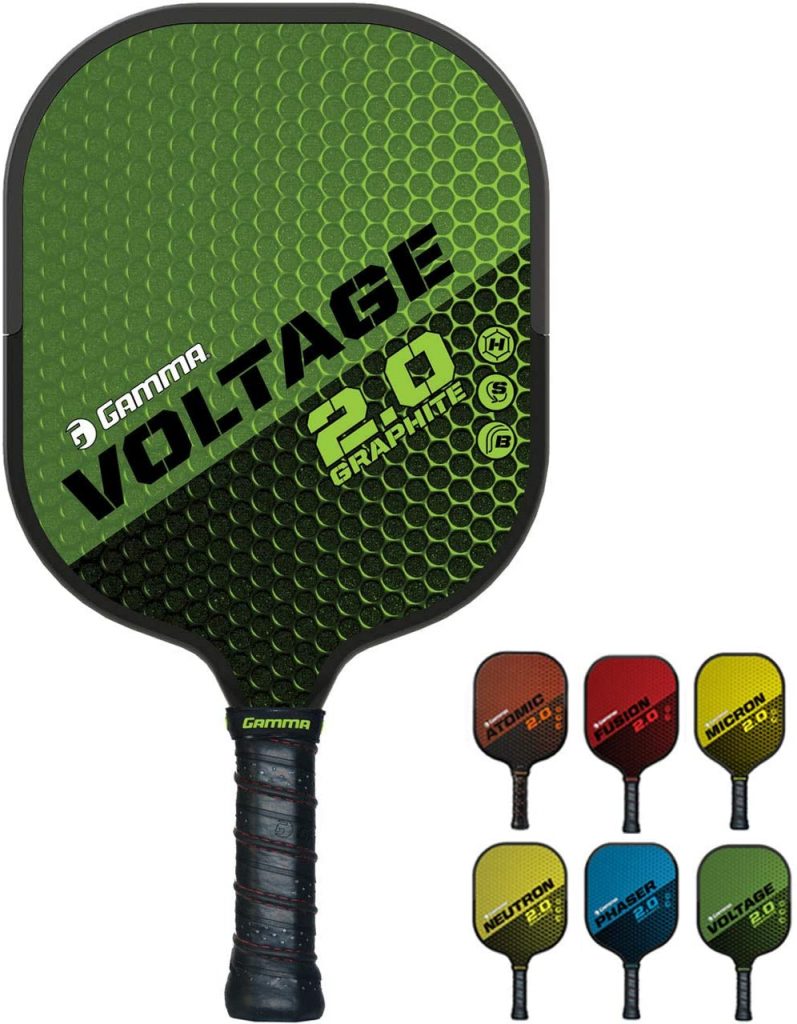 Grip Description
The grip is equally essential for ensuring accuracy in the shot and more control overall. The voltage 2.0 paddle features a 4" honeycomb cushion grip. That's pretty soft in your hands and also absorbs any sweat produced in your hands. Thus, you get a better grip on the paddle, and you can hit with more confidence.
Powerful Shots
In terms of power, the Voltage 2.0 is a perfect choice for you. It uses Aramid Honeycomb Core, which allows it to be a very powerful paddle that you can use for playing pickleball. It doesn't matter if you just started out playing pickleball or are relatively experienced; this model is an excellent paddle for any skill level.
The Gamma Voltage 2.0 meets the USAPA specifications. That goes to show you this is the best paddle you can get for you. It will help you get the most pleasant experience in pickleball.
[Read More:
Rally Graphite Pickleball Paddle Review
]
Durability
As you might have an experiment that most of the paddles catch dark spots within a few days after playing only a couple of matches. But with this paddle, you won't even have to think about that. It features a textured graphite face that ensures the maximum longevity and design integrity. Also, the flush fit bumper helps give you the most comfort that you can get using a paddle.
Voltage 2.0 is one of the best paddles by Gamma that's designed for the professionals. It's super lightweight and sturdy, which helps to give you the best experience possible in your pickleball matches. And for the price range, you really can't go wrong with it.
Hitting the ball with this paddle is pretty easy as it doesn't have unnecessary wide borders. That gives you more surface that you can hit with the ball. That will help you with the hit rate and accuracy of your game.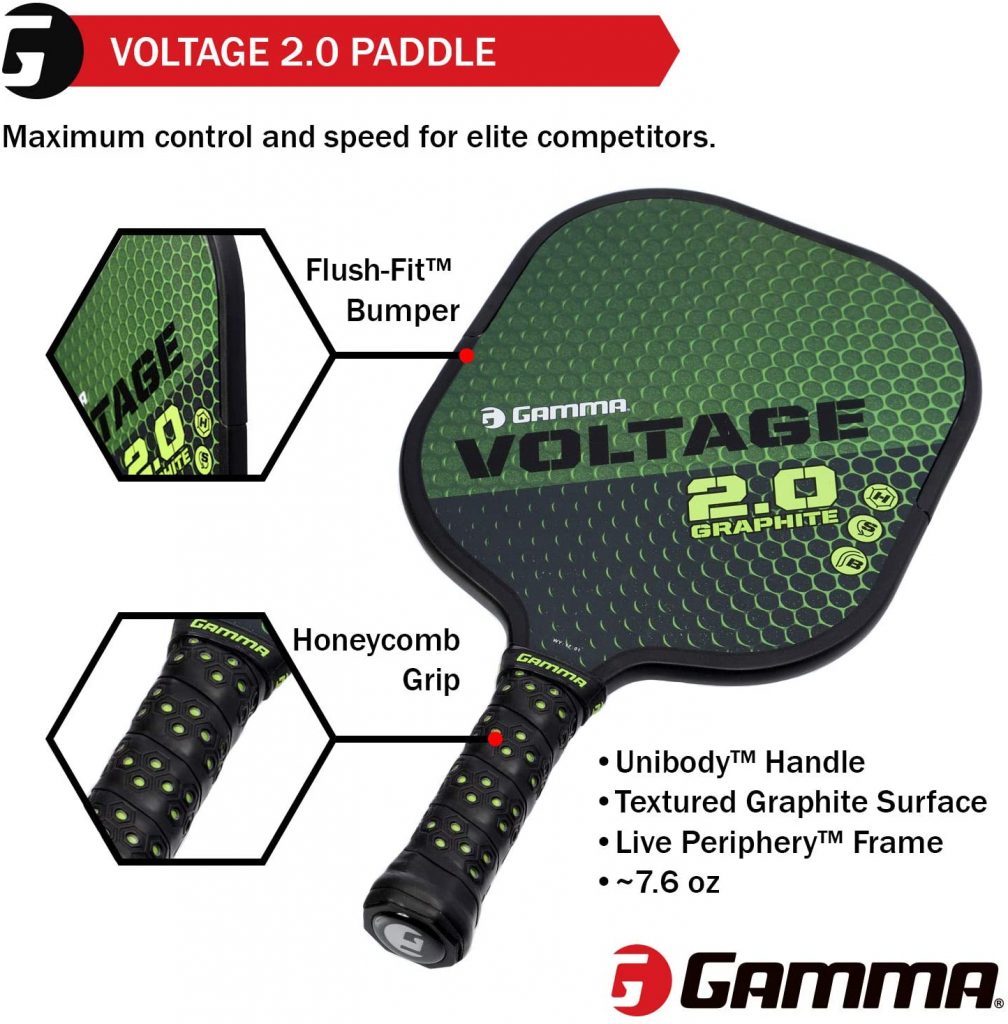 Perfectness
And if you have smaller hands, this paddle is perfect for you. The 4-inch grip will allow you to get a decent grip on the paddle, which will give you maximum control of your range of motion. That way, you are going to reduce the misses and improve your game drastically.
It is also a great paddle to practice pickleball. The weight and grip altogether will help you get the most advantages as you practice. Developing the correct techniques will be much more comfortable with the Gamma Voltage 2.0 paddle.
[Recommended & Similar:
Onix Stryker 4 Pickleball Paddle Review
]
PROS
• Made for the professionals
• Excellent grip for maximum control
• Aramid Honeycomb Core allows for power in shots
• The best value of your money
• Complies with the USAPA specifications

CONS
• Grip size might feel a bit smaller to some of the people

Final Verdict
As you went through the Gamma voltage 2.0 pickleball paddle review, you can probably see that it's one of the best paddles that you can get for yourself. Pickleball is a sport that plays for fun. Equipment should not get in your way of getting the most pleasurable and luxurious experience.
Gamma Voltage 2.0 helps you to get the best experience possible. That lightweight but sturdy paddle is ideal for someone who'd love to have a top-notch paddle for pickleball.
Once you have it, it's going to be a lot more freedom to play at your best. As getting better in sports does require better equipment, having a great peddle will undoubtedly help you get better faster and more efficiently.
And the Gamma voltage 2.0 pickleball paddle is going to be the best option for you if you don't want to compromise the quality for the price.
Readout more about Pickleball at HonestPlayers. Comment down any queries below about the Gamma voltage 2.0 Pickleball Paddle Review.