Pickleball is both a fun and enjoyable game. It also helps to balance the body finely. It is not true if you say that you know pickleball game but you never heard about the Onix Sub-Zero Paddle. In case we are talking about the pickleball paddles, let us talk about the main thing: the Onix sub-zero Pickleball paddle review.
The Onix Sub-Zero Pickleball Paddle is a light to middleweight paddle. It also has a stable and robust structure to maintain its quality. It has a broad head too to cover the problematic shots easily.
Now, let us get into some more detailed paddle features in this Onix Sub Zero Pickleball Paddle Review. HonestPlayers has covered all the hard features of this paddle in this review.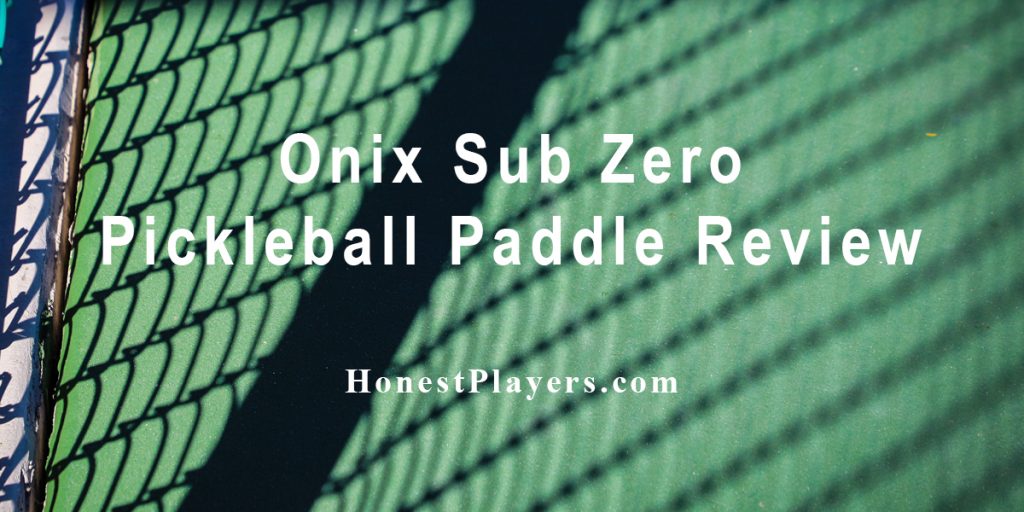 Table Chart of Page Contents
Features of Onix Sub Zero Pickleball Paddle
There is a lot to talk about this Sub Zero Paddle. Honest Players has highlighted some key features of this paddle below.
Dimensions and Weight Balance
The Onix Sub-zero Paddle is one of the lightest paddles around. The weight of the paddle is about 205 grams to 223 grams. It has a full paddle of about 8.3 inches with 15.7 inches of length, 8.2 inches of width, and 1.5 inches of the thickness (height).
Its sleek design and wide-bodied shape make it cover a large sweet-spot and also to contact a large hitting surface. When you play the game, you sure will want to win it, and for this, Onix Sub-zero Paddle can win matches with its dimensions and lightweight features.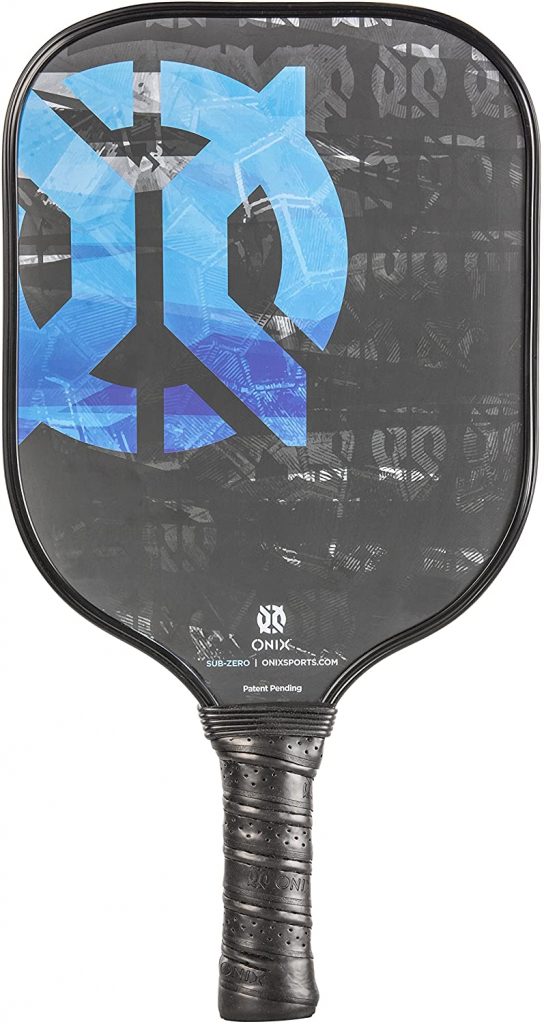 Core Structure
The Onix Sub-zero Paddle has excellent technology built-in in it. This powerful technology makes it different from all other paddles. It has a Ribtec structure in its core, made from carbon-fiber that connects the two graphite faces with a rib-like structure. It also has foam in its center.
The Ribtec technology helps the paddle to be very flexible, and it also enables smooth movement. You will get a light and balanced feel from the paddle. It will give you speed in its action, increasing accuracy when it comes to striking. It also provides an aerodynamic feel to the paddle. This technology will help you if you are one of those who play on the faster site.
Handling and Grip Design
The essential part of a paddle is handling. If handling is perfect, then your gameplay will also be accurate. In terms of winning the game, you need to control your paddle firmly. For this firm control, the Onix Sub-zero is Ergo handled. This ergonomic design is contoured to fit your hand shape correctly, enabling you to play shots of your caliber. Anyone can easily control the paddle because of its Ergo handled design.
[Read More:
Gamma voltage 2.0 Pickleball Paddle Review
]
You can be one of those who might have the problem of hyperhidrosis, which means palm-sweating of both hands and legs. Some players might have to face difficulties in playing the game because of your hand sweating. Well, you can get rid of this problem if you play with the Onix Sub-zero paddle.
Onix is famous for its grip control, and this paddle is also not different from it. It has a cushioned surface that absorbs your hand's moisture and gives you better and fast play.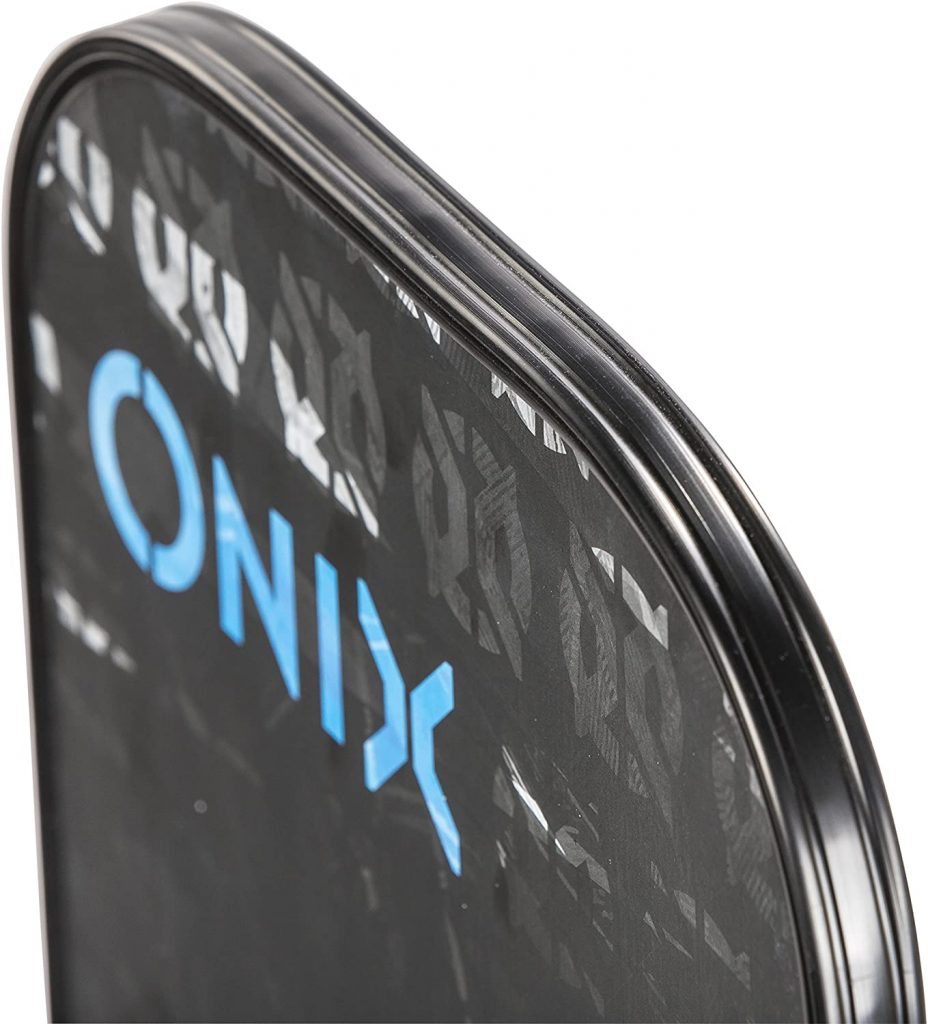 Paddle Surface
The paddle is made with carbon-fiber with graphite. This mixture of two sturdy materials makes the paddle strong and stout. It will help you to play a swift game as well. It also has a broad head shape, which allows you to cover a large sweet-spot.
There will always be some mishits in the game, which can affect your paddle to scratches or bumps. Onix has some measures for this. They have added an edge-guard to protect the paddle from rough hits of the court. Thumbs up for that!
[Similar:
Gamma Mirage Pickleball Paddle Review
]
PROS
• Nicely Stabilized
• Ribtec structure technology
• Lightweight and easy to control
• Widebody shaped and powerful
• Ergo Grip Handling
• Edge-guard protected

CONS
• Lack of force in power swings
• Not the best for aggressive players
• The price might seem a bit high for some

Frequently Asked Questions
Is this an edgeless paddle?
No, this is an edgy paddle. The manufacturer claims the edge-less standard does not go with them, so they stopped making them.
Is this the best for aggressive players?
No, This is not the best paddle for an aggressive player. But it is more likely to be a defensive paddle.
Is this made in China?
No. The paddle is made in Mexico. China and Mexico both countries are good at making Paddles. But, you have to choose the better one, right?
Is it very durable?
It is likely to be durable and comfortable.
Is this paddle the most powerful in the market?
It is not likely to be the most potent paddle, but it is efficient. You will definitely enjoy playing with this paddle.
Final Words of the Onix Sub Zero Pickleball Paddle Review
You have gone through the detailed review and have come to this point, thinking whether to take the Onix Sub-zero Paddle or not. Undoubtedly, it is one of the best paddles out there. It is lightweight, well-balanced, etc. Its Ribtec structure technology makes it more unique than other paddles out there. The materials are also quite useful in quality. Its widebody shape will give better sweet-spot coverage.
It is also designed in aerodynamic shape. You have all you want in this paddle.
If you are looking for a paddle that will be long-lasting and comfortable that can provide decent performance, this paddle is definitely for you. On the other hand, if you are looking for a top-class paddle and want it to be quicker and more aggressive, this may not be the best choice.
Readout more about Pickleball at HonestPlayers. Comment down below for any queries about the Onix Sub Zero Paddle review.