Professional rackets cost a lot as they ensure top-notch quality. For the high prices, not everyone can afford them. By the way, you can get professional paddles-like experience from a $25 paddle too. Brace yourself as I'll be reviewing something that feels premium despite being a budget option.
I've used numerous paddle models in my Table Tennis career. Recently I found a budget model (Wakaba 2000) from Butterfly & stuck to it to write a review out of it. To my surprise, this paddle felt excellent holding & playing. From spin to control, everything was pretty decent. I'll be sharing more about this paddle in the next Butterfly Wakaba 2000 Table Tennis Racket review segment.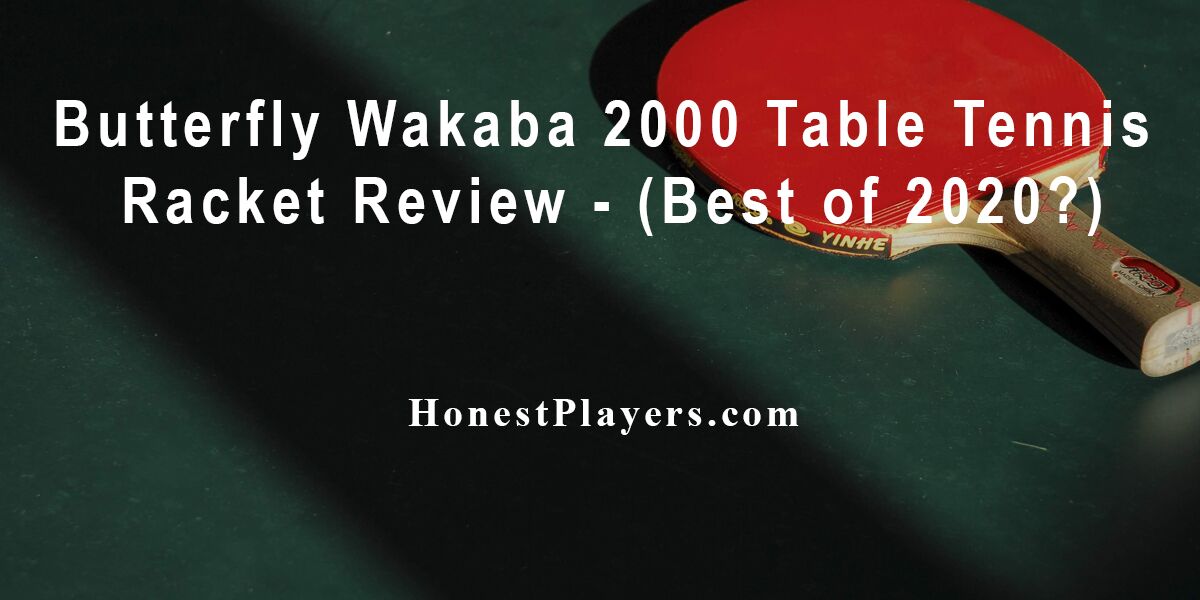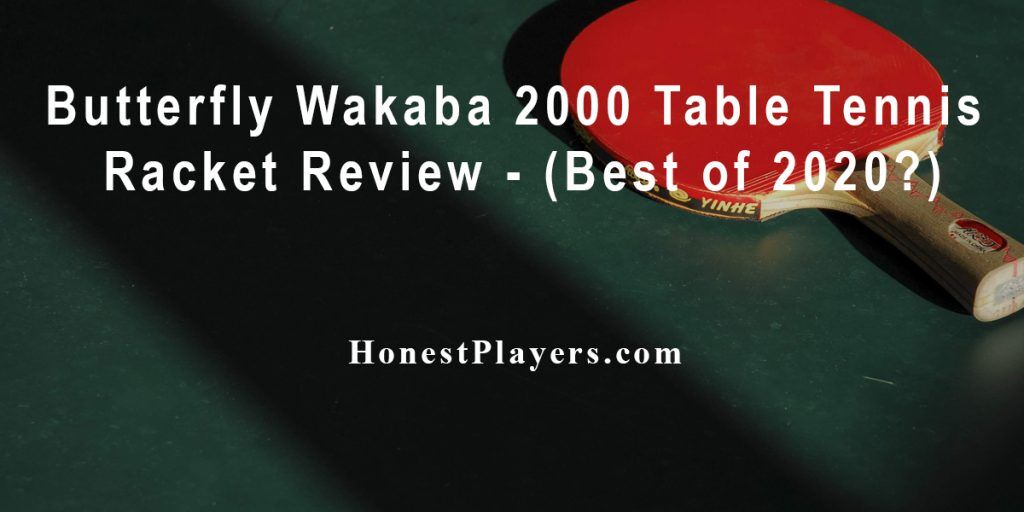 Table Chart of Page Contents
Butterfly Wakaba 2000 Table Tennis Racket Review: Features, Pros & Cons
In this Butterfly Wakaba 2000 Table Tennis Racket Review, I'll share my four weeks of experience & some of this racket's core features. Stay tuned for simplified pros & cons as I'll be leaving in the end, which will eventually help you make your purchase decision.
5-Ply Wood Construction: Ensures Professional Quality & Durability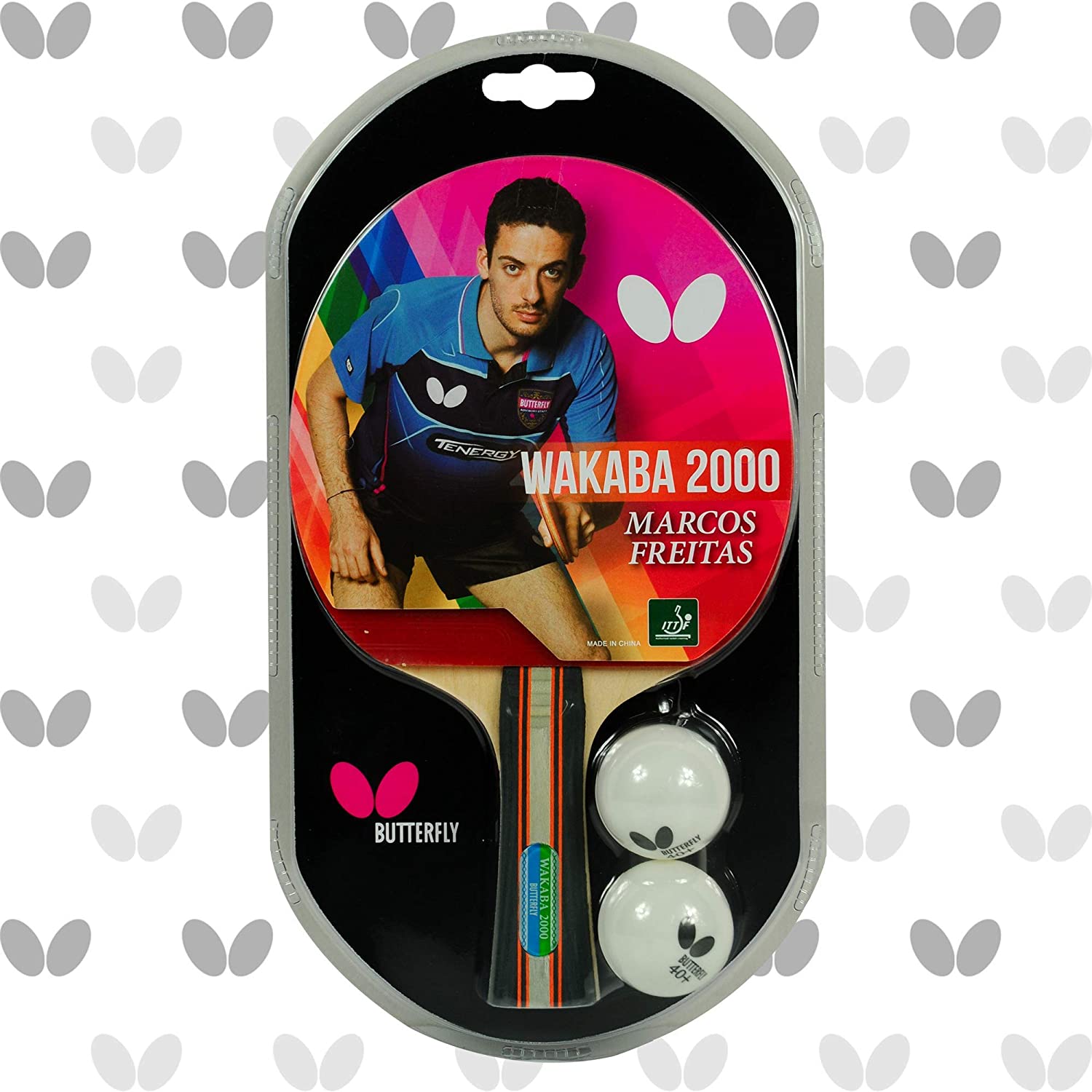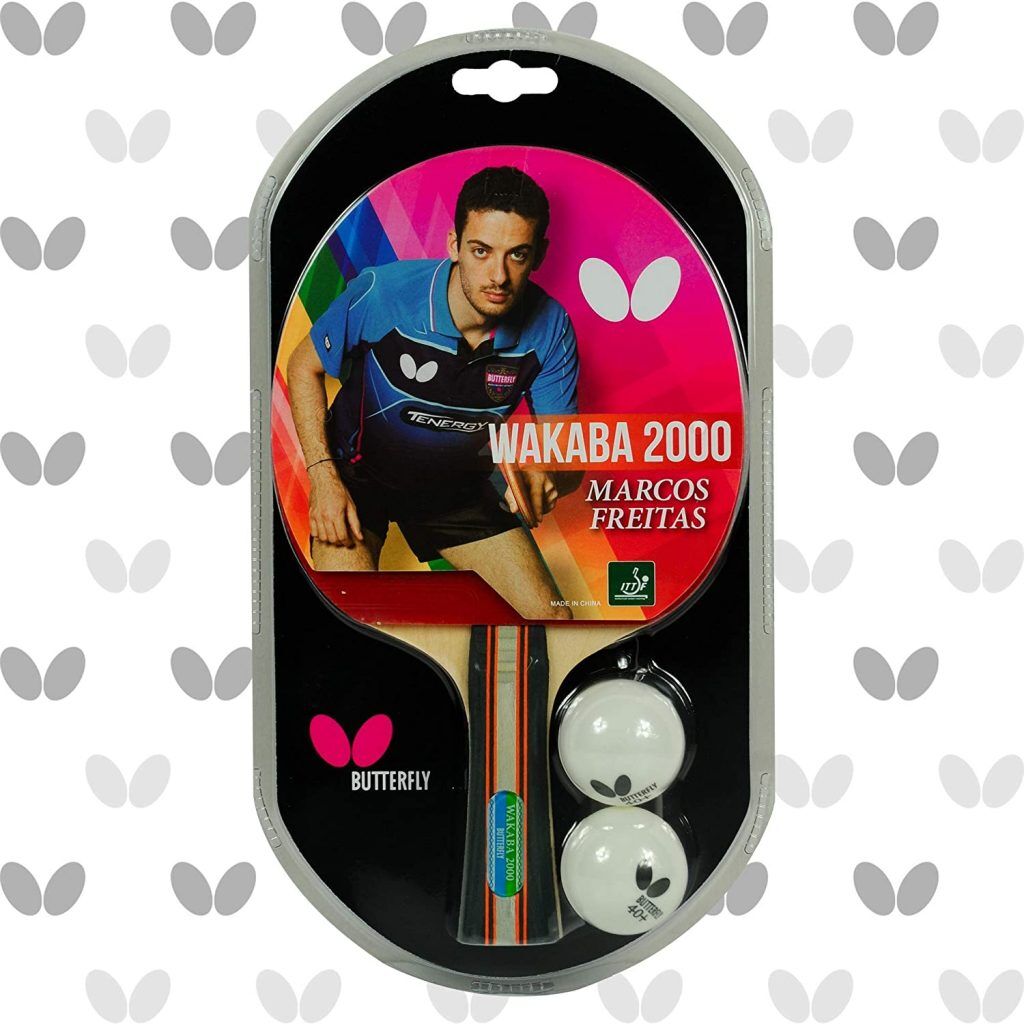 Whether you're a beginner or intermediate player, you'll love a racket that gives a vibe of professional quality. I was amazed by this $25 racket as it gave me a wonderful gaming experience in both practice & tournaments. This Table Tennis racket is made of 5-ply wood, which provides a professional-like experience without being an actual professional racket.
I tested this paddle for reviewing it; I have used this paddle like a beginner would do – faulty volleys, ground shots, etc. Surprisingly, this paddle performed beyond my expectations as it survived & functioned fine. I highly recommend this paddle if you're a beginner looking for something to improve skill level.
Great Red & Black Rubbers: Gives Perfect Blend Of Speed & Spin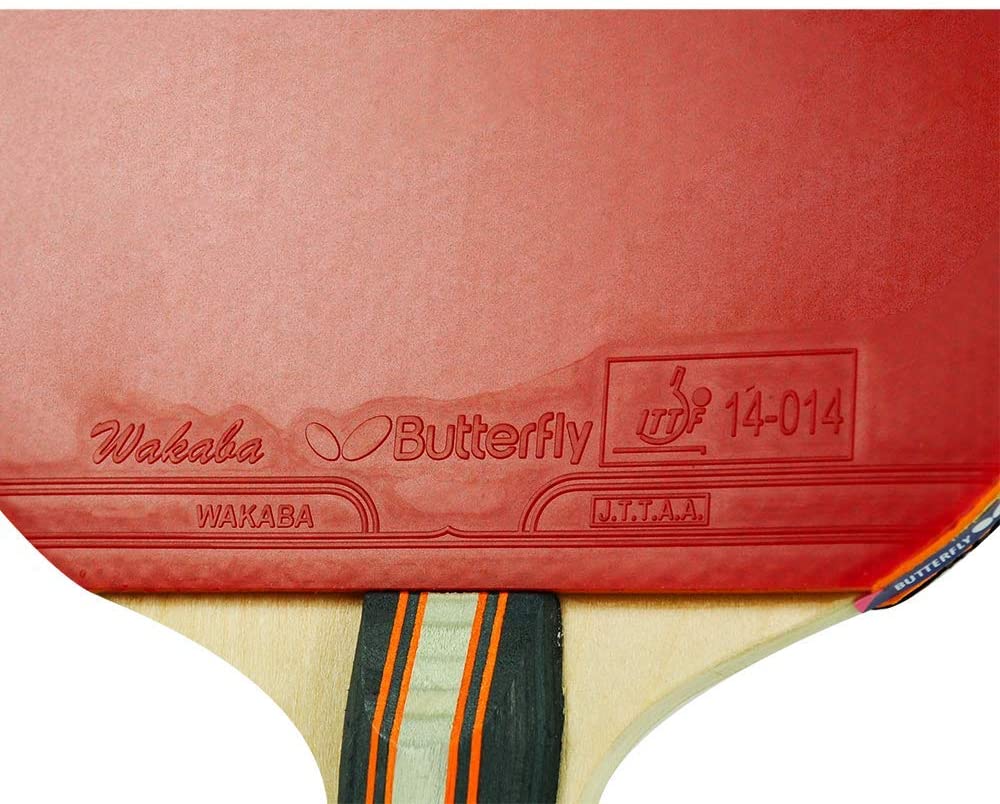 This racket features 1.8cm of rubbers on both sides. In this particular model (Wakaba 2000), you'll get red & black rubbers. However, you may find other rubber color options by buying other models like 1000 or 3000. These rubbers coating performed excellently, gaining remarkable speed & spin. You can also clean this paddle so easily.
If you want some more information about the speed & spin, let me help you out. This paddle's speed score is 90 – a pretty high & enough number for beginners & intermediates. Also, it features a whopping 80 score in the spin section. In summary, this paddle is strong enough to give an aggressive gaming experience if you know the correct way. You will get a similar experience at Barrington Ping Pong Table.
Flared Designed Handle: Offers Superior Grip & Control
Handle plays an important role when we're talking about any paddles or rackets. The Butterfly did an excellent job in this part, like every other aspect. They featured a flared designed handle for enhanced grip & control. This design features a handle narrower at the top & broader at the bottom.
Butterfly Wakaba 2000 racket gives the perfect mix of power & control without adding much weight (158grams). From beginners to intermediates, everybody will enjoy playing with this under $25 budget tennis table racket.
I had satisfactory control over the paddle, thanks to the flared designed handle. With this racket, you'll receive a 70 scored control. Beginners & intermediate players will love the control, but the advanced players should avoid this paddle. Talking about the grip, it's fantastic! I was feeling less vibration than I typically do with budget rackets.
ITTF Approved Paddle: Suitable For Both Beginners & Intermediates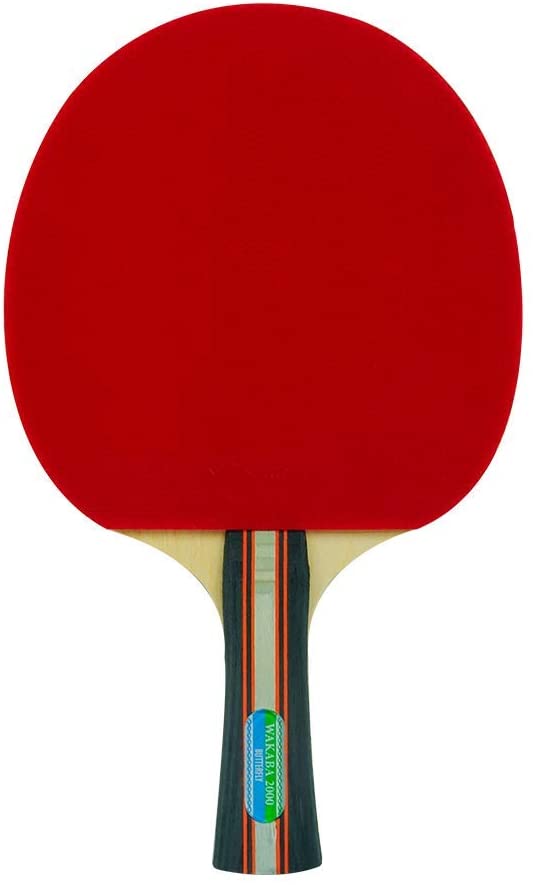 Please don't underestimate this paddle as it is selling for less than $25. This paddle passed all the quality tests & made itself an ITTF approved paddle. After practicing & boosting your skill level, you can take it to any tournaments without facing restrictions.
This paddle performed excellently, considering the price. The most important & exciting part of this paddle is, it's not only a beginner paddle. Besides beginners, intermediates & aspiring professionals can have a decent gaming experience with this racket too.
PROS
• Ensures Professional Quality With 5-Ply Wood & Rubber Construction
• Gives a Satisfactory Amount Of Spin & Speed, Great For Players Trying To Improve Skill Level
• Perfect Choice For Both Beginners & Intermediate Players From Performance & Budget Perspective
• Thicker Sponge Layer Offers More Motion & Adds Speed While Striking Balls
• Comes With Two Butterfly Ping Pong Balls With Each Paddle

CONS
• Not Suitable For Advanced Players Looking For Massive Speed & Spin
• A Bit Heavier Than Other Budget Rackets

Read More: Killerspin MyT4 Table Tennis Table Review
Frequently Asked Questions – FAQ
Are The Provided Balls ITTF Approved?
No, these are training ping pong balls. You can't take them to any tournaments, but you can use them for practice purposes. Besides, ITTF approved balls are expensive & it's not possible to put them in this budget paddle.
How Thick Is The Rubber On Both Sides Of This Paddle?
This paddle is made of 5-ply wood & rubber on both sides of the paddle. It features 1.8cm rubber coating on both sides, which gives a satisfactory amount of spin & speed. Also, it offers excellent maneuverability to anyone playing with this paddle.
What's The Weight Of This Paddle?
Though they haven't the actual weight, I found it to be 158grams in weight. It's slightly heavier than other budget paddles, but it offers excellent control & speed. If you're already using a lightweight paddle, it might take time to be comfortable with this paddle.
What's The Return Policy Of This Wakaba Racket?
You'll be provided with a 30 days manufacturer warranty with this paddle. You can ask for a replacement if you receive damaged or wrong models. Also, you can get a refund if you find it uncomfortable.
Who Should Buy Butterfly Wakaba 2000 Rackets?
If you're a beginner looking for an upgrade, then this racket will be the best option. However, intermediate players can use this paddle too for improving their skill level. Advanced and professional players might find this racket weak, so they should avoid making this purchase.
Final Verdict
This article was all about the Wakaba Table Tennis racket. I hope this Butterfly Wakaba 2000 Table Tennis Racket review provided much value exploring this racket. In my four weeks of usage, I loved the gaming experience it offered. I'm so confident with this paddle that I bet no racket under $25 budget can beat this racket from a performance perspective.
If you're a beginner or intermediate player, I highly recommend checking this racket. You can even consider buying this racket if you're looking for an upgrade from any beginner racket. Before making your purchase, Keep in mind – this paddle is undoubtedly better than beginner paddles & a bit off from professional paddles.