Badminton acts differently from person to person. Some might say, "It's beneficial to health," others might be thinking of it as a great recreational sport. Whatever your thought is, you must need a badminton set to get started, right? Most of the budget badminton sets aren't good enough & provide either less or low-quality accessories.
After testing several badminton sets for the last 6months, I stumbled upon the Eastpoint Badminton Set – a lightweight & easy to assemble a complete badminton set. I got everything I need to have a fruitful gaming experience without borrowing stuff from neighbors & friends. I'll share my four weeks of experience in the next Eastpoint Badminton Set Review & Features segment.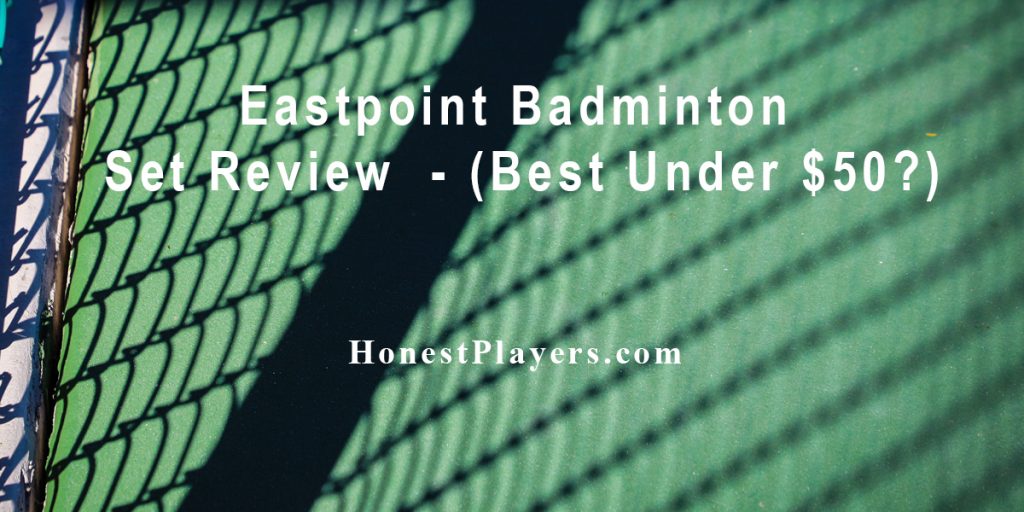 Eastpoint Badminton Set: Features, Reviews, Pros & Cons
In this Eastpoint Badminton Set Review, I will be discussing the core features of this badminton set along with my personal experience. Besides explaining the parts, I will give simplified pros & cons in the ending to make your buying decision smoother.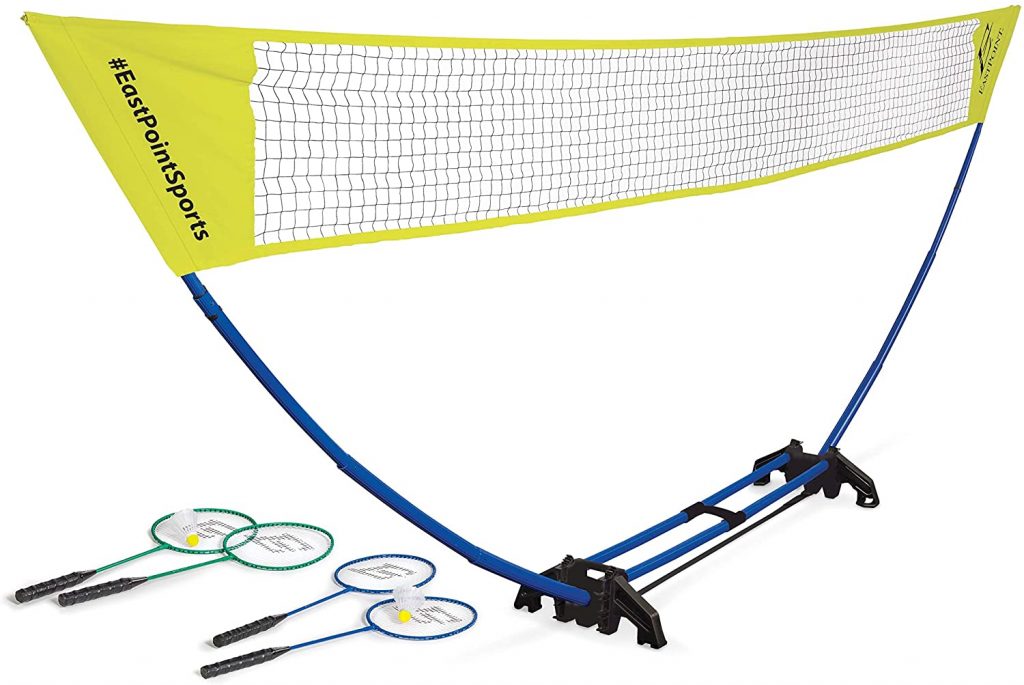 Easy To Assemble: Takes Less Than Five Minutes
You'll know the struggle of setting up the badminton court – if you've ever experienced. If not, let me tell you it's frustrating. You'll need poles, tools, cords, and stakes so that you can set up a court. However, this badminton set will ease you from all of those struggles.
The Eastpoint badminton sets come with all parts you need to get started. From net to rackets, this set will give you everything. Also, it's easy to set up & can be done within five minutes. No matter where you intend to play – Beach, park & Tailgate, you can quickly assemble this set. Forget about poles or cords hassle; setting up this mobile court is buttery smooth.
Complete Badminton Set: Borrowing Hassle-Free Gaming Experience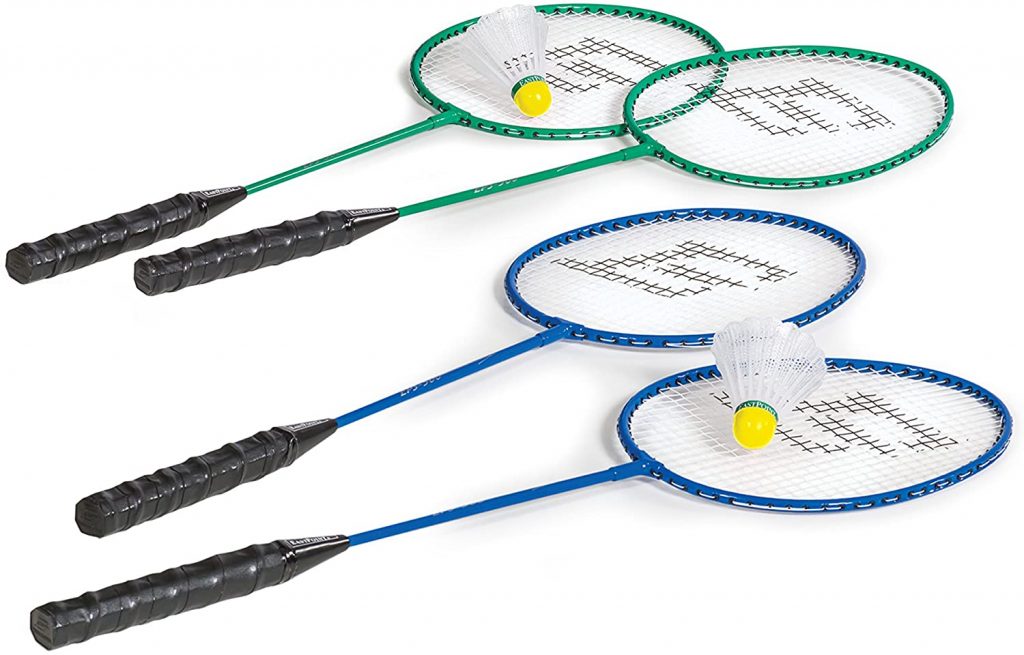 Ever faced a problem, like you're ready to play & suddenly one of your friends screams – "Where's my racket!" well, you & I know he never brought one. To tackle this situation, you need a badminton set that comes with every component you & your friends need to enjoy the game.
Fortunately, Eastpoint Badminton Set features a complete solution for badminton. You'll be receiving four official size rackets featuring a strong metal frame & reinforced polymer weave. Also, two quality shuttlecocks & 15 ft net will be provided with this set. More importantly, you can carry everything at a time in the carry storage base & weigh only 8.47pounds. The racket has definitely the qualifications to stand up in our top 10 best badminton rackets list.
Fully Weatherproof: Enjoy Game In Rain & Shine
Rainy weather shouldn't be a problem when you're excited about badminton. Like me, many people enjoy playing in rainy weather – it just gives much joy & pleasure compared to sun-shiny day gaming. This badminton set served what most people & I need, which is being weatherproof.
Eastpoint Badminton Set is a complete badminton solution under a $50 budget & can be assembled within five minutes. This badminton set features four rackets, two shuttlecocks, a 15ft net & a carry storage base that can fit everything mentioned above.
With this badminton set, you can have fun, whether it's a rainy day or sunny day. Also, the rackets provided with this set are water-resistant. For these reasons, I can say it's a full weatherproof badminton set that everybody wants. However, don't forget to wipe with a towel after each rainy day matches as it will accelerate this set's overall lifespan.
Suitable For Everyone: Kids To Adults & Beginners To Seasoned Players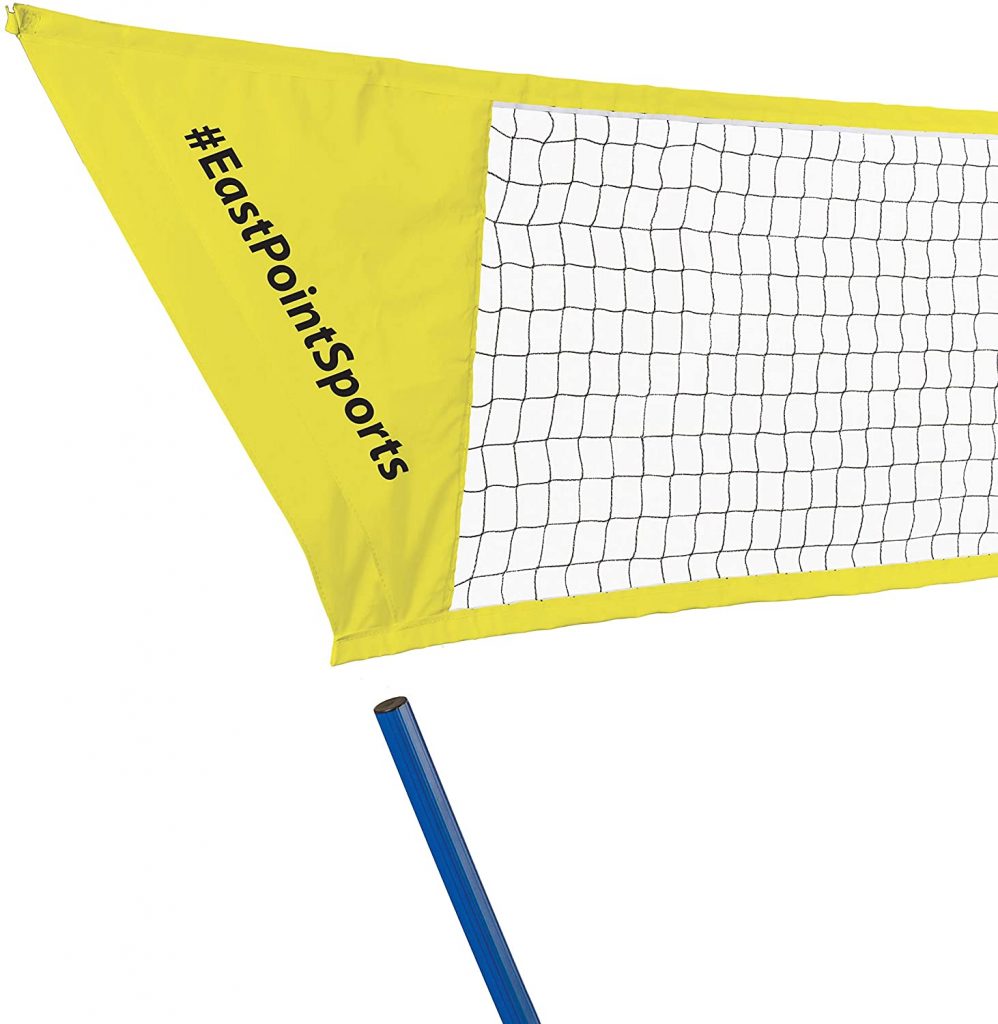 Forget about buying separate badminton kits for kids. This badminton set proudly serves everybody despite ages & skill levels. The height of the net is 5ft 1inch & the length is about 15ft. Kids can quickly assemble & play with this set by themselves. Besides kids, adults won't feel bad either as the height is high enough.
If you're a beginner, it's an excellent set for you from a price perspective as it costs less than $50. You'll be getting so much quality stuff from this set – four rackets, one net, two shuttlecocks & a carry storage base. They'll cost more than that if you buy them separately. This badminton set is good enough for seasoned players as well. I bet they won't be disappointed in trying this set.
Pros
This Badminton Set Comes With Everything A Four Player Badminton Team Needs
It's Lightweight (8.47 pounds) And Can Be Transported To Anywhere You Want
It's A Budget-Friendly Badminton Set Under $50 Budget
Kids Can Assemble This Set By Themselves
Suitable For Both Beginners & Seasoned Players
Cons
Doesn't Come With A Travel Case
Height Isn't Adjustable
Watch the video on Eastpoint Badminton Set Review:
Frequently Asked Questions – FAQ
Can I Play Volleyball With This Net?
Yes, the height of the net is high enough that you can play volleyball as well. Unfortunately, this badminton set doesn't feature any volleyball kit – so you've to bring them separately.
Can I Have Replacement Parts With This Badminton Set?
Yes, you can have replacement parts with this badminton set. Under the warranty period, you can have any parts of this set at a very cheap price by contacting the manufacturer.
Is The Net Height Adjustable?
Unfortunately, the net isn't adjustable. The default height is 5 feet 1 inch, which is okay for kids & adults. If you feel the need for a higher or lower height, you may look for other models.
Does This Badminton Set Come With A Travel Case?
No, this set doesn't come with a travel case. But it comes with a carry bag that you can use for transportation. This bag is good enough that you won't feel the need for a travel case.
Can Kids Use This Badminton Set?
Yes, kids can use this badminton set. This set is easy to assemble and can be done within five minutes. Also, the 5 ft 1in net height is convenient for the kids to have an excellent gaming experience.
Final Words about Eastpoint Badminton Set
That was all about this badminton set. I hope you found enough value from this Eastpoint Badminton Set Review to make the purchasing decision. I genuinely loved playing & using this badminton set. If you're still confused about the buying decision, let me help you out.
This badminton set is a perfect solution for those who don't want the court setup hassle. It will take only five minutes to set up this badminton & it's so easy that kids can do it as well. I highly recommend this badminton set if you're a beginner or have a tight budget.