A quality paddle will surely boost your skill level – whether you're a beginner or intermediate player. But choosing the quality paddle that can satisfy your need within budget is challenging. It's normal to feel overwhelmed as there are many options available. So I decided to help my readers out by testing a few budget paddles of the online market.
After testing several budget paddles, I found Niupipo Pickleball Paddle which feels excellent while holding & playing – thanks to its ultra-cushioned grip. Besides, I enjoyed quality spin with each shot for the subtly textured fiberglass surface. I'll be discussing more this paddle in the next Niupipo Pickleball Paddle Review & features segment.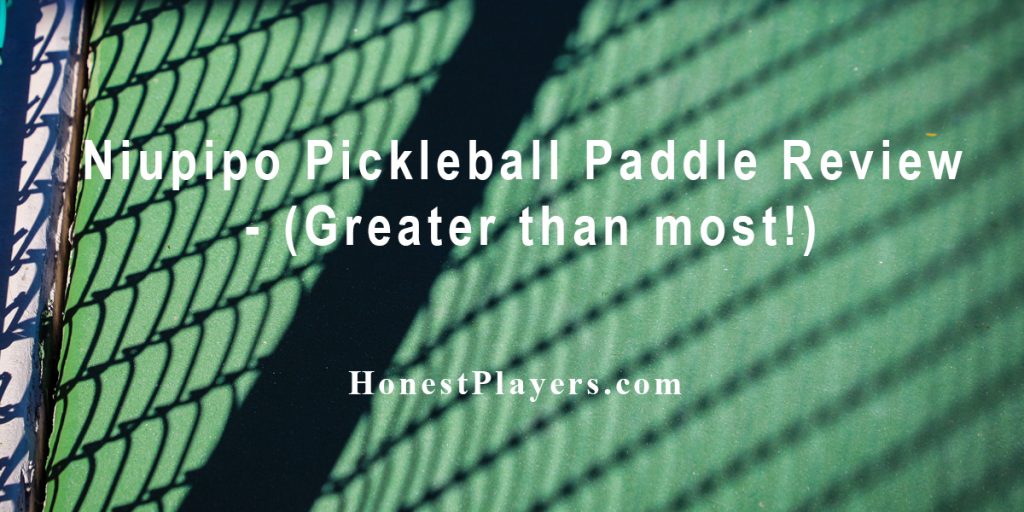 Table Chart of Page Contents
Polymer Honeycomb Core & Proprietary Edge Guard: For Added Strength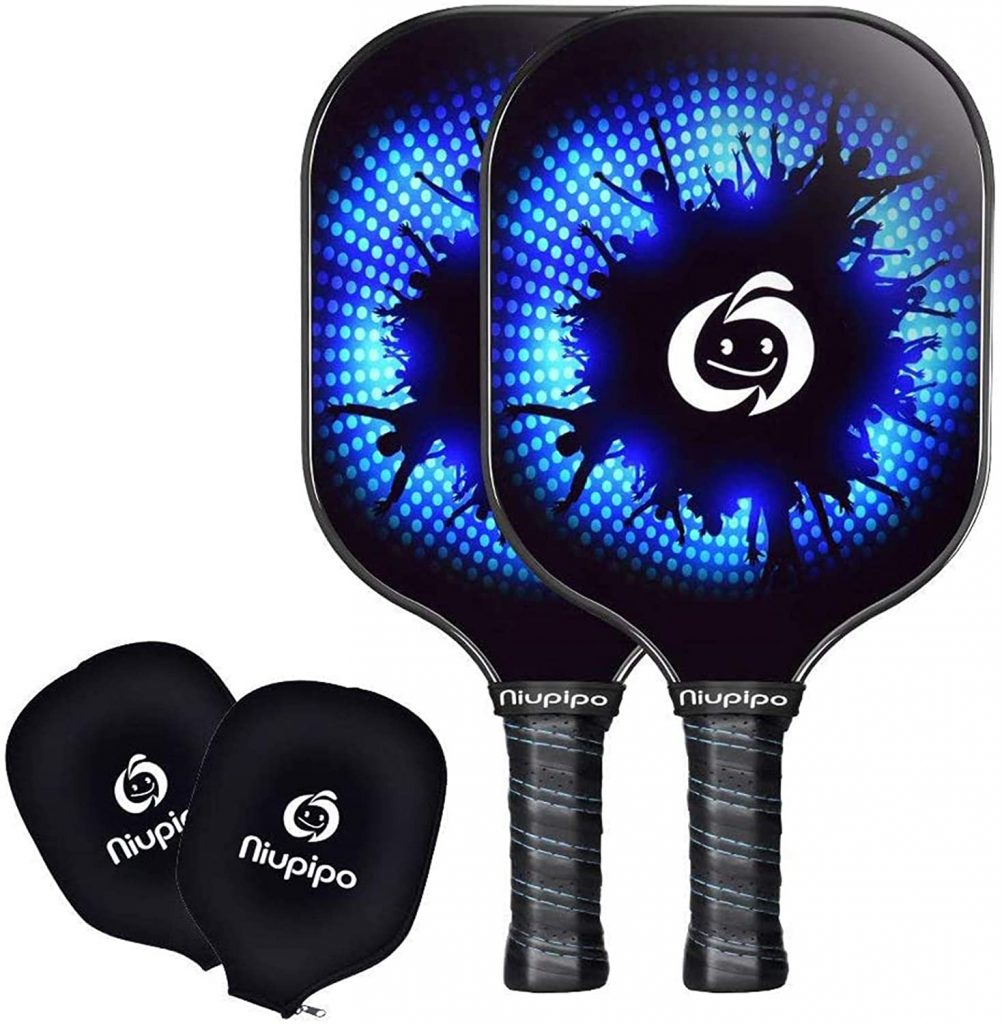 The build quality is the most impressive part of this paddle. This 15.5″ paddle is strong enough to tolerate faulty usages of beginners. Also, it can withstand the aggressive gaming of an intermediate player. Polymer honeycomb core construction along with a proprietary edge guard made this paddle much durable & sturdy.
The edge guard protects the paddle from accidental ground shots damage. Besides, it's not that thick as well. So don't worry about frequent ball hits from the proprietary edge guard. The sweet spot is large enough to handle any off-central hits easily. Talking about the sweet spot, the surface of this paddle is excellent too.
Graphite Carbon Fiber Face: Subtle Texture For More Control & Power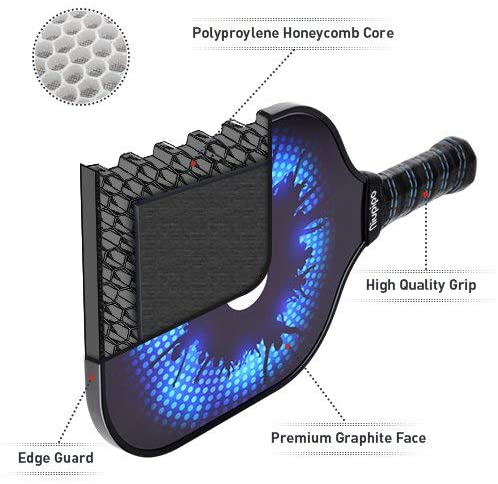 If you're familiar with Pickleball, you'll know the importance of the surface. A plain surface can't give good spinning & swing. On the other, the slightly textured (subtle texture) surface gives the perfect balance between power & control. Also, you can have a satisfying amount of spin with each shot. You will get a similar texture in Rally Graphite Pickleball Paddle.
The graphite carbon fiber face of this paddle features a subtle texture (not entirely textured). However, I felt energetic while playing with this paddle because of the surface & balanced 8 oz weight. With great spin & swing, this paddle offered excellent maneuverability without any doubt. That's why I enjoyed & loved playing with this paddle.
Ultra Cushion Grip: Comes With Sweat Absorbent Technology
Grip plays the most vital role when it comes to handling & balancing the paddle. Most of the budget Pickleball paddles don't have sweat absorbent technology, resulting in frequent sweaty palm. Luckily, this paddle's ultra-cushioned grip features sweat absorbent technology. This grip prevents slippery situations to give a fruitful gaming experience.
Niupipo Pickleball paddle is 15.5 inches of honeycomb core constructed paddle with a graphite carbon surface that provides balanced power & control. This paddle features an ultra-cushioned grip with sweat absorbent technology which gives good feelings holding & playing.
The grip size of this paddle is 4.5″ inches which are the perfect size for most of the players. Again, the grip circumference is 4.25 inches. As it's an ultra-cushioned grip, you'll feel comfortable while holding & playing with this paddle. Practically speaking, this paddle will support you even If you're up to aggressive gaming over balanced gaming – thanks to its exclusive grip & sturdy built.
USAPA Approved & Suitable For Beginners To Intermediates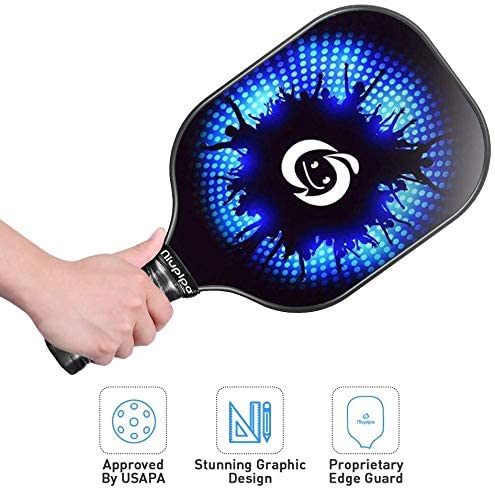 This paddle set is USAPA approved, which means it has passed all the quality checking tests & it's allowed to participate in any tournaments. Whether you're a beginner or intermediate player, this paddle can satisfy you with a premium feel & performance. However, this paddle might be not the best option if you're a professional Pickleball player.
Niupipo doesn't only manufacture great paddles; they care about their paddle's safety too. This set of two paddles comes with two zippered neoprene covers. You can prevent unwanted damages by using these free zippered covers. Overall, this paddle set serves excellent value for money & I'm genuinely pleased with the performance.
Pros:
Great Polymer Honeycomb Core Construction For Added Strength & Control
Graphite Carbon Fiberglass Surface Gives Subtle Texture & Enhances Maneuverability
Comes With Two Zippered Neoprene Cover, Which Ensures Safety While You're Not Around
Ultra Cushioned Grip Features Sweat Absorbent Technology For Preventing Slippery Situation
Well Balanced Between Control & Power, Suitable For Beginners To Intermediates
Cons:
You've To Buy Two Paddles Even If You Need Only One, As It's Selling In "Set" Format
8 Oz Weight Might Be Too Heavy For Some Consumers
Frequently Asked Questions – FAQ
Who Should Buy This Niupipo Pickleball Paddle Set?
This paddle is specialized for beginners to intermediates. Beginners or intermediates who want to level up their skill level should buy this paddle set. Don't buy this paddle if you're a professional player.
What's the Grip Size & Grip Circumference Of This Paddle?
The grip size of this paddle is 4.5 inches. Grip circumference is different (as it should be), which is 4.25inches. This grip fits well in most of the player's hands & gives a satisfactory gaming experience.
Will I Have a Paddle Cover With This Paddle?
Yes, this paddle comes with two paddle covers. Most of the budget paddle levels prices by deducting cover costs. Fortunately, Niupipo understands the importance of cover and added it anyway.
How Many Paddles & Covers Will I Get From This Paddle Set?
With this Niupipo Pickleball Paddle of 2, you'll be getting two paddles & two covers out of the box. The zippered covers provided looks & feel great as they are made of high-quality neoprene.
Does Niupipo Pickleball Paddle Paddle Set Worth The Price?
Whether it's worth the price or not entirely depends on you. If you're a single player who doesn't need more than one paddle, then this paddle doesn't worth the price (unless you want several paddles at a time). On the flip side, If you wish to buy a paddle for your partner as well – then this paddle set is worth the price.
Conclusion
This article was all about Niupipo Pickleball Paddle – a budget-friendly quality paddle for beginner to intermediate players. I hope this Niupipo Pickleball Paddle Review was helpful enough for making your buying decision. If you're still confused about your buying decision, let me help you out.
This paddle weighs 8 oz and has some attractive features such as an ultra-cushioned grip, graphite carbon fiberglass surface & honeycomb core structure. Again, this paddle set consists of 2 paddles & 2 covers. I highly recommend this paddle if you're a beginner or intermediate player & have a Pickleball partner to play with.