Let's say you can buy the package within $500 for a thrilling and nerve-wracking match of ping pong. Would you believe us? Half of the enthusiasts laugh, and the others roll their eyes. Believe it or not, it doesn't cost a fortune to terrorize your opponents with your skills once you grab the correct tool.
Right now, this will all seem like fluff, but we're here to present our list of the top 8 best ping pong tables with features that are impeccable and prices that will blow your mind.
Skim through Honest Players review to know all the juicy secrets on these products and how to score them.
In a hurry? Check out our Top 3 Picks here:
STIGA Advantage Professional Table Tennis Table
Editor's Choice
Easy to store and set up
Outstanding net quality
Durable and sturdy construction
Beginner and professional friendly
Good Reviews on Amazon
JOOLA Inside Professional MDF Indoor Table Tennis Table
Premium Pick
Very easy to set up and store
Constructed with top-notch quality materials
The wheels move around and lock seamlessly
Comes with rustproof undercarriage
Positive Buyer Reviews
JOOLA Rally TL – Professional MDF Indoor Table Tennis Table
Value for Money
Glides easily with 3" caster wheels
Comes with ball holders and magnetic abacus scorers
Apt safety latches and locks
Easy mobility with caster wheels
Worthy Price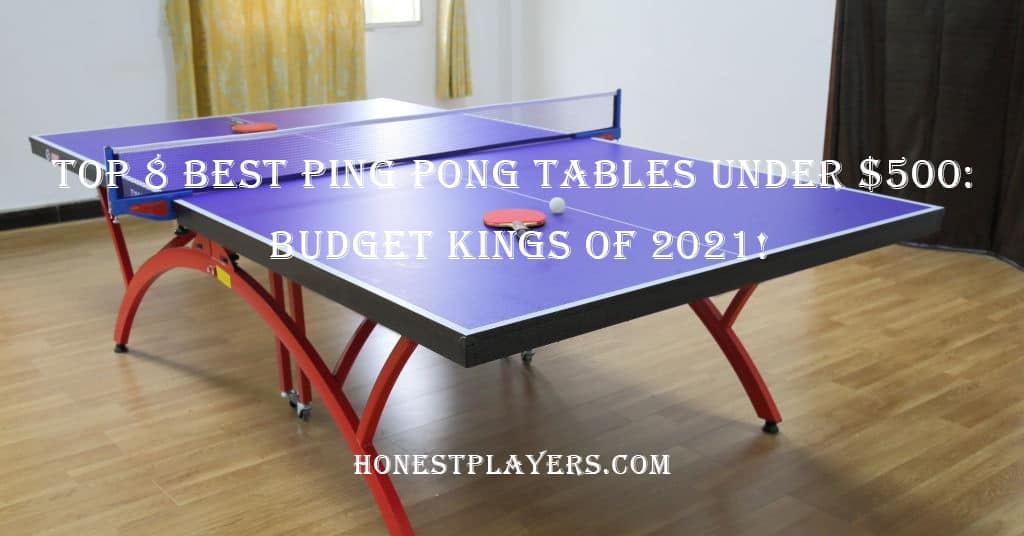 Table Chart of Page Contents
Best Budget Ping Pong Tables Under $500 For You: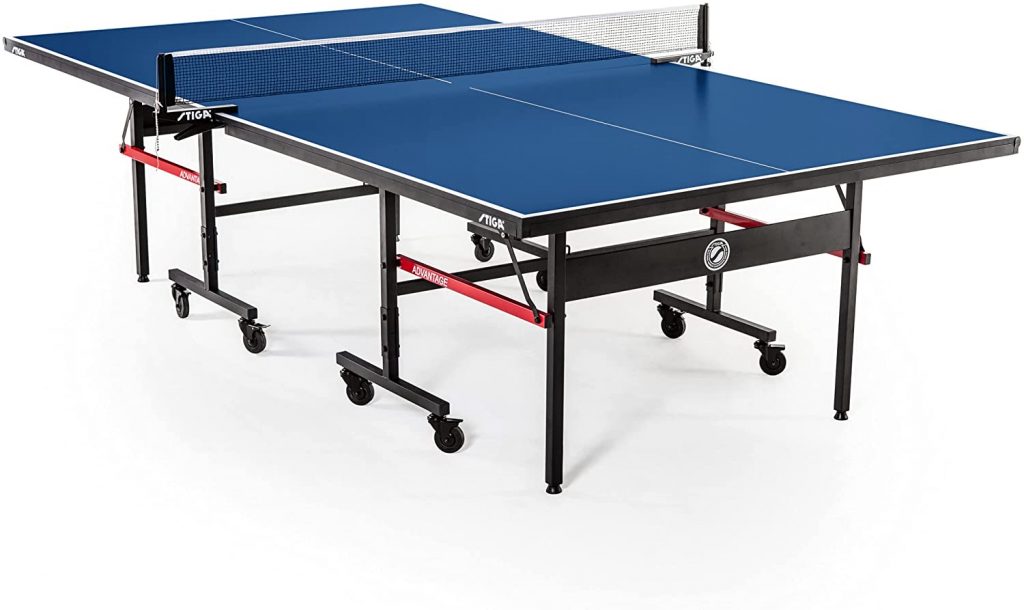 The eye-catching STIGA Advantage isn't just claimed as the best ping pong table under $500 by us, but it's the most hyped seller too. Sure, it has won all of our hearts, but it's time to know why.
It has a super sleek design that can be easily set and stored. In addition, the 10-minute QuickPlay-designed table features a zero-gravity feature, which makes this hefty-looking table feel lightweight while you're setting it up or leaving it at the storage.
The Stiga Advantage is by far one of the most durably competitive tables out there. And the best part is that it fits all professional and amateur players. However, it might not be the best for outdoor usage.
It also features a reliable 5/8-inch thickness that delivers top-tier performance. Moreover, the feet are incredibly sturdy and the easiest to adjust and assemble before a game. Don't worry; these feet will not ruin your marvelous floors. They are well-rounded with rubber levelers, so during contact and an aggressive match, the only hurt element will be your opponent's ego.
Furthermore, the feet are paired with 3″ lockable casters and wheels to roll effortlessly. Safe to say, the most value you will get out of this deal is its convenience.
The overall construction is profoundly robust and rugged. Better yet, this model also eliminates the pairing of poor-quality nets. Instead, it comes with a heavyweight, professional-level net made with premium materials.
Pros:
Easy to store and set up
Outstanding net quality
Durable and sturdy construction
Beginner and professional friendly
Cons:
Not for outdoor use as it isn't waterproof
The surface top is thin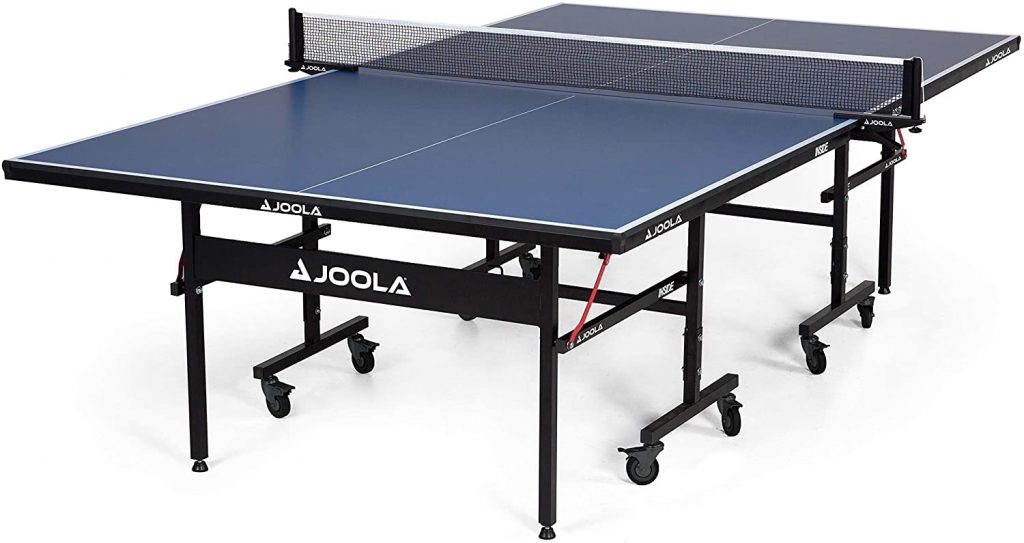 Trust Joola to build the most beautiful, heavyweight ping pong tables of all times. This super-affordable offering is no different either. The Joola Inside model is astonishingly sturdy with spot-on, reliable construction.
It comes with a rust-proof coated undercarriage and has a top and steel legs with 5/8-inch and 1.5-inch measurements, respectively. The Inside model also has high convenience as it can split into two halves, featuring portable and storage-friendly ease.
If you're a devoted greenhorn player looking for quick setups, matches, and storage – this is it! However, it is only suitable for beginner and recreational players, as its thickness doesn't deliver gratifying bounce and speed.
Here's the banger; it's 90% preassembled, so under 15 minutes, you can hook it up with no difficulty and enjoy a match. Luckily, the 72-inch net set also comes with a clamping system for greater convenience. So, you can swiftly attach and remove and net, fold up the table and store it until your next winning match.
It gives an indefinite rise to indoor use, as even with the competition-grade built, it has regulatory size, making it perfect for office, home, and recreational matches.
You don't have to get fussy about safety either. The casters and lockable wheels make up for comfortable rolling and movements of the table. So, an outdoor game awaits you!
Pros:
Very easy to setup and store
Constructed with top-notch quality materials
The wheels move around and lock seamlessly
Comes with rust proof undercarriage
Cons:
Not lightweight
Not best for advanced or professional players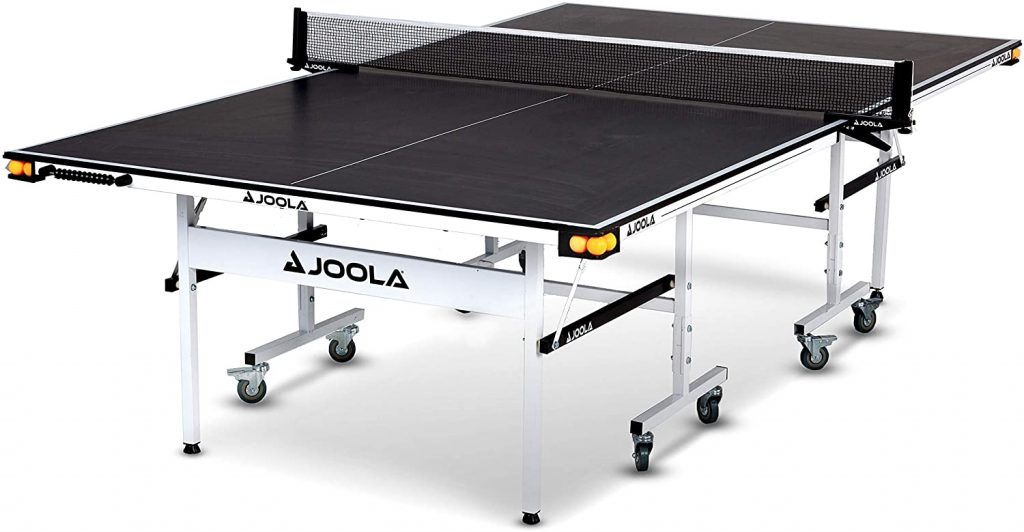 Let's begin with a well-known disclaimer – the making of this table tennis has given top priority to professional users. The building is grade-A and exactly what professionals look for in tournaments.
Hence, if you're planning to kick it up a notch and hone your skills towards greater heights, don't think twice about this versatile table. Users love that it comes with apt storage and straightforward assembling. The whole construction should take mere minutes, except the ball holders, which could consume a tad bit of your time.
This Joola edition is not for the faint of heart. If you're an advanced learner or professional who wants an upgrade from standard, elemental tables, this collection will promptly surrender.
The table's thickness is constructed at 15mm with a super sleek surface that offers incredible bounce. But most importantly, the surface maintains consistency throughout, so the performance is coherent at all points. Fortunately, the surface is so durable and sturdy that it can withstand aggressive and defensive professional players.
In terms of convenience and flexibility, the table offers solid safety latches and storage units. Thus, making the table suitable for both solo and competitive matches. This set also arrives with intuitively placed ball holder corners. Additionally, the magnetic abacus scorers are also a big hit amongst the players.
So, if you're a club or loyal player, this model is made just for you!
Pros:
Glides easily with 3" caster wheels
Comes with ball holders and magnetic abacus scorers
Apt safety latches and locks
Easy mobility with caster wheels
Cons:
Mounting the ball holders is bit time consuming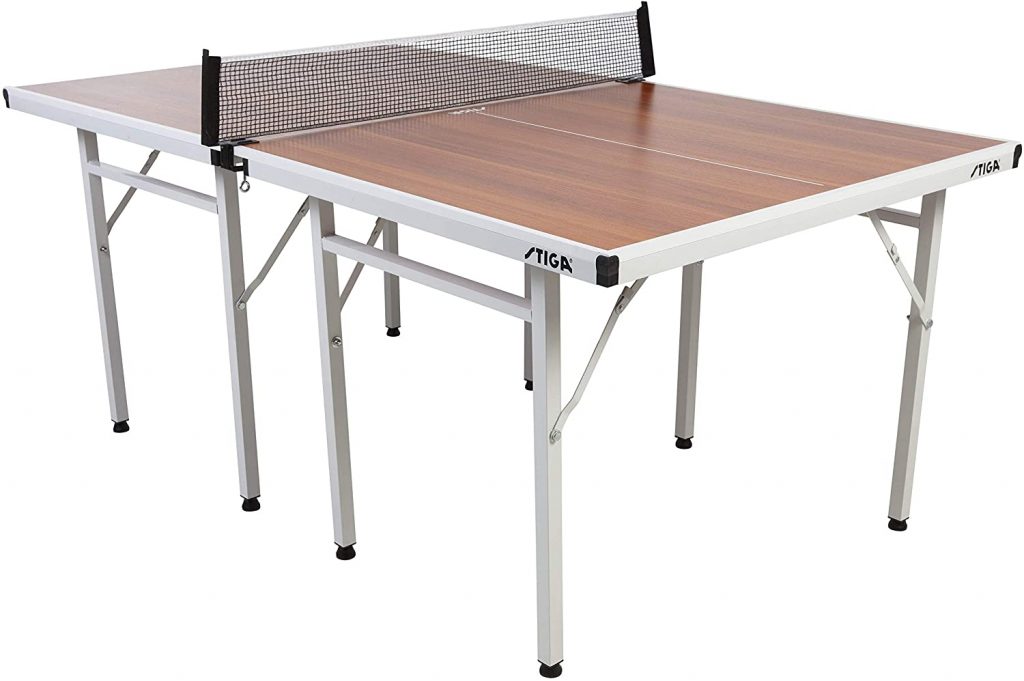 The three magical words for this model would be budget-friendly, portable, and lightweight? Are you in?
As this table is appropriate for all intermediate and amateur players, the rave about it is accurate. Built with sturdy development resulting in superior performance, its complete tight space measurement rounds up to 71″L x 40.5″W x 30″.
But here's the secret, the ultra-smooth surface on this bad boy is due to the usage of top-notch MDF materials. Aside from the wooden top, it has intricate silkscreen striping to finish off the whole look and appeal.
The Stiga Saver illuminates its prominent feature in its name itself. Even with its elegant and simplistic design, it doesn't consume a lot of space, so it's perfect for small apartments and game rooms.
With a total weight of only 83 pounds, the table rounds up to be extremely lightweight. Needless to say, it's also relatively easier to port around the house or game room. Moreover, the alloy steel frame renders unbeatable firmness and leveled support that makes the experience comfortable for the players.
However, the leading kicker is that this magnificent piece can let you enjoy uncountable matches indoors and outdoors. Yes, you read that right!
All thanks to its superb composition with excellent protection, portability, and quick assembling, a taste of both worlds is possible!
Pros:
Highly portable
Quick assembling
Extremely pocket friendly model
Lightweight and sturdy construction
Cons:
Over time the screws on this model might loosen up
Difficult to split the table in halves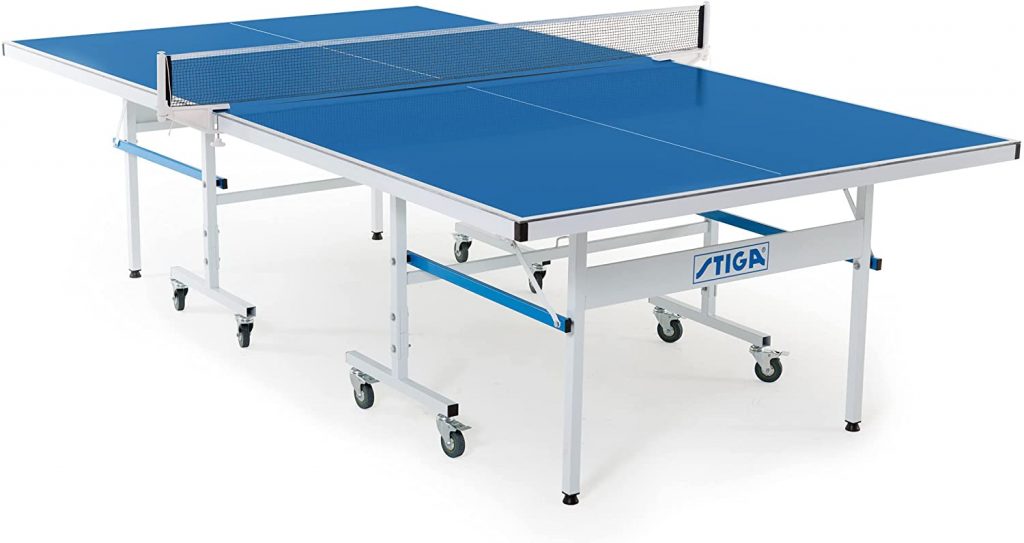 Are you looking for a ping pong table designed to barricade its exterior and still exhibit its full potential in every weather? Hold on tight because this Stiga XTR model will take your breath away with its multi-functional and diverse usability.
First off, the aluminum, powder coating of exterior-grade and galvanized steel engulfment make this table ultra-suitable in all weathers, tailoring it as the best waterproof pong table in the market. You guessed it; the model can also resist the harsh UV rays from the sun. What a banger!
Since the table tennis is 95% preassembled, you can make last-minute adjustments and assemble in under ten minutes. With its 6mm top and built-to-last sturdy tubular steel apron, no other tool can present matching bounce or even prevent warping.
Add to that list 3″ flexible, mobility ball-bearing wheels. Does this model get any better? Yes! It allows solo practices with its playback mode, split mode, and upright position to top it all off.
And as if that's not enough, its playability heightens even more with its impeccable 72″ net and string tension adjustments. The steel welded legs with 1.25″ measurements and self-opener feature are just what players need. The leg levelers and solid surface come together with a bang, and you can surely realize it with each whip of the ball.
Pros:
Folds in half effortlessly
Highly durable composition
It can withstand any weather conditions
Quick set up time
Built with sturdy materials
Cons:
Few users believe that the surface is pretty thin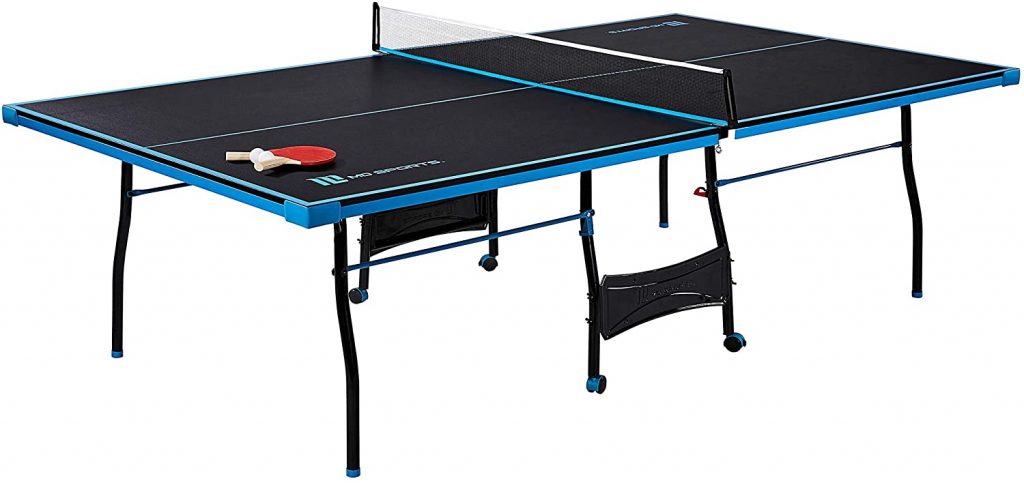 Frustrated with an inner tyrant that isn't satisfied with the current table tennis you own? Worry not. The famous MD Sports ping pong table has proved its worth too many times to be rendered otherwise.
This sizable table has a surface that provides ever-lasting bounce. It also includes many accessories, like removable nets, posts, paddles, and ping pong balls. But even with such a broad approach, this table happens to be amazingly space-saving.
But here's the whopper with this model. It can service any headstrong tournament player and amateurs trying to scan this newfound love. So, no matter where you stand, this affordable set will influence games for you.
Therefore, may it be a match in your game room or garage, they will be equally pleasant. The 15mm thick top ensures optimized ball bounces with each whack. It is all supported with a 1 1/8″ apron. Right off the bat, users can feel the dripping sturdiness and durability with this model. And with each game, it seems to be unfolding more and more.
The 3D assembling is visually very interactive. All you need to do is unfold, set up, and fancy a match or two. But the fold can be for solo competitions as well. The interactive composition ensures corner cap safety, protection against water damage, and a sturdy feel during the roughest of matches.
Pros:
Inexpensive yet standard
Offers great bounce
Foldable for solo matches
PVC lamination protects against water
Cons:
The paddles and balls could've been of greater quality
The 3D instructions could be difficult to follow for some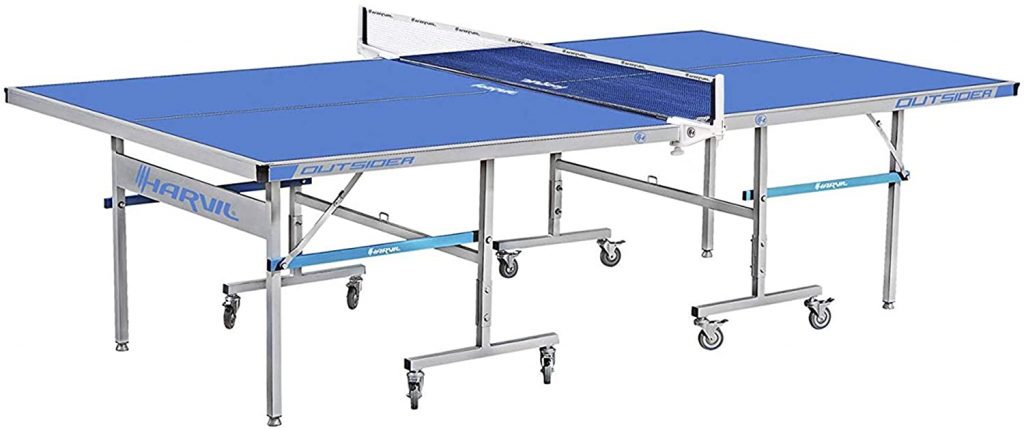 'But can it stand the outdoors?" – This is the most standard question that buyers ask about table tennis. More often than not, the answer remains no, sadly. Although not with this hunk.
And the best part is that even if you like an outdoor game for a newbie, rely on its foundation from not falling apart. The overall finishing and compact design draws attention from everywhere around and makes you look like a champion.
The Harvil Outsider stays true to its name and has reached peak performance through its seamless and modernistic design. Good news is that it's super beginner-friendly too!
If you're looking to sharpen your table tennis skills to greater heights, count this edition to get the job done. To elevate your skills and master this art, you need to appropriate tools.
Its durable structure is a whole other story. The composition involves caster wheels with locks, an aluminum top of 4mm, and powder coat metal feet. Frankly, this Harvil Outsider follows the rest of the traditional models and makes it convenient for users to store it anywhere and with ease.
Safe to say, if your critical pointers before a purchase are affordable prices, durable construction, and a table tennis surface that's made to succumb to all the amateur's cravings – don't look any further.
Pros:
Durable construction
Easy to transport and store
Comes with accessories and storing pack
Perfect for beginner players
Cons:
Not best for professional players
Few users complained about the net sagging
You see, achieving that spot-on middle ground between king-size table tennis and compact, space-saving table tennis is tricky. Some would even go to say that it's impossible. Prepare to change your views for the better finally.
This mid-range and mid-sized ping pong table has a total of 72 x 36 inches of measurements. Clearly, a game of two will be more than appreciated with this model. But, wait, we're far from being gossiping about the good deeds of this all-rounder.
The table tennis comes pre-assembled. So much so that you can start playing as soon as you whip it out of the box. Yes, you skimmed that correctly. Absolutely no assembling is required.
The table's versatility and user-friendliness are so vast that even children can test their skill and elevate it. Of course, adults can join in too to double the fun.
The surface length is 72 inches, and the regulatory height of the body is 30 inches. As you can tell, this near square design stand-alone possesses far-flung usability than the generic ping pong games. Moreover, 36″ x 36″ storage dimensions make it appropriate for dorms, basements, kids' rooms, and garages.
So if you're looking for a table that offers halves and can be used for progressed tasks like poker, casino night, or crafting, you're all set!
Pros:
No hassle of assembling
Multiple usability
Compact size, easy to store and fold
Can be used by all ages
Cons:
The screws are not sturdy
The bounce of balls is tad dull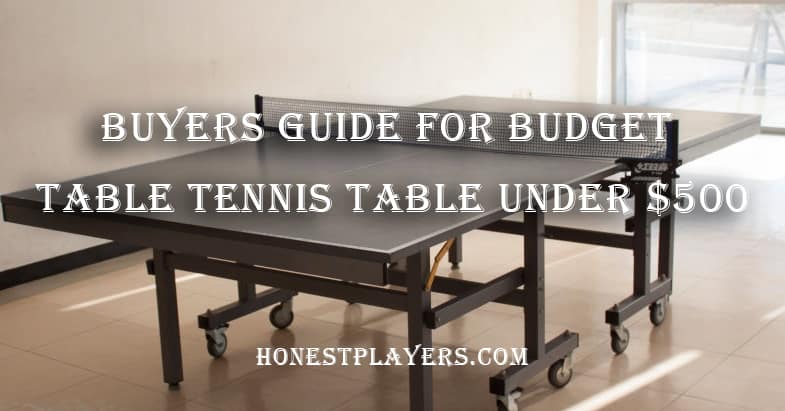 Buyers Guide For Budget Table Tennis Table under $500:
Even in an affordable budget of $500, you can never purchase a ping pong table on a whim. There are many brands and styles in the market thus, it's generic to fall into the traps of a bad apple.
Worry not. We have listed a few considerations and features that can guide you in hitting the jackpot and narrowing down your choices.
Sturdiness of the Ping Pong Table
The sturdiness of your table is directly proportional to how long it might last. Tables with poor quality will buckle and bend within the first few matches. The truth is, non-foldable tables are sturdier than foldable ones because of the framing structure.
Durable tables are made with steel, whereas; wooden constructions have lower strength and durability.
Table Surface Thickness
The surface thickness of a ping pong table will inevitably make or break its performance streak. The wisest choice would be to stick to products that are over 5/8-inches. For indoor usage, you must avert from tables with 1/2-inch thickness. These models have a fragile exterior and exhibit inconsistent bounces. The conventional choice would be 1-inch thickness.
Size of the Table
Fortunately, to serve all users, ping pong tables come in various sizes. Some are portable and small, whereas others can be foldable too. A few of the editions can even take up a whole lot of your indoor room's space. An intelligent approach would be to measure the length and width of your game room before settling in on a table. If the game room is tiny, you can opt for foldable and space-saving models.
Space Saving
Before purchasing a ping pong table right off the bat, ask yourself – do I need the largest size of pong table? If not, settle for a mediocre size that will satisfy your needs and save you some space. Foldable tables are your best option if you live in an apartment. They're foldable and easiest to store.
On the contrary, if your game room is enormous, opt for the standard, luxury size by all means. Another top preference for indoors is the conversion tops that are interchangeable and affordable.
User-friendliness
A ping pong table is most user-friendly when it has the highest safety. These safety standards are set by the implementations of locking mechanisms and levers of such. The table must also be set correctly and locked in place so it doesn't wobble around or risk bending mid-game. Levers and locks in foldable and non-foldable tables provide the most security to players.
Nets And Posts
Here's a painful secret. Some ping pong tables arrive with horrific nests and posts. These result in poor-quality matches overall. Whether you're eyeing an affordable or high-end pong table, make sure to check the quality of these lesser-known accessories, as the nets and posts.
Slacking on these would only mean that you would have to switch and replace them, which will cost you more money and a frustrating amount of time.
Ping Pong Table Accessories
We understand that you're on a tight budget. Thus, it's convenient to look for deals that come with everything, including storage bags, ping pong balls, bats, and so on.
Frequently Asked Questions (FAQ)
Is budget Table Tennis Tables any good?
If we break down the price range, you can acquire decent quality ping pong tables within $150 to even $700. The difference lies in the usage. Lower range tables are best for indoor uses whereas high-end tables make up for great luxury tops.
The options and features are endless with ping pong tables under $500, and that's the best part.
Will I get a durable and long-lasting ping pong table under $500?
Brands like Joola and Stiga never compromise on bringing top-tier durable products within a cost-friendly budget. These tables are made to last. The trick with money-saving ping pong tables is that they are inexpensive yet reliable. So, yes, acquiring a durable and long-lasting table under $500 isn't as far-fetched as some might think.
Which features to expect from a under $500 Ping Pong Table?
You need to check for the correct thickness in a ping pong table. It should range within half to a full inch. Any lesser than this would make up for a poor-quality table. Consider the durability, bounce range, and surface too.
Moreover, the table size, sturdiness, space-saving modifications, nets, posts, and user-friendliness are also some of the many vital considerations that you must jot down. You can also look at the accessories sets and their quality. After all, all these multiple elements can make for an ultimate deal.
How do I get the best out of a budget ping pong table?
Know your table. If you refer to the price ranges, you can comprehend what the ping pong table does best. If it's ready to be used and abused, go ahead. For indoor use only, comply with its restrictions. You can quickly achieve the best out of any ping pong table if you know its limits and withstanding power.
Do I need to do extra care for these tables?
Stick to covering the tables, simple cleansing, occasional hard cleanings, and using commercial cleaners. And, also try to clean your pong table on a regular basis.
Pro Tip: You can easily go overboard with the scrubbing, so avoid going berserk over it. Affordable or not, keep the disinfectant regime simple.
Conclusion:
Since you wanted to buy the best ping pong table but were put off by the hefty prices, does this ease your finickiness? I'm sure, with our top three ping pong tables, beginners and professional users will finally feel the heat that all table tennis matches must ignite.
Our first choice, the Stiga Advantage has undeniable competitive advantages, our second pick, the Joola Inside, soothes all the thirsty recreational players who are always in search of the X-factor. And lastly, we had to go with the trustee Joola Rally for the professional and advanced players who love to ooze all their life's frustration and aggression on the table.
See? The list has something for everyone. Now, all you have to do is saddle up, correspond your needs, size capacities, player expertise, preference, and budget to a model from our list, and you'll be good for a few years to come.
Read More >>