In all games, having the right arsenal gives you a head start against your opponents. Badminton is no exception, and just like any other game requires a top-grade racket for you to get the best experience.
Expert players have no problem choosing the best racket by the mere fact they have experience. On the other hand, if you are a beginner, it can be overwhelming picking the right option for your game. Without a doubt, there are many brands out there, competing for a share of the market.
As a beginner, there are many things to keep in mind during the selection process. Luckily, we have pulled all the stops to assemble the best rackets for a beginner regardless of your budget.
Our top picks are carefully selected to enhance your control, confidence, and power as you start and, most importantly, elevate your game. Below are the ten best badminton rackets. Keep reading.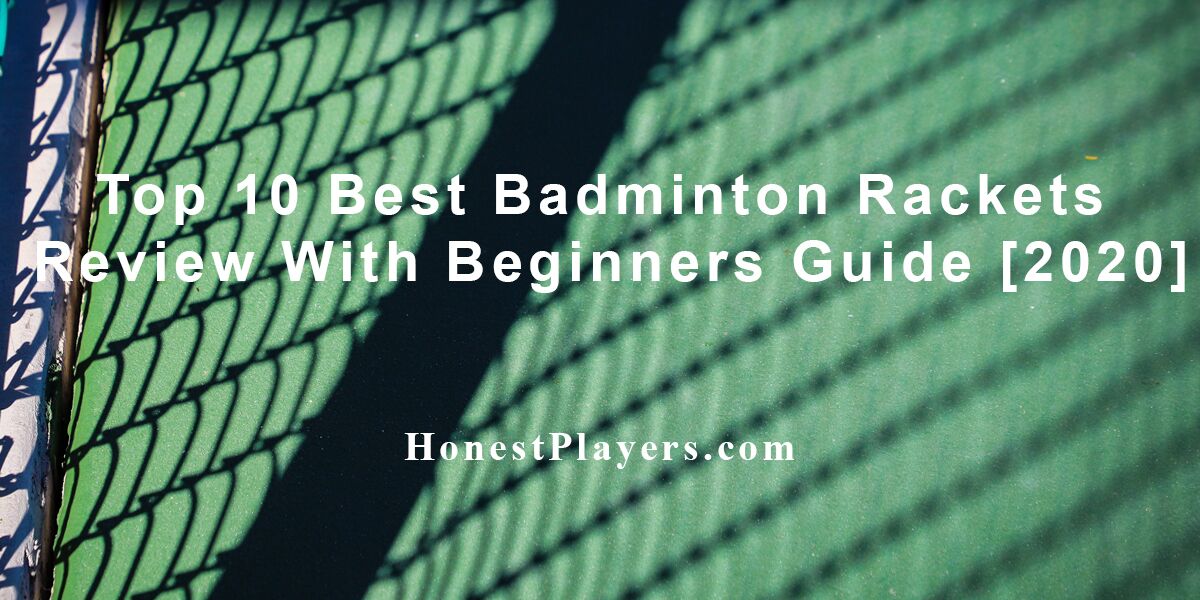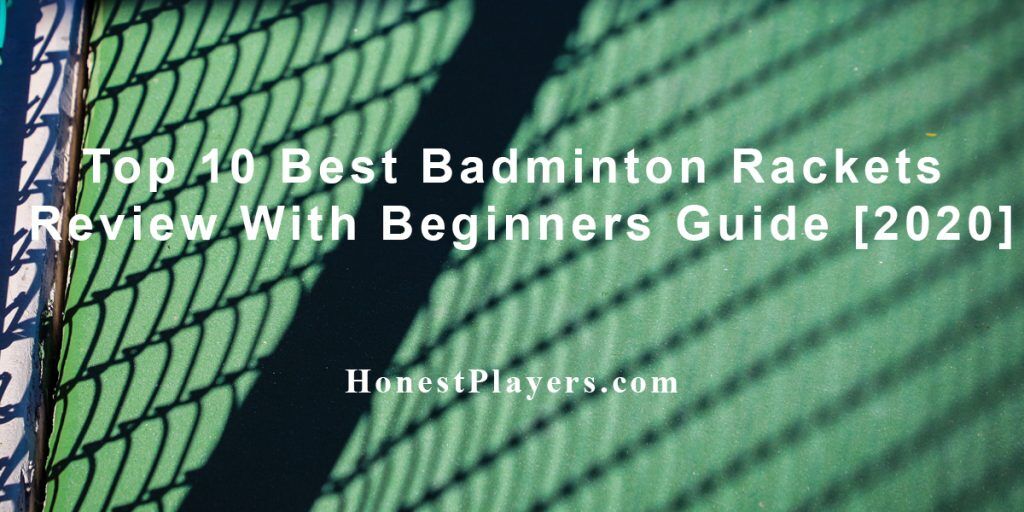 Table Chart of Page Contents
Our List of 10 Best Badminton Rackets in 2021:


If you're an advanced, offensive, or smash player looking for a high-quality racket, consider the LI-NING Badminton Racket. Fair enough, it's reasonably priced, suitable for players who are not looking to spend a lot of money on a racket. Despite the moderate price, it's rich in features, and it will offer exemplary performance.
Main Features
This racket weighs 72 grams, and therefore it's one of the lightest products in our review. For this reason, it's the best choice to play double due to a highly responsive rate.
It comes in a stunning blue and black color that will accentuate your badminton color.
The grip size is also small and easy to handle. Therefore, if you have small hands, this is the real deal.
The LI-NING racket is a durable product that comes at a fair price. It's incredibly lightweight, which makes it suitable for playing double. It's suitable for offensive attacks that will shock your opponents.
Meanwhile, the racket offers impressive control as far as the shuttle is concerned. You can send it in any direction, even to the opponent. The frame of this racket is Aerodynamic, meaning it offers less air resistance, and this boosts your smash speeds. If you are looking for a similar product with better popularity, you should read our Yonex Muscle Power 29 lite review.
On durability, the racket is made of high-quality material and will surely give you value.
As earlier mentioned, the quality is top-notch, mainly due to the advanced technology that increases the rackets' sweet spot. Hence, you'll achieve more repulsion performance.
Overall, this racket's performance is guaranteed, and you'll get accurate shots and more consistent strokes.
Due to the lightweight, we recommend it for intermediate and advanced players since you won't have a problem sending powerful shots. Also, some advanced players will prefer this racket due to the enhanced sweet spot. Of course, you'll get stronger clears and drives.
The lightweight is also an advantage since it can generate powerful smashes effortlessly. Hence it's gentle on your arms, and your wrist won't feel fatigued.
PROS
• Extremely lightweight
• Impressive speed
• High-quality racket
• Reasonably priced
• Great power and control
• Highly responsive

CONS
• Too light for people with large arms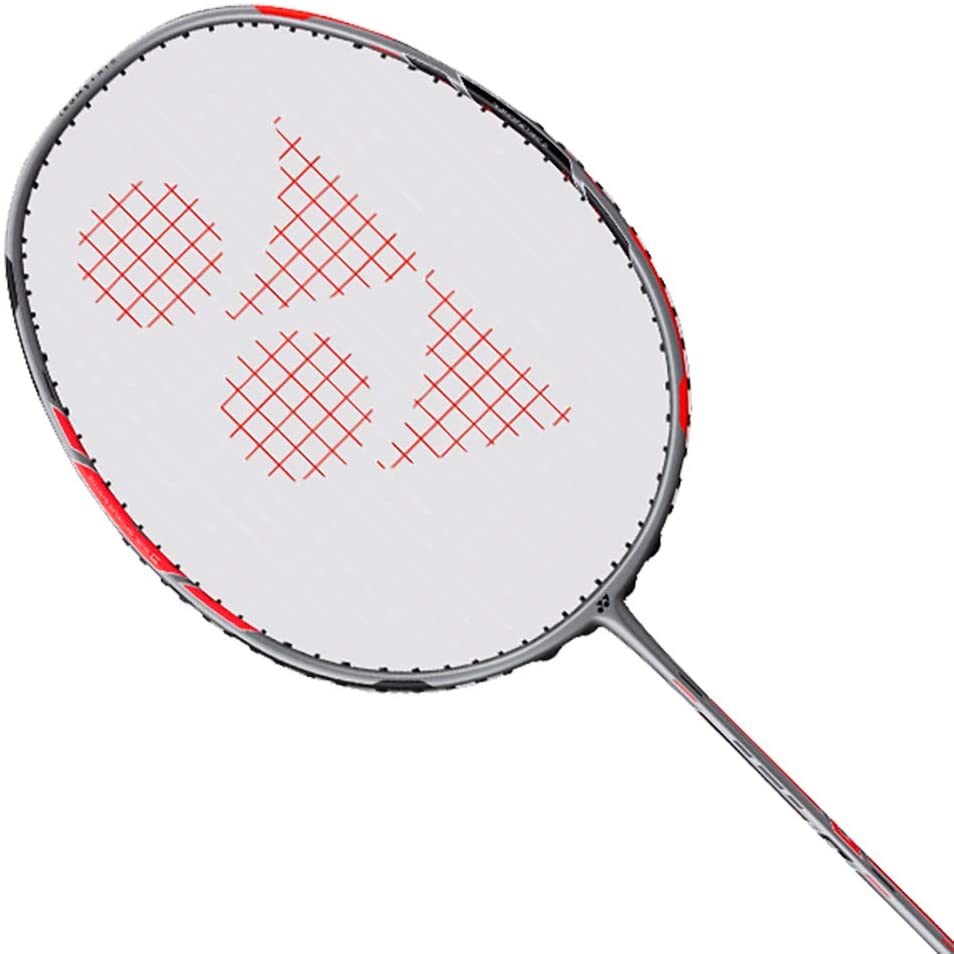 Our next product is the YONEX Duora 77 Badminton Racket, one of the cheapest rackets from the YONEX brand. The first thing to note is that it's a strung racket and lacks the YY logo.
Main Features
The weight classification is 3 U is hence it's suitable for beginners and intermediate players. Additionally, even some players find this racket useful for speed and control. However, if you're playing smash, you may find the racket a bit slow.
Like most rackets from the YONEX brand, this model is well balanced as far as weight is concerned.
The racket is the right choice if you enjoy playing forehand smashes and backhand drives. It lets you dominate against your opponents, and you can easily command the game at the court.
It has a grip size classification of G4, and it has pre-strung, which ensures there's no stringing.
The YONEX Duora 77 racket delivers powerful forehands as well as backward. It is easy to serve and will not strain your arm, thanks to the even balance. It's highly recommended for beginners looking for a budget option.
With even-balance, this racket is all around and perfect for playing singles and doubles.
As far as price is concerned, it's economical considering other brands come at a high price tag. Therefore, you'll get the most out of your purchase and is a budget solution for most players on a tight budget.
The quality of the racket is impressive, and it's also a high performer like most high-end options.
The racket has excellent speeds, which are suitable for responsiveness. It does respond swiftly, depending on how you swing the hand. However, it's not as fast as the Z speed, but considering all the advantages, intermediary players can find good value in this racket.
PROS
• Great speed
• High-quality racket
• Reasonably priced
• Well-balanced
• Great power and control
• Highly responsive

CONS
• It's even balanced hence not suitable for smash play.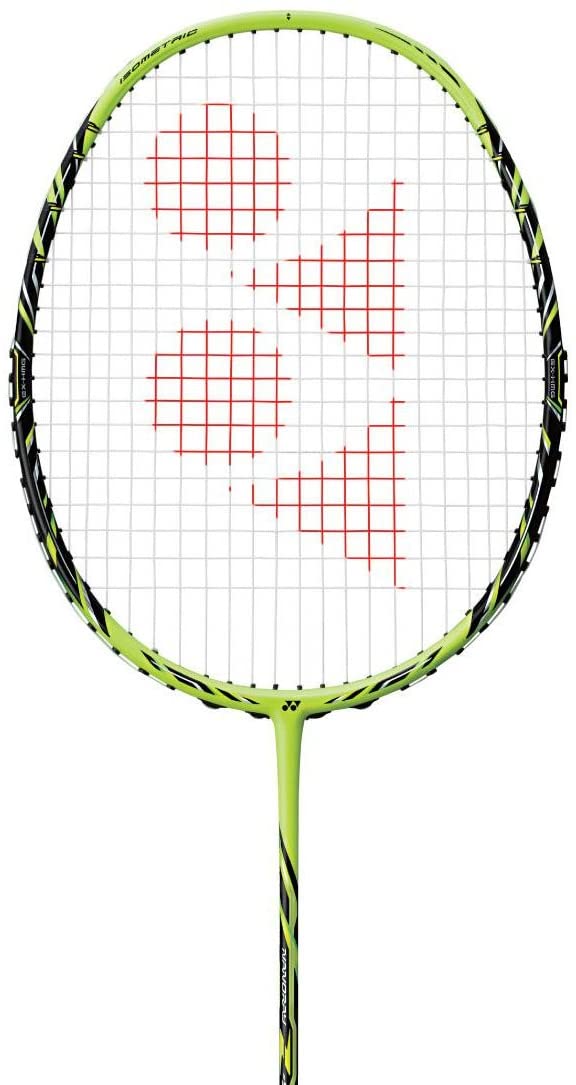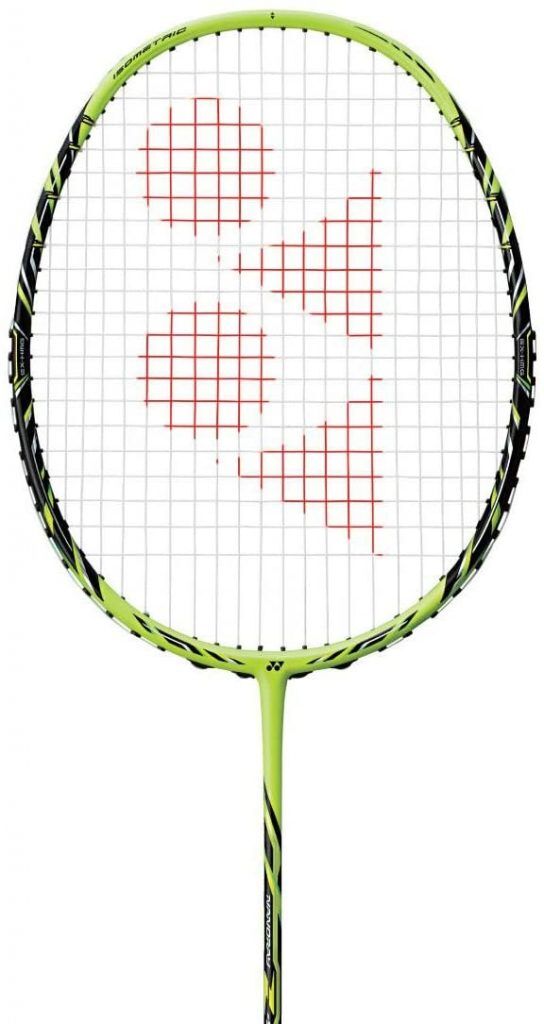 The Yonex Nanoray Z Badminton Racket offers a controlled and swift swing alongside a superior repulsion. It's made for badminton players looking out to get total control of the game at high speeds and flexible movement.
Main Features
Firstly, the racket features a lightweight design, which is suitable for beginner players.
However, some advanced players complain of low power in performing powerful smashes. But that shouldn't be a problem since, despite the low power, the speed is strong enough for a beginner and has a super solid feel.
Additionally, due to the stiffness and low weight, it can be suitable for doubles, singles, and a mix double.
Because of its low weight, it lacks satisfying power for a smash game. Advance players prefer heavy rackets that combine well with stiff shafts for a powerful smash.
The racket has a weight specification of 3U, which is suitable for beginners and intermediate players. But it's less potent for smash players.
The speed is excellent, which makes it ideal for doubles when playing defensive. For singles, power and speed are excellent. Likewise, the speed is swift to let you make fast shots. You'll enjoy the overall drive of this racket, and with soft shots and smashes, you'll achieve accuracy and power.
Overall, the Yonex is one of the premium products around, and despite the high price tag, you'll get a perfect blend of power and speed.
PROS
• Great speed and power
• Lightweight design
• Suitable for advanced and experienced players
• Has a stiff shaft
• Better control

CONS
• Not suitable for beginners
• It's pricey for some



The Nanoray 900 racket is a lightweight product that features an improved frame to subdue the shuttlecock for a powerful smash.
Main Features
One crucial aspect is the evenly distributed weight, and with a head-light balance, you can make swift swings easily. Best of all is the power rating of 4/5 and the control rating of 5/5. With this racket, you're assured of better control and speed.
It comes in an appealing iron-grey color which will blend well with other badminton gear. If you are interested in this Yonex Nanoray 900 badminton racket, you might also like the Yonex Arcsaber 6FL badminton racket review.
As a head-light racket, there's less weight around the head, and this enables easy maneuverability alongside delivering powerful strokes. We also need to mention that it features a stiff flex, which is great for powerful shots.
Another striking feature is the design of the frame, which provides a quick swing. Despite the high speed, you can easily control the swing since the top of the frame minimizes the air resistance. Also, it generates better repulsion thanks to the thick frame side.
The racket is lightweight and has the perfect grip to control and ideal for the double-play. It's a high-quality racket that will deliver real value and impressive performance.
This racket is suitable for an offensive game, and we highly recommend it for the advanced play level. Also, it is suitable for players who enjoy playing steep smashes at high speeds.
PROS
• High-quality racket
• Well balanced
• More power and speed
• Better control
• Lightweight design

CONS
• Not very powerful for single play
• It's expensive
• The package doesn't include a string or a bag


YONEX Duora is the next racket in our recommendation list. Several features make this racket one of the best choices for beginners.
Main Features
The most striking feature is the box-shaped design, which is suitable for delivering speed and power. The weight is well balanced for a reliable and powerful smash.
Although it costs more than similar products within the same range, you'll get the best bang for your money. This racket boasts of high performance, and the structure helps in better aerodynamics more so where speed is a concern.
Its lightweight design boosts your movement and accuracy; therefore, you can check all the crucial points.
The frame material consists of Tungsten and HM granite, which contributes to the lightweight of 83 grams. There's no need to worry about the size of the frame, which is a bit thin. It's by design to ensure a lighter weight.
The YONEX Duora badminton racket offers high-level performance, efficiency, stamina, and speed. These are some of the qualities that the majority of products lack.
Unlike some of the premium rackets from the Yonex brand, this model is a bit slow, and the reason why we recommend it for beginners.
For an experienced player, you'll feel the differences in the 3U frame, which may not deliver massive shots. However, the clears are durable, which is a good start, especially for a beginner.
You'll also love the solid feel from this racket and the quick speed. The speed of its frame alongside the light-head and 3U weight will deliver superior power on the smash.
PROS
• Lightweight design
• High quality
• Well-balanced
• Better control, power, and speed
• Accurate hits

CONS
• The strings lack the YONEX brand markings
• It's pricey
• Extremely lightweight and not suitable for advanced players



If you're a beginner player, you'll most likely want a racket that will help you improve your game with time, something forgiving, and a large sweet spot. Such a racket should give you better power, speed, and control.
In the beginning, it may not be easy, but with time your game will progress quickly and hence the need for a high-quality racket.
For this reason, we recommend the VOLTRIC 7 YONEX Badminton Racket, which is suitable for all levels.
Main Features
The first thing to note about this racket is that it consists of the tri-voltage system with more weight on the frame. Therefore, this increases the smashing power of the racket.
The racket is perfectly balanced with uniform weight distribution between the head and the frame. The racquet enables you to get better control of the ball.
This racket is less bulky, which is good since it offers a perfect combination of control, spin, and power. You can achieve more power since there is even distribution of weight from the head to the frame.
With a large frame, you can be assured of an enhanced sweet spot, especially in situations where you miss it.
Lastly, you'll get more value with this racket since it's made of high-quality materials to enhance durability.
PROS
• More power and control
• Lightweight design
• Better feel
• High quality
• Reasonably priced

CONS
• A bit heavy for beginner players



If you're looking for a high-quality racket that will give you value and improve your game, consider buying the YANG-YANG badminton racket.
The quality of this racket is top-notch, which consists of a graphite frame and shaft. No connector or T-joint is joining the frame and the shaft. Hence, this allows for a user to string the racket while leaving the frame intact.
Main Features
The technology behind this racket is known as protrusion-power, and this delivers more power and boosts your performance. As you start your badminton game, you'll quickly discover that your smashes will improve over time.
This racket comes across as well balanced, and although it's lightweight, it feels substantial. Indeed, you'll pack a massive shot with little effort. It's highly recommended for single games.
The head is small, and the sweet spot is more focused, making it one of the most powerful options out there.
The YANG-YANG racket is lightweight and packs a hefty punch and a good recommendation for an intermediary player looking to hit heavy punches. Additionally, a beginner will go for this racket since it costs less and is lightweight.
Unlike some rackets where users feel tired on their forearms, this is not the case with this racket. Its lightweight design can hold up even with the hard smashes.
PROS
• Lightweight design
• High quality
• Well-balanced
• Better control, power and speed
• Reasonably priced

CONS
• Mostly for an intermediary player



The Yonex brand is renowned for quality products that are worth the money. It has a series of products on its product line and is one of the famous manufacturers of rackets;
Due to this popularity, we had no problem picking several products, and the Arcsaber 10 is a top contender. It's also the top-most product in our product selection list.
Everything about the Arcsaber racket is exceptional from the quality, design, features, and performance.
Main Features
The racket comes with incredible features that make it suitable for players of all levels. Whether you're a beginner, intermediary, or pro player, this racket is all you need to boost your game.
A critical aspect of this racket is that it's straightforward to use, and this makes it a hot cake for beginners. It features a superior design that gives you better control and usage.
Yonex Arcsaber racket is an excellent choice for players of all levels due to high power, speed, and control. It's a great value since you don't have to buy a new racket as you improve your skills.
It's no secret that most beginners have trouble controlling a racket, and you may experience fatigue on your arms. Thankfully, this racket is exceptionally lightweight and provides a high level of comfort. Hence you can play hours without getting tired.
When kick-starting your game of badminton, you'll quickly discover that you'll need a powerful racket for defense and attack.
That shouldn't be an issue with this racket since it has stable features that mean higher power and speed. It's the best racket for frontcourt playing and midcourt due to the high-level control. You'll get more power with this racket, and this will quickly elevate your game.
PROS
• Suitable for players of all levels
• It's lightweight
• Superior quality
• Offers more power, speed, and control
• Comfortable on your arms and reduces fatigue
• Product from a renowned brand

CONS
• Some users are not happy with the customized strings
• It's expensive

When starting your game of badminton, you need the best racket that will boost your confidence. Since your ultimate goal is to become an advanced player, we highly recommend the Arcsaber 11, the most upgraded version of the incredible Yonex brand.
It's a lightweight racket with a perfect grip size, and the weight is evenly distributed so that you don't quickly get tired.
Main Features
The racket offers you flexibility, speed, and control to deliver superior shots. Another thing to note about this racket is that it has a firm shaft that drops our smashes quickly and powerfully.
Arcsaber 11 Rackets offer a unique blend of control, power, and flexibility. The construction consists of a lightweight design, and with a firm shaft, you can quickly achieve powerful smashes.
Best yet, it provides you with a better feel as the response is pretty fast. When it comes to agility, no other racket can match the Arcsaber 11, and the lightweight design accelerates your game.
Still at the design, you can maneuver easily, and the firm shaft allows you to respond instantly to your opponent's shots. Also, you get massive shots with this racket.
Overall, although the Arcsaber 11 racket is a well-balanced racket for all types of players, intermediary players will quickly advance their skills with this racket.
PROS
• It's lightweight for swiftness and speed
• It Has a firm shaft that allows massive shots
• The racket has a perfect grip size that's gentle on your arm
• High-quality racket

CONS
• It's expensive for some
• Users complain that the unstrung is missing from the package


The Yonex Voltric racket is our next product, and several features make it suitable for beginners and expert players.
Firstly the weight is evenly distributed from the frame area to its joint. Hence, this gives you better handling as you make your shots and maintain the power.
Main Features
The cap is well designed to offer an incredible full surface by up to 88%. As you can see, this is more than the ordinary rackets found on the market. With such a design, you can grip comfortably and be able to maneuver sharply.
Yonex Voltric Racket comes in a unique structure that guarantees maneuverability as well as power. It's an all-rounded ratchet that offers speed and low air resistance to create a smooth swing. It's recommended for advanced players.
You'll love the frame structure, which ensures a swift swing plus a powerful smash yet fully balanced. To ensure there's an optimal balance in the frame, it needs to be smaller, and this makes the racket an excellent choice for pro-players.
With this racket, there's low resistance from the air since the grommet tip is beneath the frame. Therefore, this produces a smooth swing. Additionally, the shape alongside the massive head will deliver more power.
The grommets are specially infused with Tungsten to ensure the optimal utilization of the time between the string and the shuttle. Even better is the tri-voltage mechanism that flexes the frame in a more controlled manner.
PROS
• High-quality racket
• Well balanced
• More power and speed
• Better control
• Low air resistance
• Heavy shots
• Lightweight design

CONS
• Too powerful for a beginner

Frequently Asked Questions (FAQ)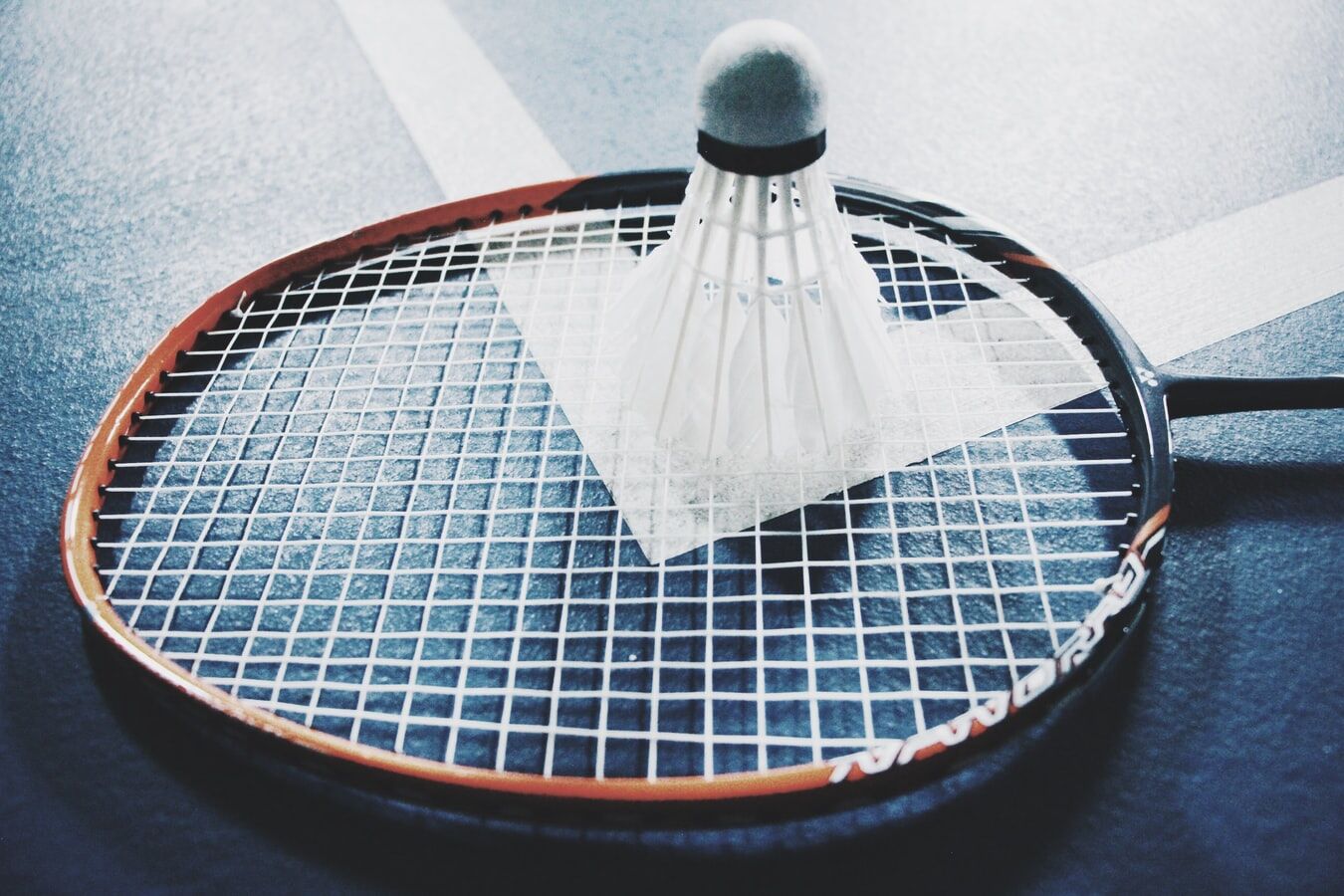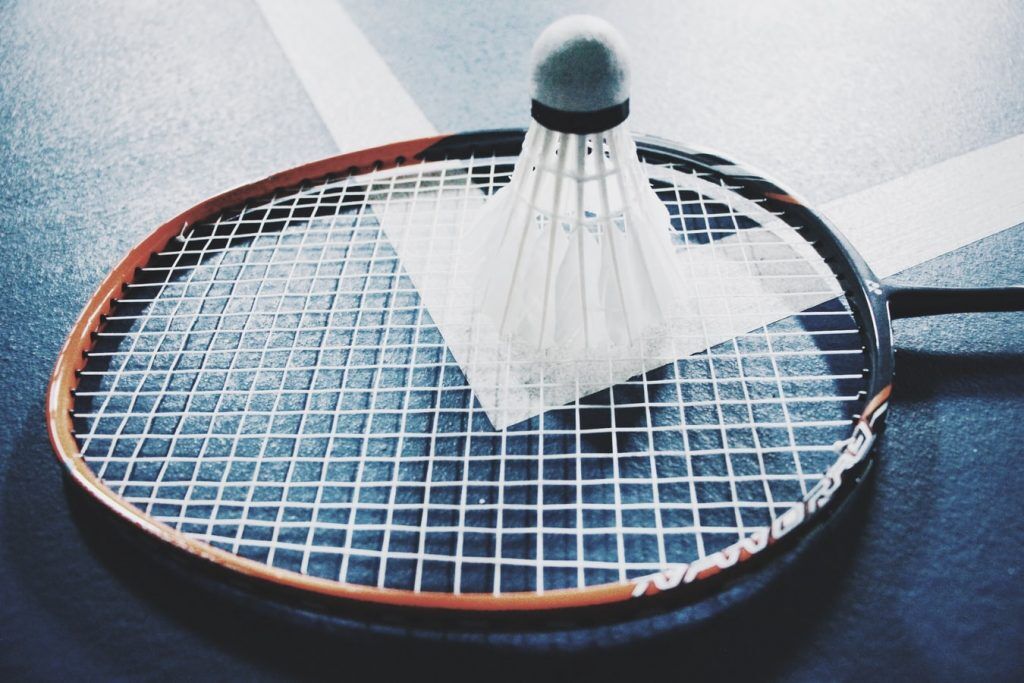 What's the best weight for a racket?
The best weight will depend on your playing technique, skill, and lever. If you are an expert, you may want to consider a lightweight racket that can produce a quick swing speed and allow for excellent maneuverability.
A slowly built player would want a massive racket to deliver more power and speed. Beginner rackets are generally lightweight since heavy options are more expensive due to the materials used in construction.
What materials constitute a racket?
If you're looking for a budget option, you may want to consider a steel or an aluminum racket. However, as you advance your game, carbon fiber or graphite rackets are more durable, lightweight, and deliver the best performance.
Which is the best shape of a racket head?
An isometric shape is the best for a racket. The upper area is vast as compared to the traditional rackets that had oval shapes. This shape delivers a sizable sweet spot even where the ball mishits.
What does shaft stiffness mean?
A badminton racket offers some form of stiffness, which enhances its flexibility. These come in different categories, and a stiff shaft will deliver a more refined technique, powerful swing, and speed.
A medium stiffness is suitable for beginners and helps in skill-building. Additionally, the speed is less, and this allows you to train at your pace
A flexible shaft will deliver a high power, swing speed. It's ideal for beginner players to learn how to maneuver.
Who is an intermediary player?
An intermediate player is known for good serves, ability to hit consistently forehand smashes. Your skills may be promising as you possess good fundamentals, though you lack experience and specific aspects of the game like speed, stamina, and many others.
The choice of the wrong racket may be placing you in this position in terms of weight, grip size, and balance, which you need to consider and adjust.
Buying Guide for the Best Badminton racket in 2021: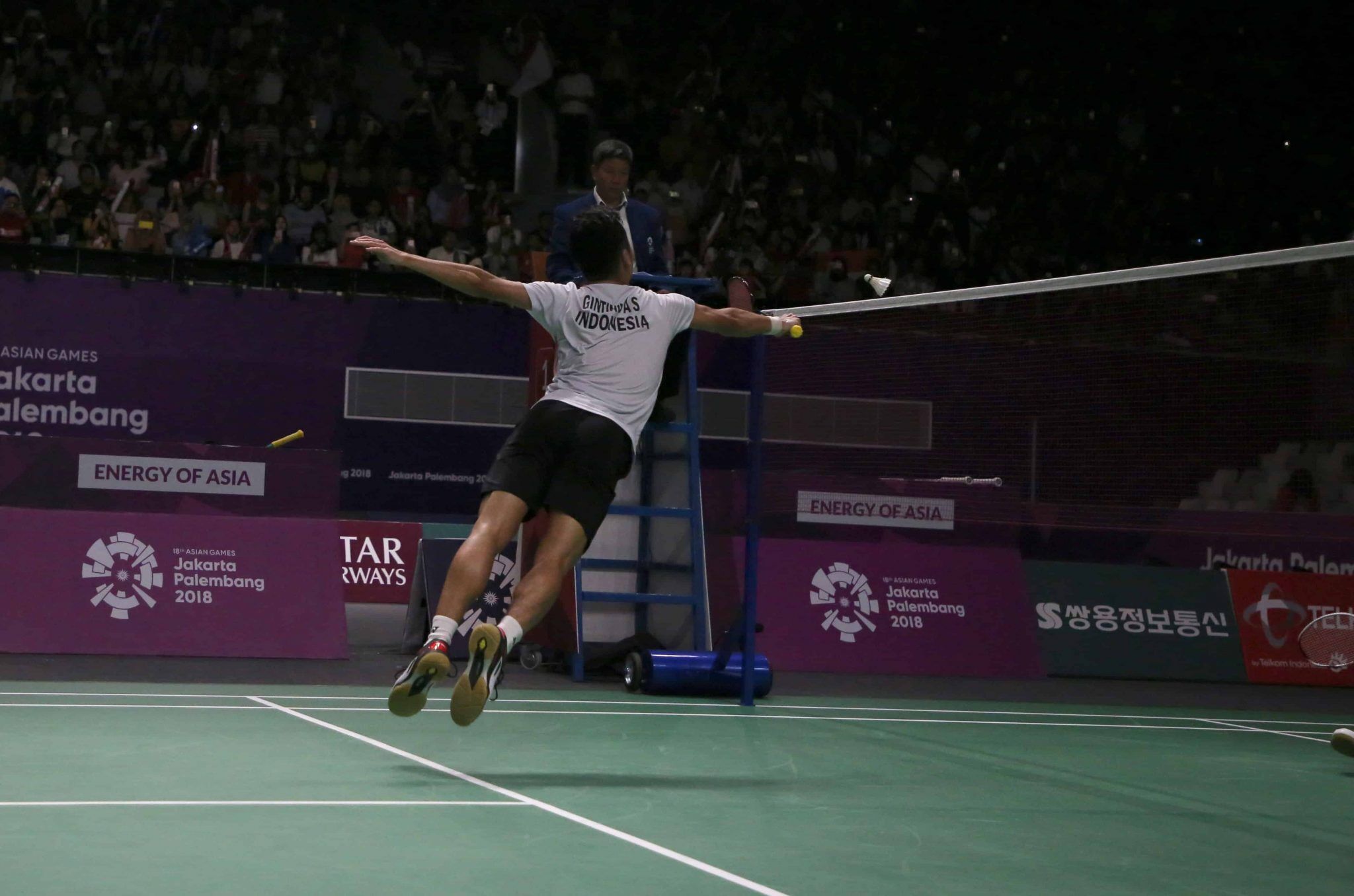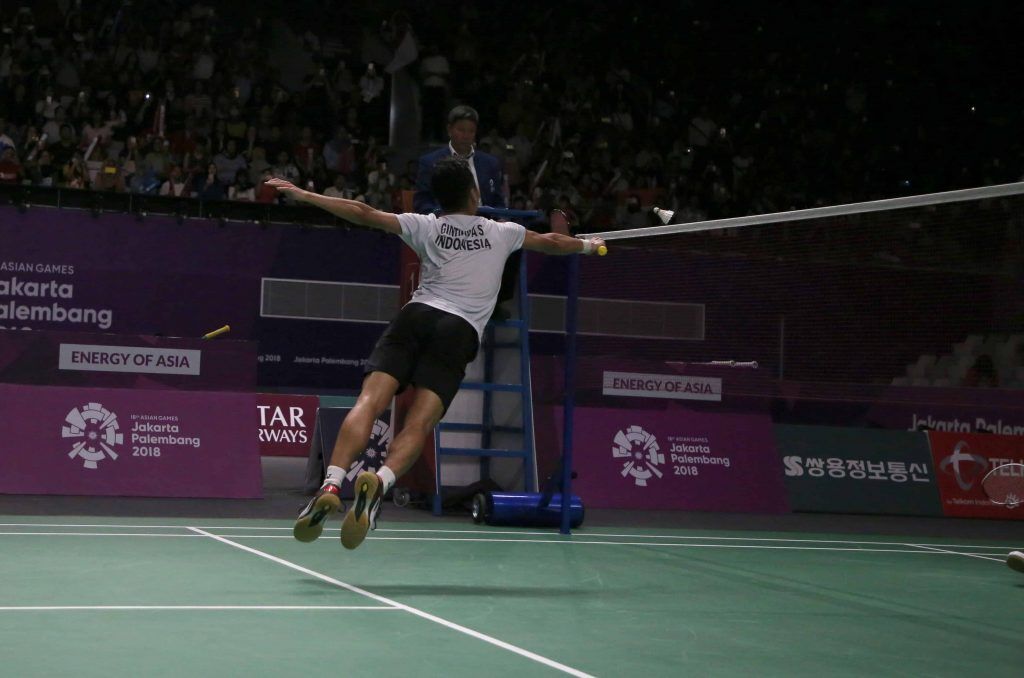 Before you begin playing badminton, there are several things to take into account. The best badminton racket will make you enjoy your game. However, there are four categories of players, and each level has different qualities for the best badminton rackets.
Beginners Badminton Guide
Beginner players are just starting, and their game is a bit slow. Below, we look at the three categories as we seek to help you pick the best beginner badminton racket.
Even Balance
Rackets have different balances that determine their weight. When choosing the racket, you'll quickly realize there are three different types; these are even, head-light and head-heavy balance.
To identify the best balancing point, place your finger underneath the head, and observe the racket's angle.
Even balance offers a uniform ground and in the middle balance between head-light and massive head racket. This feature is an excellent recommendation for a beginner since you've not yet mastered the game when starting.
You can start using an even balance racket and progress to the other balances to elevate your game. Typically, the cover versions are popular with experienced players since they're meant to boost your game.
Weight
Ideally, a racket should have an optimal weight within the range of 80-100 grams. The weight of a badminton racket is yet another factor to consider when choosing a beginner's racket. The weight of the racket is represented with a letter U.
Usually, a smaller number means the racket weighs more. As a beginner, you'd want to consider a lightweight racket with a rating of 3U since it easy to handle and control than a heavy one.
A lightweight racket weighs between 85 to 89 grams and allows for quick strokes and a more comfortable recovery.
Moreover, a lightweight racket is easier on the wrist and shoulders, and you're not likely to suffer injuries.
Grip Size
When starting to play badminton, it's too early to know your grip size, and there's a limitation of how much you can decrease a grip. Generally, you should start with a small grip and adjust the size as you gain more technique or experience.
However, your performance will be significantly influenced by the grip. Grips come in the form of a size and type. You can increase the grip size by adding an overgrip instead of buying another racket. The smallest grip size is G6.
They are two types of badminton grips. A towel grip is soft and absorbs sweat from your palm. However, it can lead to an accumulation of bacteria and other harmful germs. They need constant replacement, which can be expensive.
On the contrary, a synthetic grip is not as messy as the towel grip; however, it doesn't absorb sweat quickly and may feel uncomfortable.
There are different sizes when it comes to choosing your grip. Each size can accommodate a different group of players. For maneuverability, you may want to consider a small grip. Beginners will prefer a tight grip to boost their movements.
Intermediate Badminton Players
Intermediary players are advanced beginners who've passed the trying-out stage. Mostly they're not playing for fun or recreation. They've been playing the game and have quickly mastered the art. The Intermediate player's skills or techniques have greatly improved, but they're not there yet. As an advanced player, you'll need to work on your accuracy or power.
Head-heavy balance
As an intermediary player, you'd want to play with a head-light balance since there's less weight. It's easy to control, and doubles players enjoy using it since you can swing it more easily. When using this racket, you'll realize that it takes less time to react against the opponents' shots.
Additionally, manipulating this racket is easy. It swings easily, and this minimizes the time you'd take to react. It's also quick and provides a lot of speed. Hence you can smash a badminton game right at the frontcourt.
Grip Size
As an intermediary player, you'd want to advance your grip and choose a tighter grip. This type of grip size gives you better control over your smashes. However, as you advance your skills and progress to the next level, you may consider increasing the grip size.
Weight
You can choose a lightweight racket that can deliver speedy serves while being able to alternate strokes easily. Additionally, a lightweight racket is easy on your wrists as well as the shoulders. Therefore this minimizes any injuries.
The playing ability should match the weight of the racket. A right racket for intermediary play should weigh between 80-100 g. A lightweight racket allows for quick stroking speeds and recovery.
A massive racket is not easy on your wrist and shoulder. An intermediate player can play comfortably with weight within this range, depending on your playing style. Strike a balance and pick the racket's best weight, which will enhance your performance and make you feel comfortable.
Advanced Badminton Players
Advanced Players are those who have mastered the Badminton racket and playing for the dream goal. Choosing the right badminton racket had never been so easy. An advanced badminton player should know what rackets suit his/her requirements, right? There you go!
Head-heavy balance
A head-heavy balance has more weight around the head. Such rackets are suitable for badminton players to prefer a more powerful game. Naturally, these players will play at the back of the court. Also, they are ideal for a competition where you're needed to deliver a lengthy exchange.
Grip Size
Experienced players prefer a more substantial grip size since it generates a powerful smash. If your racket has a small grip, you may consider increasing the grip using a towel or a synthetic material, as earlier mentioned.
Weight
If you chose the single play, then you'll need a more massive racket to maintain stability. On the same note, a double player will need even heavier rackets with a rate of 4U to make quick returns against your opponents.
Smash Badminton Players
The most exciting part of the badminton game is smashing. A powerful smash requires the right choice to smash and control the ball in quick sessions. Smash shots should be high, swift, and speedy.
A smash player is a more advanced badminton player who has upgraded their skill and is more focused on control, speed, and power. When you play smash, you're already past the technique or the learning stage.
Head heavy balance
As we saw earlier, the balance of a racket is where the weight of the racket is located. A substantial head balance will give you an extra edge when you smash. It contributes to momentum and players swing, thus giving you more power of the shots.
There is more head weight on your wrist if you're to make quick attacks and defensive. Choose a racket that you can apply to smash the shuttlecock in swift action and accurately.
The ability to smash means earning more points against the opponent. It, therefore, requires you to select the best grip size in which you feel comfortable.
Controlling badminton smash speed while confusing the opponent is all you need to get more points. It is only possible when you choose an appropriate racket of the right balance.
As seen earlier, a head-heavy balance has more weight around the head. In this way, you can increase power to the strokes as you smash. The ball will have no chance since you'll have better control to soar it over the badminton net.
Weight
The weight of any racket depends on its head. Good smashing would require a heavyweight racket to enable you to hit smashing shots towards your opponent. A right racket should weigh between 80 – 100 g, and within this range, you will get a racket of an appropriate weight for smashing.
Ideally, the racket's weight is mostly concentrated on the head to help you hit the smashing shot against your opponent. As a smash player, you'll need a racket with more weight around the head. A massive head weight enables you to easily smash the shuttle while also being able to attack with speed.
Grip Size
Just like the weight, the grip size is an important consideration when playing smash. For an inexperienced beginner, you may not be in a position to be thorough in smashing. There is less expectation when playing vigorous smashes and hence.
Smashing is usually an achievement of more experienced players. The grip size usually depends on individual preference. For a player who is conversant with smashing, you can pick a racket that will offer your arms' best comfort or one that will not hamper your smashing ability.
It is worthy to note that a more prominent grip size utilizes more of the arm while small grips allow you more finger power or wrist action
Since an experienced player plays a smashing, you'll need a large grip so that the racket generates powerful smashes.
Conclusion
From our review, players of different skill levels have different requirements when it comes to the choice of a badminton racket. For a beginner, a lightweight option and one that doesn't cost much is an excellent choice since it lets you learn how to maneuver, pick speed, and gain control of the game.
However, for an intermediary player, you may want a racket that helps in confidence-building and making accurate shots.
For advanced players and smash, you're already past the technique stage, and you'd like a racket that delivers powerful smashes and lets you try different tricks. When choosing the best badminton racket, weight, size, and balance are the crucial factors. Hopefully, you can now shop for the best racket with ease.
Readout more about Badminton at HonestPlayers. Comment down below any queries about Badminton Rackets.