I'm obsessed with Head's quality racquets for many reasons. As a professional player & trainer, I recommend using Head racquet to get excellent value for money in both entry & pro-level racquets. Though I've used several pro racquets from Head, their Extreme Edge 175 Racquetball Racquet attracted me the most. This racquet deserves every penny I spent on it.
Head's latest & advanced technologies power this lightweight Innegra structured racquet. It comes with ASP technology that helps with customizing the string pattern. Also, 175grams weight and shock absorption technology allow this racquet to achieve the highest power with controlled balance. Stay tuned as I'll be discussing more in the following Head Extreme Edge 175 Racquetball Racquet Review segment.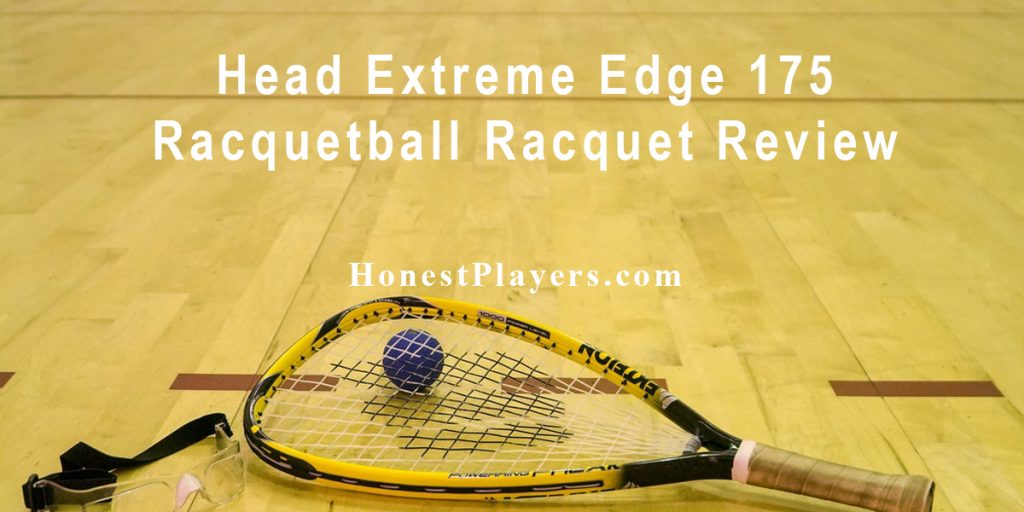 Table Chart of Page Contents
This is one of the best racquets a professional & intermediate-advanced player can have. It comes with advanced technology and a strong graphite structure to ensure the best gaming experience possible. I'll dive deeper with simplified pros & cons in the following Head Extreme Edge 175 Racquetball Racquet Review & features sections.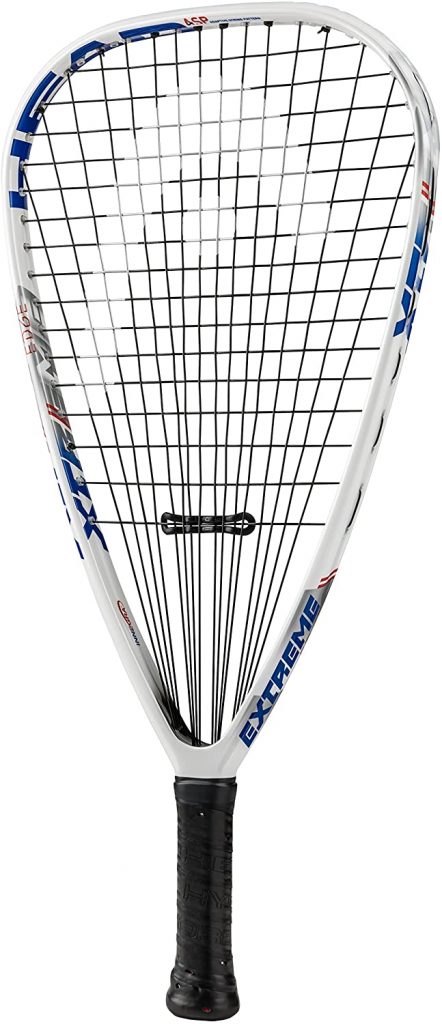 Carbon Graphite Structure: Ensures Perfect Balanced Power & Control
Graphite or graphene structure helps a ton, making the racquet lightweight & stiff at the same time. Fortunately, this racket is made of carbon graphite, ensuring a perfect balance between power & control. The unstrung weight of this racquet is 175grams & the strung weight is around 200grams.
Head Extreme Edge 175 reduces first time stringing hassle as it comes pre-strung out of the box. You'll be getting Head Megablast 16 string with this racquet to conquer tournaments with confidence. Besides, this 22 inches racquet's sweet spot is wide enough for comfortable serves & returns – thanks to its Delta Head Shape.
Adaptive String Pattern: Choose Between Aggression & Accuracy Mode
This racquet features adaptive string pattern technology, which gives two stringing options. With this technology, you can select your game mode – Aggression & Accuracy. The default stringing pattern of this racquet is 16mains by 16 crosses. It will give the perfect balance in power & control, which is also known as Accuracy mode.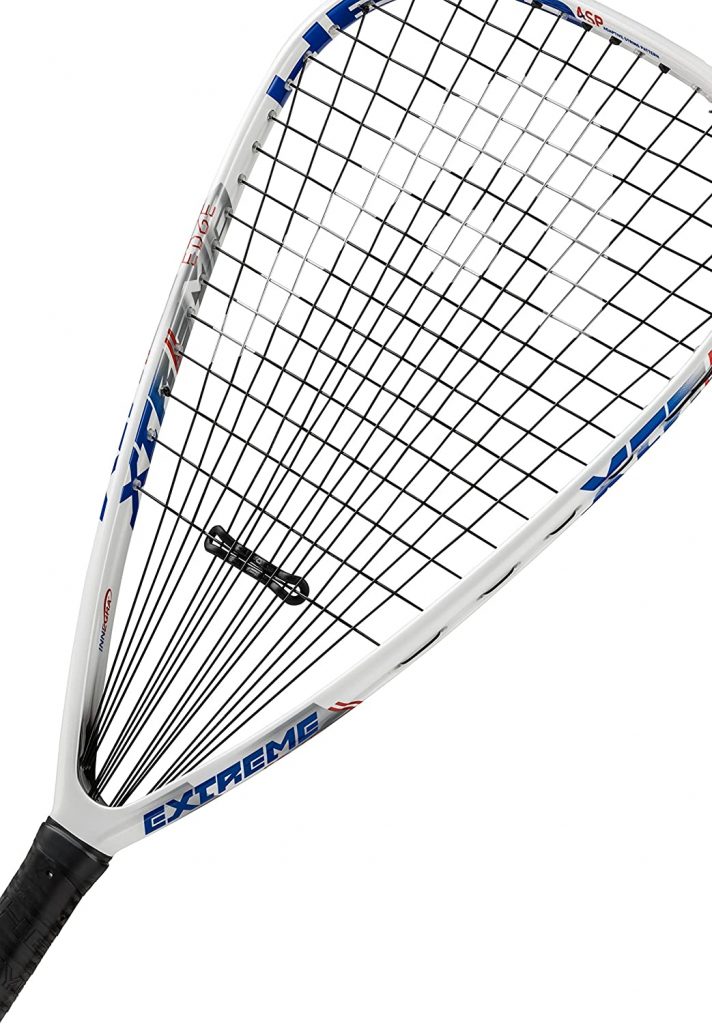 If you're up to power performance (AKA Aggression Mode), you need to change the stringing pattern. As it comes with ASP technology, you can customize your 16mains to 12 mains to convert string patterns to 12 mains by 16 crosses. You may miss the perfect blend on power & control; instead, you'll be getting aggressive power with lesser control.
Lightweight Innegra Frame: Absorbs Vibration & Gives Stability
The frame structure tolerates both user abuse & string pressure, so it has to be super stiff. Head's goal was to make it a lightweight yet sturdy racquet; that's why they've used lightweight Innegra frame technology. This technology absorbs shock & vibration and gives the user smooth gaming experience. However, it also gives the supreme power while serving and returning balls.
Head Extreme Edge 175 features a lightweight Innegra structure & ASP technology to safeguard your success in any tournament by increased power & stability. Also, 33% fewer grommet holes create stiff stringbed to ensure the maximum power with every swing.
Besides Innegra technology, graphite built also helped to make it an ultra-strong hybrid composite frame. This frame dampens vibration caused by a ball during power-play mode or aggressive mode. Even the handle is well made enough for absorbing shock & giving stability – thanks to its 3 & 5/8″ Head Hydrosorb Wrap Grip.
33% Fewer Grommet Holes: Helps Increasing Power
Large amounts of grommet holes reduce stiffness and result in a weak performance, which is suitable for beginners but bad for advanced players. This racquetball racquet is made for pros (Professional & Intermediate-Advanced), and it's expected to have fewer grommet holes.
To my surprise, this racquet features 33% fewer grommet holes. This amount is even less than I expected. It secures a strong stringbed, which ultimately accelerates performance with increased power. However, this feature will play against beginner players as they can't handle this much power with perfection. Overall, this is a complete package for the pro players who are willing to crush every tournament they step in.
PROS
• Exclusive Head's Technology
• Greater & Powerful Performance
• ASP Allows Two Stringing Pattern for Aggressive & Balanced Gameplay
• 33% Fewer Grommet Holes
• Delta Head Shape Creates Larger Sweet Spot for Better Serves & Returns
• Comes with Lightweight Innegra Frame to Reduce Vibration & Increase Stability

CONS
• Not Suitable for Beginner Players for Extreme Power
• Doesn't Comes with A Cover

Watch our review of this Head Extreme Edge 175 Racquetball Racquet on Youtube:
Frequently Asked Questions – FAQ
Who Should Buy Head Extreme Edge 175 Racquetball Racquet?
Head Extreme Edge 175 Racquetball Racquet will be best suited to pro players only. Because of this racquet's ultimate power, beginner players will find it difficult to cope with this racquet. So, professional & Intermediate-advanced players should buy this racquetball racquet.
How Many String Patterns Can I Use With This Racquet?
You can use two string patterns with this racquet. By default, this racquet comes with 16 mains by 16 crosses string pattern that ensures balanced/accuracy playing experience. If you're willing to play aggressive, you can customize string patterns to 12 mains by 16 crosses.
What's The Benefit of Less Grommet Holes?
Grommet hole helps with tightening or loose stringbed. If there are more than average grommet holes, it's expected to have loosened stringbed that benefits beginners by reducing power. On the flip side, lesser grommet holes will tighten strings and deliver much more power than average racquets. In summary, fewer grommet holes increase power.
What're The Key Features Of Head Extreme Edge 175 Racquet?
Everything is possible with this racquet from accuracy gaming to aggressive gaming – thanks to its certain key features. Head Extreme Edge 175 Racquet features Head's latest & greatest advanced technologies. Some of them are Lightweight Innegra Structure, Adaptive String Pattern, 33% Fewer Grommet Holes, etc.
Does Head Extreme Edge 175 Racquet Deserve $100?
As per my personal experience, I can say this racquet deserves every penny I spent on. This racquet is as lightweight as 175grams (unstrung). The power it passes through the ball is just mind-blowing. Another great feature of this racquet is the customizable spring pattern, also known as the Adaptive String Pattern (ASP). Everything about Does Head Extreme Edge 175 Racquet is excellent and makes it a $100 worthy racquet.
Conclusion
I hope this Head Extreme Edge 175 Racquetball Racquet Review was helpful enough to understand this racquet clearly. If you're new to racquetball, I won't encourage you to buy this racquet. On the other side, professionals and advanced players should buy this racquet. Choosing the right racquetball racquet amonst the 10 can be easier than deciding between hundreds of racquetball racquets, right?
I've been using this racquet for a long time and didn't face any difficulty or problem by any means. The perfect blend of power & control impressed me the most. I bet nobody will regret making this purchase if they know how to handle a powerful racquetball racquet.