It doesn't matter if you are a Yonex fanboy or not, you might hear about the racket Yonex muscle Power 29 lite. You need a better badminton racquet to showcase your skills, right? The Yonex is offering you everything you need under budget. Our Yonex Muscle Power 29 lite review can help you decide if the racket is made for you.
All the Muscle Power series racquets have a unique frame construction that integrates the frame, and it has the strings like no other racquet. Muscle Power 29 is the best-suited racquet for those who seek fast movement and effortless power with a comfortable feel.
Muscle Power locates the string on rounded archways that eliminate stress-load and fatigue through contact friction. This construction creates total unity of the chain and frame through closer and tighter contact. It has a High Modulus Graphite Shaft that makes quick swings with a relaxed feeling by adding more stability to the shots. The head shape of the racquet is isometric, which makes it more useful in contacting the off-center shots.
By the way, Do you know what are the Best Badminton Rackets out there in the market currently?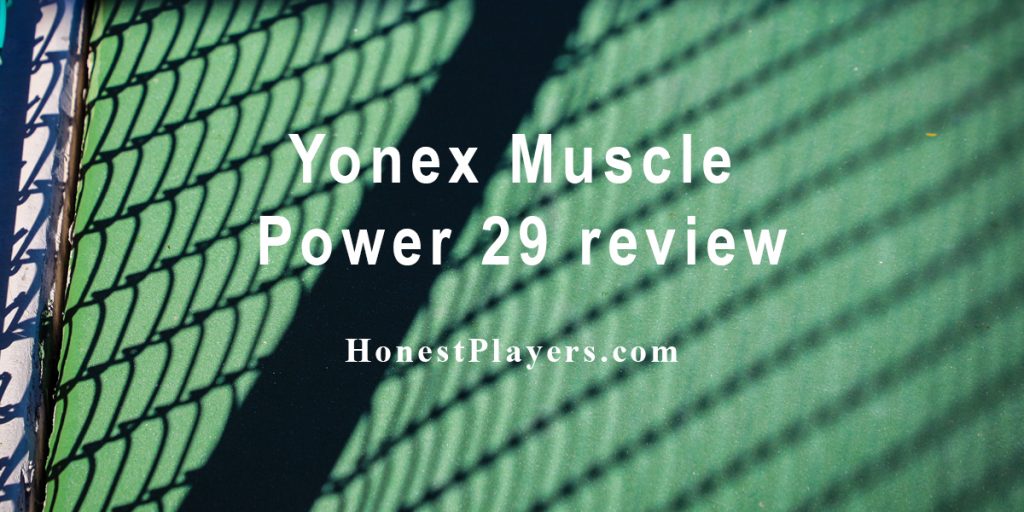 Table Chart of Page Contents
Features of Yonex Muscle Power 29 lite
There is a lot to talk about the Yonex Muscle Power 29 lite badminton racket. Honest Players has described the key features of the racquet below.
Muscle Power Frame
When you want to play badminton, you definitely will want your racquet to be a strong one. The Muscle Power series's specialty lies in its frame construction. According to the Muscle Power series, the frame's design helps the racquet be more durable in its string factor.
Muscle Power helps the player move the racquet according to his/her quality and wish as it gives a comfortable feel and quick movement.
Isometric Head Shape
The racquet has an isometric head shape in it. Isometric forms are better than oval-shaped racquets as they cover more spaces. You definitely will want your racquet to bear the stress when you hit an off-center shot.
The isometric shape helps you exactly there. The particular head shape enables the racquet to be extra assistive for you to contact every chance possible in a badminton game.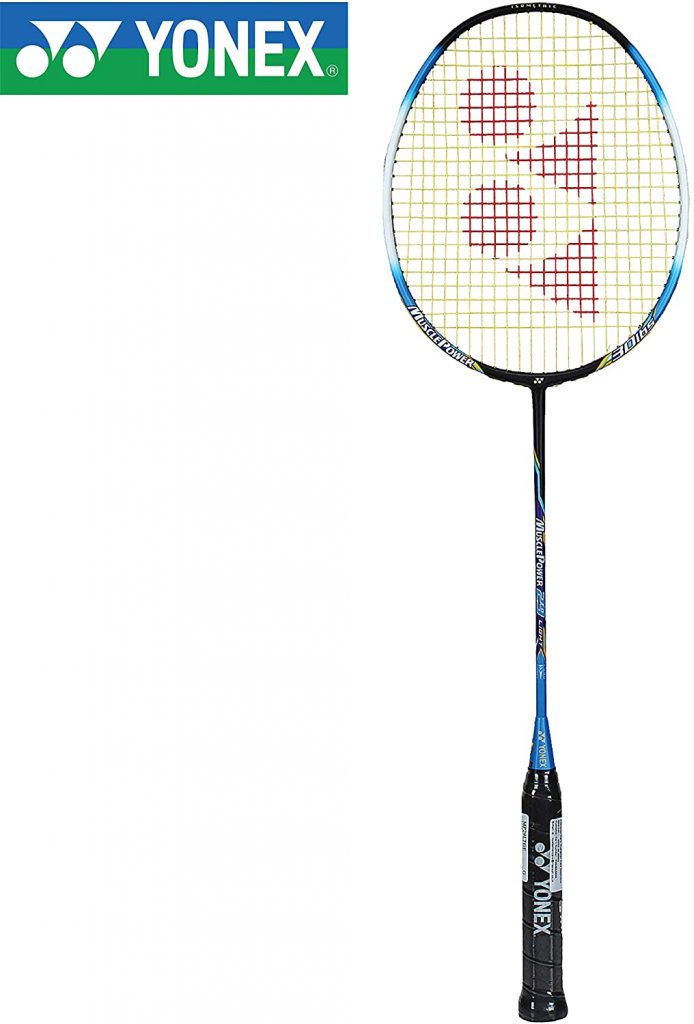 Lightweight
You can enjoy a badminton game when you have a better and light racquet in your hand, as it will make you more skillful and boost your confidence. Muscle Power 29 does the same for you.
It has a 3U weight, which means it weighs approximately 86 grams. In case you are struggling to control or swing your racquet or smash a shot, the racquet can be a cure to all your problems and skills that can be effective in your gameplay.
Muscular String Tension
If a badminton racquet does not have a strong string, you cannot expect an excellent performance from the racquet as it will make you lose your games and frustrate you. For having excellent performance, you can rely on the Muscle Power 29. It has a durable string.
The main highlight of this racquet is the Muscle Power, and it is more effective in the strings when it comes to power, which makes the string even stronger. The racquet has a healthy string tension of 20 to 24lbs, which can be extended to 30lbs max.
T joint
For your better playing experience of a badminton game, you need a flexible, stable, and reliable racquet. T joint is the joint area of the frame and the shaft of the particular racquet.
Muscle Power 29 has a built-in T joint that enables the racquet to be smooth, flexible, and better repulsive.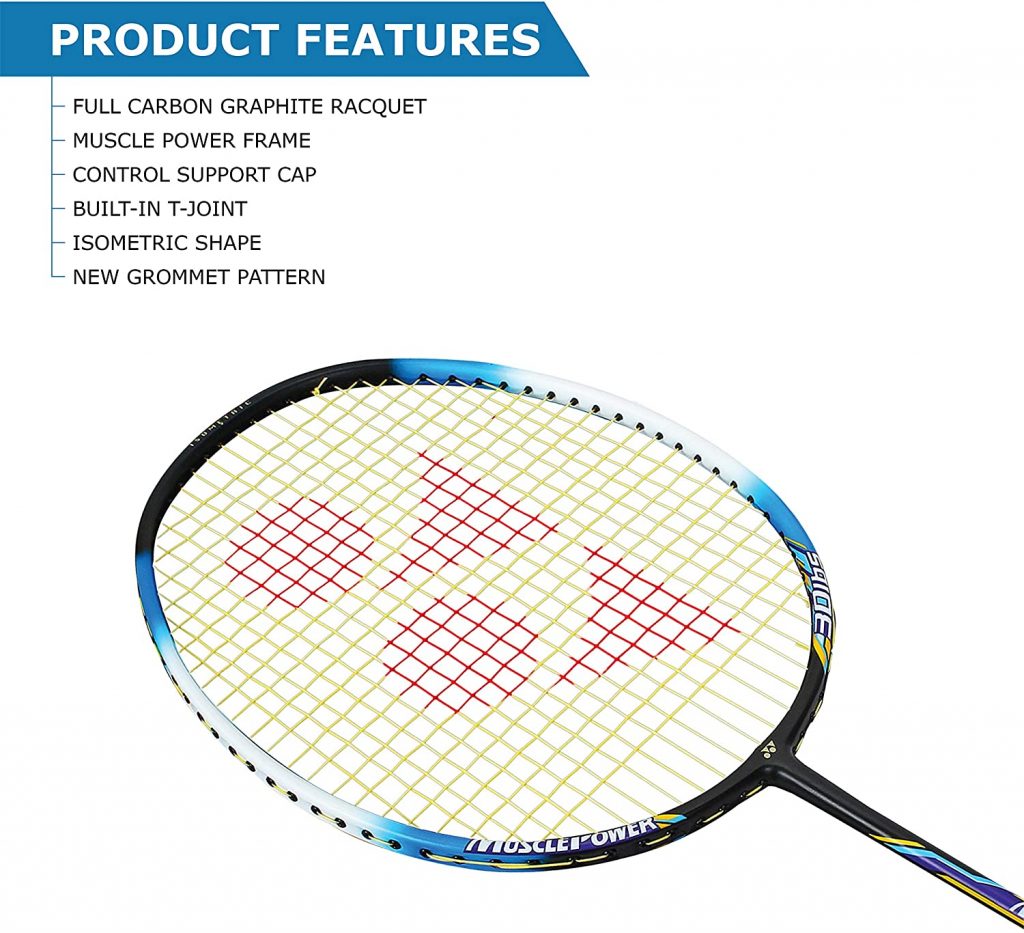 Body materials and Grip
Body materials and the grip area is an essential area of a racquet. Muscle Power 29's body and the shaft are made of high modulus graphite, which helps the racquet to be lightweight and sleek in design.
It has a G4 grip, which is 8.25 centimeters thick. The G4 Grip helps the racquet to be firmly controllable in hand and gives the feel of premium-ness.
Finding the Best Badminton Rackets may be easier than this one. Let us help you with the Pros and Cons below.
Pros:
Durable and flexible handle and frame
Perfect stability
Lightweight and easily controllable
G4 Grip
Isometric head shape
Best for both aggressive and defensive play
Cons:
Mostly dependent on player's stringing
Best-suited for beginner to intermediate level
Frequently Asked Questions:
What is Muscle Power Series?
Muscle Power Series is a racquet series of the brand Yonex. The series is mainly famous for its rounded archways in frame and string, which helps frictionless movement. It allows smooth stringing and more power from the string to the shuttle.
Where has it been made?
Taiwan made the racket.
What will I get after purchase?
You will get 1x racquet with the cover.
What is the best racquet between Muscle Power and Carbonex?
If you want the lightest of these, go for Carbonex. If you wish to have an overall balanced racquet, then go for Muscle Power.
What is the extreme net tension of the racquet?
The extreme net tension of the racquet up to 30 lbs.
What is 3U weight?
3U weight is a measure for the weights between 85 to 89 grams.
Final Verdict of the Yonex Muscle Power 29 lite review
You have gone through the information above. You have come to this part of our review to decide whether you should take the Yonex Muscle Power 29 and or not finally. Though, this depends on your needs as we have tried to give you the best-detailed evaluation of the product to make your decision clear!
Muscle Power 29 has been the most selling racquet for Yonex in recent times, which indicates not to mention its quality here. But if you are a professional level player, then you can consider yourself buying some more specs racquet as it is not the best racquet for a professional level but rather the best for a beginner to intermediate level player. In its price range, it is one of the best racquets out there.
Readout more about Badminton at HonestPlayers. Comment down below for any queries about the Muscle Power 29 Badminton.