If you've been searching for a great paddle that's pretty lightweight online, you might have already come across the Head Extreme tour pickleball paddle review. It's very lightweight, and it is considered the most light-weight paddle in HEAD's paddle lineup. This paddle is getting pretty popular very quickly.
HEAD is a renowned company that has been producing so many high-end sports gear for years. They are relatively new to the game of pickleball. But the Extreme Tour P.B Paddle is already getting so much positive feedback in the sports industry. Stick with HonestPlayers to know more about this beautiful paddle.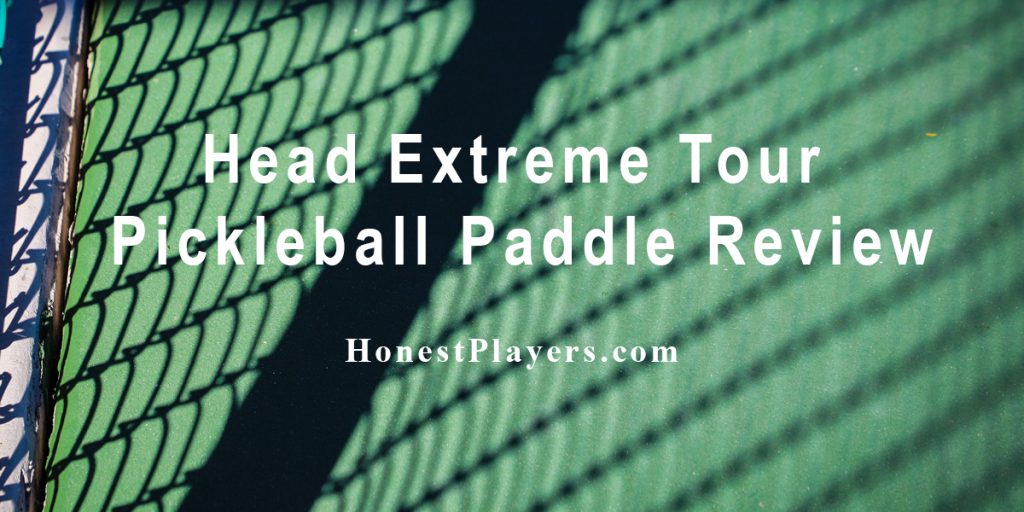 Table Chart of Page Contents
Features of the Head Extreme Tour Pickleball Paddle
There is a lot to talk about this Extreme Pickleball Paddle. Let's discuss some of the main features to get an even clear picture of this pickleball paddle.
A paddle plays the most important role and dictates your performance in pickleball. This paddle will give you the power to smash down your competitor. Why? Go ahead!
Super Lightweight
First of all, the most noticeable and beneficial feature for you would be the light-weight body. The weight of this paddle is a stunning 7.5 ounces. It's great for a paddle to have this much light-weight feel to it.
Weight slows the movement speed of a player, causing a lot more misses and less powerful shots. But the Extreme Tour P.B Paddle doesn't weigh too much, which allows you to get better and accurate shots. As your swing speed increases, you'll be able to reduce the misses by a lot.
That light-weight feature is excellent for anyone who's just starting on playing pickleball. The smooth and fast motion will allow the player to learn the game so much faster and better.
[Similar Paddle:
Gamma voltage 2.0 Pickleball Paddle
]
Great for Beginners
It's great for building up good habits. And as you might know, developing the right habits and techniques are the most important thing you need to make sure that you got down correctly. Besides, if you create a practice of wrong methods, you'd have to "Unlearn" it to correct it.

Diamond Shaped Head
The Extreme Tour P.B. Paddle by HEAD features a Diamond shape body perfect for getting consistent shots with your paddle. That will allow you to score more in the court as you'll have an advantage over him.
Honeycomb Core
The Optimized Tubular Construction (OTC), along with the honeycomb polymer core, makes this paddle more advanced than most other paddles available. The Extreme Tour P.B Paddle has a carbon graphite surface (CHS) with extreme spin technology.
[Recommended:
Best Pickleball Paddles Review
]
Those allow you to get more powerful shots in your game without messing up the control. You can probably tell how important it is to have reasonable control over your range of motion. These technologies will help to give you the most power in your shots by allowing you to get a faster swing speed, which allows for faster reaction time.
Amazing Grip
The HEAD Extreme Tour P.B Paddle comes with a comfort grip that gives you amazing feel, touch, and amazing dinking ability. Most of the cheaper alternatives you might see will have a grip that's either too short or not comfortable to hold.
The Extreme Tour P.B Paddle by HEAD comes with many features that add so much to your pickleball gameplay. From the weight and grip to the advanced features, all of it is dedicated to making your pickleball gameplay experience much more enjoyable.
But this paddle does a fantastic job of giving you the maximum comfort, which allows you to play for an extended period of time with the same enjoyment.
Very Sleek design
The HEAD Extreme Tour P.B Paddle features a smooth face that gives it a look of premium design. The paddle itself is USAPA approved. So, you know you are not just wasting your money on some low-quality products. And the price range of this paddle is surprisingly low.
PROS
• Professional use
• Optimized Tubular Construction (OTC)
• Very light-weight
• Comfortable grip

CONS
• Does not give most pops as a mid-weight paddle
• Not for all the beginners

Final Verdict of the Head Extreme Tour Pickleball Paddle Review
As you went through the head extreme tour pickleball paddle review, you can see how it is the best paddle available.
As pickleball is still a new but fast-growing sport, you might not find many good-quality products out there. Most of the paddles you see in the market are pretty cheap. As they are made with more inexpensive materials, you'll certainly not get all the advanced features like the Head Extreme Tour P.B Paddle.
It is just a marvelous paddle that you can use, whether you are a beginner or a professional. Season pro-Sarah Ansboury plays with this paddle. That goes to show you the skill level you are at is perfect for using this paddle.
The Extreme Tour P.B Paddle comes in an incredible price range. For a price range of that low, you really can't go wrong. With that many features, it's a no-brainer paddle to get for your next pickleball match.
Readout more about Pickleball. Comment down below about the Head Extreme Pickleball Paddle.