Racquet from E Force suits all types of players from age and skill level perspective. This E-Force Chaos Review will make it all clear. Their Chaos edition is a heavyweight racquet that provides excellent gameplay under a $50 price range. This strung 252 grams racquet offers more value than paid, making it one of the best selling racquets of the E Force brand.
Since I purchased it four months ago, I've been using this racquet three times a week. Luckily, I've discovered some praiseworthy plus points and a few downsides of this chaos racquet in this span of four months. I'll share my experience with simplified pros and cons in the following E-Force Chaos Racquetball Racquet Review section.
Table Chart of Page Contents
My racquet experience was very satisfactory (for speed & control), and I recommended this racquet to my friends and teammates. However, this racquet has some downside, and I'll discuss them in the cons section. Without further stressing this intro, let's get started with my personalized E-Force Chaos Racquetball Racquet Review.
Excellent Build Quality: Suitable For All Level Players
This racquet is purely made of graphite. Even the paint and plastic has been replaced by additional graphite. This carbon graphite composition gives an extra boost to overall performance by increasing flexibility and power. The unstrung 305g weight provides great swing – even an intermediate player can enjoy swing to the fullest.
With a string pattern of 14 by 22, this 107 sq.in head racquet gives marvelous experience hitting the ball back to back with great speed & energy. However, if you're already a lightweight racquet user, then switching & being comfortable with this racquet will take time. After a couple of matches, the weight won't make any difficulty as it comes with Zero Richter Tube technology.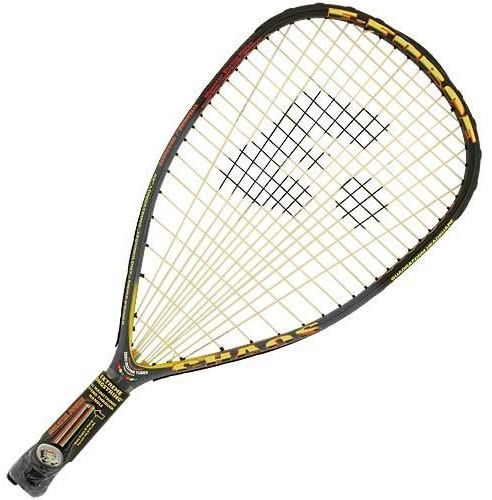 Zero Richter Tubes: Reduces Handle Vibration
Aggressive gaming is common in RacquetBall as you'll be playing against a wall, not a person like Tennis. It means you and your racquet will face immersive pressure after each shot that will massively vibrate the racquet handle. Fortunately, E force's Zero Richter Tubes technology dramatically reduces handle vibration. Also, it helps with simplifying the restringing process.
Levering this technology, you can play more aggressively with confidence. The build quality is sturdy enough (As I mentioned earlier) to bear any accidental wall & ground hit. So, enjoy your game without fearing cracking or breaking with E-Force Chaos Racquetball Racquet. The long 22" string length is another great feature of this budget racquet.
This racquet provides excellent ball deflection in every gameplay. Also, players can enjoy smooth gameplay with minimal vibration with the power of Zero Richter Tube technology.
22" Long String: Great for Stringbed Deflection
Feel the immersive power of 22" string length with E-Force Chaos racquet. This lengthy string leverages full racquet's 22 inches long to provide significant stringbed deflection. As lines travel through the handle, players get more control over the racquet while hitting balls at a tremendous speed.
The strung balance is excellent – 3PTS Head Heavy. However, you'll be significantly benefited by the monster string holes as well. These 2.54 cm2 holes allow both main and cross to be extended so that you can have enormous stringbed & more power.
We have a similar racquetball racquet review that is similar to this one.
Bypass String System: Provides More Power & Quick Response
Besides 22" stringbed & monster holes, this racquet features a Bypass String System. The 14 mains skip every two holes to prevent the ball from striking two main strings at once. This system allows the racquet to be more powerful and quick to ball response.
Using this racquet with these string features feels energetic, which lacks in other budget racquets. However, the factory grip (E Force Resin) can be too wide for some of you. Besides this gripping issue, I'm much impressed by the overall performance of this racquet.
Pros
Excellent carbon graphite sturdy build quality resists from breaking & cracking
22 inches of mains provides excellent flexibility & control
Comes with great crispy string features – Monster Holes & Bypass String System
Reduces vibration through with Zero Richter Tube technology placed in the handle
An excellent option for older/aged players as it's a heavyweight racquet
Cons
Grip might be too wide to handle for some players
Cold weather can cause a crack, but it occurs rarely
Check out the Video of E-Force Chaos Racquetball Racquet Review
Frequently Asked Question – FAQ
What is E-Force Racquetball Racquet Warranty?
E-Force offers one year of warranty with their racquetball racquet. This warranty may vary from country to country. If you buy from third-party stores like Amazon, you may enjoy an extra returning facility leveraging Amazon's return policy.
How often should you restring a Racquetball racquet?
The restringing cycle varies from players to players. If you're a player who plays once a week, restringing is needed at least once a year. If you frequently play like three times a week, restring is necessary three times a year. This number will increase with your playing period in a week.
Does higher string tension favor in more or less control while playing?
Higher string tension favors more control, and lower string tension results in more power. As the string stretches more in low tension settings, it stores and provides more energy while returning it through the ball. On the flip side, higher string tension offers less power and more control while playing.
What should be the appropriate tension for my racquet string?
The appropriate string tension solely depends on the manufacturer's manual. You should set the pressure in the middle of their recommended lowest & highest stress. Suppose it says 56 to 58, then start with 57 string tension.
How long does restringing a racquet take?
Restring a racquet takes around 35 minutes – if done by an expert. Restring by yourself (If you aren't an expert) will abide hours by proper guidelines. So it's recommended to restringing your beloved racquet by experts.
Conclusion
I hope this E-Force Chaos Racquetball Racquet review was helpful to you from the info & decision making perspective. Though it took time to cope with the heavyweight, I enjoyed every gameplay just after a couple of matches.
I highly recommend this racquet to those players fond of energetic gameplay with a heavyweight racquet. The older players are also advised (by experts) to buy and use this racquet if they suffer from elbow & wrist pain from other racquets. This racquet will help to reduce these types of problems.