As a Racquetball player, I've been using different racquets from different brands like E-Force & Head. However, I liked E-Force Bedlam 170 Lite Racquetball Racquet the most in terms of speed & control. This stiff and versatile designed racquet impressed me in many ways, including the tolerance of unwanted ground & wall hits.
This racquet's overall structure is sturdy enough to give the best gaming performance possible within a $100 budget. As I've been playing with this racquet for three months, I would love to discuss my experience with this racquet. Stay tuned as I'll be discussing its features along with pros and cons in the following E-Force Bedlam 170 Lite Racquetball Racquet Review & Feature segment.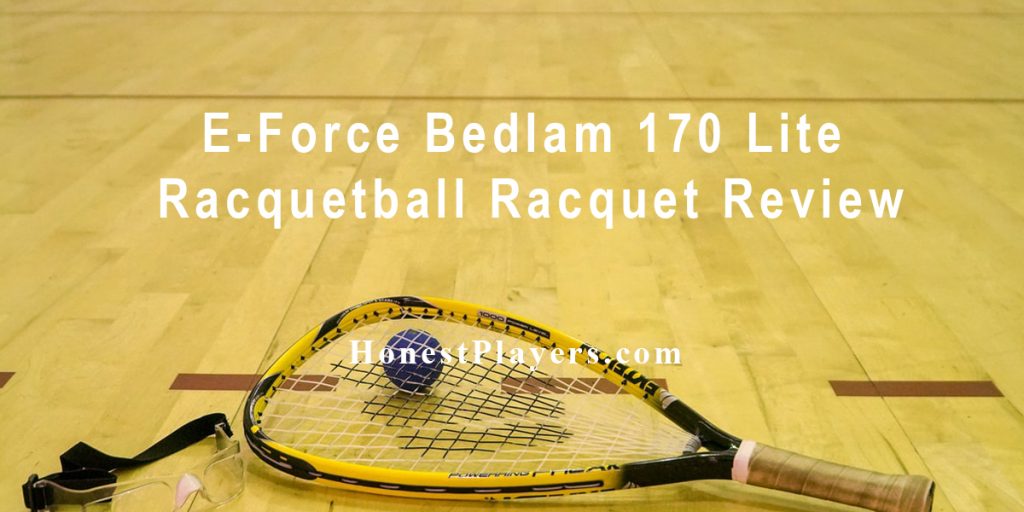 Table Chart of Page Contents
This racquet is packed with advanced technology, which is reasonable enough to replace your old classic racquet. I'll be explaining those advanced features in the upcoming sections.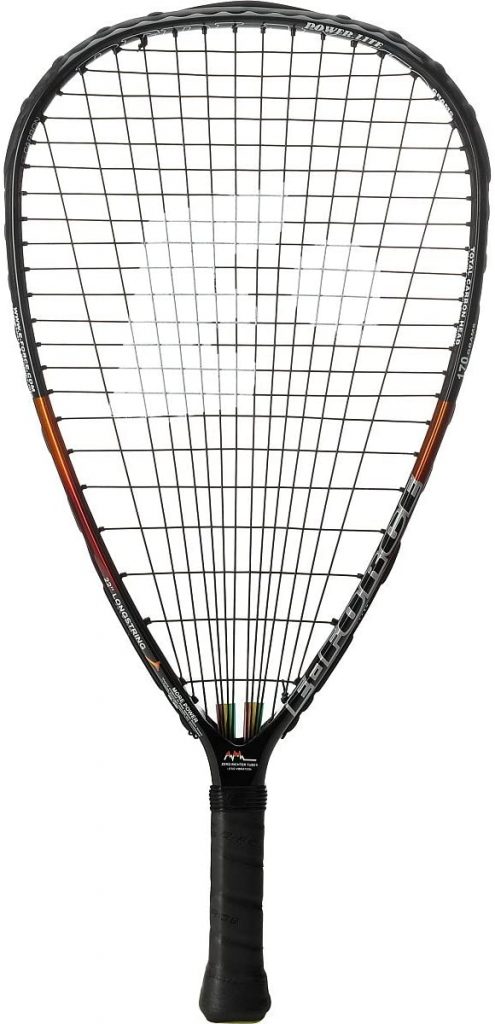 Carbon Graphite Material: For Balanced Control & Power
This racquet features a carbon graphite composition along with a tri-tear head for the optimum gaming experience. A Dual-tube carbon frame helps with gaining extra durability against accidental shots. Also, the sweet spot is located in the center of the 108sq.in the head – which allows power swing.
The aerodynamic design and the strung balance of 4 PTS Head Heavy contribute much to having excellent gameplay. E-Force replaced paint & plastic material with additional graphite carbon for more stiffness, durability & power. Besides build quality, this racquet is packed with advanced technologies like – Zero Richter Tube, HI-Octane Power Boosters & Bypass String system.
Zero Richter Tubes: Reduces Vibration For Optimum Performance
Both the player & racquet have to face massive vibration caused by power shots. It's expected as you'll be playing in a room against a wall, not a person. However, this vibration can cause internal pain resulting in hazard health issues. Luckily, E-Force implemented Zero Richter Tube technology in the handle. This technology reduces the handle's vibration and gives you more control over the racquet for better & confidence gameplay.
Advanced technologies like Zero Richter Tube, HI-Octane Power Boosters & Bypass String system are the plus points along with the sturdy build. This unstrung 170grams racquet acts as a powerhouse to crush every shot with optimum speed & power.
The 3 and 5/8 inches of handle is also much grippy. Any skill-level player (beginner to advanced level) can enjoy a fruitful gaming experience with this E-Force Bedlam 170 Lite Racquetball Racquet. In the past, I faced difficulty holding racquet handles – as they were too wide. Fortunately, this racquet features a handle that is comfortable holding & hitting great shots with ease.
Hi-Octane Power Boosters: Adds More Speed & Power
Hi-octane power boosters help to enhance control & speed. These two boosters are located on both sides of the sweet spot. Factory string 17G Black Platinum performs excellently with power boosters. I felt a massive difference in power in comparison to Non-Hi Octane Power Booster racquets.
These small technologies help to reach the pick performance & securing a praiseworthy position in tournaments. Besides this technology, E-Force Bedlam features 22″ Longsring along with the Bypass String System for durable & elongated play.
Bypass String System: Helps With Minimizing Response Time
The 14 mains of this racquet skip every two holes to prevent the ball from striking two main strings at once. Though hitting two main lines at once doesn't seem like a problem, but it can significantly hamper your overall performance. This system allows the racquet & player to be quick to ball response for extreme performance possible.
This racquet comes with a string pattern of 14 mains by 18 crosses. Unlike other racquets, this racquet features 22″ of main string that helps launch the ball with optimum force, power & velocity. As the length of this racquet is 22″, the main string has to travel through the handle.
Pros
Comes With A Grippy Handle Integrated With Zero Richter Tube technology
Ensures Versatile Design With The All-Carbon Graphite Frame Build
Less Vibration Helps With Elongated Play With Ease
Very lightweight – Unstrung 170 Grams & Strung 205 Grams
Bypass String System Helps Increasing Ball Velocity & Speed with Decent Control
Cons
The Top Of The Grip Isn't Fastened Enough, But The Bottom Side Is Okay
Take Proper Caution In Cold Weather As It May develop Cracks Overtime
Frequently Asked Questions – FAQ
What skill leveled players should buy this racquet?
Players of all skill levels can play comfortably with this racquet. However, if you're a B grade player, you can upgrade yourself to grade A by practicing with this E-Force Bedlam 170 Lite Racquetball Racquet.
What does the All-Carbon Graphite frame mean?
All-Carbon Graphite frame refers to a frame that is purely made of graphite. Typically manufacturers use paint and plastic in racquetball racquet, which isn't harmful and also not beneficial. The all-carbon graphite frame helps with enhancing overall performance from a speed & control perspective.
What's the Handle size of this racquet?
This racquet's handle size is three and 5/8inches, and it comes with factory grip – E Force Resin Black. This grip gives an aesthetic look to this racquet and feels excellent holding & hitting during intense gaming.
What's the purpose of having lots of features and advanced technology in a racquet?
These shiny features & technology's primary purpose is to replace your classic racquet. Like me, others posted E-Force Bedlam 170 Lite Racquetball Racquet Review highlighting the key features. These reviews will help people like you make the switch from the classic racquet to this one.
How Much Does It Cost To Restring a Racquetball Racquet?
Usually, strings cost around 5 to $10 per set. But you should give this task to an expert. He will charge 15 to $20 restringing your beloved Racquetball racquet. Also, you have to keep the shipping charge in mind,
Final Words of E-Force Bedlam 170 Lite Racquetball Racquet Review
I tried my heart and soul to give informative value in this E-Force Bedlam 170 Lite Racquetball Racquet Review. I hope you already know whether this racquet is for you or not. However, if you're still confused about your decision – take my recommendation and buy this racquet. Choosing a Great Racquetball Racquet could be more comfortable than talking about a particular Racket, right?
Don't worry about your skill level as this racquet is suitable for all types of players. If you're fond of lightweight & energetic racquet loaded with advanced technologies, pick this racquet without hesitation. I didn't regret purchasing this racquet. I bet you won't regret it either.