Adding a pool table to the house instantly adds additional entertainment and activity, regardless of whether you're constructing a game room or just looking for a more interesting living room.
The greatest high-end pool tables allow you to have fun with friends and family without having to bring a huge pocketbook to the billiard hall or pub. Billiard tables are classy additions to your home's decor.
There are so many different types of tables that you are sure to discover. When purchasing a pool table, keep in mind the size of the space in which you intend to place it.
Best pool tables usually cost a bit more than the average ones. But, a lot of the high-end pool tables are available for under $1000.
To find the best pool table under $1000, we have studied and analyzed the finest ones available in the market based on all the essential aspects.
In a hurry? Check out our Top 3 picks here:
Hathaway Mirage Pool Table
Editor's Choice
Comes with a coating of melamine.
Sturdy and durable build quality.
High-end premium design.
Made of solid engineered wood.
180-day warranty.
Hall of Games Edgewood Billiard Table
Premium Pick (Best under $1000)
Legs are solid and made with wooden grains and laminated with PVC.
Comes with levelers to adjust the playing surface.
Ensures amazing ball bouncing.
High-end design and attractive outlook (Very Modern Look).
Positive Amazon Reviews.
Fat Cat Trueshot Pool Table
Budget King
Compact size and lightweight.
Comes with leg safety feature.
Made of high-quality manufactured wood.
Attractive fabric design.
Offers the most at the budget.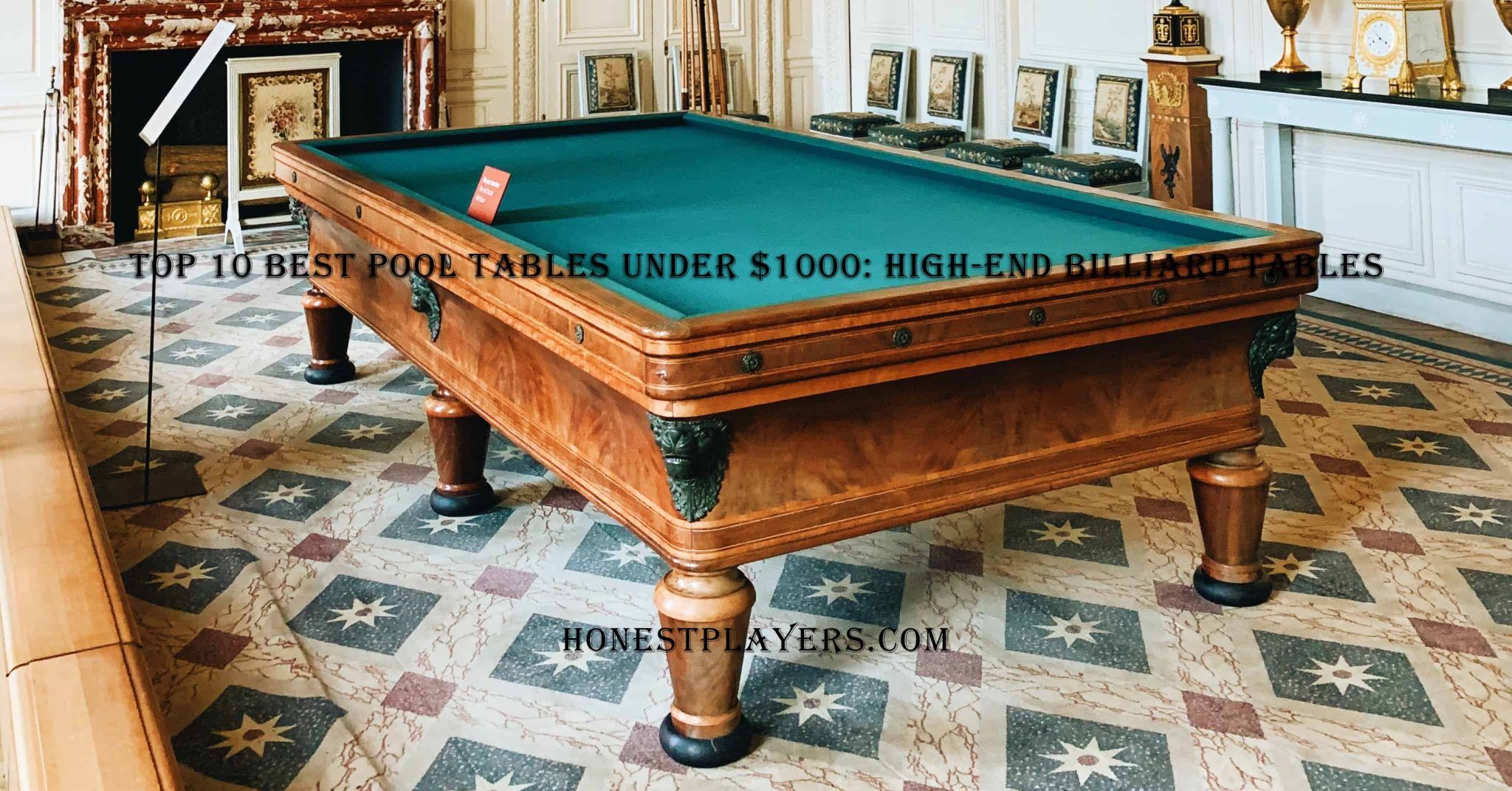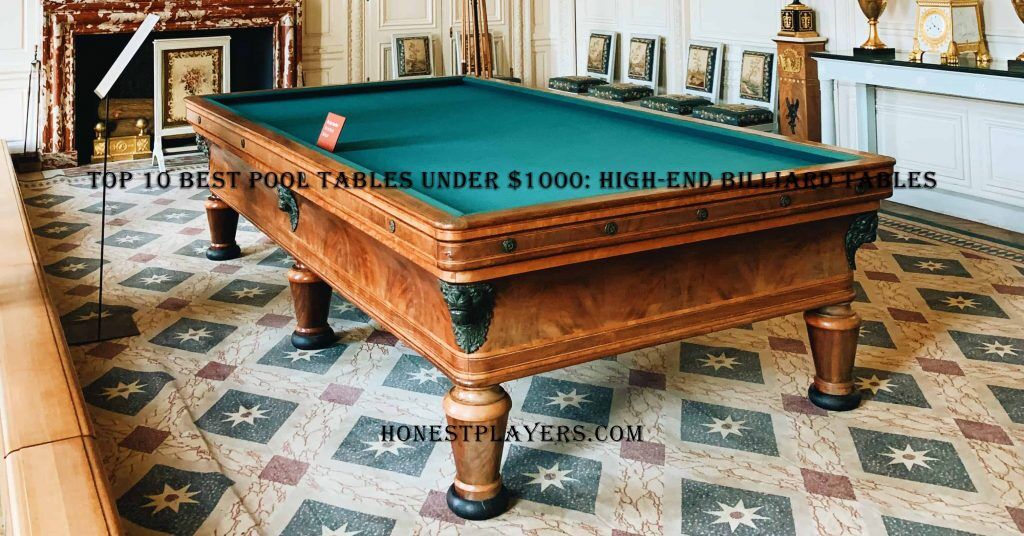 Table Chart of Page Contents
Our 10 Best Pool Tables under $1000 in 2021: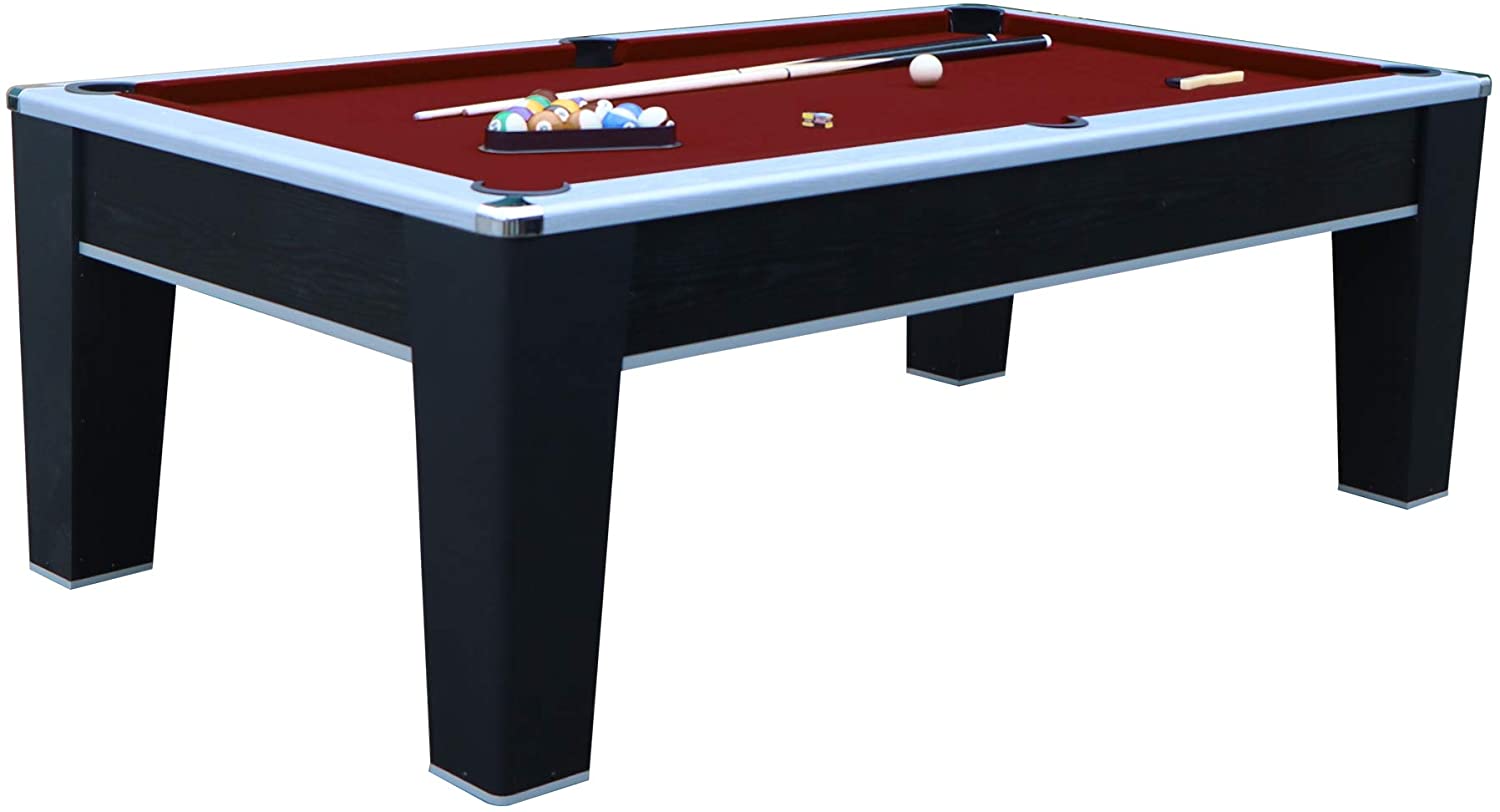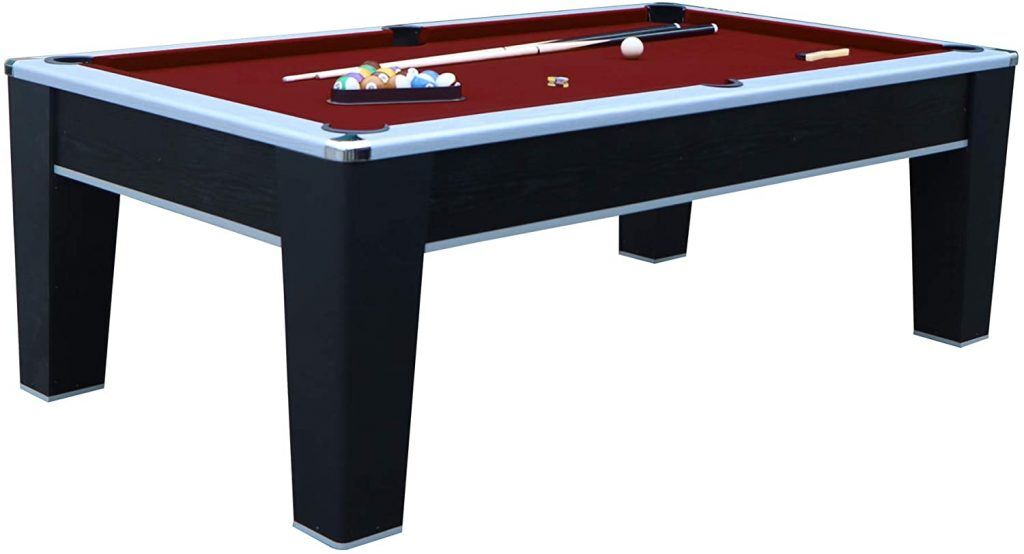 The Hathaway Mirage's beauty and presence are the first things you notice about it. We found its black and silver melamine finish, top rails that are wide and white, chrome-plated corner caps – that's all and enough which make it worthy of the editor's best choice. The table's overall outlook gives it a classy touch and makes the Hathaway Mirage table an eye-catching billiard table.
Mirage is composed of engineered wood and will, without a doubt, keep its shape and appearance over time. We found the wood frame's melamine finish to be effective for protecting it and providing a contemporary touch.
With an 18mm wide playfield, the table allows a smooth ball roll without adding excessive space that may make the game difficult to play. It also comes with leg levelers installed in each leg to adjust the height.
In our opinion, Mirage is tournament-ready as it comes with all the essential features that a good billiard table should have. The K-818 Bumpers cushion offers consistent bouncing and makes the game interesting.
We found the 180-day warranty to be a bit less. But, considering the overall quality and features, the Hathaway Mirage is definitely the best pool table under $1000 on this list.
Pros:
Comes with a coating of melamine
Sturdy and durable build quality
High-end premium design
Made of solid engineered wood
180-day warranty
Cons:
Difficult to move
Only one fabric blend color option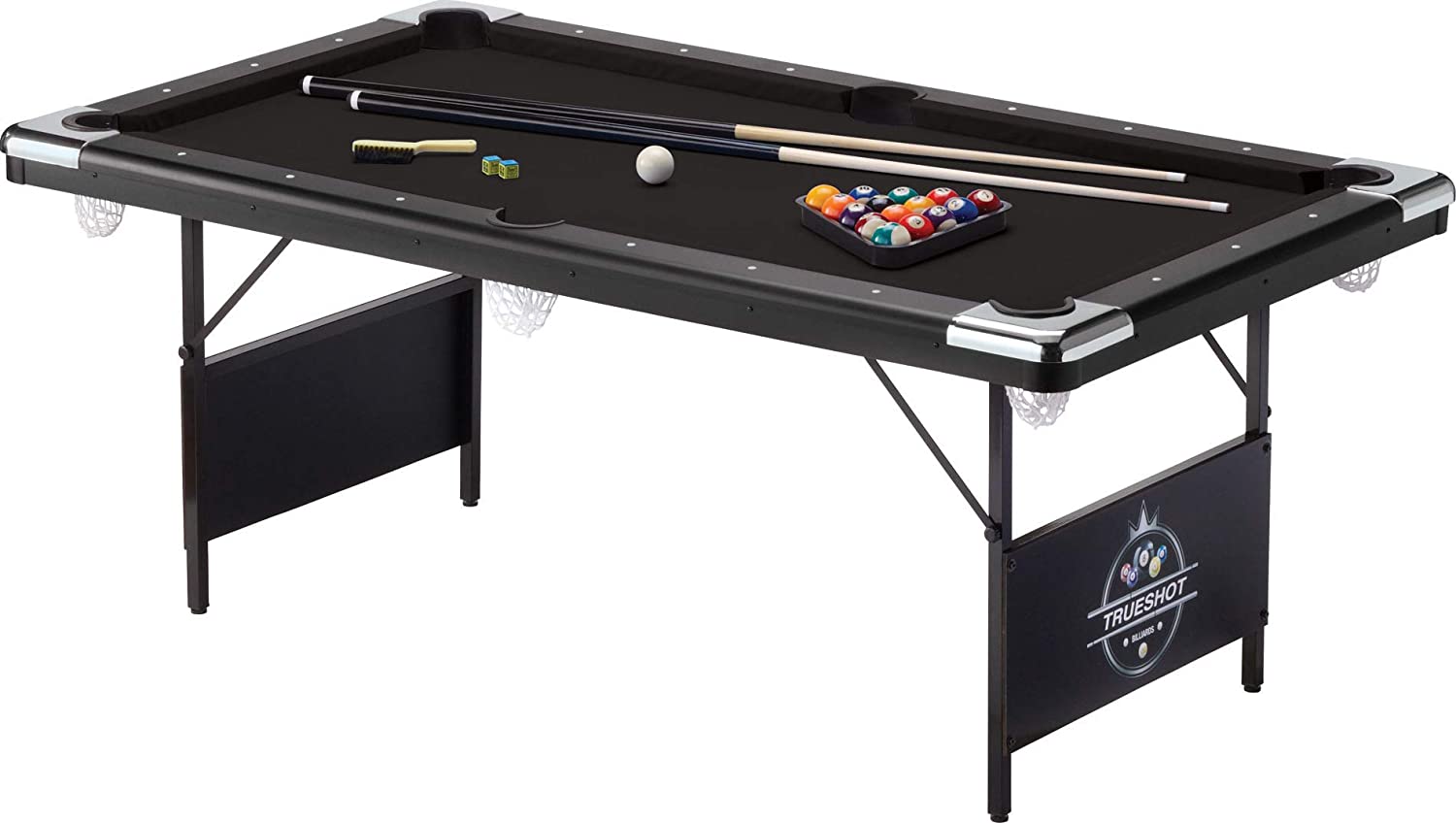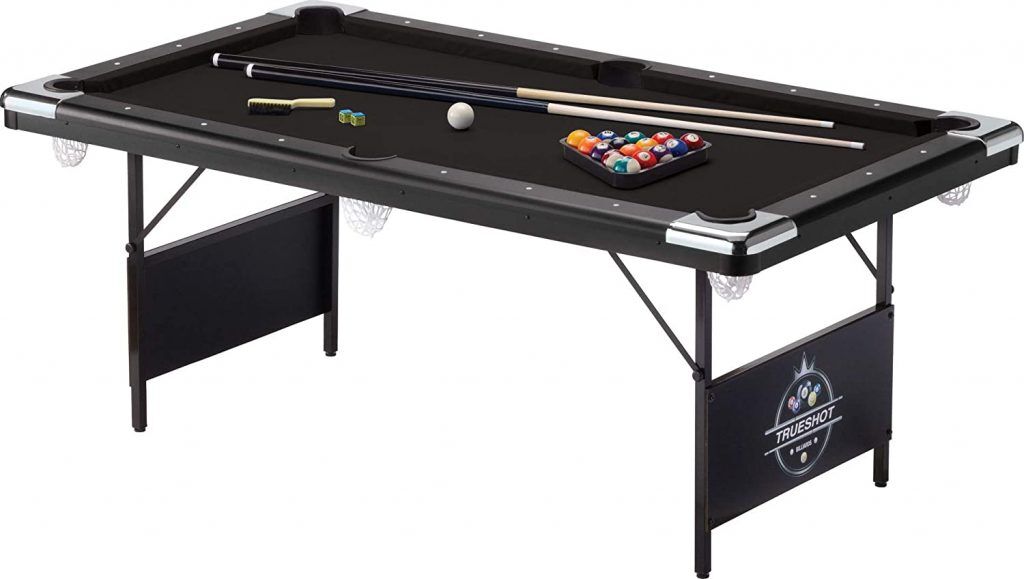 Fat Cat Trueshot from GLD Products is the best option for quick and convenient entertainment. This unique design combines a small footprint with remarkable mobility. We found Trueshot to be the ideal pool table option for people who are short on room but yet want to play the classic game.
As the Trueshot is made of high-strength material, you won't have to sacrifice some space, since the Trueshot table's surface will play smoothly and quickly. With its sleek black fabric style, Trueshot can go with any décor.
One of the most amazing features that we found is that it's extremely compact and portable. You can easily fold the table and carry it in a vehicle. You can set up the table somewhere else and have the party going, which makes it best for your outdoor space.
Trueshot is compact and lightweight, yet we don't think that it's design compromises the table's quality. High-quality fabric and sleek design makes it one of the best for beginners.
To get you started playing right away, the Play Package includes a table brush, a set of pool balls, a triangle, and 2 cues. Amazing pool table, right?
Pros:
Compact size and lightweight
Comes with leg safety feature
Made of high-quality manufactured wood
Attractive fabric design
Cons:
Falls a bit behind on sturdiness
Not for professionals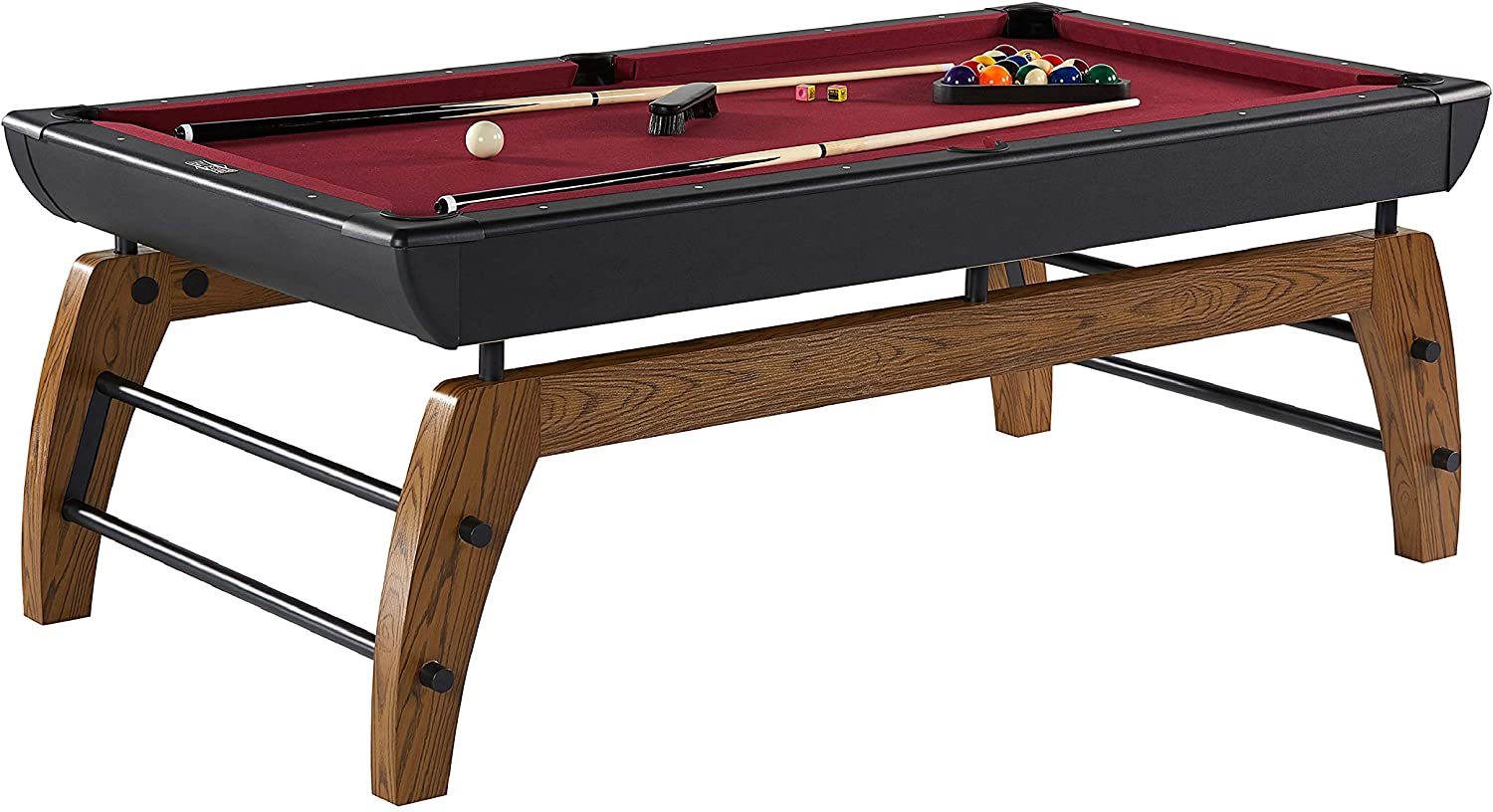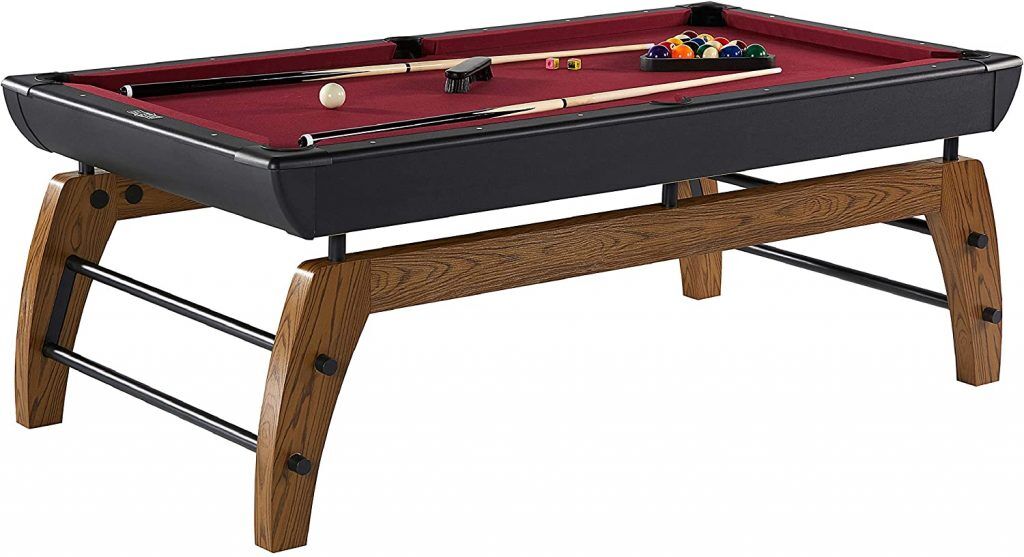 This one-of-a-kind Hall of Games Edgewood Billiard Table is ideal for your family's basement or gaming area. The wool mix top ensures smooth ball roll, while the premium K-818 bumpers provide a steady ball bounce.
For increased longevity and a fair playing field, the play surface has been reinforced. We think it's appropriate for both newcomers and seasoned gamers.
Hall of Games is simple to put together and comes with leg levelers that ensure a level playing surface.
We found the strong legs made of wooden grains and dark aprons to make it really appealing. The table has a robust and sturdy top rail, and the playing table surface is double-sided laminated. It also has a fabric of wool mix which ensures a smoother surface.
While a lot of the high-end pool tables are 8 feet, the Hall of Games has a length of 7 feet which makes it quite compact. It would take less space to place this table in a corner of your room which makes it best for indoor use in our opinion. So, if you don't have a lot of space to place your pool table, the Hall of Games would be the one you should go for.
Pros:
Legs are solid and made with wooden grains and laminated with PVC
Comes with levelers to adjust the playing surface
Ensures amazing ball bouncing
High-end design and attractive outlook
Cons:
Too heavy to move
Cues are not of high-quality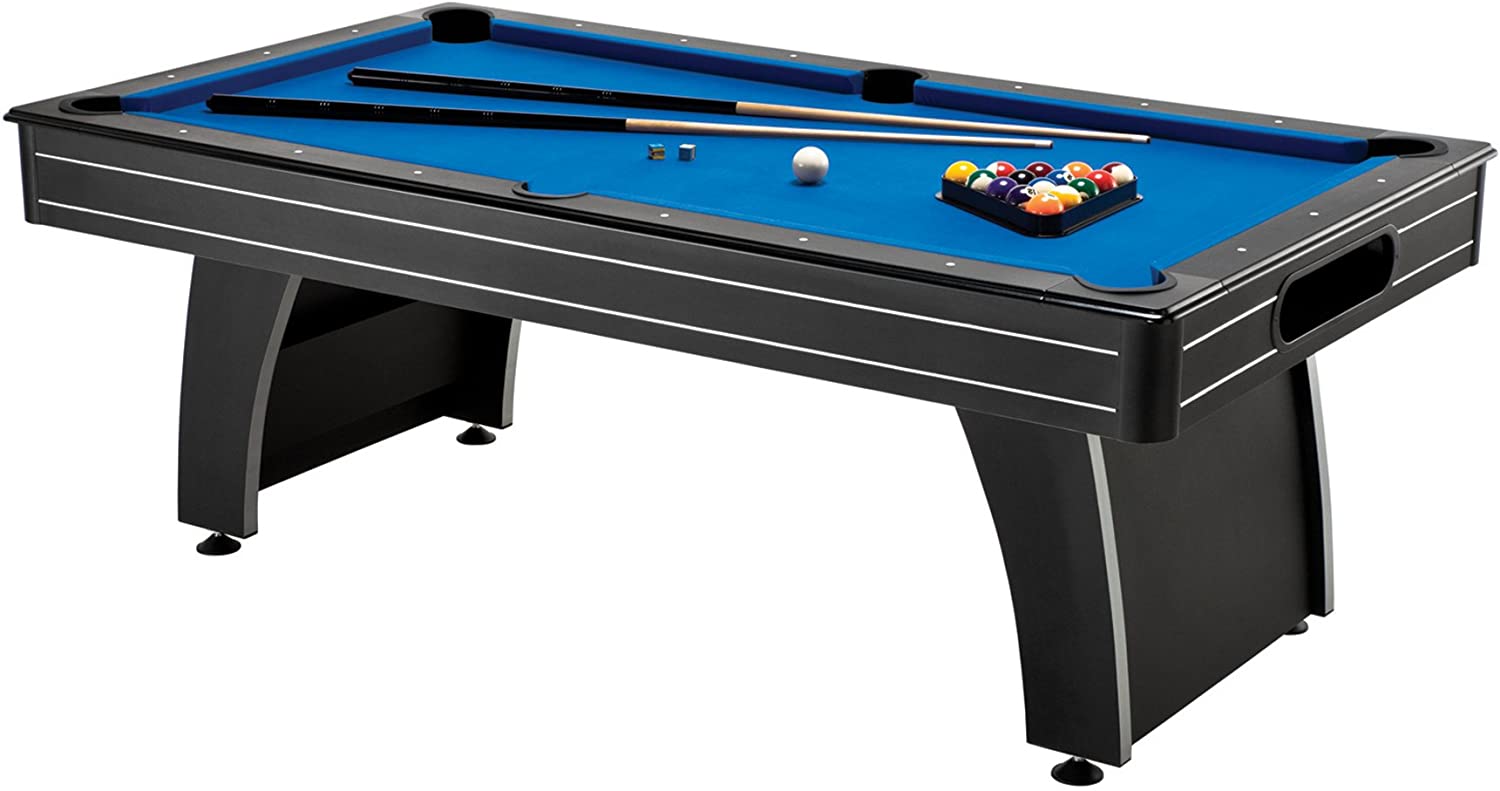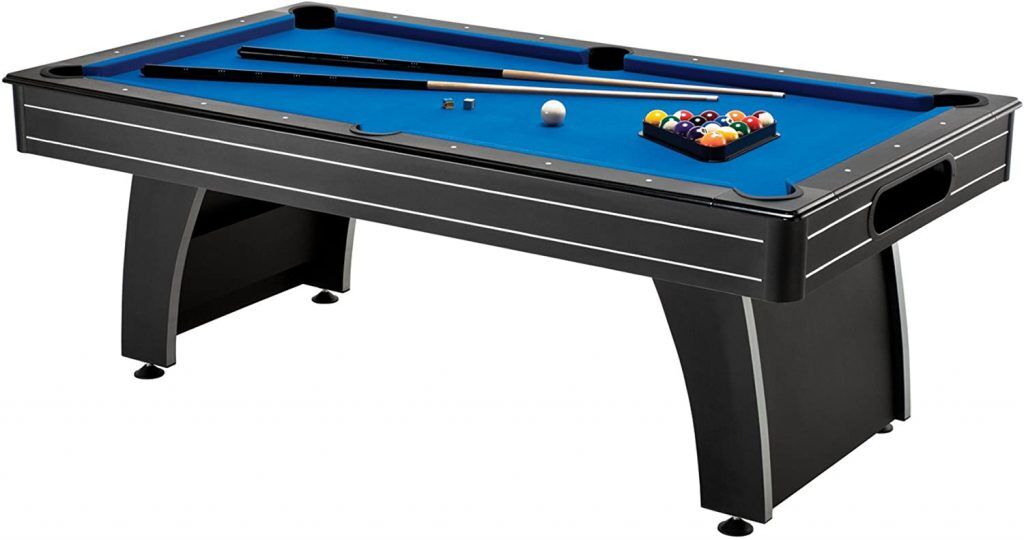 The Fat Cat Tucson comes with rubber bumpers that guarantee the balls bounce perfectly. We found the sturdy rails and rubber cushions to provide excellent ball rebound which makes each game you play both enjoyable and difficult simultaneously.
While we were reviewing the best pool tables, we found that each of them has distinctive features that make them suitable for different purposes.
Fat Cat Tucson's premium features make it perfect for an advanced player. Its rails contain 18 frost-toned circular sights placed against the black rails. You can find leg levelers and dots on the pool black rails that allow more convenient alignment for your shots.
It also includes rubber slots and a simple return structure. We saw that all the balls that have been pocketed are kept in a central location where they are easy to access.
The Fat Cat Tucson stands at 7 feet and has a sleek, modern table appearance. The table's sleek arcade-style legs offer both elegance and robustness, and the bracing between legs adds stability to the table in our opinion.
The brilliant blue table surface is made of blue polyester cloth and is protected by a moisture-free layer beneath it. You get all the necessary accessories with the table to sweeten the games.
Pros:
Easy to assemble
Durable build quality
Rails offer great rebound
Ball return feature
Cons:
Surface can seem too thin
Cues could be more robust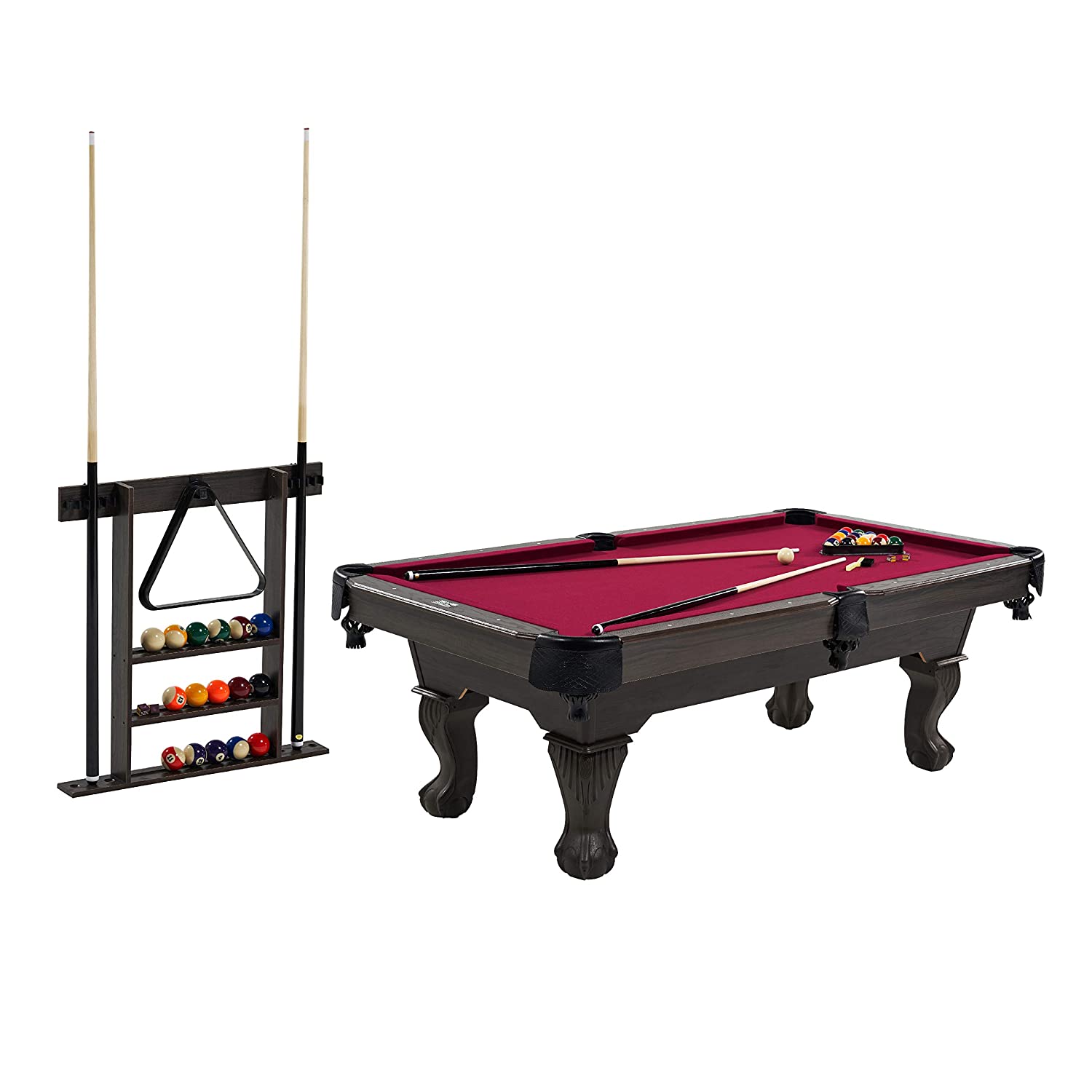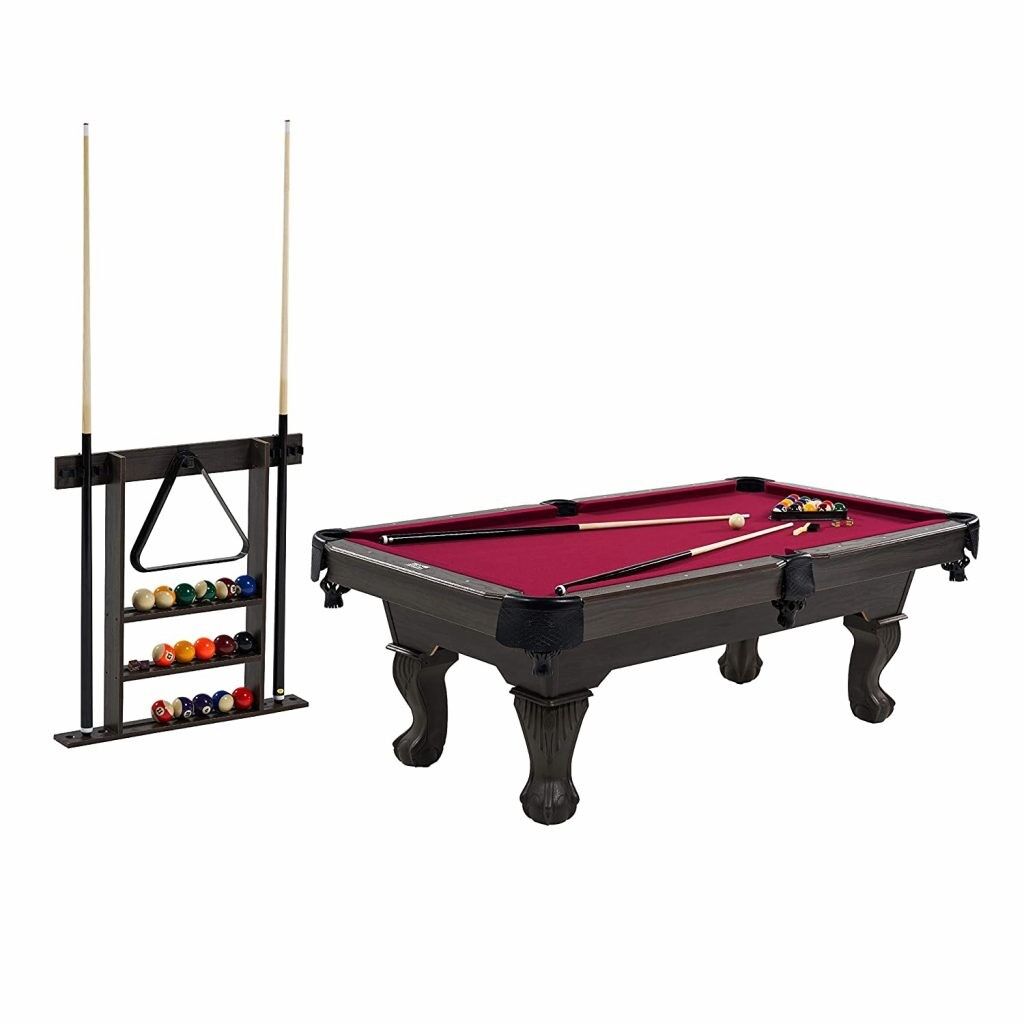 Barrington is one of the best companies that produce high-end billiard tables. We found a lot of options available from cheap to expensive price range. As we are looking for the best pool table under $1000, Brooks from Barrington should be considered as one of them.
Small and compact design of Barrington Brooks makes it perfect to fit in any room in the house. The high-quality rubber bumpers offer consistent bouncing and the smooth playing surface provides premium ball rolling.
The top rail of this table is quite sturdy and enhances its durability. Leg levelers are easy to use for leveling the table. No matter where you place it in your house, you don't have to worry about flattening the bottom area. X-shaped legs give a sleek outlook and premium feel.
Although it could be a good option for professionals, we found that its less durable build quality makes it better for intermediate players.
The levelers are hidden which doesn't compromise the premium look of the table. The table comes with all the necessary accessories including cues, billiard balls, table brush, and triangle.
Pros:
Lightweight and compact design
Velvet play area provides a smooth playing experience
X-shaped legs that are reinforced
Sturdy leg levelers
Cons:
The base material is made of plastic
Less durable than other options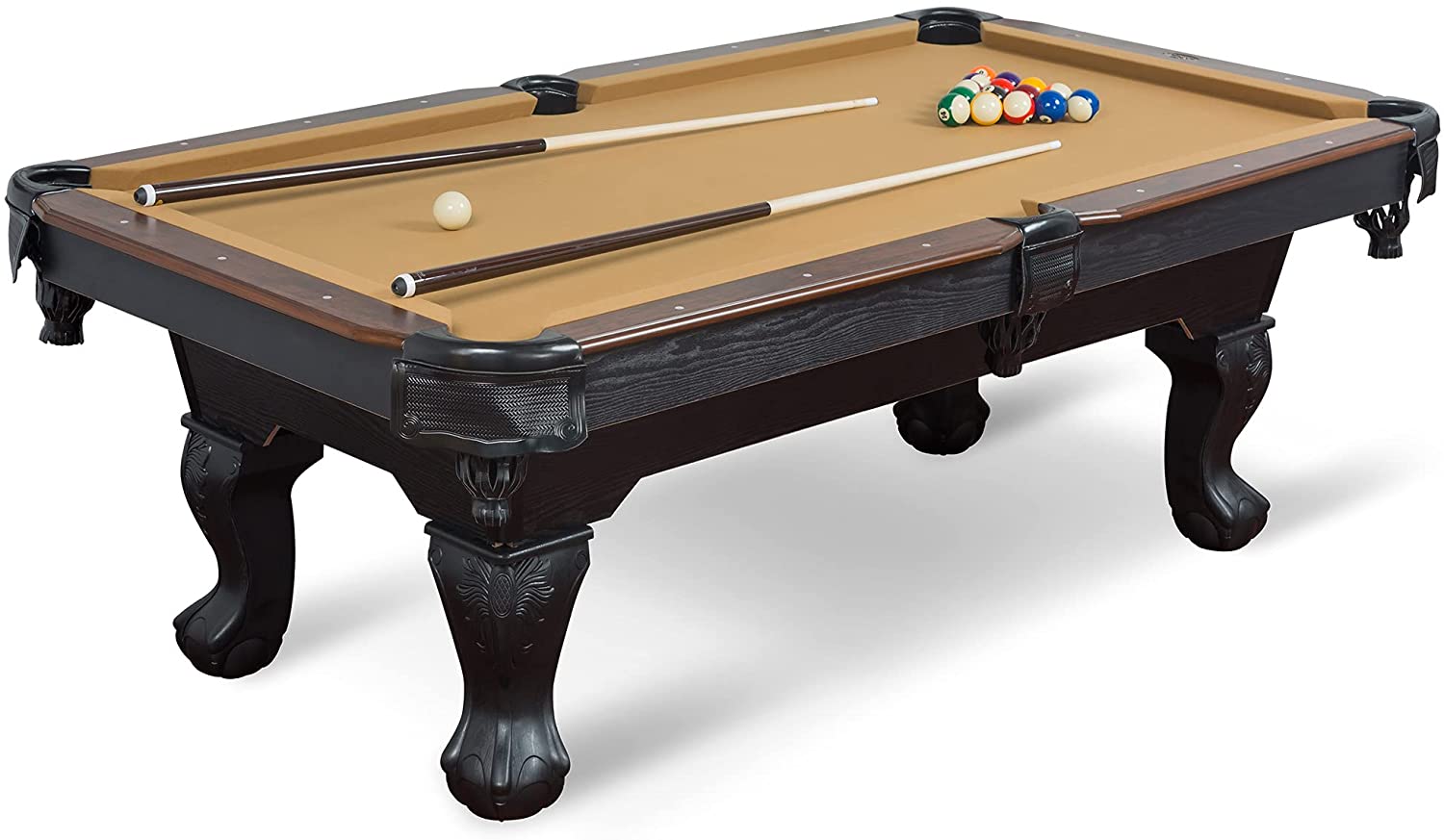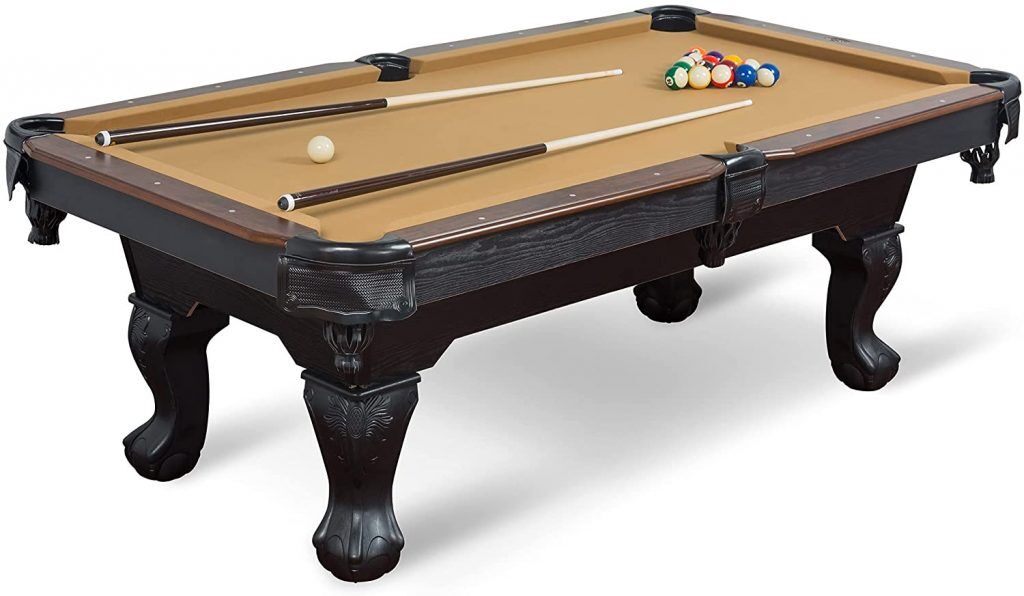 Nothing beats a nice, traditional game of billiards or pool with friends or family after a hard day at work. The Masterton Billiard Table from Eastpoint Sports is the ideal choice for a classic pool table that will amaze you and your friends.
Masterton not only has numerous gameplay characteristics, but it is also intended to provide any leisure space with a wonderful pool table ambience. The legs are built in the classic ball and claw form, and the table has a classic parlor drop pocket type.
Masterton comes with K-66 bumpers made of rubber. We found that it ensures consistent ball bouncing and makes the game more enjoyable. The high-quality fabric makes the surface smooth. We found it quite easy to maneuver while playing which makes it the best option for beginners on our list.
You don't have to worry about the space being flat as the table comes with leg-levelers. You can adjust the height as you want with the levelers without having to move the table. The pool table is easy to assemble, and compact in design.
Pros:
Scratch-resistant material
Legs are claw-designed that gives a classy look
Parlor-styled appearance
Lightweight and compact
Cons:
Less durable than other high-end pool tables
Plastic legs instead of wooden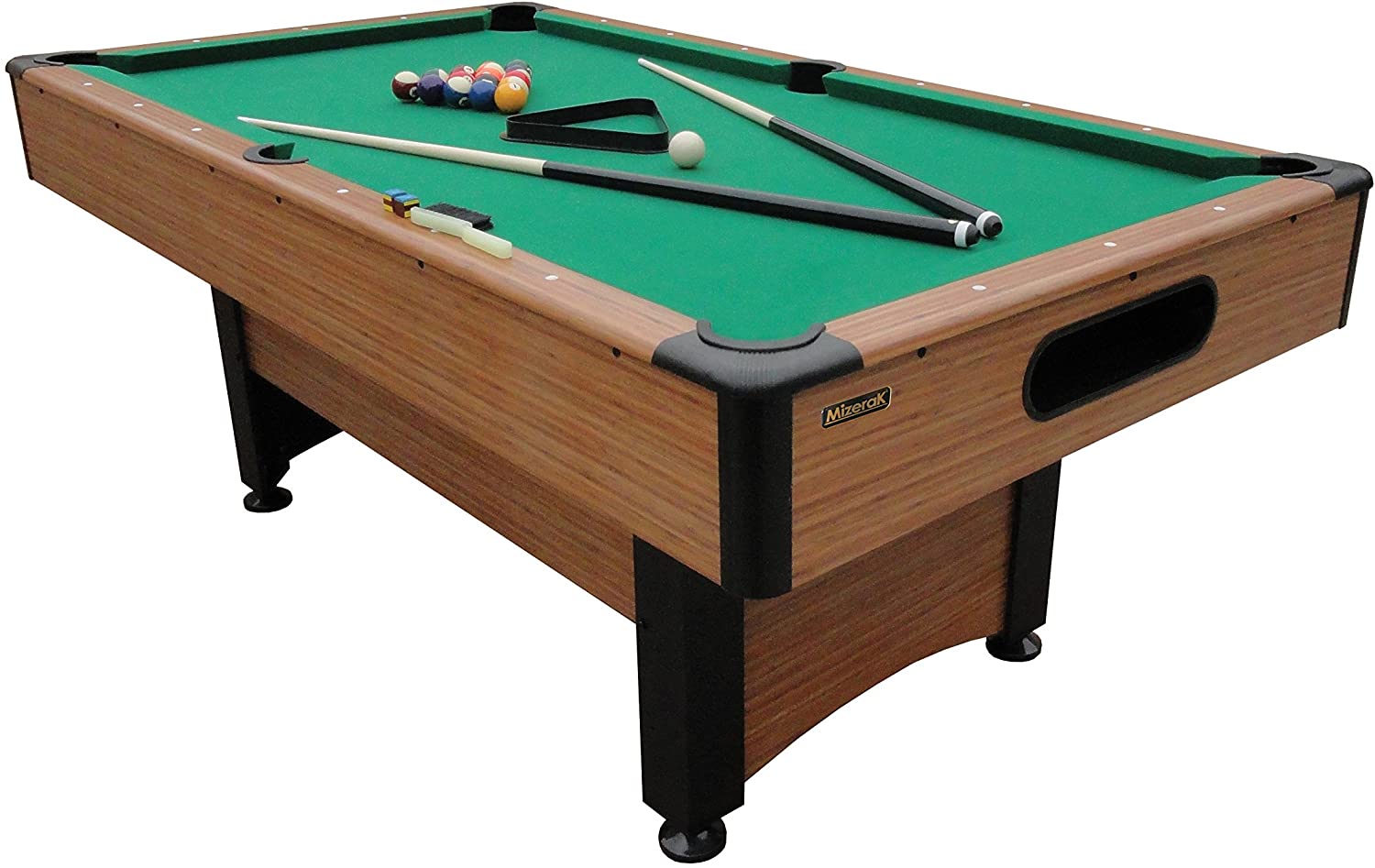 High-end billiard tables can come with a length of 7 feet to 10 feet. The larger the table is, the more space it would require to fit. If you don't have a lot of space in your house to keep your pool table, it would be best to go for compact pool tables.
Mizerak Dynasty thrives with its space saving design and premium build quality. We found that the 6.5 feet table doesn't compromise with quality at all despite being among the compact pool tables.
Dynasty is made of MDF material which is not as durable as slate. But, as we're talking about high-end tables under $1000, slate is not the best option to choose. Moreover, slate tables are too heavy which we found difficult to move. For all these reasons, the Mizerak Dynasty would be the overall best under $1000.
The leg levelers are disc-styled and we were able to adjust them easily. If you don't have a flat surface where you wish to put the table, the leg levelers are there to help! Although the table is compact in size, it's quite a heavy table which makes it sturdy and durable. But, the 200 lbs. weight range is a range that allows you to move the table without having to disassemble it.
Pros:
Premium space saver design (not a larger pool table choice)
Comes with automatic ball return feature
Nylon green cloth gives it a parlor look
Leg levelers are easy to use
Cons:
Cue sticks are less durable
Cloth tends to get ripped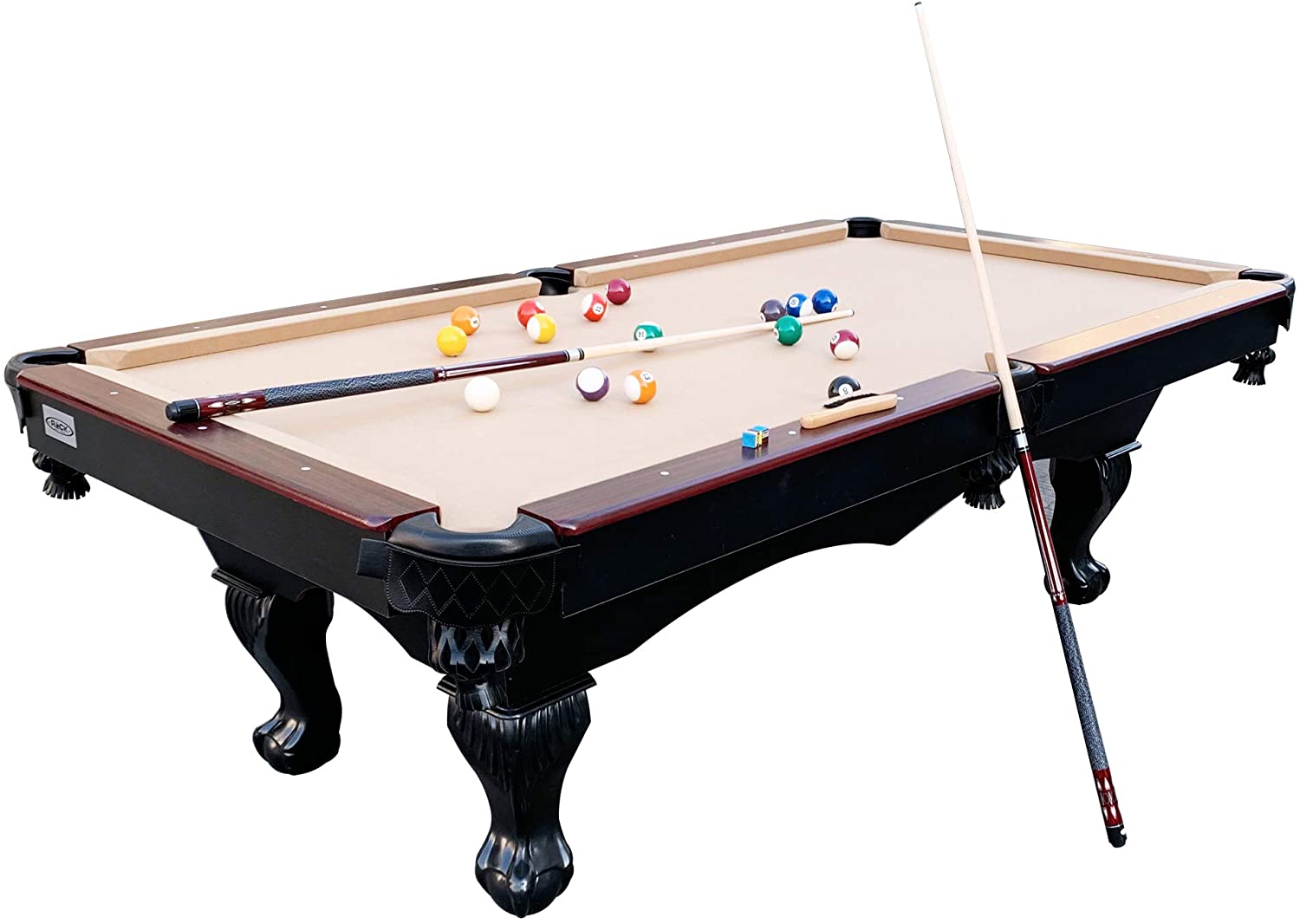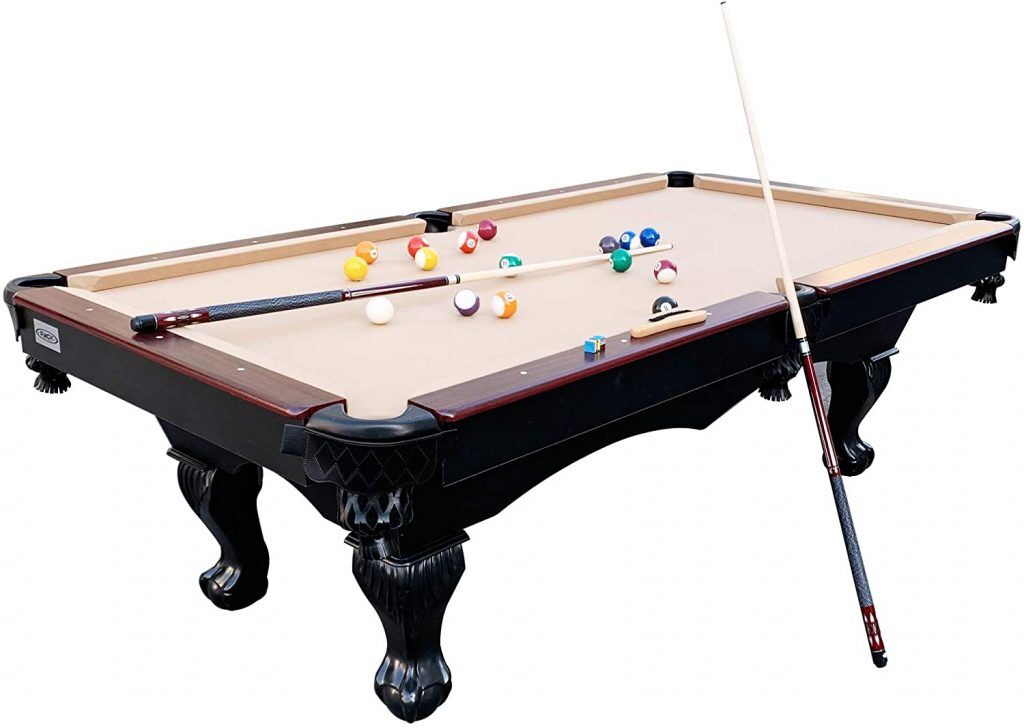 The rack has been working on producing high-end pool tables for a long time. They have been examining the market and reviewing customers' needs, and producing pool tables taking reviews into accounts.
Taurus from Rack is a production of their long-term research and effort. It comes with an attractive design and a smoother roll. The ball pockets are made of leather and the bumpers are K-66 rubber. We think that the scratch-resistant finish gives it a glossier look and makes the appearance attractive.
This antique table is supported by tiger claw legs with an iron stand. Package includes 2 high-quality cues, a set of pool balls, a triangle rack, a brush for the table, and chalks.
Taurus comes with all the features that a good billiard table would offer. The company offers a lifetime warranty which makes the purchase reliable in our opinion. It comes in quite an affordable price range considering its features which makes it the best budget pool table on our list.
Pros:
lifetime warranty
Comes with detailed instructions
High-quality materials make it sturdy and durable
Comes with unlimited warranty
Premium cues and balls
Cons:
A bit difficult to level
Comes with plastic legs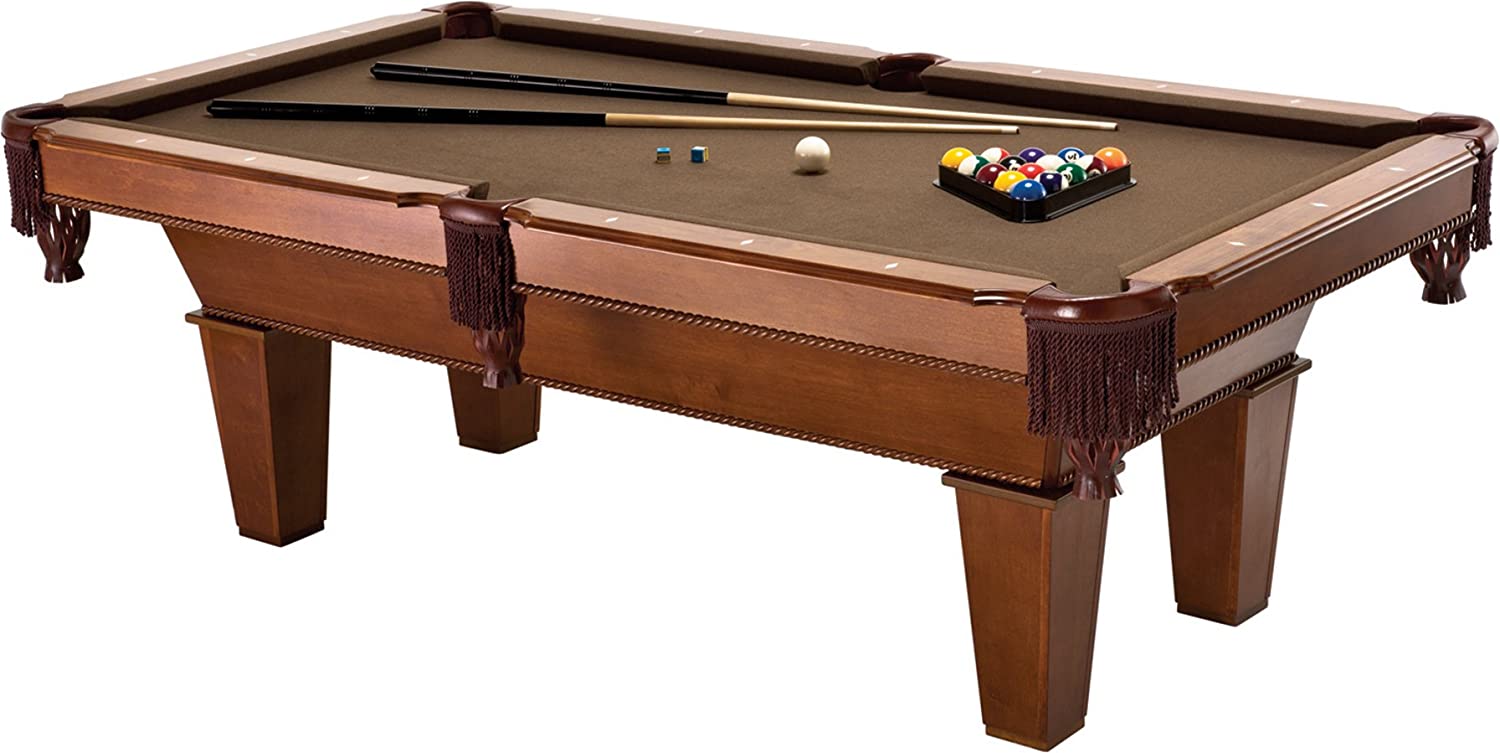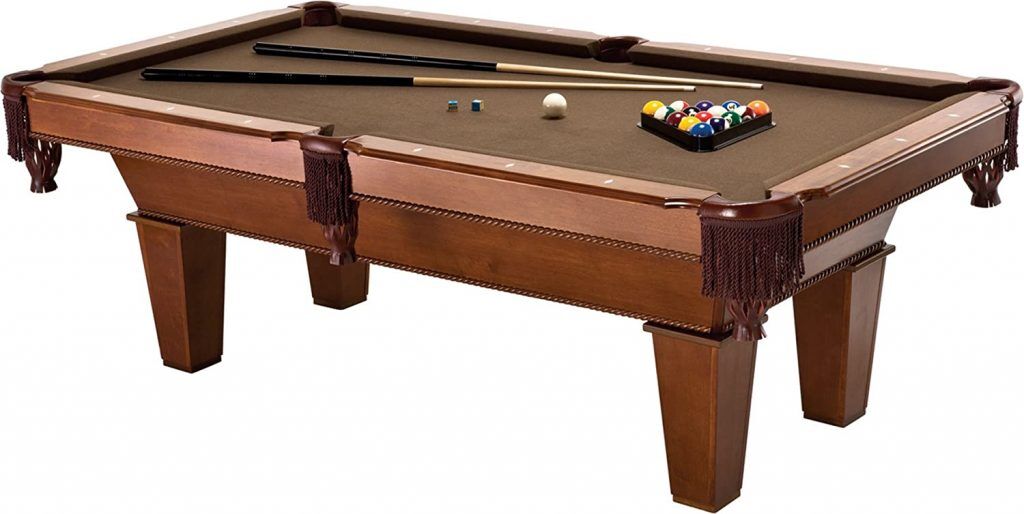 Fat Cat's Frisco Pool Table from GLD Products has rails with white inlays, brown wool fabric, and beveled legs made of mahogany wood. And those are just some of the highlights that we found.
The playing surface is made of 1-inch MDF Accuslate and comes with a 7-year warp-resistant guarantee. The table's fabric is a wool blend in a hazel color that complements the maple finishing on the entirety of the table as we saw it.
The 6-inch hardwood rails have pearly diamond inlays to aid with shot alignment. Then, you get the K-66 bumpers of rubber to improve reliability. Steel brackets and ornate braiding contribute to the traditional look of the French-style drop pockets.
We found the entire construction to be incredibly strong and given that the table weighs more than 300lbs., it will not budge an inch while you play.
Embedded leveling pads ensure a smooth playing area even on rough terrain. The table includes premium balls, two 57-inch cue sticks, a resin triangle rack, and two cue chalks.
We think that Frisco is reasonably priced, but it would appear to be expensive in some people's opinions. That should not be a surprise since remarkable efforts have been taken with each element that makes up the entire table.
Pros:
Comes with resin triangle rack, balls, sticks and chalks
Long-lasting materials used for construction
Beautiful classy design of wool blend texture color
Beveled legs help get a better balance
Stylish French-style drop pockets
Cons:
Assembly can seem a bit tricky
Not the best for budget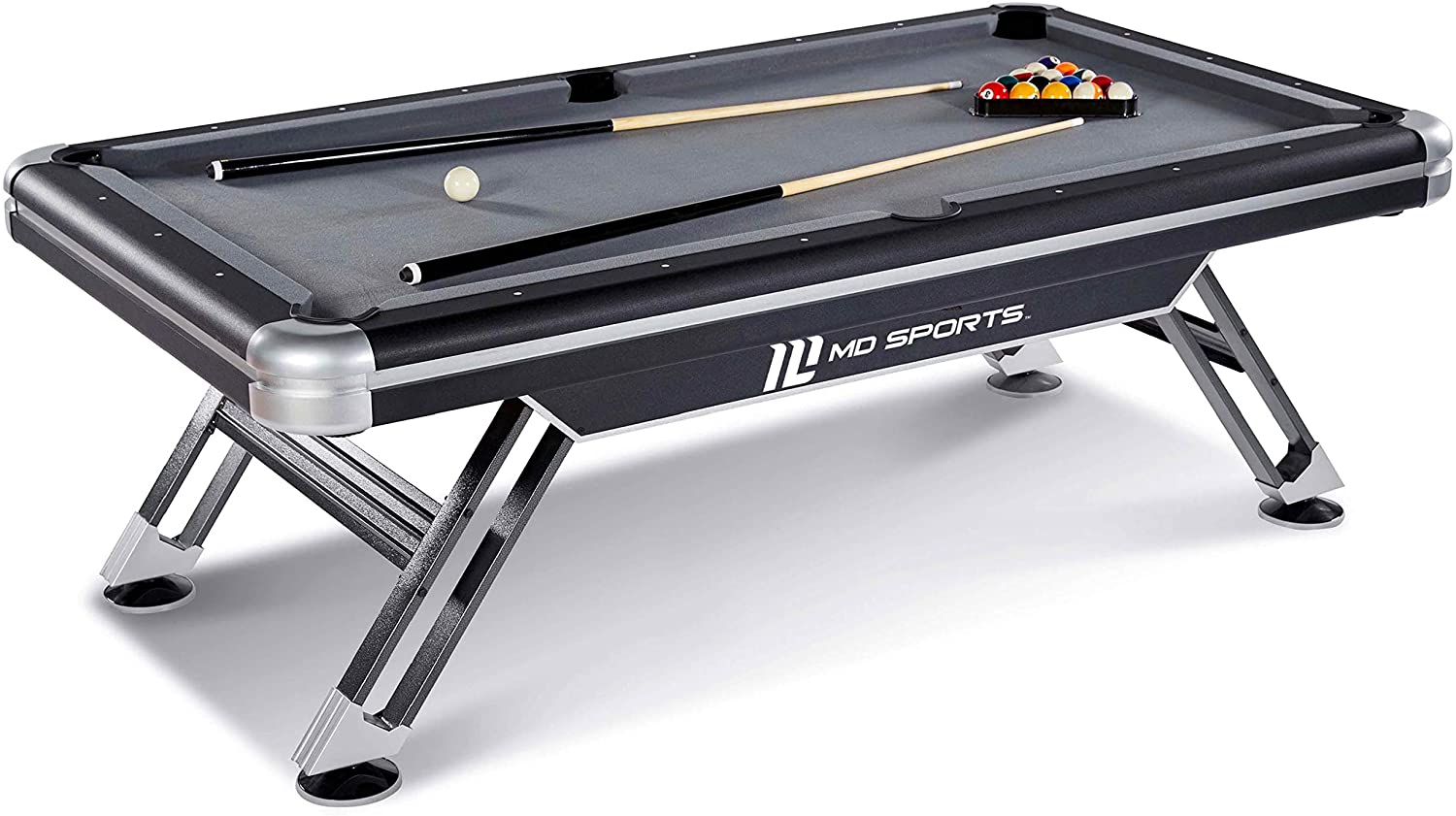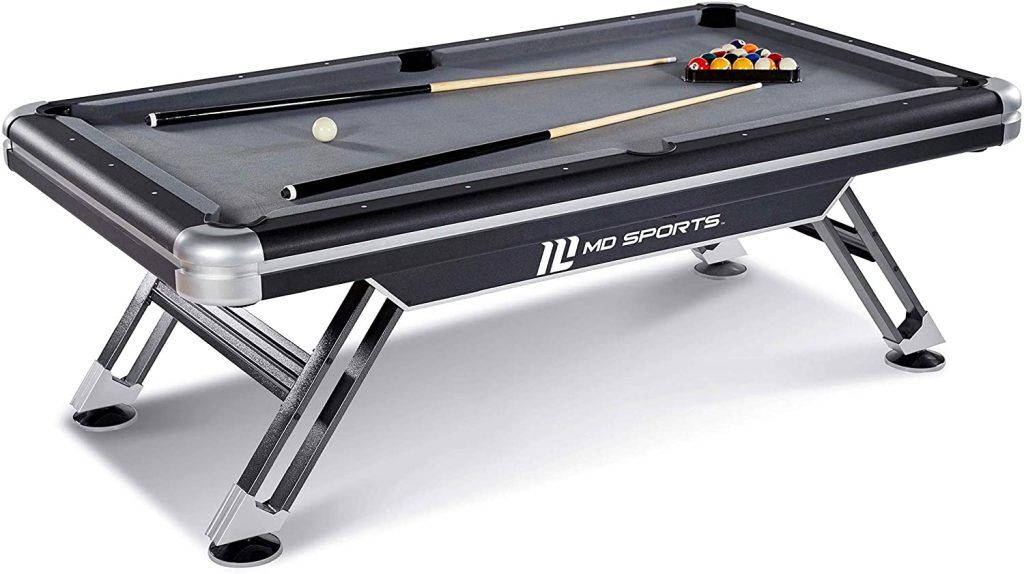 MD Sports billiard table comes with everything you need to get started. The table has a sleek, modern style thanks to the black framework! The legs are made of steel which gives it a long-lasting and sturdy build.
The play surface is made with fiberboard which reduces its weight to only 185 lbs. We found the well-positioned K-66 rubber bumpers to be effective for reliable bank shots. Because of the table's overall heavy-duty design, you can have a great time without stressing over it breaking apart.
As the legs are made of steel, they increase the table's stability and longevity. Scratch-proof premium cover guarantees that your pool table looks as good as it functions.
The rail top preserves the pool table while also making it appear pristine and well-furnished. We were able to play for hours without worrying about any damage as the material is resistant to scratches.
Pros:
Sturdy steel legs
Lightweight for its build
Easy assembly
Full accessories included
Cons:
Cue sticks could be better
Cloth can wear off fast
Buying Guide for the Best Pool Table under $1000: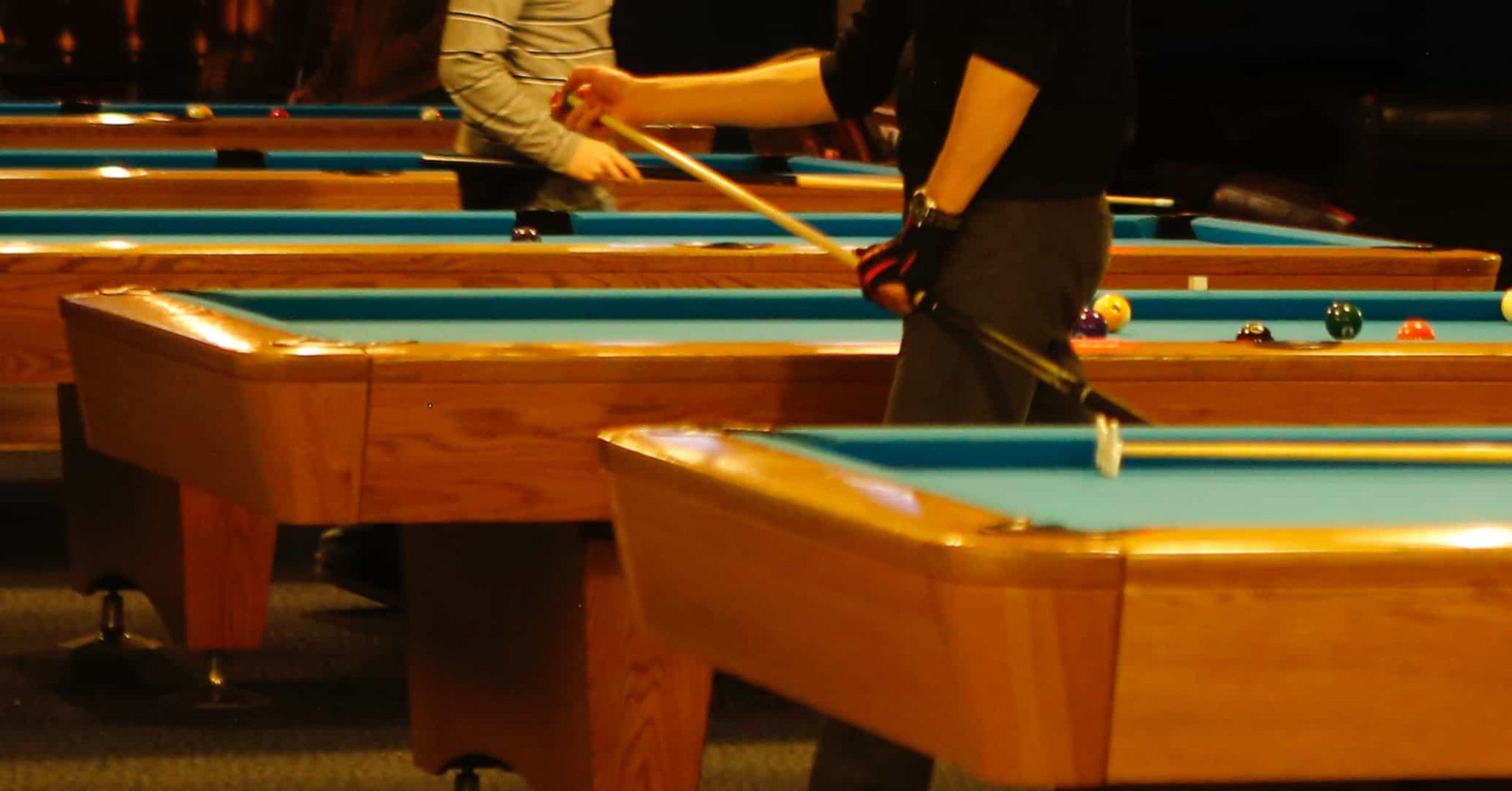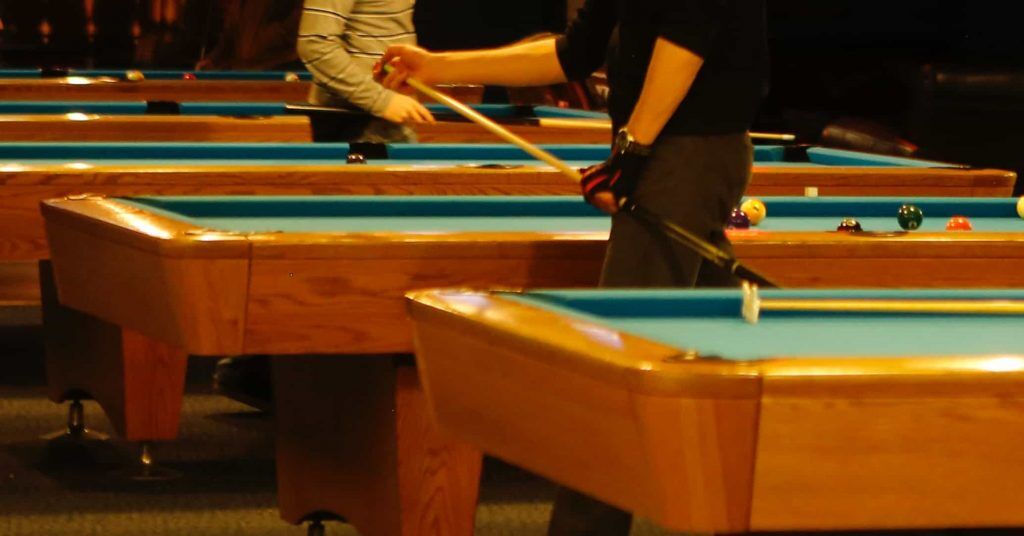 Pool tables are substantial investments on par with an heirloom-quality item. They range in price from $900 to $5,000 and come in a variety of materials such as cloth, wood, slate, etc. A lot of the high-end billiard tables are also available within a price range of $1000.
Today, we'll present the features that you need to consider before purchasing to guarantee your investment is safe and secure for many years to come.
Size
Pool tables are available in four basic sizes- Standard, Large, Bard, and Mini. Choose your preferred one based on your needs. The sizes also differ based on locations (UK and USA). You can have a look at the table size chart here.
Standard: This type of table is around eight feet long and is typically seen to be the ideal size for a home. It is suitable for all levels of experience, including novices.
Even for people with little or no pool expertise, we highly recommend this standard pool table. If you own a standard pool table, you can simply maneuver. As a result, if you're a pro, you'll have no trouble completing trick shots.
Also, it's ideal for beginners since it provides just enough room to practice fundamental shots. On a standard pool table, you can play nine or eight balls.
Large: These pool tables are the most preferred type for professional players. However, we think that the large size makes it a bit hard for beginners to maneuver. For this reason, it is perfect for people who have played pool before. To move the balls where you want them to go, you'll need greater talents.
Bar: Bar pool tables are usually seven feet in length. Some people like this style since it is easier to strike shots due to the small distance. However, if you do not choose a high-quality bar table, you may have a few difficulties maneuvering the shots.
Mini: This style of pool table is significantly smaller than the others, as the name implies. Depending on the size, it serves different roles. The smaller ones of this variant are usually for young people. You can set these pool tables in your house if you don't have a lot of space.
Price Range
Whether you want to go "budget" or go all-out, remember that buying a pool table is a long-term investment. If you're searching for a slate table with sturdy construction (which we recommend), the cost can easily exceed $2,000.
That's not to say you can't get a fun pool table for less, but that's the ballpark figure for a long-term investment in a table. You can surely get good quality tables for under $1000. You just have to look for the one that meets your requirements and comes within your preferred price range.
Material
Pool tables are usually made of fiberboard, wood, slate, acrylic, plywood, and many other materials. But, many pool players prefer slate since it is the most prevalent.
Slate is heavy because it is formed of solid rock. As a result, it needs a strong and long-lasting floor. Moving it to another place will not be easy and you probably won't be able to do it without others' help.
But, pool tables made of slate are extremely durable and will last a long time.
Accessories
High-end billiard tables will come with premium accessories like cues, billiard balls, ball rack, and table brush. French-style drop pockets are not included in the accessory sections.
If you're going to compromise with the budget, you might have to buy additional accessories to meet your needs.
Frequently Asked Questions (FAQ)
Why choose a high-end pool table?
Pool tables are quite expensive and something that you wouldn't buy often. A pool table is supposed to last for many years. If you settle for low-quality pool tables, you will not find the features that would get from a high-end pool table. Also, low-quality pool tables will not last long which is a big reason why you should go for a high-end pool table.
Why are good pool tables so expensive?
Good pool tables are costly for a variety of reasons. The major reason is that most of the good pool tables are made of slate, which may last a lifetime, and the table is constructed of strong wood. You may get a lifetime warranty from such advanced pool tables.
A combination of slate and high-quality wood is quite expensive. That's why good pool tables are so expensive.
What is the best brand of pool table?
Several brands are well-known for producing quality pool tables. Brunswick, Barrington, Fat Cat, Empire USA, Imperial, Plank & Hide, Hathaway, Harvil, etc. are some of the best brands of the pool tables.
But, if we had to choose one, we'd go with Brunswick as the best brand of the pool table. They have been making the best pool tables for the last 170 years. Their signature pool table, Danbury, is one of the best pool tables available.
Should I put my pool table inside or outside?
It totally depends on your preference and available space. But, you have to remember that not all pool tables are suitable for both indoor and outdoor use. If you put your pool table outdoors, it's likely to get direct heat from the sun, and also can get wet in the rain.
So, you have to buy an outdoor pool table if you prefer keeping your tables outside. If you're keeping them inside, you don't have to consider those factors much.
What are the must-have features in a high-end pool table?
The following features are must-have in high-end pool tables according to us:
The frame of Solid Wood: On a high-end billiard table, a strong wood frame made of solid wood is preferred for two reasons: maximum strength, and screw holding ability.
When considering that the frame is holding up to 500 pounds, the frame's strength is critical. Without a doubt, the most desired and strongest frame is solid wood.
As the frame is either screwed or bolted together, and the slate is screwed down to the frame, screw holding capability is essential. The stiffness of the frame will be compromised if the screw holding power is insufficient. Solid wood may retain screws more securely than plywood.
Wooden Top Rails instead of Particle Board: There is a significant difference between top rails on the market nowadays. The majority of top rails are either made of solid wood or particleboard. For a variety of reasons, opt rails made of solid wood are the best.
The cushion rubber adheres to the rail's surface immediately. If the cushion rubber needs to be replaced after years of use, the particle board rail generally chips and is not suitable for gluing again anymore. This issue does not present with wood railings.
When it comes time to change the fabric, wooden rails are preferable over particleboard rails. On the underside of the rails, where the fabric is stapled, solid wood rails retain staples more firmly. Particleboard just doesn't possess the same strength as solid wood when it comes to retaining staples.
Strong Let Construction: A billiard table's legs support the whole weight of the table. As a result, a strong leg structure is required.
The legs have to be made of solid wood rather than particle board or plywood if they are pedestal-styled. Ensure that the legs are strong enough to support the table's weight if they are separated.
Finally, look at how the legs are connected to the table. The stiffness of the full table may be determined by this.
Conclusion
High-end pool tables are durable and will last for a long time. They are easy to move and set up. While a lot of the high-quality billiard tables cost thousands of bucks, you can surely get some good ones within a short budget.
From our list, the best pool table under $1000 would be the Hathaway Mirage for its premium design and sturdy build quality. The Mizerak Dynasty is exceptional due to its space-saving design and compact structure. The Eastpoint Masterton is a perfect pool table if you need to move your table frequently.
The other options that we talked about are also among the premium ones and worth having a look at. Know that whichever you choose, you have to consider what features you are looking for and make the purchase accordingly.