Pool or billiards is a great sport for gatherings and spending time with friends since it combines physical work, concentration, and skillset.
Going across a pool table and stretching for shots is considerably more beneficial than lying in bed or watching TV. As a result, billiards is an excellent activity for watching a game or hanging out with friends. Playing pool also has certain mental health advantages, like increasing attention and boosting analytical thinking.
However, the most essential benefit of Pool is that it is just enjoyable for people of all ages. It's a great place to chill or interact with families, making it a worthwhile investment for every home.
Adding a pool table to the house is not a simple job. Since the tables are big and frequently expensive, looking through the best home garage pool tables necessitates considerable thought.
To assist in your search, we have compiled this list and reviewed the best pool tables for homes below. And, If you are in a hurry, just check out our Top 3 choices here:
Hathaway Spartan Home Pool Table
Editor's Choice
Aesthetically pleasing.
Dual-gaming option.
Durable construction.
Compact and space-saving.
Necessary accessories included (for both pool and table tennis).
Positive Amazon Reviews.
EastPoint Sports Masterton Billiard Pool Table
Premium Pick
Durable build quality.

Quick assembly.

Accessories included.

Great for beginners.

Good Looking.
Hathaway Fairmont Pool Table
Best Budget
Easy assembly.
Folding legs.
Integrated leg levelers.
Offers great rebound action.
Elegant design.
Amazon Best Seller.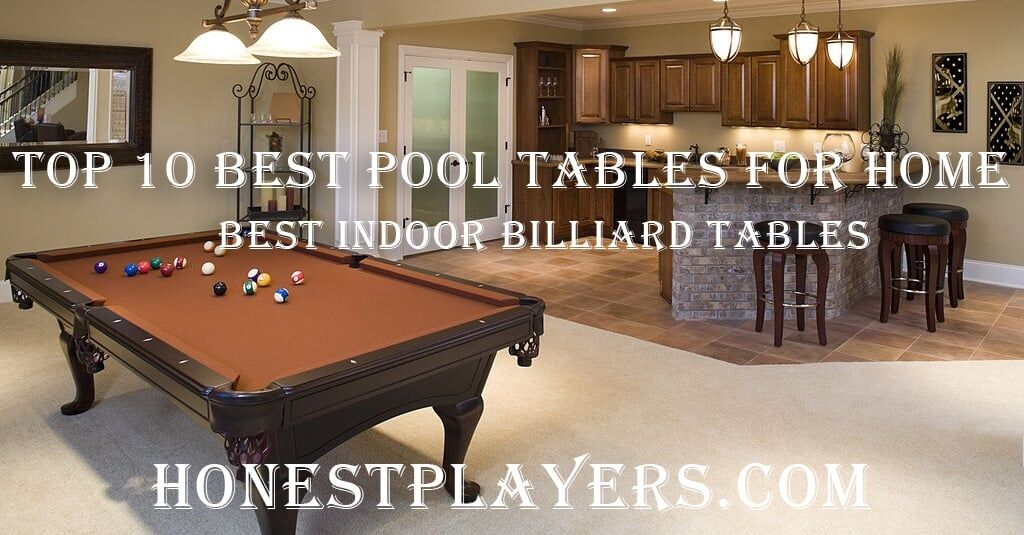 Table Chart of Page Contents
Our 10 Picks for the Best Pool Tables for Home in 2021: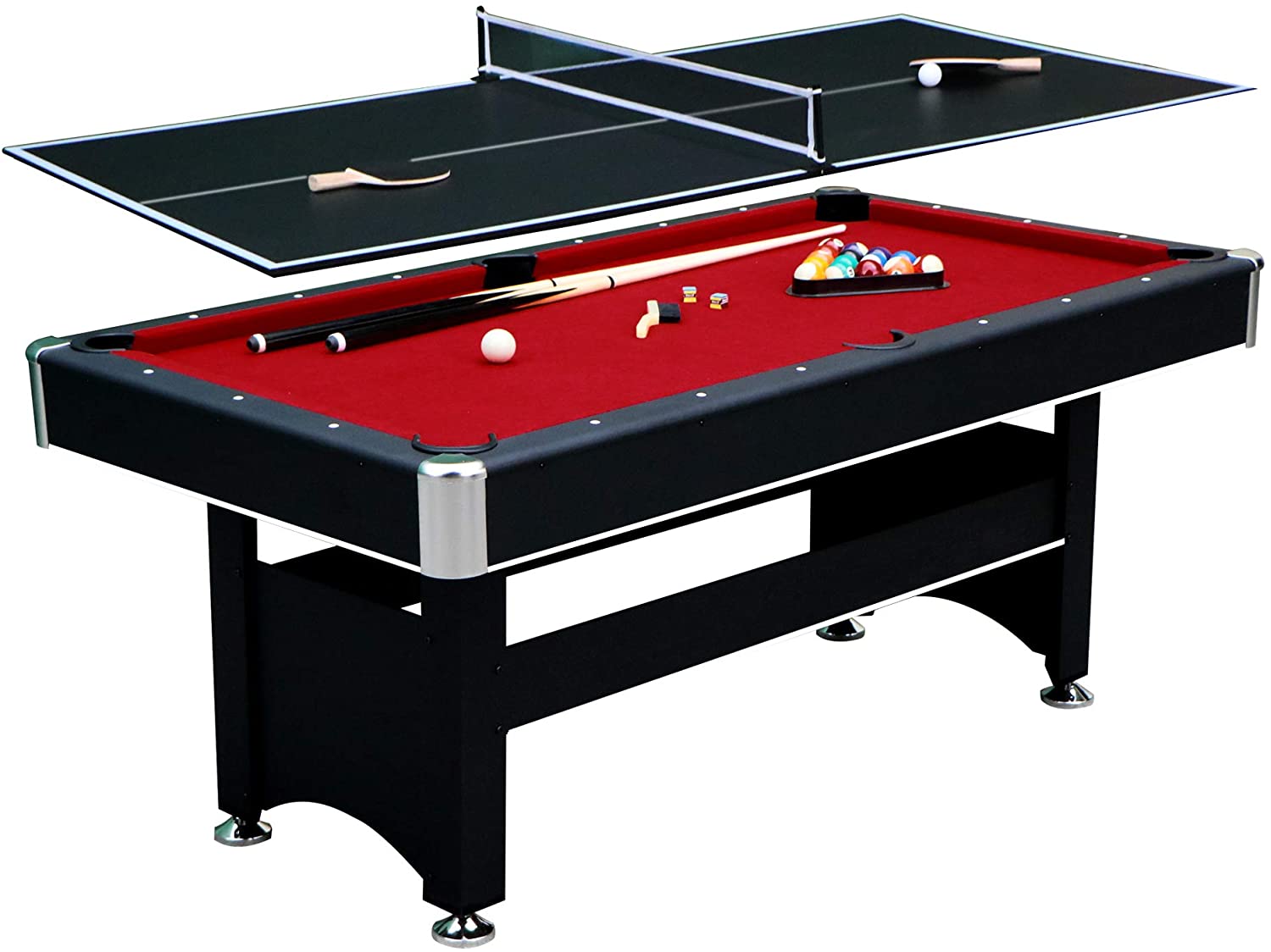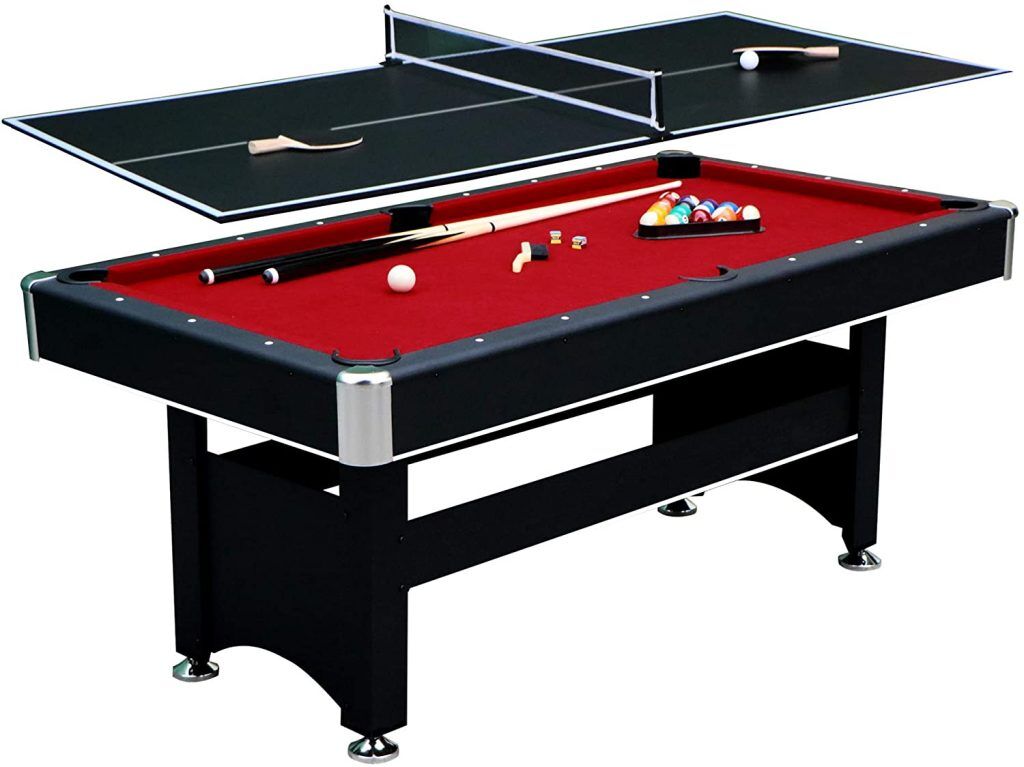 Hathaway Spartan pool table is a beautiful addition to any home entertainment room. It's the ideal blend of small size and quality, and it was built with adaptability and flair in mind.
Spartan's superior features, ambient, and elegant design, and space-saving efficiency would appeal to players. Its black melamine and burgundy playing surface contribute to a dazzling appearance that is sure to impress anyone. All its features make it a worthy option for the editor's choice.
One of the most amazing features of Spartan that we found is its table tennis surface, which adds another layer of enjoyment to the same place. You receive everything you need for a pool game plus table tennis, so you can cherish every moment with your companions.
The Spartan combo table simply levels and efficiently locks the game in place. There can't be anything worse than playing a match of billiards only to discover that the table's surface slopes slightly to one side and isn't providing a solid platform to play on. The Spartan pool table comes with wide, slip-resistant feet and is bolstered with ambient leg levelers to ensure stability.
Wide-set legs also limit the chance of children toppling the table over and falling. The table's surface also has a lovely felt that provides a seamless and comfortable playing surface. Its K-819 rubber cushions provide a fast and fluid movement that can endure for seasons. All these components make it a worthy option as the editor's choice in our list.
It has the ability to pique the interest of both children and adults, and it may serve as a wonderful source of entertainment and pleasure for the entire family.
Quick Specifications
Materials: Wood
Color: Black
Weight: 100 lbs.
Dimension: 72 x 38 x 31 inches
Pros
Aesthetically pleasing
Dual-gaming option
Durable construction
Compact and space-saving
Necessary accessories included (for both pool and table tennis)
Cons
Pool table can seem too small
Ball return system not available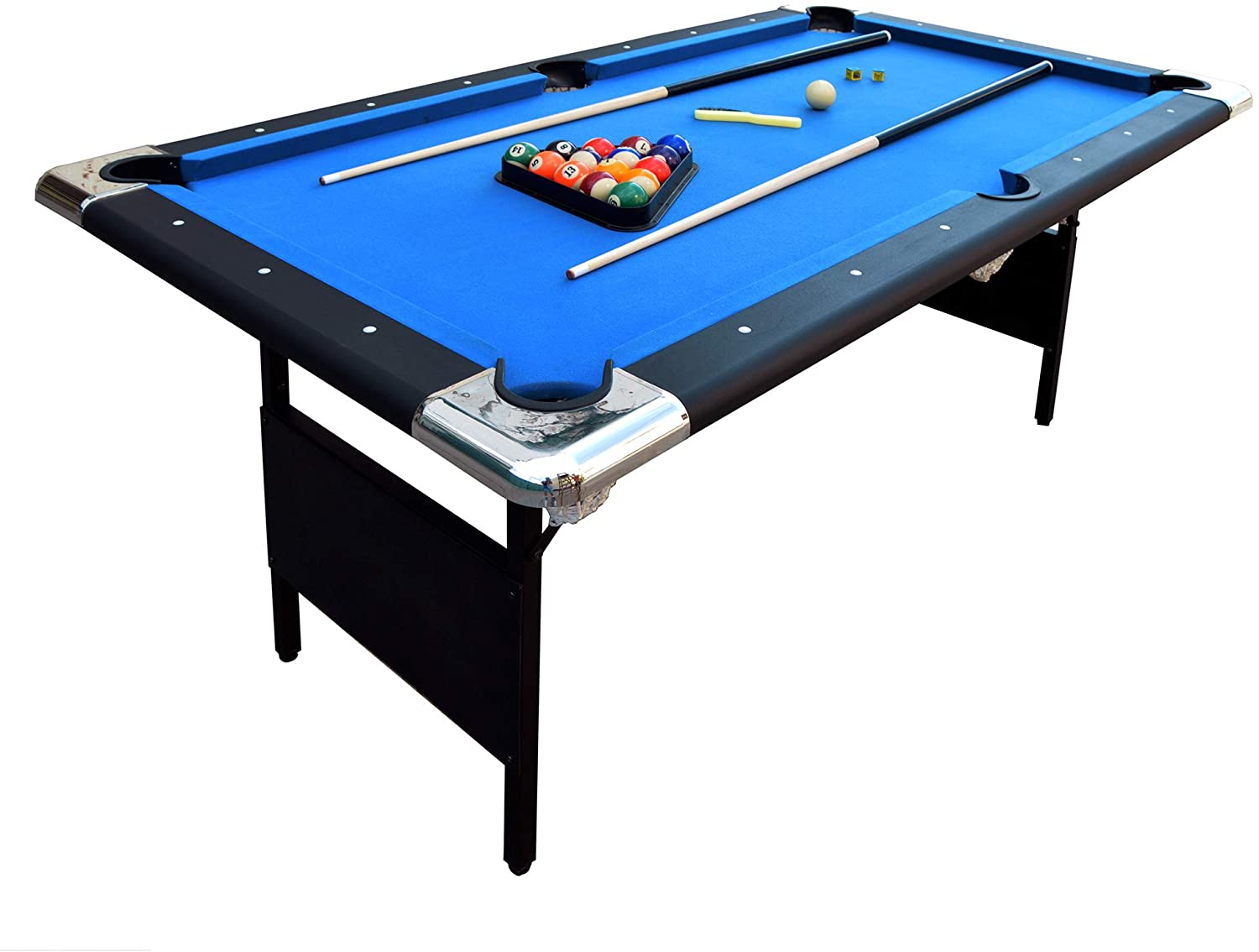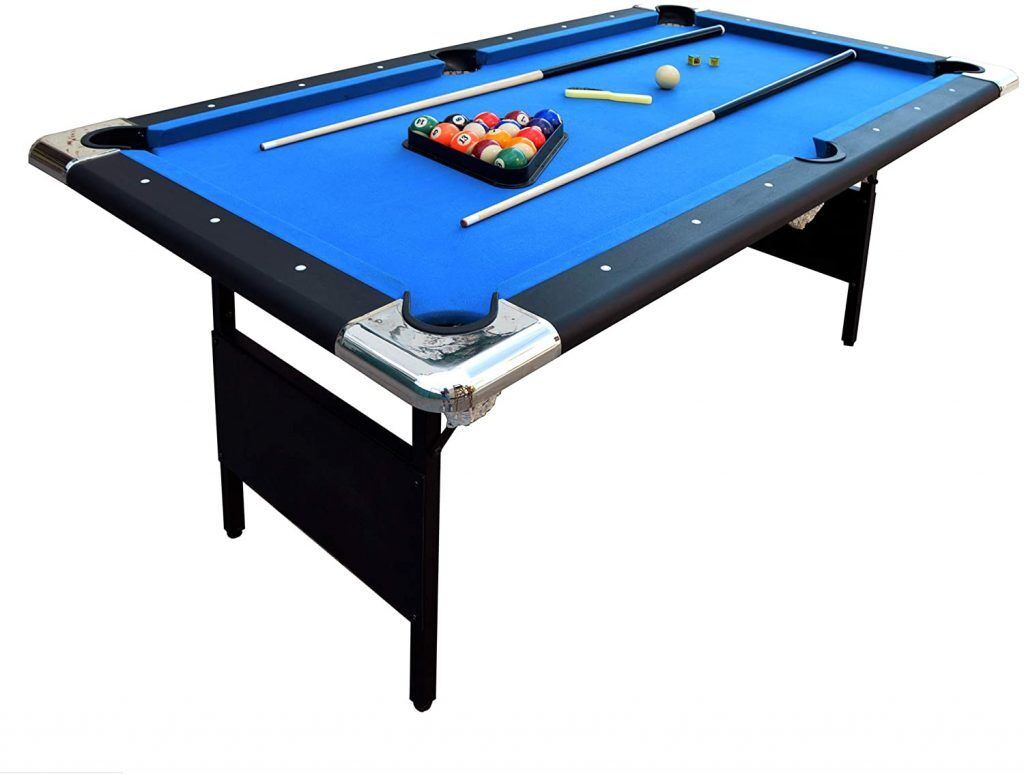 Hathaway Fairmont pool table, with its simple folding function, is intended for family usage. A modest table could be a fantastic place for family bonding and enjoyment. The table's size is neither too large nor too tiny for children to learn billiards. The high-quality craftsmanship of the table would also be appreciated by adults. All its features make it the best under $1000 on our list.
The frame is made of quality manufactured wood, and the playing surface is made of MDF poly sealed, and the blue felt complements the table structure well. The felt makes it easier for the ball to glide. The foldable aspect of this table saves a lot of room.
You can quickly fold it and store it using the simple folding leg mechanism. The small table has sturdy steel legs that reduce storage and transportation hassles to a certain extent.
Fairmont is among the best indoor pool tables, so you can play pool at home. You can easily set it even if there isn't enough room for a traditional pool table. That alone makes it a good buy, but the quality gives you peace of mind.
Quick Specifications
Materials: Metal, alloy steel
Color: Blue
Dimension: 76 x 43.25 x 32 inches
Weight: 115.5 lbs.
Pros
Easy assembly
Folding legs
Integrated leg levelers
Offers great rebound action
Elegant design
Cons
Not for professional players
Cue sticks could be better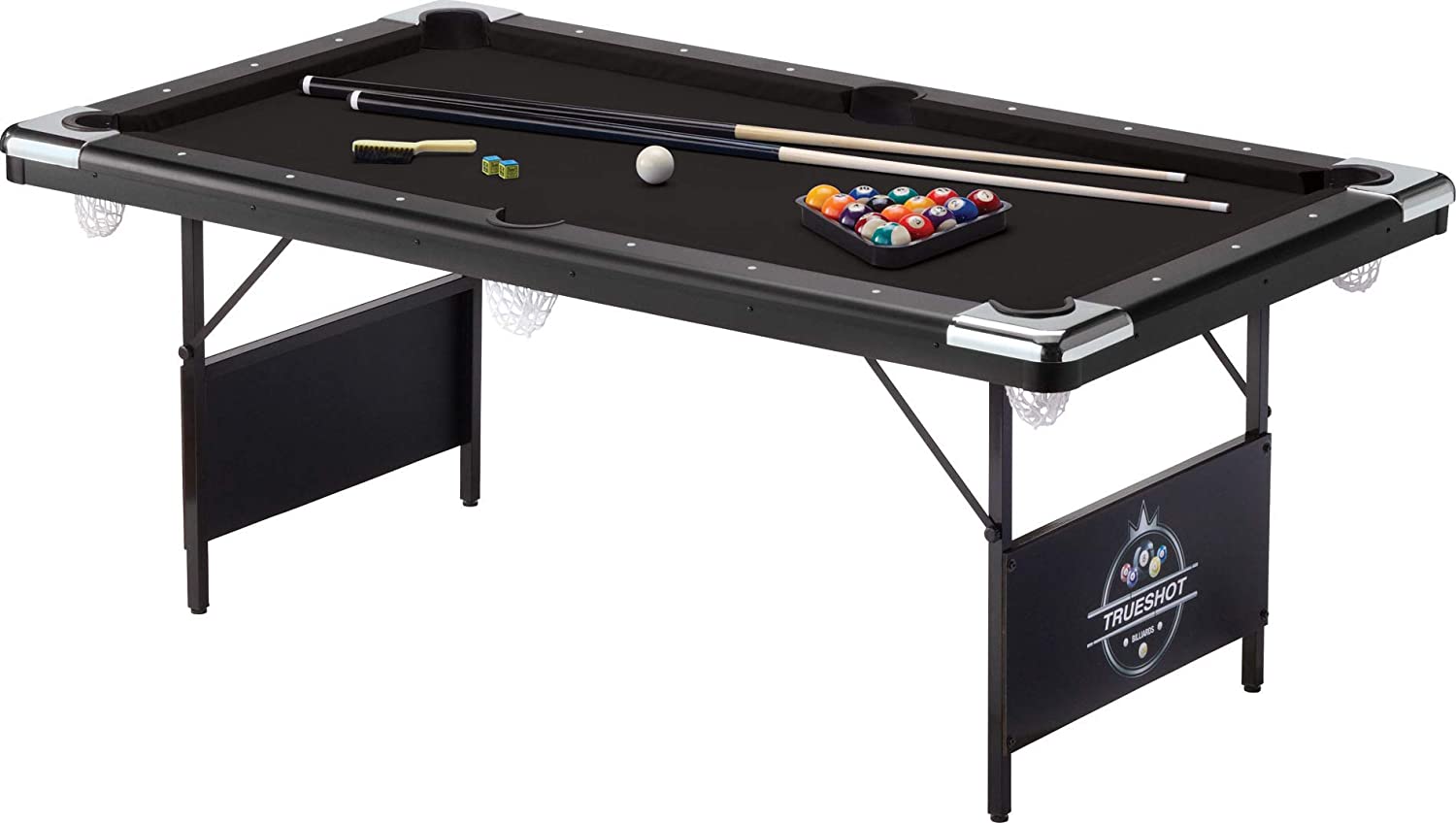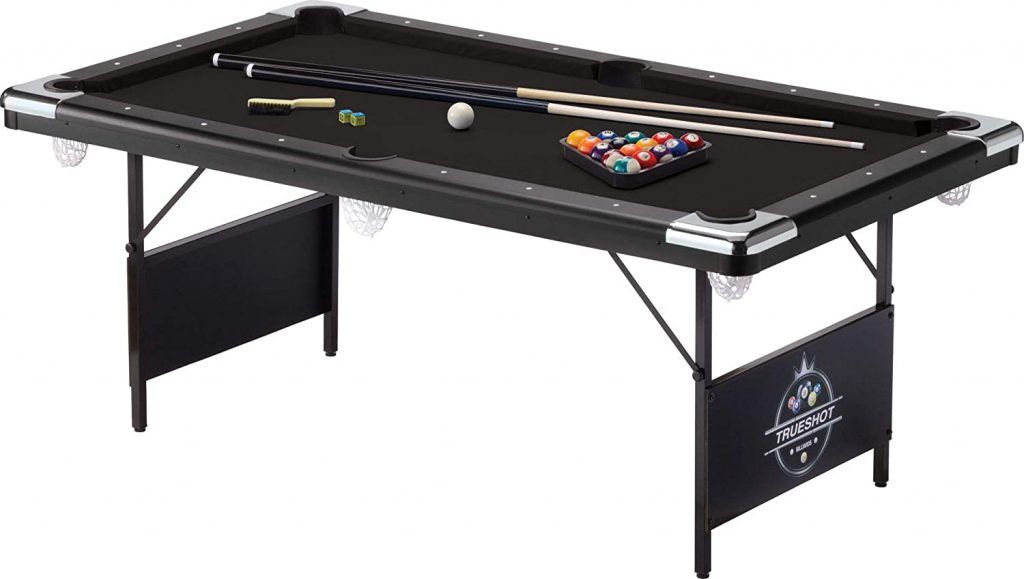 The FatCat pool table has a sleek design that allows for plenty of playing time for everyone. It has a fantastic surface that makes gameplay more engaging and pleasant. In our opinion, the table was created to meet the needs of pool lovers while taking up as little room as possible. If you're scared to get a pool table because you think it'll take up too much space, this one will prove you wrong.
The sleek black design makes the table look elegant without clashing with your home interiors.
Unlike even some of the best indoor pool tables, the Fat Cat pool table has been constructed with high-quality components. Moreover, it is quite lightweight, which improves mobility without requiring excessive strength.
Trueshot pool table has an amazing size that is ideal for young pool aficionados and newcomers alike. All its specifications make it the best choice for beginners.
Despite its appearance, the surface area of the board is not reduced, maintaining a consistent playing experience. It includes a unique leg locking safety system that allows the board to remain rigid even when pressure is applied throughout games.
Quick Specifications
Table material: Wood
Color: Black
Dimension: 76 x 43 x 32 inches
Weight: 114lbs
Pros
Easy transportation
Quick assembly
Sturdy construction
Smooth surface
Cons
Quite small in size
Screws are not properly placed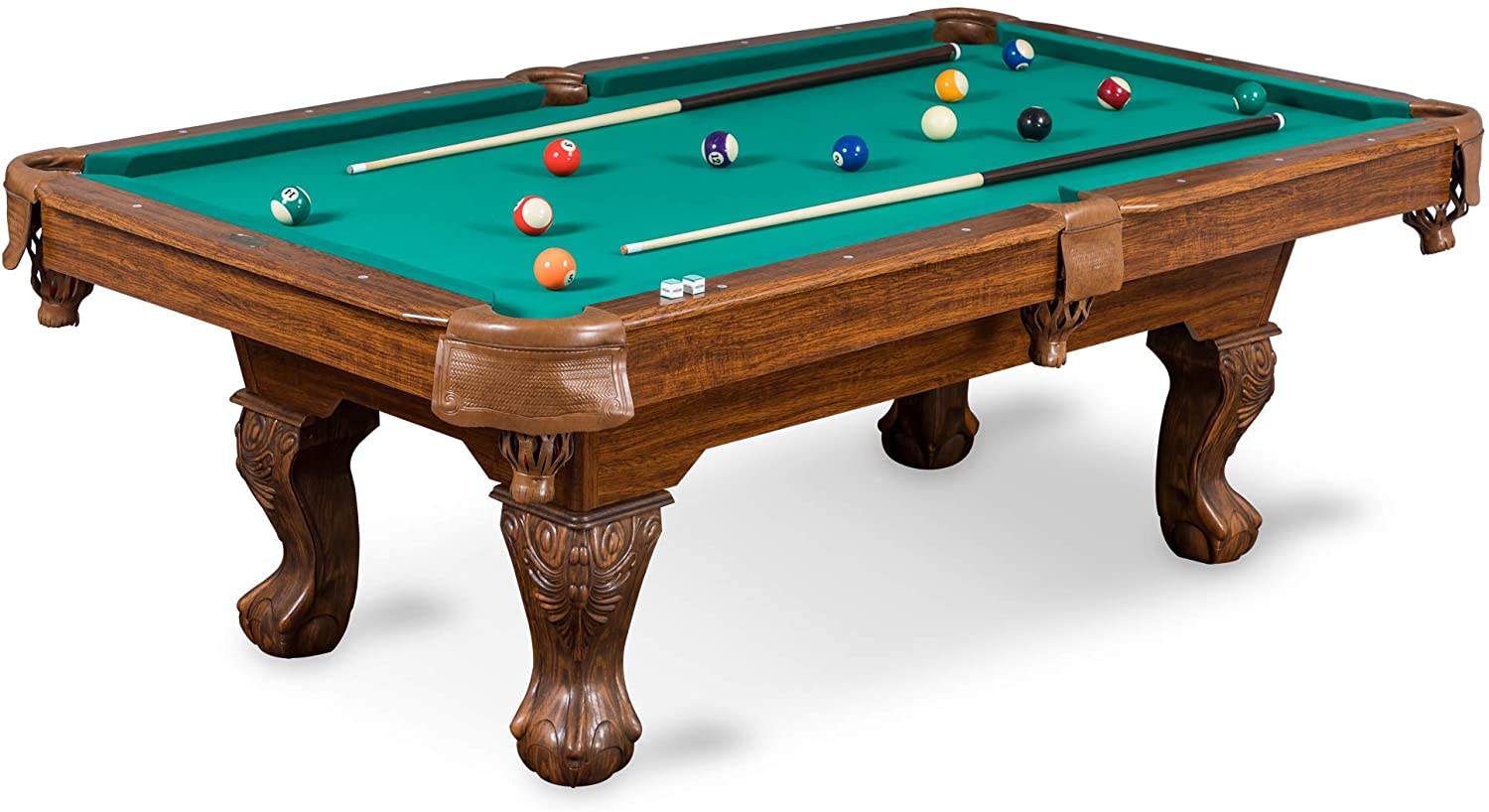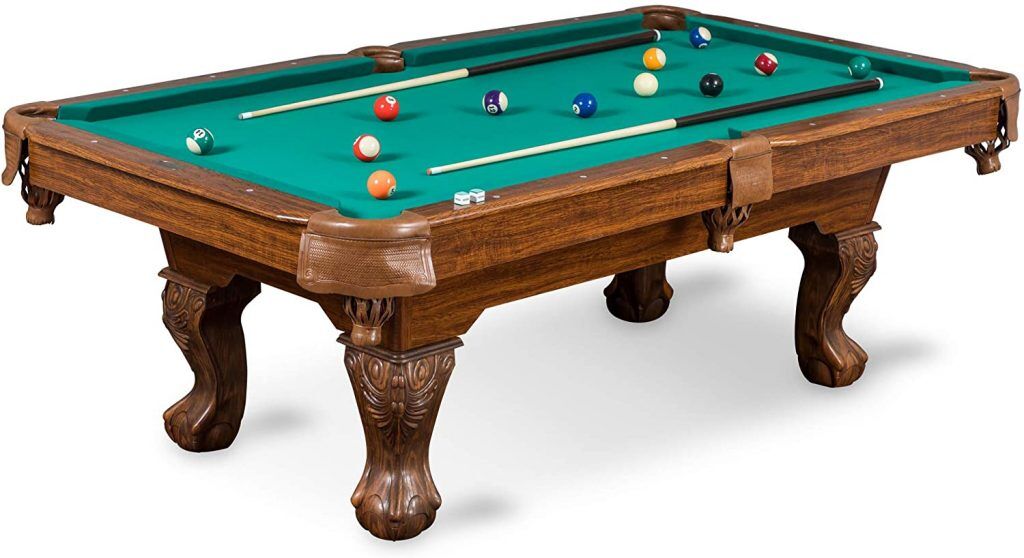 Masterton from EastPoint Sports performs well and enhances the game experience. We found the design to be quite distinguishable from average pool tables. It is both basic and beautiful which makes it the best option for design. The materials used to construct the pool table guarantee that it will survive for a long time.
Masterton's surface is scratch-resistant, and we found moving the table quite easy because of its lighter weight.
Assembling this table wasn't a difficult task at all. However, more hands mean faster construction will be. It comes with an instruction booklet, which makes assembly easier.
It is equipped with k-66 rubber bumpers, which are industry-standard. As a result, when the balls contact the pool table's corners, they bounce uniformly.
Warping and buckling are two typical issues with some pool tables. Masterton Billiard Pool Table addresses this issue by including support bracing. Because of the bracing, the table's possibilities of warping or sagging are greatly decreased.
Masterton is an excellent addition to any family gaming room or garage. This table is appropriate for both recreational and competitive novice pool players. It is an excellent choice for a long-lasting and delightful quality time with family.
Quick Specifications
Material: Wood
Color: Green
Dimension: 87 x 50 x 31 inches
Weight: 198 lbs.
Pros
Durable build quality
Quick assembly
Accessories included
Great for beginners
Cons
Legs could be better
Not for pro players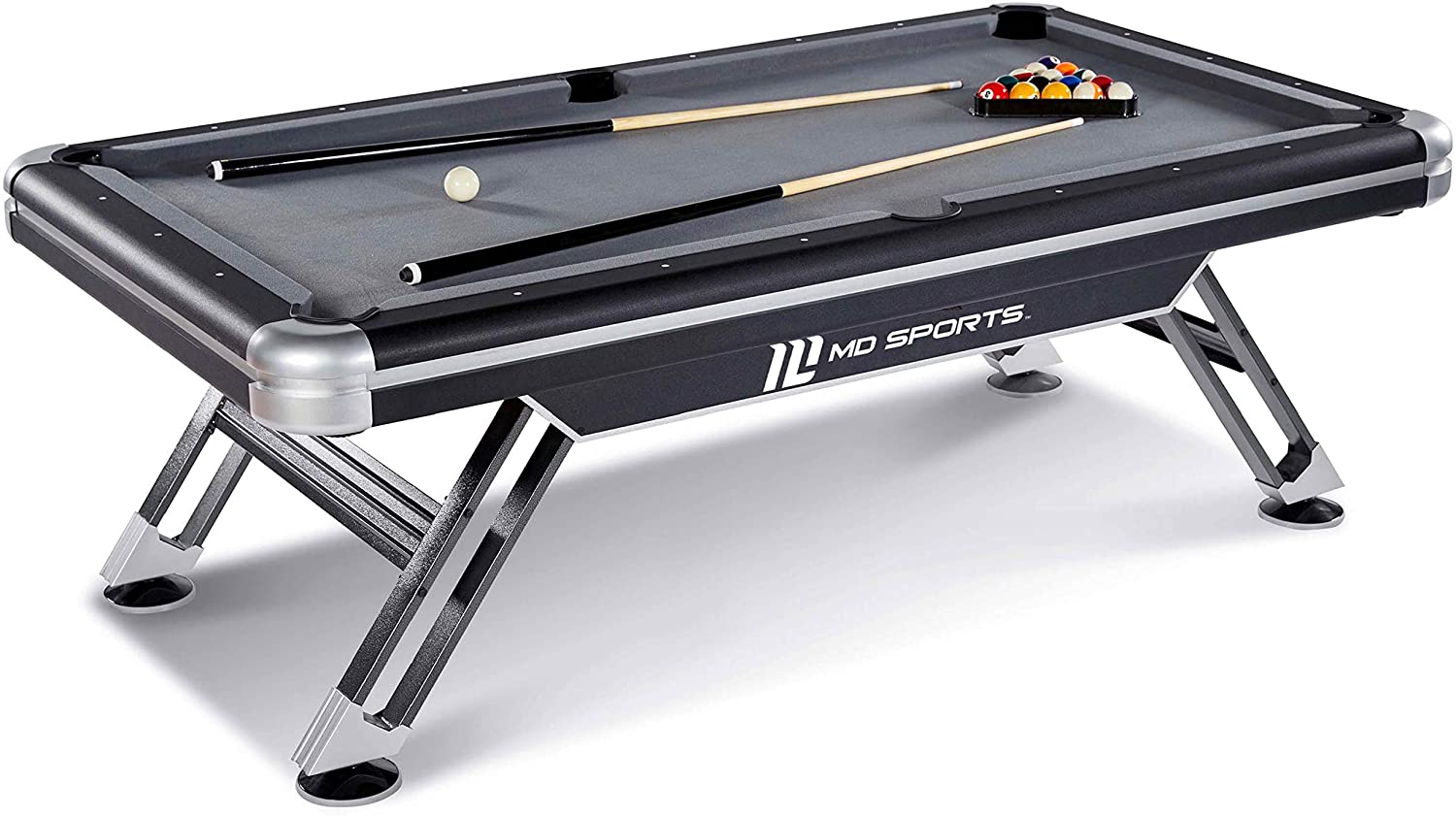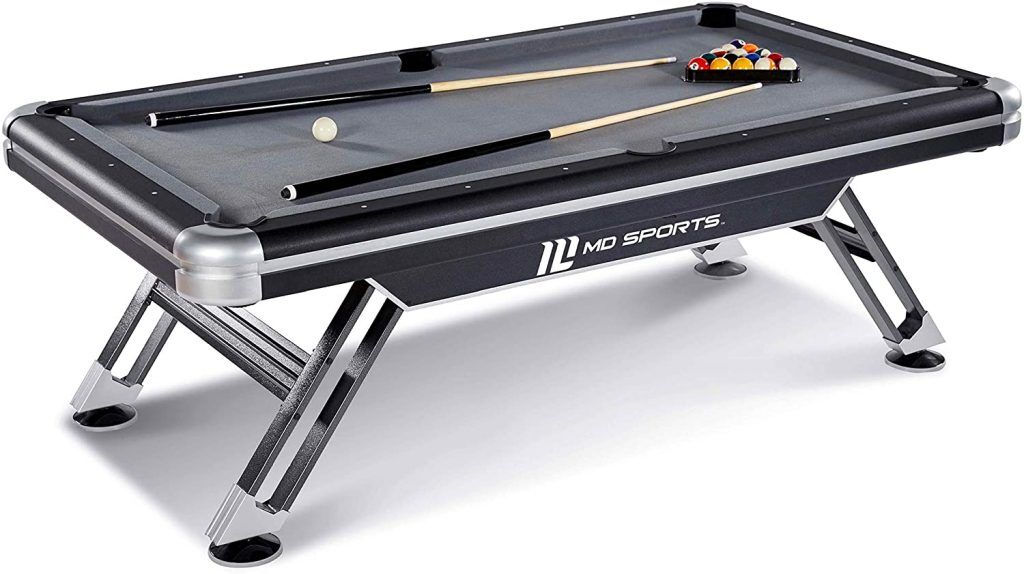 MD Sports Billiard Table comes with everything you need. With a sleek finish and robust build, the table suggests durability and longevity.
One of the first things you'll notice about the MD Sports pool table is its modern design right out of the box. It jumps out and may enhance the aesthetic of whatever room you choose to set it in.
The proportions are great and may easily fit into typical rooms. Measurements of the table let you roam about and have a wonderful time playing the game.
MD Sports pool table is constructed using high-quality materials. As a result, you will be able to use it frequently without seeing any indications of deterioration. It combines MDF wood, PVC, and steel components to create a truly exceptional pool table which makes it best for advanced players..
It has a steel outline that keeps the pool table firm and level all the time. Moreover, putting the table together is a breeze. The directions included in the packaging are simple to read and execute. All in all, along with being the best option for advanced players, it is among the best home garage pool tables and performs well.
Quick Specifications
Materials: Metal, engineered wood
Color: Black
Dimensions: 89 x 50 x 31 inches
Weight: 186 lbs.
Pros
Great build quality
Pleasant design
Compact and lightweight
Solid frame ensures better stability
Cons
Can feel quite heavy after assembly
No ball return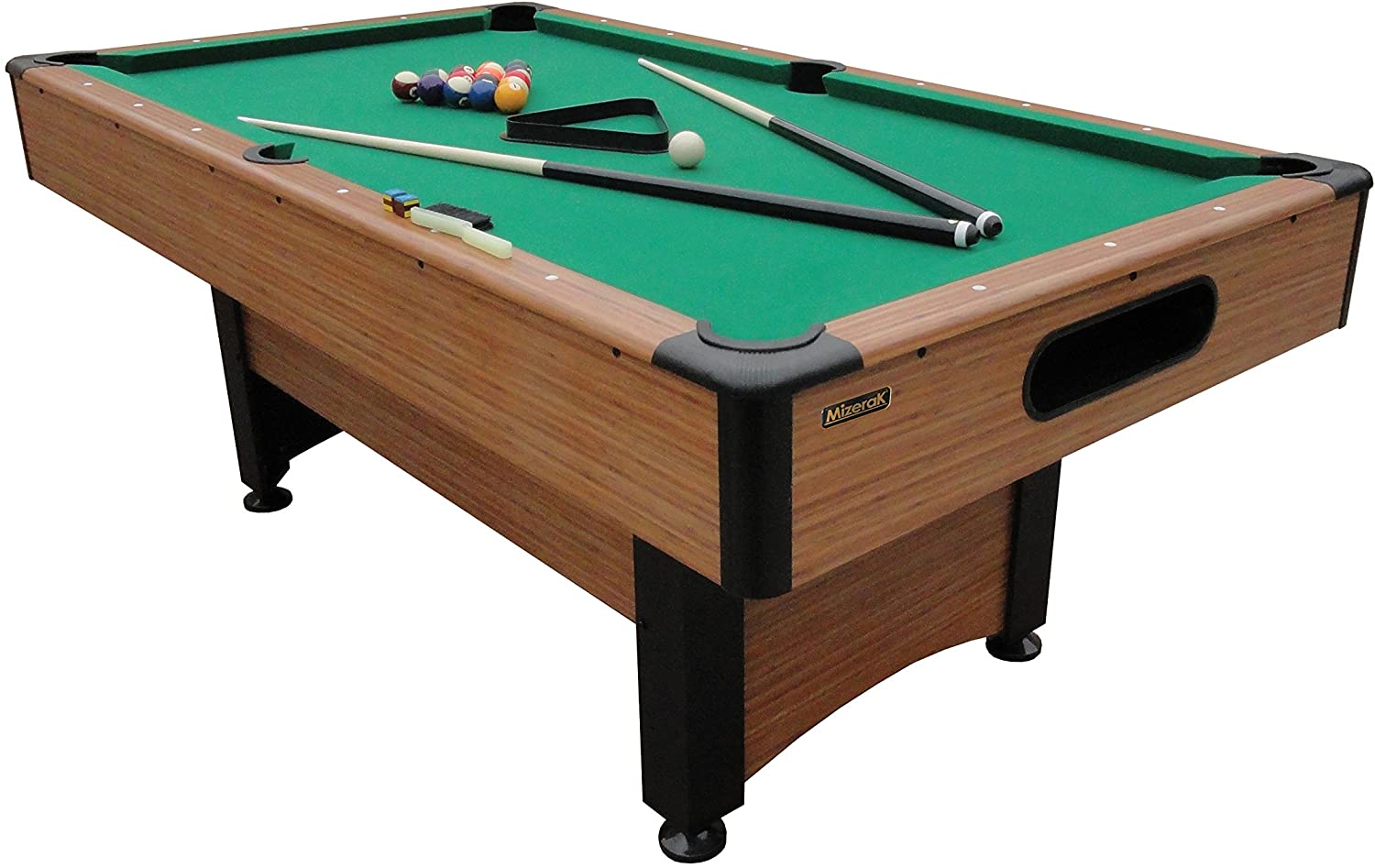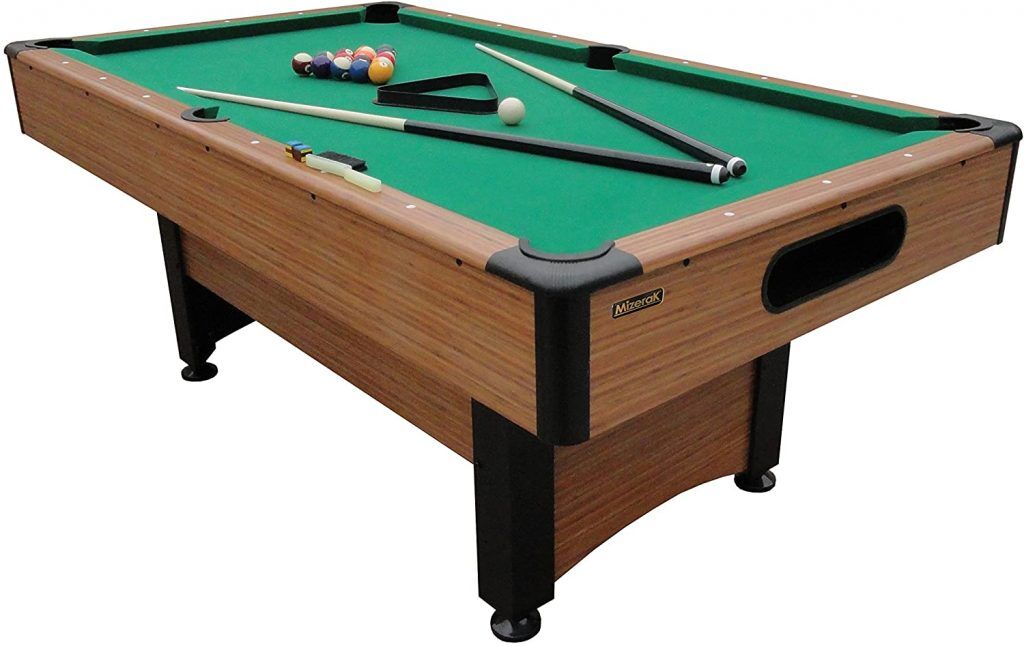 Mizerak Dynasty is compact enough to fit into any moderate room without being too crowded. Nevertheless, the fact that this table weighs about 200 lbs. adds a new dimension to it. This feature helps it to avoid tilting caused by unintentional bumps during gaming.
The double-sealed playing bed, which ensures consistent ball roll, raises the quality of this product. That implies there will be no abrupt changes in ball direction during the match.
Dynasty also has a traditional parlor style owing to its high-quality green-nylon fabric.
Mizerak offers a respectable degree of playability owing to its rubber-lined cushion. The cushion provides a sharp rebound effect to the table. More significantly, it has no effect on the direction of the balls as they bounce. All these features make the table as the best budget option in our list.
Lastly, the table comes with disc-style leg levelers in addition to the full accessory set. They let you change the height of each leg to provide a level playing area, even on slanted floors.
Quick Specifications
Materials: Wood, plastic
Color: Light Oak
Dimension: 69.87 x 34.75 x 9.5 inches
Weight: 207 lbs.
Pros
Compact design
Disc-style leg levelers
Offers automatic ball return
Solid construction
Comes with all the accessories
Cons
Not best-suited advanced players
Moist areas can warp the table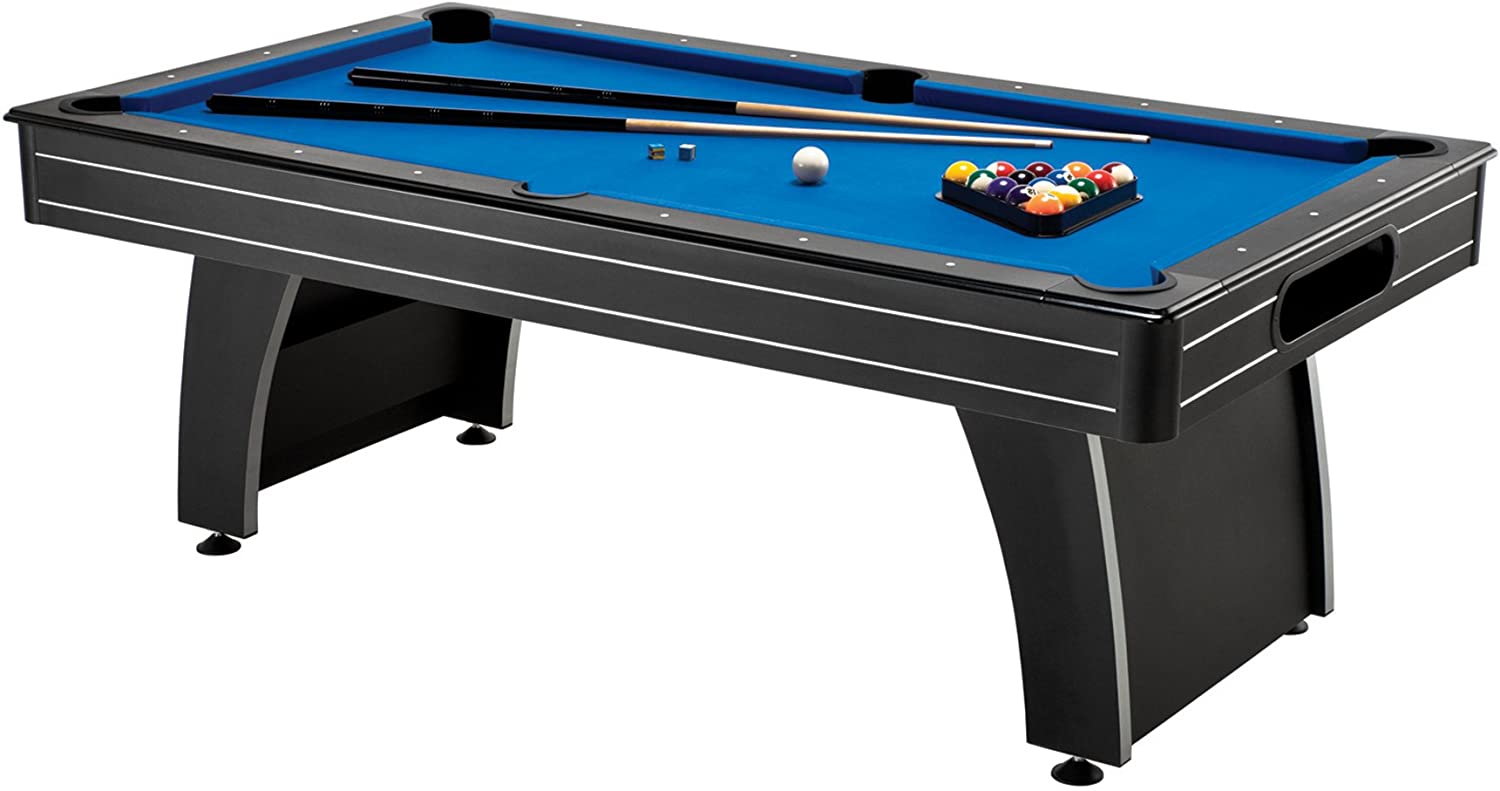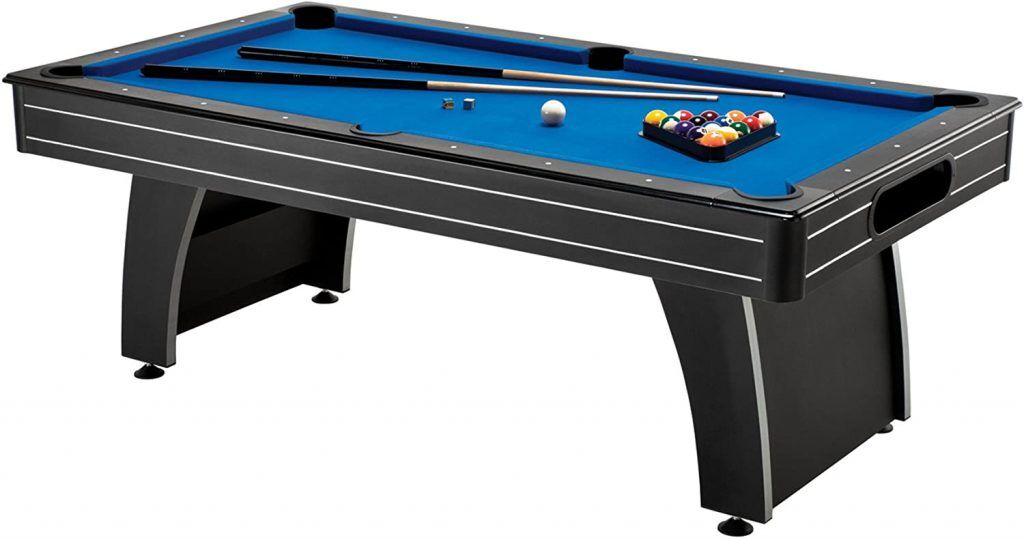 Fat Cat Tucson pool table comes with a stunning electric-blue felt on the playing surface. It has an easy-return ball design, making it very simple to resume the game.
As for durability, the pool table features excellent leg levelers, rubber bumpers, 34-inch MDF playing surface, making it great for playing on an uneven surface.
If you want a fully functional pool table, this is the one for you. In our opinion, advanced or professional players might find this table to be inadequate, but it's definitely a perfect choice for intermediate players!
Rubber bumpers guarantee that the balls bounce perfectly. It includes pool halls, which are among the most popular amenities among pool players. Its sleek form makes it a great pick among the best indoor pool tables for any modern home while also complementing the décor.
Furthermore, the replacement of four legs with two broad arcade-style legs ensures that the table looks stylish while still providing the required solidity.
Quick Specifications
Material: Wood
Color: Blue
Dimensions: 84 x 46 x 31.25 inches
Weight: 192 lbs.
Pros
Strong wooden legs
Great ball return
High-quality K-818 bumpers included
Traditional design
Cons
Quite heavy
Might require some leveling before starting a match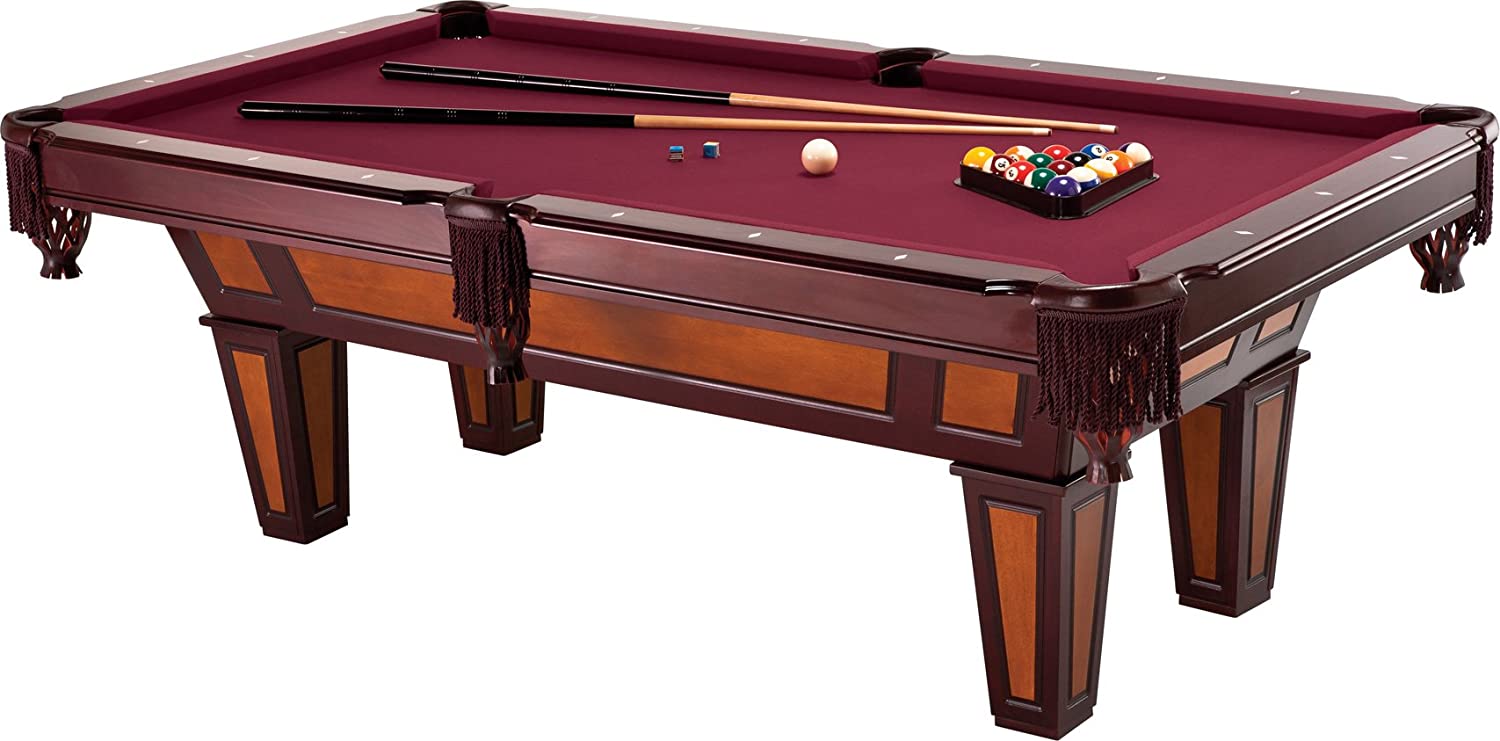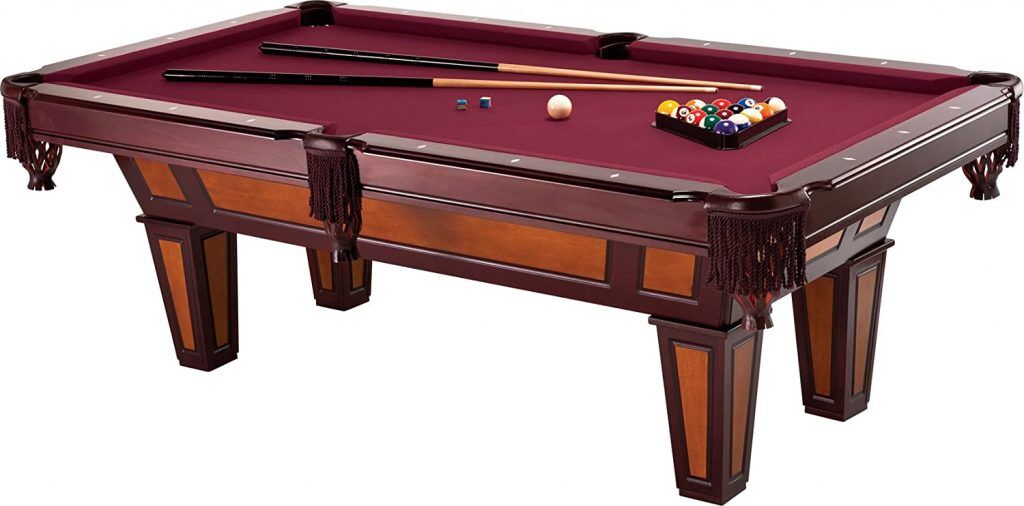 Fat Cat Reno looks very elegant with its beveled legs in cherry finish and a maple wood overlay. Even if you put the table through hell, you can expect it to last for a long time.
We found the burgundy fabric playing surface to be silky and smooth. The Reno has all of the hallmarks of a high-quality billiard table, yet it won't break the budget.
Solid wood rails encircle the playing area with traditional white diamond inlays to help you line up the strokes. These rails include strong but elastic K66 rubber bumpers that would maintain their bounce for long months.
We found the Accuslate playing surface, right behind the fabric cover, to demonstrate the table's elegance. As it is impervious to warping and costs less than many slate tabletops, Accuslate provides a smooth playing surface.
Reno also has solid legs and will not get unsteady quite yet. Your search for the best pool tables for home can conclude with the Fat Cat Reno.
Quick Specifications
Materials: Wood
Color: Red
Dimension: 89.5 x 50.5 x 31 inches
Weight: 335 lbs.
Pros
Robust construction
Sleek and classy design
Premium-quality materials
Beveled legs ensure stability
Cons
A bit heavier
Does not come assembled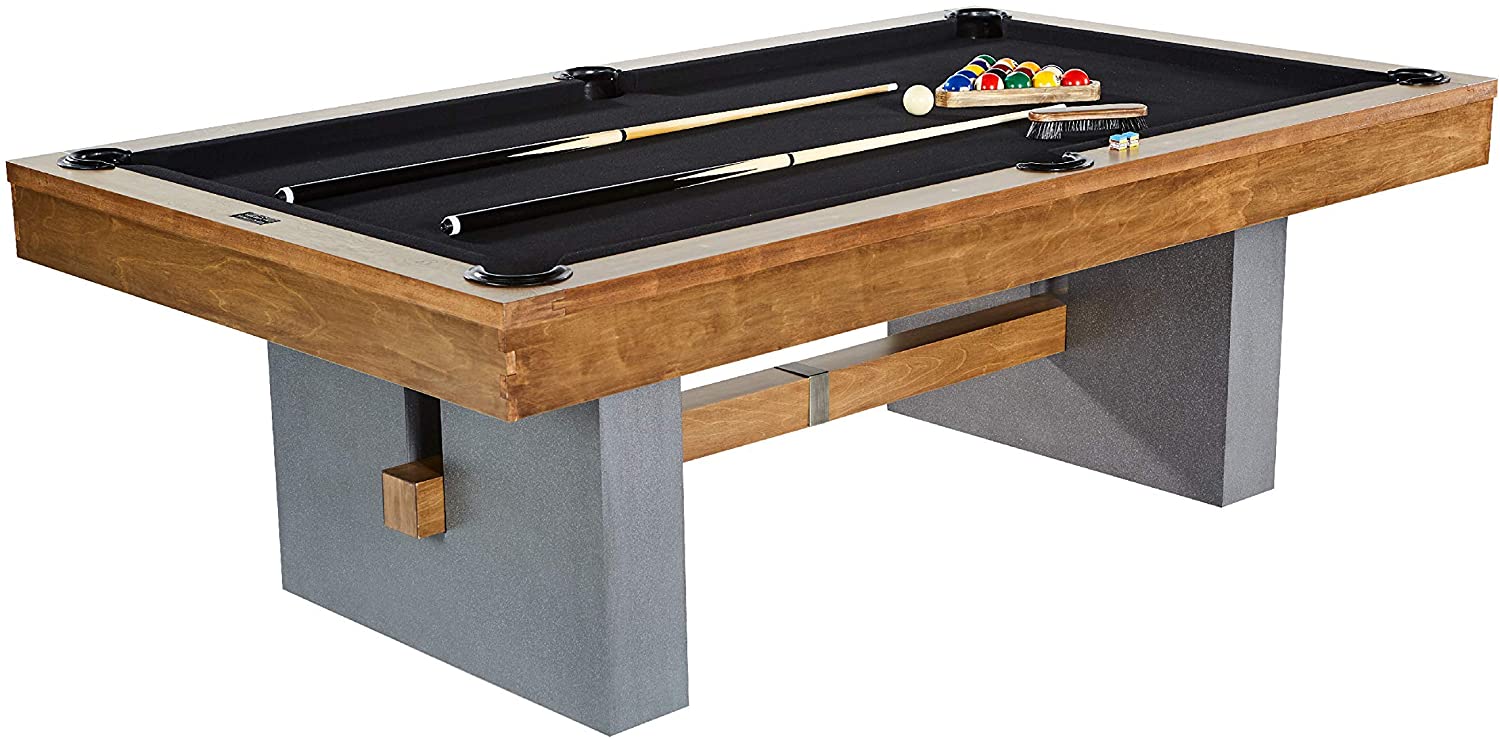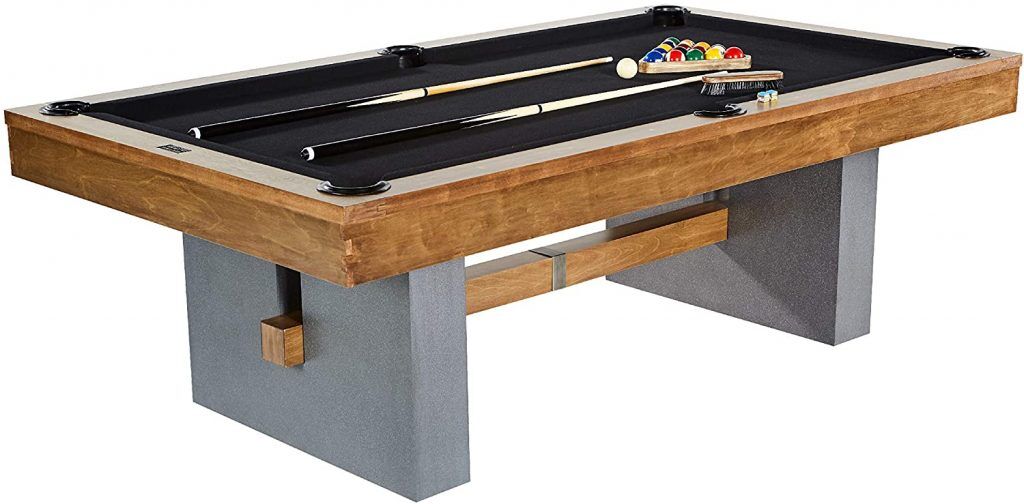 The Professional Pool Table from Barrington is a high-end item with a sleek yet functional design. It comes with everything you need to start playing a traditional game of Pool right after assembling.
Its quality construction is visible after installation. In our experience, it is as suitable for professional games as it is for more leisurely games with family and friends.
Urban Professional has an enticing oak finish that offers a welcome addition to complimenting modern playroom décor. It also has drop pockets made from real leather.
The 25MM play area is coated in top quality 50% genuine wool felt, with K-66 rubber cushioning. Despite the fact that this amazing pool table has extremely solid concrete legs, it is quite lightweight, making it incredibly portable.
Quick Specifications
Material: Wood, metal
Dimension: 95.5 x 53.5 x 32 inches
Weight: 298 lbs.
Pros
Sleek and elegant design
Sturdy construction
Bumper guard included
Durable leather drop pockets
Cons
Plastic veneers on the legs make it slightly less desirable
Quite expensive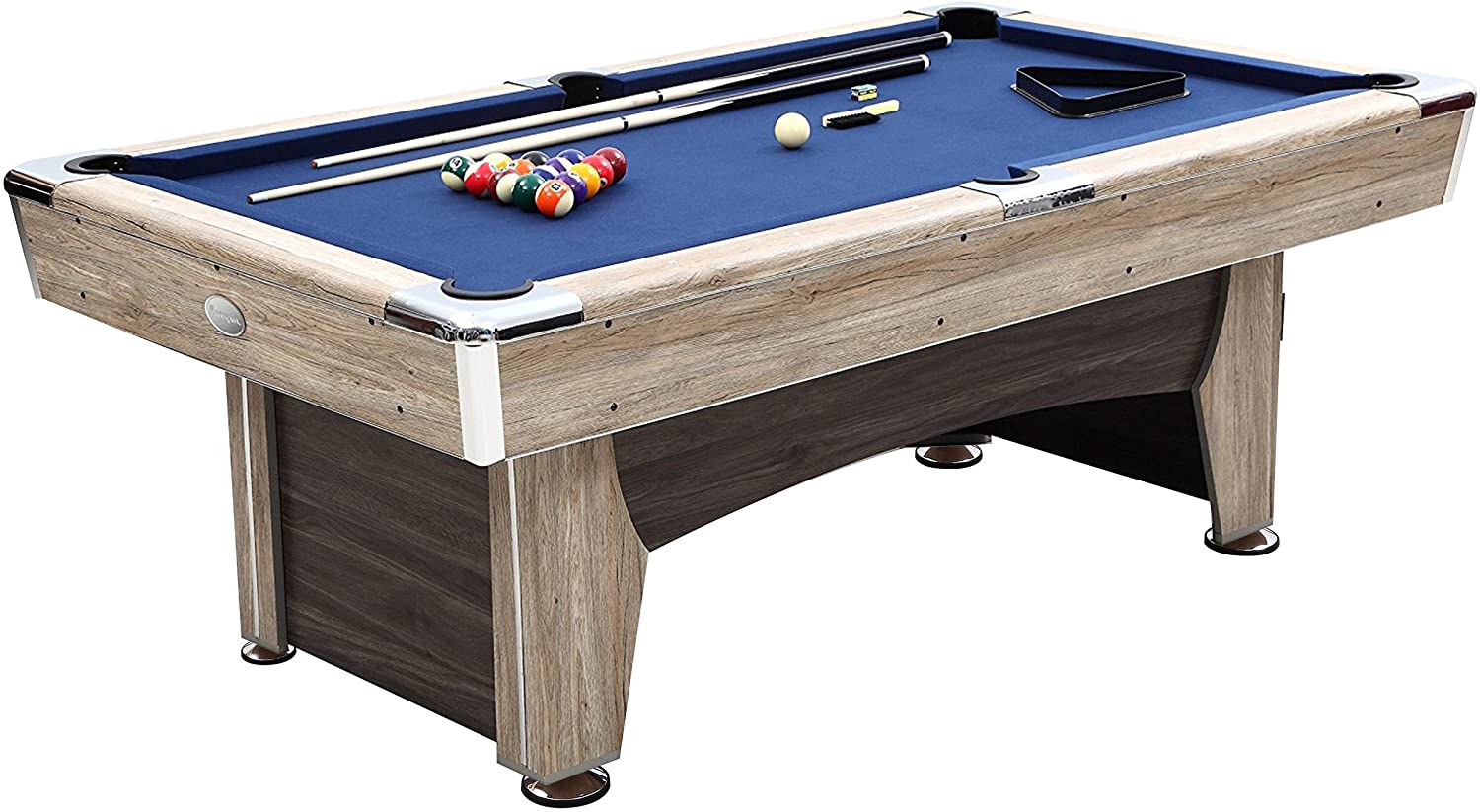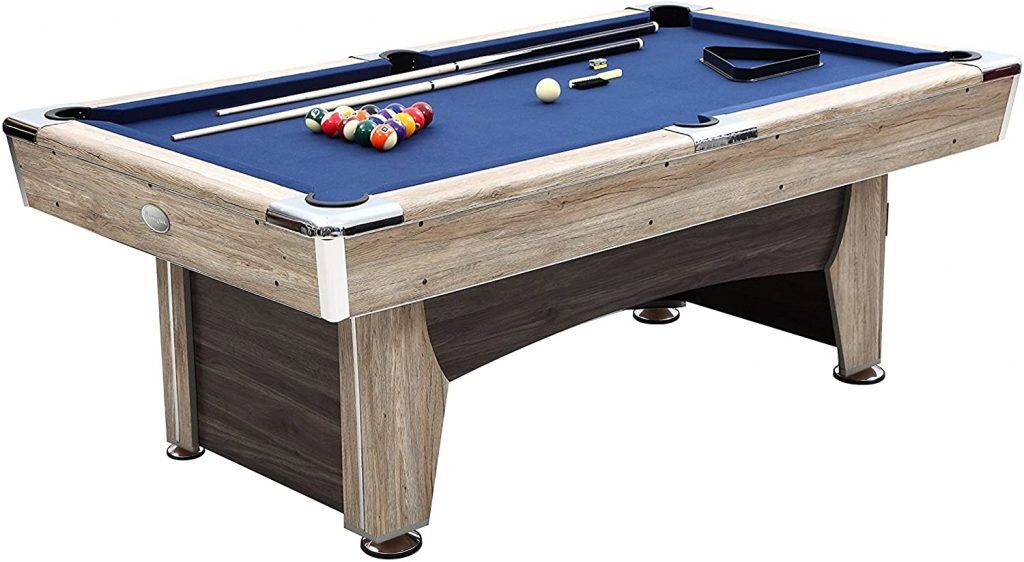 One of the most important aspects to contemplate when purchasing a pool table is the general construction and design of the table. Harvil Beachcomber Indoor Pool Table has a beautiful design in our opinion that will add value to your home décor. Beachcomber is intended to create a casual and traditional ambiance.
It is visually appealing, and unlike many other tables, it blends in nearly effortlessly with surrounding décor. Strong fiber wood ensures that it keeps its structure and traditional look despite regular usage.
Harvil Beachcomber offers the finest characteristics that are responsible for giving the most enjoyment while in use. It is made of high-quality thick fiber wood and has a Teton cloth fabric playing surface for a comfortable game experience.
We found the balanced rubber bumpers to be quite effective for providing constant ball bounce and return. It includes all necessary components as well as an installation instruction booklet. Also, a brush is generally used to keep the play-bed clean.
Quick Specifications
Materials: Wood, metal
Dimension: 84 x 48 x 31 inches
Weight: 231.5 lbs.
Pros
Affordable price range
Quick and easy setup
Sturdy construction
Small in size
Cons
Not for professional players
Quite heavy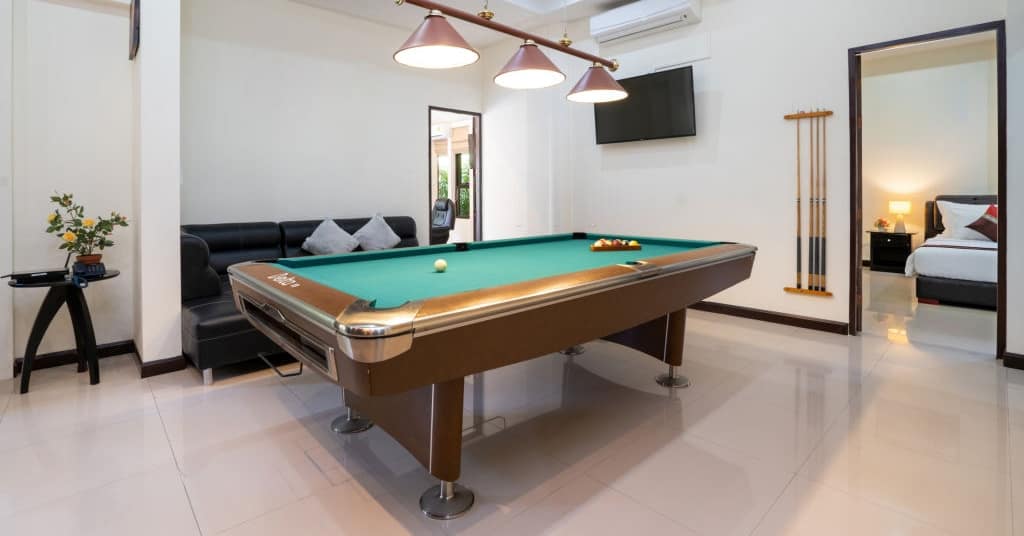 Beginners Buying Guide: Best Pool Tables for Home
Material and Structure
A pool table bed is the table's plain playing surface. The pool table bed on the majority of high-quality billiard tables is made of slate. A slate is a rock that may be cut into big, flat pieces. If the table is properly cared for, it will last for many years and stay completely level.
A sturdy frame is critical for the lifespan of any table. If the table structure begins to deteriorate, your costly slate top may bend, break, or become asymmetrical. To hold the top, a high-quality frame would be made of wood or metal incorporating cross beams. Number of beams utilized in the table will be determined by the table's size and the number of slate pieces used to construct the bed.
To sustain the weight of a huge pool table, the pool table's legs must be exceptionally robust and solidly built. Due to the significant weight carried by slate tables, strong-constructed legs are especially crucial.
Cushions
Pool table cushions can be seen around the pool table bed. Usually, they are constructed of synthetic materials or natural gum rubber. The cushion structure's condition would affect how consistently balls bounce off the pool table cushions. Pick a natural material rather than a synthetic one if possible. Natural fabrics tend to keep the suppleness better over time.
Portability
Thinking about portability, not everybody has the luxury of establishing a separate game area. If you are one of these folks, the best part is that portable pool tables are available. They are often made of lightweight materials and have foldable legs for convenient storage.
However, as you might expect, such a system has some significant downsides. First and foremost, you must bid farewell to some advanced features. Furthermore, despite their locking feature, portable tables can't hold a lot of weight, so you won't have as much leeway to do more difficult shots.
Accessories
A pool table on its own does not make for an exciting game. Your gaming experience will be enhanced by the accessories and gear. There is a wide range of accessories available.
Cue Sticks
These sticks are used to whack the balls around. They are constructed of many materials, but hardwood pool cues are usually considered to be the best. They are also available in a variety of lengths and weights.
Pool Balls
Pool balls are the most important piece of pool equipment. The balls range in size from one to fifteen and are available in a variety of colors. Billiard balls are available in a variety of sizes, depending on the game. They're constructed of plastic, resin, and other comparable materials.
If you don't like the pool balls provided in the pack, you can explore more Pool/Billiard Balls here!
Rack
The ball rack is a structure that holds the balls before the game begins. They also come in various forms, and the balls are placed in various ways depending on the game.
Racking can seem tricky for beginners, no matter how good the accessories are. Check out how to rack pool balls before indulging in your game.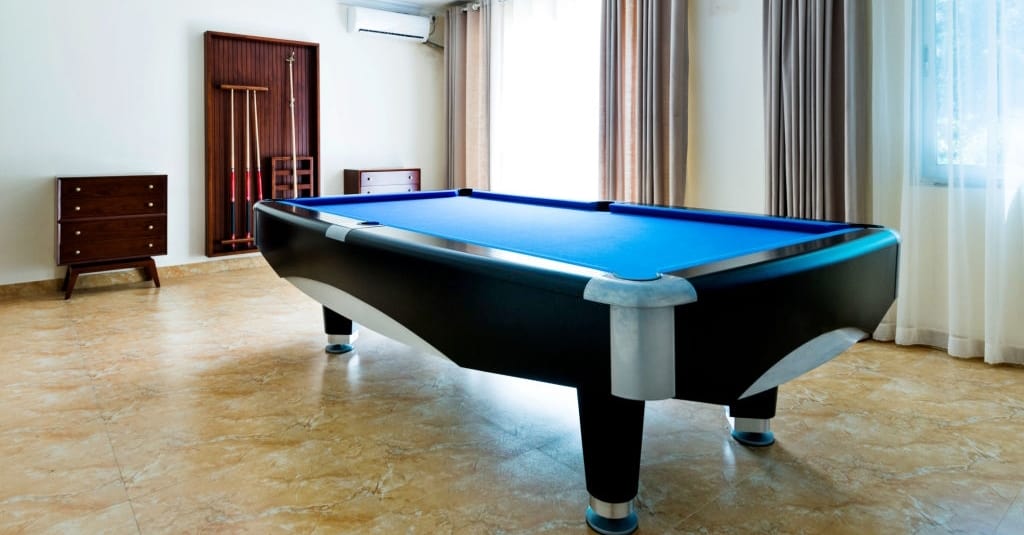 Frequently Asked Questions (FAQ)
Should I put my pool table in my garage?
Indoor tables are mostly portable and often very compact. You can place these tables almost anywhere in the house. So if you have a garage or basement, you can easily put your pool table there. The table can stay there, or you can move it around easily when needed.
What is the best place to play Pool?
Apart from the size of a room or position of the pool table, there are other factors to consider before selecting a location. To begin with, playing Pool with a group of buddies may be a noisy affair. As a result, if you have roommates or neighbors nearby, it may be courteous to place the table somewhere where playing will not disrupt others.
Many individuals choose to keep it in their basement or garage. If you are lucky enough to have a game room, this would be a great location for it. Or you can look for some of the best home garage pool tables.
What is the ideal size for playing Indoor Pool?
Pool tables are typically big and hefty. As a result, the area in which it is installed should have sufficient space to accommodate the pool table and make it possible to play with others.
The best indoor pool tables are often twice as long as they are wide. So make sure there is enough room. Allowing a space of up to 5 feet on all sides is a safer way that many people have found beneficial. It will offer you ample room to hit the cue stick with precision.
Check out this Pool Table Size Chart to learn more about pool table sizes.
Is there a difference between a pool table and a billiard table?
Pool and billiard are often seen as interchangeable, but there are some differences. A pool table is often covered in felt, and there are six pockets in total. As for a billiard table, those are covered in wool and come with four pockets.
How can I install a Pool table?
Many pool tables come pre-assembled. If you consider yourself useless in assembling a pool table, then get a pre-assembled one. But assembling a pool is not as difficult as one might think. You can take some pointers from here before putting together your pool table.
Final Thoughts
If you are looking for the best pool tables for your home, we strongly recommend the Hathaway Fairmont. This table is perfect for players of all demographics and skillsets.
Hathaway Spartan is a great choice among the lightweight options. The portability of this table allows you to set it up anywhere in the house.
GLD Products Fat Cat Trueshot is both sturdy and compact. It's an ideal choice for new and inexperienced pool players.
We hope this guide helped you in pinpointing your ideal indoor pool table so you can start shooting right away!