For a sports enthusiast like you, it's common to dream of having a personal tennis court. But most people don't have a clear idea of – how much does it cost to build a tennis court. If you're one of them, feel free to continue reading this article. I'll be clearing all of your confusion and questions regarding a tennis court.
Building a tennis court costs around $20,000 to $65,000 depending on the material you use and your site's overall condition. If you own a hill area and want to set up a court there, it will cost more than a relatively flat area. Stay tuned as I'll discuss every cost factor regarding building/ rebuilding/ resurfacing a tennis court in the following segments.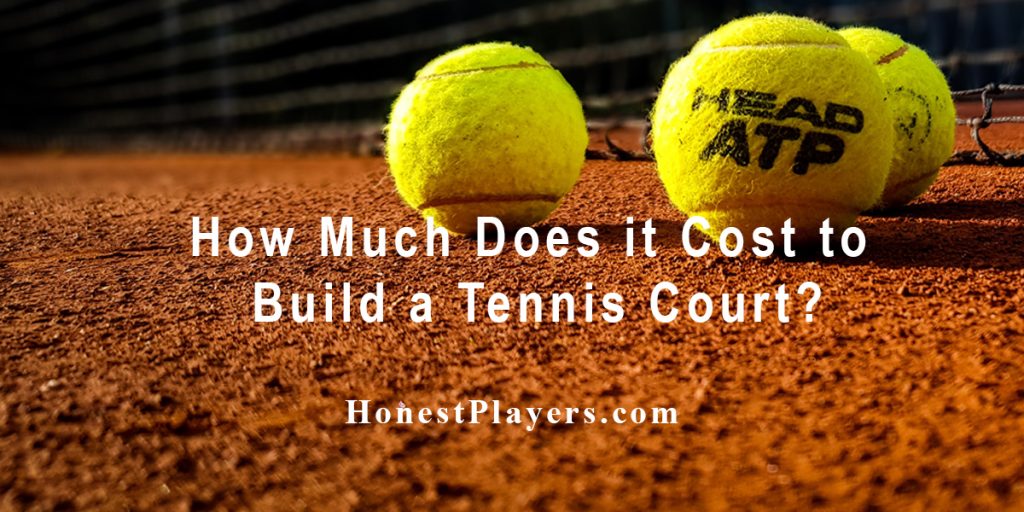 First of all, let's start with the main cost factors of a tennis court.
Table Chart of Page Contents
Tennis Court Construction – Costs Factors
As you will be building your tennis court – for recreational or business purposes, it's an ideal decision to have an idea over everything related to a tennis court. You shouldn't rely on your constructor entirely – as he might take advantage of your no-knowledge about tennis courts.
Here are the three key factors – that will consume a big chunk of your investment for the tennis court: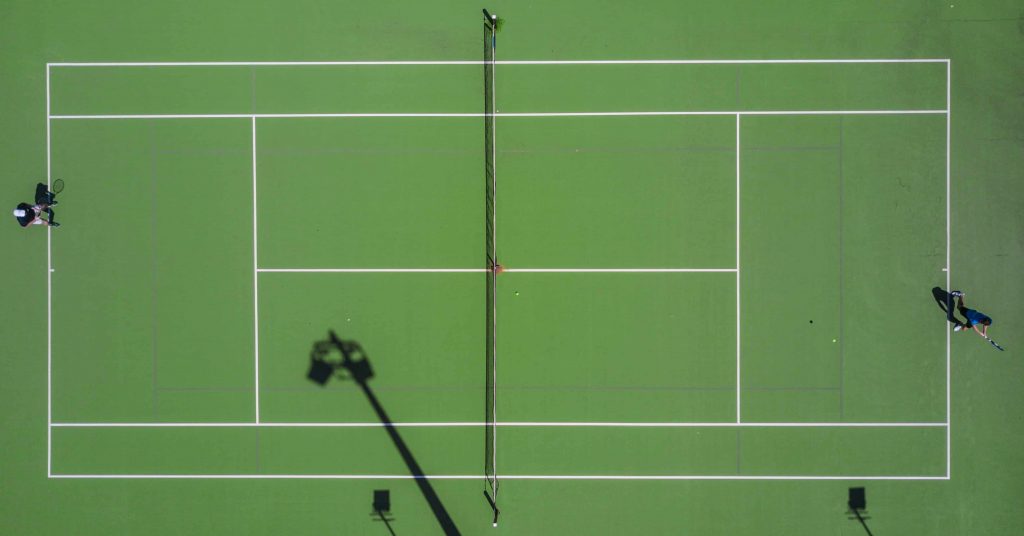 Now, Let's have an in-detailed overview of these.
Area – The Most Important Element
First, examine your backyard, whether it's suitable for a tennis court or not. As it will be a personal tennis court – singles will be the best fit. Even a single court takes a lot of space, which a few homeowners have. You must need at least 120 feet by 60 feet or 7200 sq feet of 'free area' for your tennis court (single). Though the court will consume only 2106sq feet of space, you still need the rest for proper tennis experience.
With that being said, it's obvious not to have space for a tennis court if your home has less than 1 ½ acres of land.
Site Prep – Examining & Fixing Odds of Selected Area
Asking how much does it cost to build a tennis court to a random constructor – is a polish move if you don't allow him to examine your site. A big portion of the budget is spent on site's preparation.
A flat area/site is mandatory if you're building a tennis court. But the problem is – most of the backyards or hill areas aren't flat by default. Site Prep also includes – creating a proper drainage system, taking down the existing structure, bringing in fill dirt, etc. If your selected area is rocky, swampy, or overgrown, you have to spend more than a selected area that is slightly flat.
Messy and rocky sites require more work – means more labor working hours. With $36per/h per labor, it won't be that cheap.
Amenities – The Expense & Beauty Booster
Amenities can enhance the beauty & accessibility of your tennis court, along with influencing total cost. In a sense, amenities can be categorized by Extra Costs – as most of the features are just optional (expect windscreens).
Here are the few decoration options you may want to have:
Lighting: Lighting requires if you're planning to play/practice tennis even in the night time. These lights are high in costs. For example, each floodlight costs $150 to $300. Include the labor fee as well as $65-$85/hour. At least 2 to 3 hours of work is needed for a complete installation.
Landscaping: The main objective of landscaping is to enhance the overall beauty of a tennis court. You can add flower trees along with grass to give it a natural look. Landscaping can cost $100 to $1,000 depending on the flower trees and labor expenses.
Fencing: You can have/should have a fence around your tennis court for various reasons – including preventing cattle entering the court. The price varies on your preferences. You can choose wood, chainlink, vinyl, or decorative metal for your fencing. Typically it costs around $5,000 to $10,000.
Wind Screens: Windscreens are needed for two reasons – Clay Court & preventing air from interrupting gameplay. These are fabric screens line-up with your fence to block wind and enhance overall security. These screens cost $100 to $400 depending on the fence size.
Scoring Equipment: It helps with monitoring the score from anywhere of the court. You can get scorekeepers for as low as $30 & you can go as high as $300.
Tennis Court Surface Materials – Type of Tennis Courts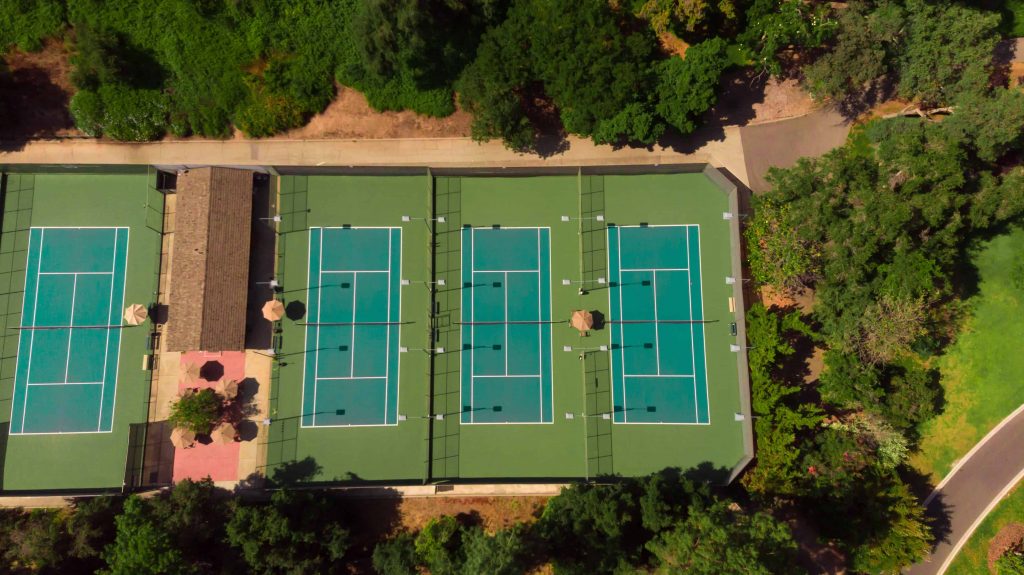 The surrounding area of the tennis court decides the surface materials (most of the time). For example, if you're living in the southern United States, you'll probably want to install Clay Surface. Why? Because of the natural weather that prevents cracks of Clay Tennis Court.
If you're on a budget and can't afford the 'recommended' surface material according to the weather, it is okay to have other surface material. I'll be discussing these top 5 well-known surface materials including – Pros, Cons, Usage & Price:
Grass
It's the most affordable tennis surface available in the market. It costs around $4,000 to $7,000 for a single tennis court. Elite players prefer grass surfaces because it can give high-speed gameplay.
PROS
• Good surface for Serve & Volley players
• Reduces Knee Stress
• Ball Bouncing is Great
• Less Expensive

CONS
• Need Daily Maintenance – Mowing Grass and Watering.
• Rain Results in Slippery & Dangerous Surface

Asphalt
It's one of the most durable options you can choose from this list. Depending on the material quality, the Asphalt surface tennis court can last almost 20 years with proper maintenance. It costs around $8,000 to $10,000 for a single tennis court.
PROS
• Lesser Installation Time
• Features A Resilient Coating
• Affordable Than Concrete Courts
• High Ball Bounce

CONS
• Surface Get Hampered Faster During Humid Climates

Concrete
If you want a suitable option rather than Asphalt – choose concrete. With very low maintenance, you can enjoy your gameplay without any interruption. It costs around $13,000 to $15,000 for a single tennis court.
PROS
• Last Longer Than Asphalt
• Very Low Maintenance
• Rich in Surface Options

CONS
• Relatively Expensive
• Develops Cracks Overtime

Clay
Are you fond of playing on a smooth surface? Then Clay surface will be the best choice for you. Though it requires more maintenance than Asphalt & Concrete, it is worth it. Clay costs around $14,000 to $16.000 for a single tennis court.
PROS
• Lower Speed Bounce
• Slow Game Play
• Doesn't Crack Overtime

CONS
• Requires Proper Water Balance
• Requires More Maintenance

Acrylic
By far, Acrylic is the most expensive surface you can get for your tennis court. It costs around $15,000 to $17,000 for a single tennis court.
PROS
• Doesn't Crack Overtime
• Resilient underfoot
• Very Low Maintenance

CONS
• Most Expensive
• Poor in Surface Options

Tennis Court Center Net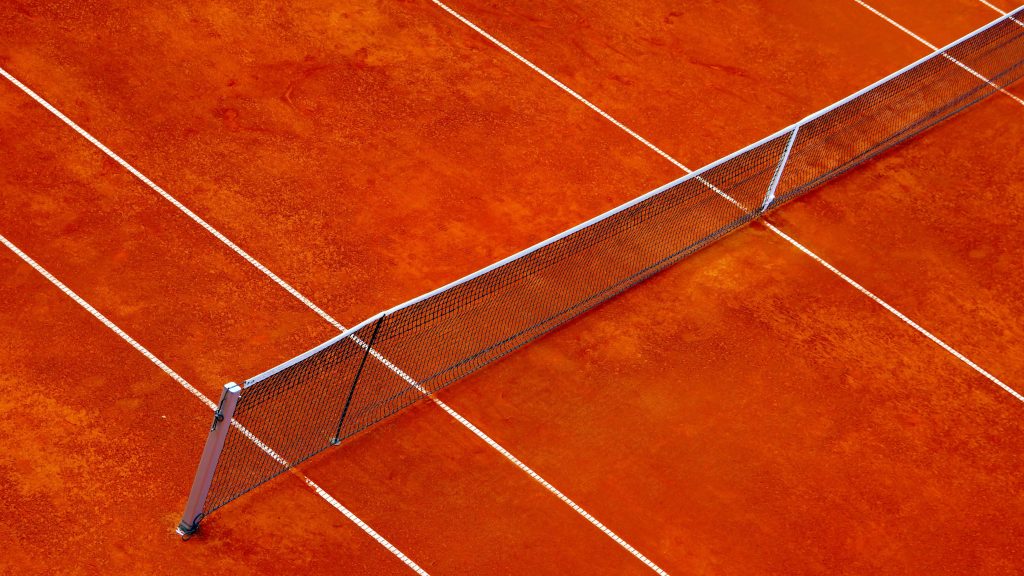 There are two types of center nets – Single Braided & Double-Braided. Single braided is an ideal option if you are playing tennis casually, whereas double-braided is recommended if you play real hard. 
Single braided net costs around $200 and double-braided net costs $500. Also, you need anchors and posts set to install the net. Those total costs around $400.
Getting Started With a Tennis Court
As you already know, the partial answer of how much does it cost to build a tennis court – you should also know the cost of resurfacing a tennis court. Fortunately, some of you already own a tennis court and don't know whether you should build a new one or resurface the existing one. I'll help you with that in the following segments (including the pros & cons of each type).
Building A Tennis Court
If you have a wrecked tennis court you don't use at all (for years) – it's an ideal choice to rebuild the entire tennis court from scratch. The cost of building a tennis court varies – from the court's location to the surface materials.
As I have mentioned above, the most cost-effective surface you can get is the Grass surface. It costs between four thousand dollars to seven thousand dollars for a single court. Including labor costs, a grass tennis court can result in $20,000.
So you can guess, the base price point of building a tennis court is $20,000. This price can go up as high as $65,000 if you use the Acrylic tennis surface. Most people prefer to have Asphalt tennis courts as it's very much durable (up to 20 years) and can be easily resurfaced. You should have at least a $35,000 budget for an Asphalt surface tennis court.
Though you'll be getting a flashy new tennis court, it comes with some disadvantages too. Rebuilding the tennis court will cost you extras for clearing existing materials. Though tennis is a seasonal game, the average yearly maintenance of a tennis court is around $1,800. Overall, having a tennis court will cost you thousands of dollars, whether you play or not.
Resurfacing A Tennis Court
Resurfacing a tennis court is a lucrative way to cut in the total cost of building a tennis court from scratch. But the question is – how do you know if your tennis court is resurfaced worthy?
Here are the few things you should inspect before calling a constructor resurface your tennis court:
Cracks aren't that deep – less than 3 inches
The Damaged Net Anchors & Post Sets
All of the Damaged Floodlights & Wind Screens
Damaged Any Partially Flexible Materials
If you think your court is still resurfaced worthy – don't ever think of rebuilding this existing court. Resurfacing a tennis court includes filling cracks and applying an Acrylic coating, painting, and adding additional equipment such as net, light, and windscreen.
The overall cost of resurfacing a tennis court is around $4,000 to $15,000 – very cheap compared to rebuilding a new one. Though the price is very lucrative, it has some drawbacks too. This tennis court will need frequent maintenance than others – as it's a resurfaced court. Also, expect to resurface this court again after two to four years of gameplay.
Find a constructor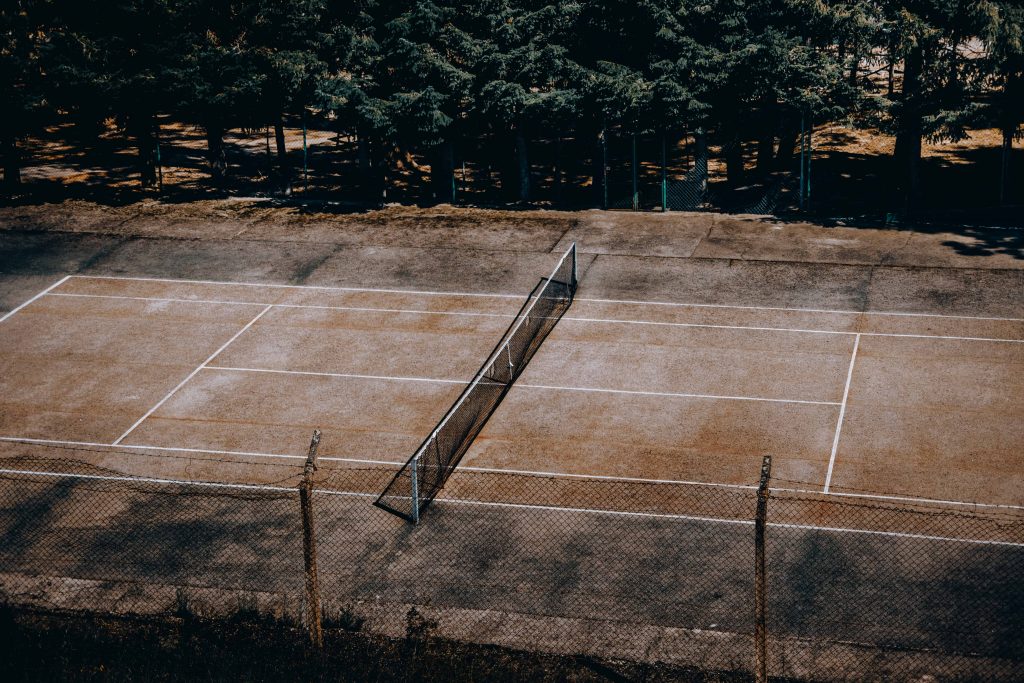 The constructor who can give proper estimates and has enough experience building tennis or basketball courts – will be the best fit for you. If he too can satisfy you with the answer to how much does it cost to build a tennis court, hire him.
For your base knowledge on other costs factors (besides surface costs), I have put together five more cost factors:
Installation: Total installation cost of a single tennis court is around $20,000 to $65,000 depending mainly on your location and surface materials. You should expect to get your tennis court after 240 hours of labor working. Again, there's a long waiting period of 30 to 60 days for applying the acrylic coating. That means you can enjoy playing tennis just after 80 to 90 days after a contract is signed.
Labor: Labor cost varies from task to task. Like if you're installing a floodlight, the labor cost will be $65-$85/hour. Again, the labor cost for the normal task is around $36/hour. In summary, you'll be spending around $8,500 to $30,000, depending on the tasks they do.
Maintenance: As I have mentioned above, the maintenance fee can hurt if you're not playing as frequently as you promised yourself. The average yearly maintenance fee is about $1,800 for a tennis court.
Enhancement and Improvement: This wholly depends on the things you purchase for enhancement and improvement. For example, if you're adding new floodlights that will cost you $150 to $300 per light+labor costs. For a complete picture of Enhancement and Improvement costs – scroll up to the "Amenities" section.
Final Words for – How much does it costs to build a tennis court
I hope you got a clear cost idea of building a tennis court. Tennis court is a big investment by itself – also, the maintenance fee is high. If you're committed to practice regularly, then building/resurfacing a tennis court will be a great investment.
On the other hand, if you're not sure about tennis's goals, don't bother to build/rebuild/ resurface a tennis court by any means.
Readout more about Tennis at Honest Players.