Table tennis is an exciting, fun, and engaging game. It's trendy worldwide. The best thing about the sport is, you can play it indoors. That allows you to have a great time with your partner.
All that's required to play the game are some table tennis balls, two bats, and a table tennis table. For the first two, it's pretty easy to choose. But a table might be a bit tricky as there are a lot of worst products out there. You might have come across Killerspin myt4 table tennis table review as it's an excellent table for this game. It helps to make your match far more enjoyable and uninterrupted.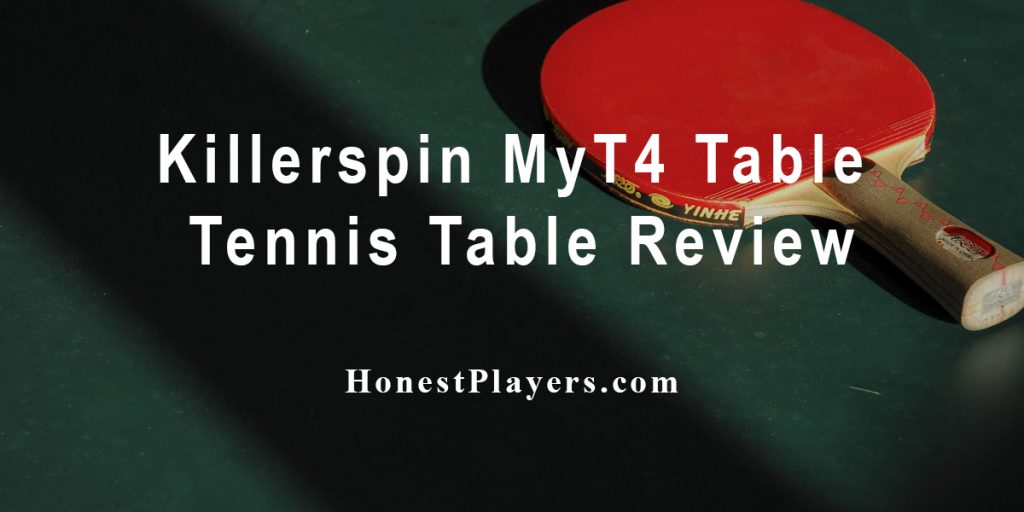 Table Chart of Page Contents
Our Killerspin MyT4 Table Tennis Table Review
There is a lot to judge about this table. To get a better view of this fantastic table tennis table, let's discuss the specs and features below.
Best Indoor Ping Pong Table
This indoor table tennis table isn't just a basic table from the market. It comes with a lot of additional features that help to give you the best experience while playing. These convenient add-ons will make your life so much easier.
There is a pocket for storing up to 8 balls in it. That's designed to allow you to be ready to be able to play whenever you want.
Not only that, but the Killerspin MyT4 Pocket Table Tennis Table also has a lot of smart space-saving methods. For example, there is a paddle pocket that can fit two paddles inside.
That eliminates the need to purchase pouches to carry or store your table tennis equipment. You will be able to save all the essential things inside the table. Which is excellent as it will help to keep the place around neat and clean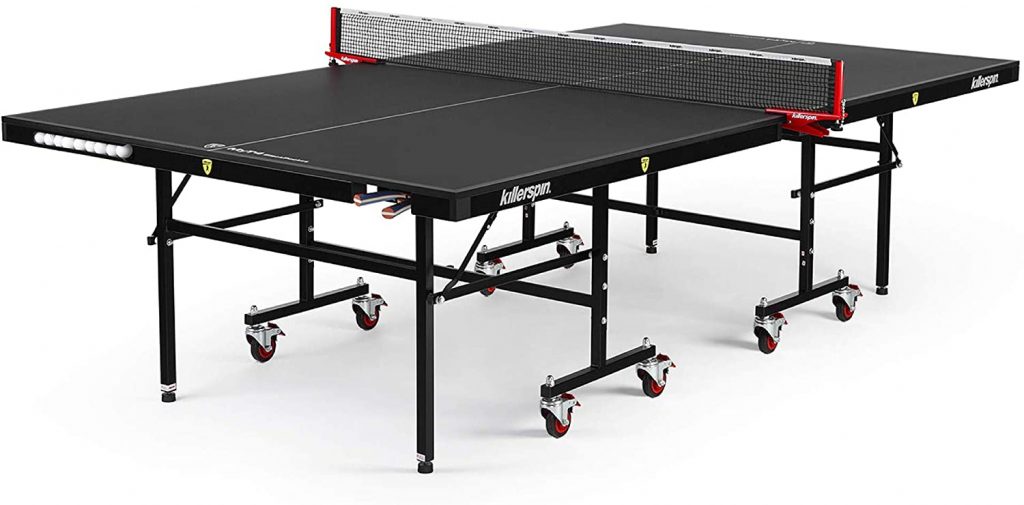 Smooth Texture
A good quality table tennis table feels as good as it looks. The bright and airy texture helps to provide spotless bounces. The finish is genuinely perfect. It just looks super-premium and feels the same way too.
You probably know about the traditional color design. Blue field areas and white lines have become almost a standard color for table tennis tables. But Killerspin MyT4 Pocket Table Tennis Table gives you other options to choose from.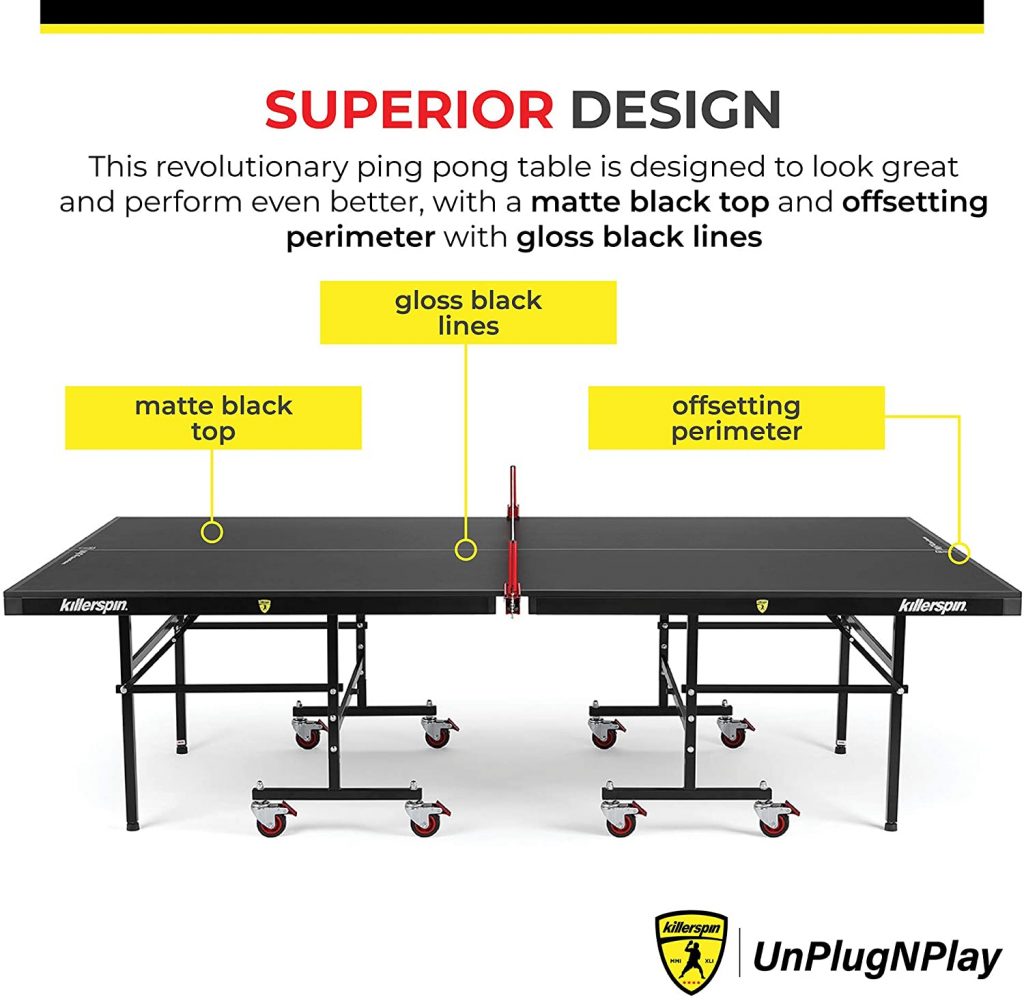 Super Fast Assembling
The most impressive bit of this table is its fast assembly process. You only need 15 minutes to make the table ready to play. It's that fast and straightforward.
But also, it's great for folding up. It doesn't even take that much space. That allows you to store it inside your house with ease. Also, you save a lot of space that way.
You can just fold the table up when you don't need to play. And when you want a game, it only takes 15 minutes to get it in place anyways. You can also assemble a ping pong robot with this Killerspin Table.
Easy to Store
The dimensions of the Killerspin MyT4 Pocket Table Tennis Table are 64.6 x 58.3 x 5.9 inches. And the weight of this table is 202 lbs that come with 75mm wheels. The wheels allow you to move it around with utter ease. After folding both halves of the table tennis table, you can easily take the stand to any other storage room.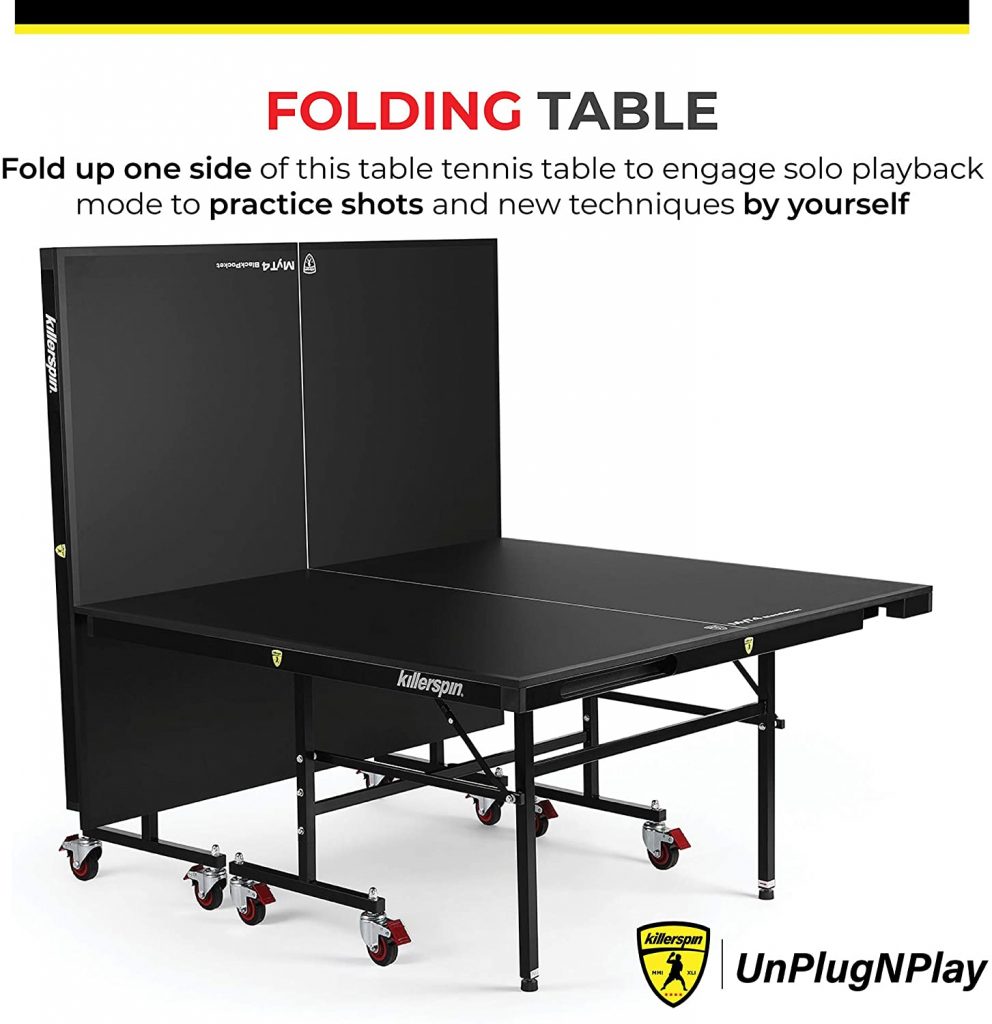 Four of the eight wheels even have brakes. Those come in handy if you are moving it, and there are stairs in your way. Although there are brakes, you need to be extra safe while in a situation like that.
Single-Player Mode
Another great thing about the Killerspin MyT4 Pocket Ping Pong Table is the solo playback mode. Meaning you can play a single player on this table.
Just simply fold half of the table up. That will allow the ball to bounce back right to you as you hit. It's just amazing. Anyone who's just starting can benefit from it. It's a great way to practice and sharpen your skill. You will find it quite fun and challenging at the same time.
Killerspin is a renowned company that produces the most top-notch producers in the market. The MyT4 pocket table tennis table is one of the best-known tables that they released. All these advanced features let you enjoy the game better than ever before.
Readout about out top ten picks for the Best Ping Pong Paddles.
PROS
• Professional quality table tennis table
• Has storage for balls and paddles
• Can play on single player
• Great design, allows for the best possible experience
• Wheels for easy movement
• 15-minute estimated mounting time

Final Verdict
As you went through the Killerspin myt4 table tennis table review, you can probably see why it's one of the best table tennis tables available.
The quality and the features are fantastic for players of any skill levels. All the features of this table are dedicated to making your gameplay experience smoother.
You should always opt for something that's not too complicated. You are playing to enjoy your moment. Having a fantastic Ping Pong table will undoubtedly make your experience so much better.
Readout more about Table Tennis/Ping Pong here. Comment down below about the Killerspin My T4 Review.