Pickleball is a very welcoming game for beginners – easy to learn & enjoyable. So it's obvious that big brands like Gamma will come forward to support the beginner players with their products. There are numerous paddles (for beginner to advanced players) available in the market. Among them, the Mirage paddle is one of the best. You'll realize it too following my Gamma Mirage Pickleball paddle review.
Whether you're a beginner or advanced intermediate player, this paddle will meet all your expectations. It's a mid-weight paddle integrated with Sensa Poly Core Technology to give the best gaming experience possible.
The large sweet spot is a must-have advantage for a beginner – as they aren't skilled enough to hit with a narrowed head paddle. Also, it has a convenient grip size suitable for all skill level players.
Stick with HonestPlayers to know the details about this cool paddle!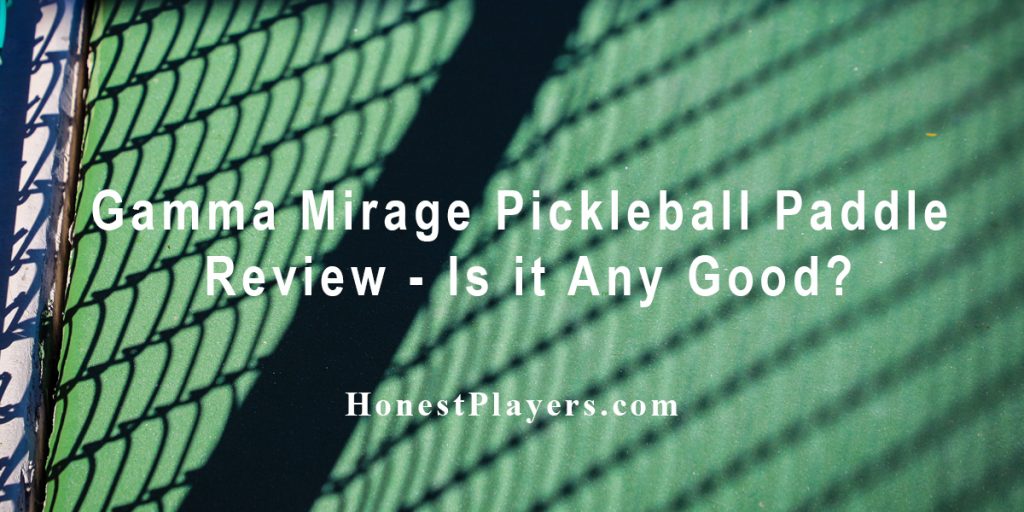 Features of the Gamma Mirage Pickleball Paddle
If I've to describe this paddle in one word, I would say – it's fantastic! Not just beginners, even intermediate players will agree with me. From a specs perspective to practical experience, this paddle surpassed my assumptions. However, let me introduce some of this paddle's great features as a part of my personal Gamma Mirage Pickleball paddle review.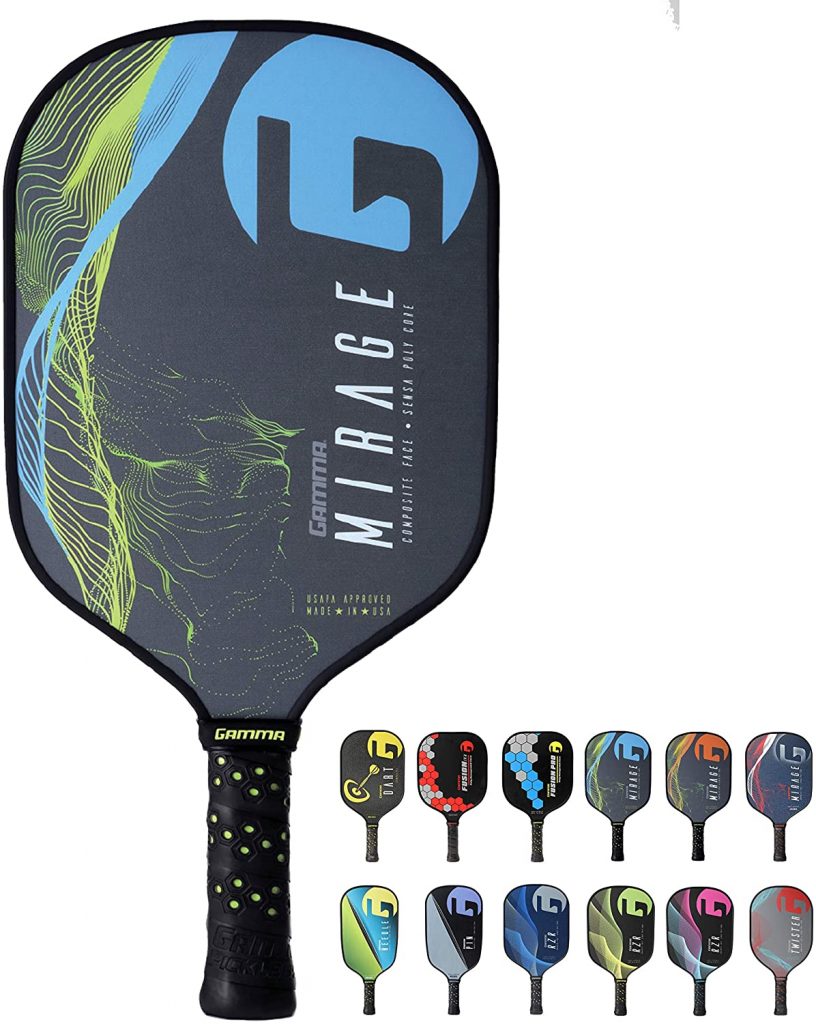 Blend of Power & Control
This paddle is USA Pickleball Association (USAPA) approved – so you can confidently expect more from this paddle. Mirage paddle will give you the buttery-smooth gaming experience that you have been waiting ever since you joined pickleball. It's neither a lightweight or heavyweight paddle; it's just a super balanced paddle.
From weight distribution to power distribution – Gamma Mirage Pickleball Paddle proudly excelled everywhere. It's a 15.875″ paddle with a weight of 8oz. 8.00 to 8.25 oz is considered a midweight paddle that most players love to play with. However, if you are comfortable with a heavy paddle – worry not! Just add a little led tape, and you'll be good to go.
[Similar Power:
ONIX Z5 Graphite Pickleball Paddle Review
]
As it's not super lightweight, it will be easier to handle this paddle for a game – tournament or indoor play. However, thanks to the Sensa poly core technology and composite material used in this paddle, it provides massive power.
Sensa Poly Core Technology
This paddle is integrated with Gamma's own Sensa Poly Core technology for better gameplay, as I mentioned above. This technology enhances the relation between paddle and ball for better pop off.
This technology ensures the ball with proper power – so that you can perform topspin and slice with ease. Also, you'll be amazed by the defensive power of this paddle while using it. I hardly believed it could do this better in case of defense, thanks to its textured fibered glass surface.
Textured Fibered Glass Surface
The large sweet spot alone couldn't provide this much power and stability without a textured fiberglass surface. Also, the paddle guard protects this large surface from dents and wear. There are many advantages of a large head – better stability, satisfactory returns, and so on.
This paddle is good enough to satisfy you with stiff and firm volleys. Besides volleys, you'll stand still before opponent's aggressive shots with Gamma mirage pickleball paddle. In summary, this textured fibered glass surface is like a blessing for most of the beginners to intermediate players.
Honeycomb Cushion Grip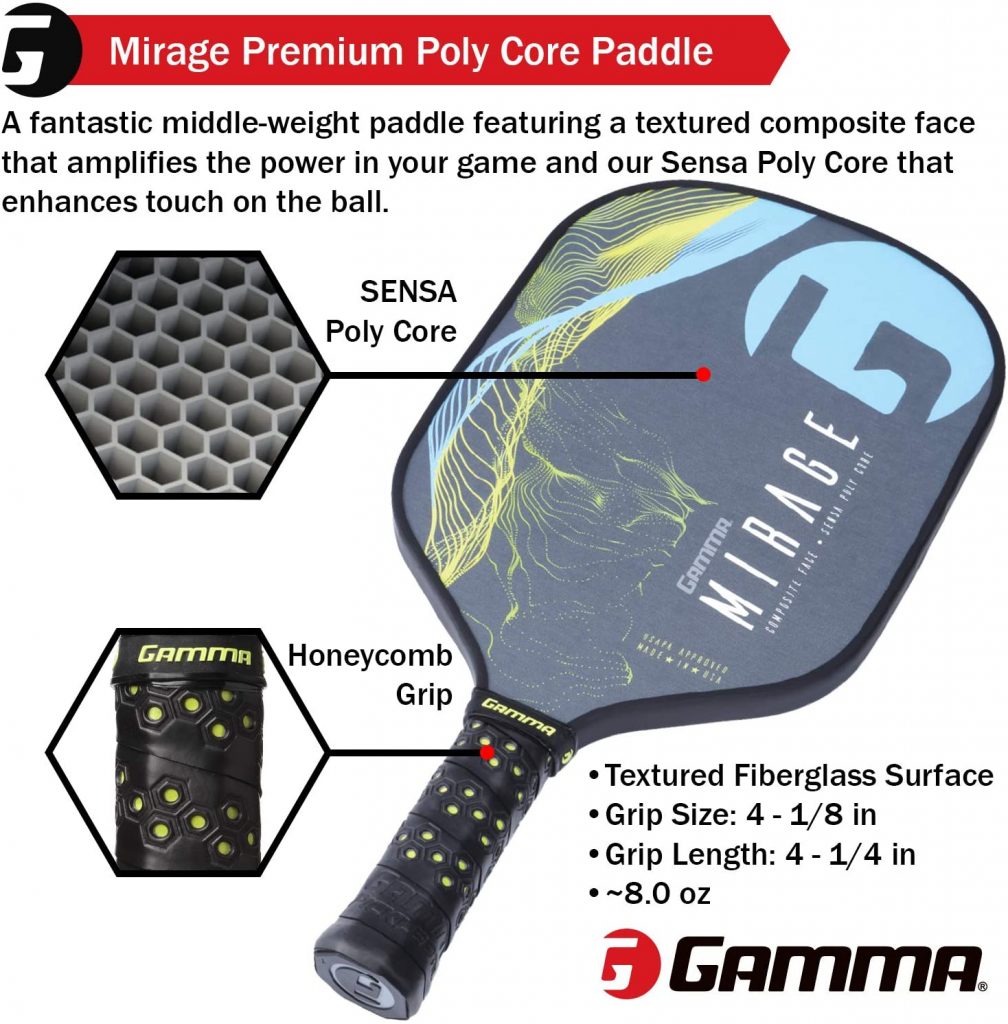 Grip plays a crucial role when it comes to paddle performance. Paddle grip can be compared with the rudder of a ship because of its importance. Gamma was kind enough to provide an excellent honeycomb cushion grip with this paddle. Holding and using this 4.25″ grip feels incredible. However, if you're fond of using a thicker/wider grip – you can use a high-quality layer around the handle/grip.
Together with high textured fibered surface & honeycomb cushion grip, this paddle will undoubtedly accelerate your performance. However, you've to be cautious using this paddle at high speed/power. Because max performance often requires special handling skills.
To sum up this Gamma Mirage Pickleball paddle review, I'll be highlighting a few pros & cons of this paddle. I hope it will help to make your decision about whether you should buy it or not.
[Recommended:
Best Pickleball Paddles Review
]
PROS
• Great Length of 15.875 inches
• Wider Sweetspot – 8 inches
• Mid-weight & Suitable for Everyone
• Perfect Balance – Power, Weight & Touch

CONS
• Tough in Kitchen Area
• Newbie May Struggle Handling Massive Power

Frequently Asked Questions – FAQ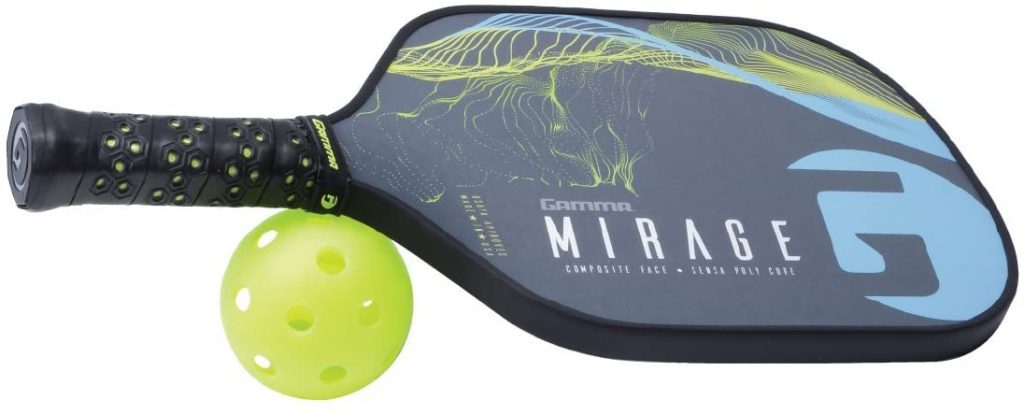 What is the best material for a pickleball paddle?
The aluminum core is the best material for a pickleball paddle. It's loved and praised by lots of players around the world. Because a paddle with aluminum cores is lightweight, and you'll be comfortable playing with it.
What is the sweet spot on a pickleball paddle?
The sweet spot is the surface where the ball & paddle contact each other. In this place, the paddle's surface gains power through stretches and delivers it to the ball. However, the term 'sweet spot' is genuinely applicable to string racquets only.
How long does a pickleball paddle last?
For the general players, a pickleball paddle will last three years max. However, practicing can cause a lesser life span. You can expect a pickleball paddle to last one year if you practice every single day.
What is the best pickleball paddle for beginners?
Gamma Mirage Pickleball paddle is one of the best paddles for beginners. It's a lightweight paddle integrated with honeycomb cushion grip – that gives a comfortable holding and playing experience. This paddle has the perfect balance of power, speed & touch. Hence, it's an excellent choice for beginners
How much does a pickleball paddle cost?
The price of a pickleball paddle varies. If you're looking for a budget option, you'll get a paddle under $30. However, if you're looking for a quality product like a Gamma Mirage Pickleball Paddle, you need to spend at least $80.
Final Words For the Gamma Mirage Pickleball Paddle Review
That was all about one of the best Gamma's pickleball paddles. I hope this Gamma Mirage Pickleball Paddle review helped to enhance your knowledge about this paddle.
By now, you know what to expect from this paddle. If you're still confused about whether you should buy or not – let me help you out. If you're a beginner and looking for a solid paddle, then this will be the best fit for you. Also, if you're looking for an upgrade with versatile design and gesture – then you can pick this paddle without any hesitation.
Comment down below if you have any questions. And, don't forget to share the article with your friends!