Learning the basic skills is crucial when preparing to start playing tennis as a first-timer. Apart from these, you also watch what to wear to play tennis. Clothing is an essential item for the tennis player for this high-energy sport.
They help you increase your performance and keep you comfortable. Also, they give you a different motion that requires getting a better experience for the game.
So, you must know the proper tennis outfit for men and women to make this simpler to move, change directions, and make sudden stops.
What to Wear to Play Tennis?
Tennis clothing allows you easy movement, breathability, and proper court etiquette. Playing tennis can be an excellent way to interact with the elites and leaders around you.
Wearing the perfect outfit, you're all set to get in the game appropriately. You can grab just tennis shoes and running gear when you play casually on a budget. But, there is different official court outfit as below: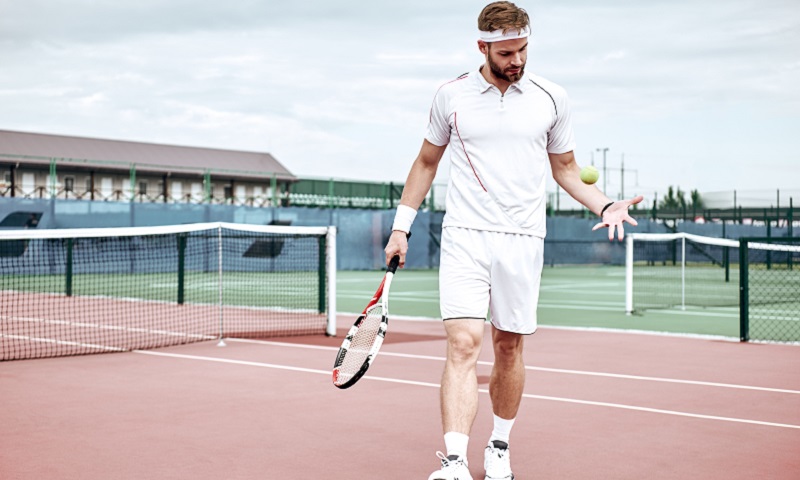 Proper Tennis Men Attire
By tradition, men are likely to wear a good polo shirt with a collar plus short sleeves. More styles have become popular in recent years. All classes are acceptable when they're designed for tennis.
Shirt
Typically, men always want to play tennis by wearing a shirt. A shirt that comes with a cotton blend will give you a more relaxed feel throughout the entire competition regardless of having or not sleeves.
Some tennis courts don't permit sleeveless shirts. So, it's essential to check the specific court rules before you start playing. A good polo shirt is another option with cooling technology to keep you fresh.
Shoes
Wearing tennis shoes and shocks are the strict requirements for each tennis court. Usually, tennis shoes have flatter soles that come with different design patterns. However, it would help if you considered the court type you're going to play on.
While playing on a grassy court requires shoes with better grip, a versatile upper, and a flat outsole. So, you can avoid damaging the court or feeling restricted.
But, you need a durable and tight upper if it's a clay court to play tennis. You'll want a harder upper and outsole for the most common hard courts for more stability.
Shorts
Matching shorts with a shirt is vital while choosing what to wear to play tennis. It's the correct tennis etiquette that will give you a more stylish look if you do it fittingly.
Avoid gym shorts, running shorts, long pants, and swim trunks. Suitable tennis shorts will be an excellent investment as they support the intense movement by wicking away sweat.
Headgear
Wearing something perfect is vital to protect your face to avoid sunburn during the game. The recommended headgears you can use include a headband, a visor, or a hat.
They'll help you be blind by the sunshine throughout the match. Besides, they're also good for avoiding sweat from the head to the eyes.
Hat
When it's summertime, the sun may depress even a person who can endure strong sunshine. As a result, tennis courts encourage wearing protection from the sun.
In this case, a hat can be a highly controversial pick. But don't forget to ask for the club policy before you start playing.
Wristband
Using a wooly cotton wristband is another good piece of tennis outfit. Although it's not mandatory, it's still a well-recommended tennis attire. Wear it because it will keep the wrist from impacting your tennis racket.
Proper Tennis Women Attire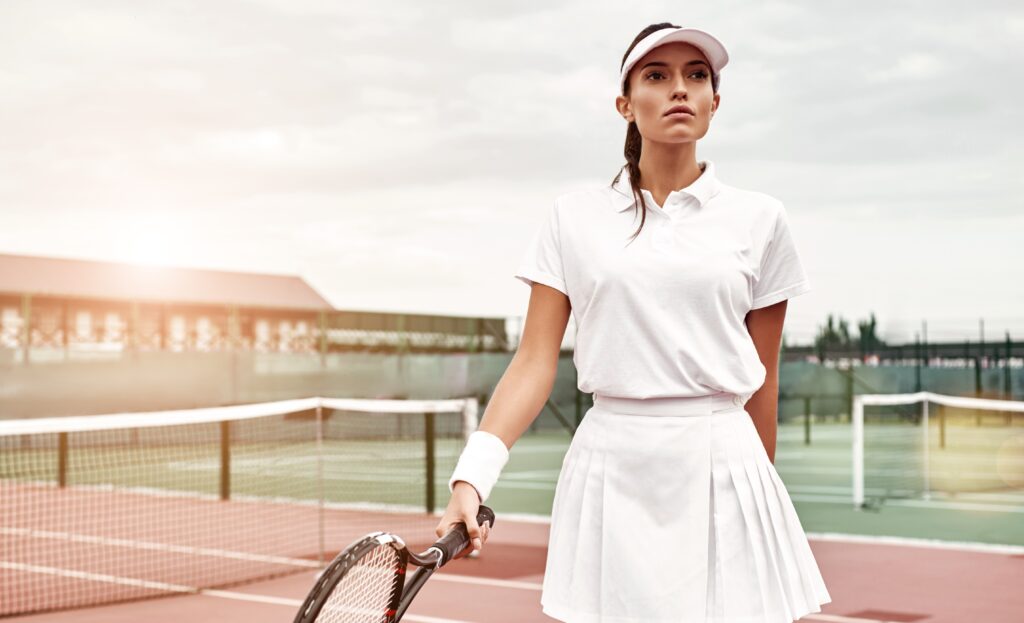 Traditionally, women are expected to put on a tank top or polo shirt with a dress or a skirt. However, they must be suitable for tennis.
Shorts were a rare outfit for a while but are currently more common. Well, let's see what to wear to play tennis for women these days:
Shirt
Like men, wearing a tank top or shirt instead of a dress is a good choice that enables free and better movement. Some women prefer to put on tank tops because they get more space for movement.
Another big thing is the sports bra that needs to match the top you choose. It's essential to ensure that the sports bra is not showing or distracting during the game.
Dress
Apart from being a comfortable item of tennis attire, the dresses are trendier. The tennis dress should cool you down like your shirts by allowing for the perfect movement.
Skirt
Skirts are the preferred option for many women that play tennis. But, you can choose shorts as well. Tennis skirts have built-in shorts bottoms.
So, you're out fretful about any misfortune. Skirts have higher freedom and flexibility; they're great to choose from.
Shorts
In tennis attire, selecting shorts as your garment is another crucial deal. Choosing suitable shorts means they should be specifically designed for tennis.
Since they have inbuilt underneath, they're your optimum choice to perform better on the court.
Leggings
The recent dress code for women has been modernized with some new rules. It allows women to wear leggings and shorts without any other dress or skirt during matches.
The practice is confirmed after the catsuit controversy of Serena William, and it's comfortable to wear for women.
Headgear
Like men's headgears, wearing a headband, sunglasses, or a visor is wise to protect yourself from sunburn while playing day-long matches.
Shoes
Unlike men, women's arches are higher on the feet. So, you must seek extra support for the arch bottom of the foot. Also, women are likely to get more freedom than men to wear colored tennis shoes because they want to match the color with their clothing.
But, before you choose shoes, you must consider the type of courts you're going to play on. If it's a grassy tennis court, get good grip shoes, a versatile upper, and a flat outsole.
These features will help you keep the court undamaged or think restricted. Besides, you must have a stiff outsole plus an upper for more stability while playing on some hard courts. If you looking for Best Tennis Rebounder Nets for Solo Practice click here
Is there a Dress code for Tennis?
There is no dress code for these areas if it's a park or an open court. You have options to choose your favorite dresses if the footwear isn't going to spoil the court. That means you'll need shoes with non-marking, smooth soles.
Indeed, you must ensure that you're comfortable with your sports clothing. There are ideal tennis clothes, but they're necessarily not worth buying for the occasional player. This type of player uses their tennis clothes only two times per year.
However, things are entirely different at a country or tennis club. When you're going to play in a country/tennis club, you must wear standard tennis attire. You can't wear workout clothing, T-shirts, or gym shorts here.
There are special tennis shoes designed with smooth soles that are different from your running shoes. The courts will allow you to play tennis if you come with the prescribed dress code. Also, the rules are not different in professional tournaments.
The critical practice of the dress code is that you should show professionalism throughout your outfits. At Wimbledon, tennis clothing should be white. But, it's not an applicable rule elsewhere.
Practice vs. Match Attire – Is there any Difference?
While practicing, club players are likely to dress similar to their match dress. Professionals and serious players wear different outfits for practice, but they choose things from well-known tennis clothing companies.
Usually, men wear shirts that don't have collars and get a more casual style. But, women prefer leggings or shorts for comfort and convenience instead of dresses or skirts.
Below is a table that compares men's and women's attire for practice and match:
| | | |
| --- | --- | --- |
| | Practice Attire | Match Attire |
| For Men | Shirt, Shorts, Shoes | Shirt, Shoes, Shirts, Headgear, Hat, Wristband |
| For Women | Shirt, Leggings, Shoes | Shirt, Dress, Skirt, Shorts, Headgear, Shoes |
FAQs (What to Wear to Play Tennis)
What do Men Wear to a Tennis Match?
Men need to choose outfits that have natural fabrics like cotton and linen because they're more breathable. Opt for neutral tones and light hues.
You can select neutral shirts that are classy to look at, while printed ones are for the bolder styles. Similarly, tailored shorts or fitted chinos will make you smarter.
What Should a Woman Wear To A Tennis Match?
Typically, we suggest light and white clothing. They're very stylish yet keep you cool and pleasant in the soared temperatures. Choose a linen shirt with short sleeves and a skirt or shorts for a tennis session.
Wrap Up
It was considered a sport that anyone could play to have fun; it's not set in stone what to wear to play tennis. The game has cooling features, and performance offers better skills and enjoyment to players.
It allows mixing up the outfit you prefer to wear if you feel comfortable and moving to all comers. Besides, technological developments suggest that modern tennis shoes are more suitable than ever in support and comfort.
Also, you have the freedom to choose your favorite outfit as a casual tennis player.