As you probably know, paddles are the most crucial thing in the game of pickleball that can have such a huge impact on your gameplay. A good paddle will give you the freest and enjoyable experience in the court.
But all paddles are not made equally. You might even have come across an Onix z5 graphite pickleball paddle review by now. It's a very popular paddle of almost any skill level. ONIX Graphite Z5 Graphite Carbon Fiber Pickleball Paddle is undoubtedly one of the most premium paddles you can find on the market.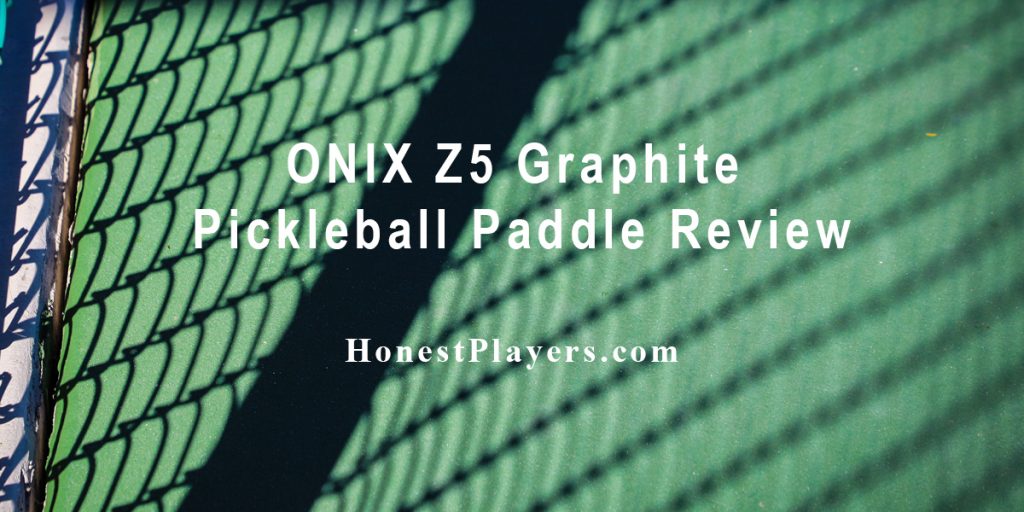 Table Chart of Page Contents
Features of Onix Z5 Graphite Pickleball Paddle
There is a lot to talk about this Z5 Pickleball Paddle. Let's discuss some of the key features of this amazing paddle down below.
Wide Body Shape
First of all, the most worthwhile feature of this paddle is its wide surface. The dimensions of this paddle are 15.5″ L x 8.3″ W x 1.5″ H. That gives you enough room to hit the ball with more accuracy and ease. Thus, the chance of missing really reduces.
You know how important it is to be able to hit a ball every time in this game. The ONIX Graphite Z5 Graphite Pickleball Paddle features a wide-body shape that gets you a more sweet spot to hit the ball with. That helps to drastically improve your gameplay.
Comfortable Handle
The handle of the paddle plays an equally important role in determining the comfort and control in your pickleball matches. If the grip is not good, you won't be able to get control over the range of motion. Thus, you'll miss more often, and you'll never be able to hit the ball with power.
[Recommended:
Onix Sub-Zero Pickleball Paddle Review
]
But the ONIX Graphite Z5 Graphite Pickleball Paddle comes with a tennis handle. That mimics the shape of the handle of a tennis racket, which allows you to get more comfort and a strong grip on the paddle. Which lets you have more overall control moving and hitting with the paddle.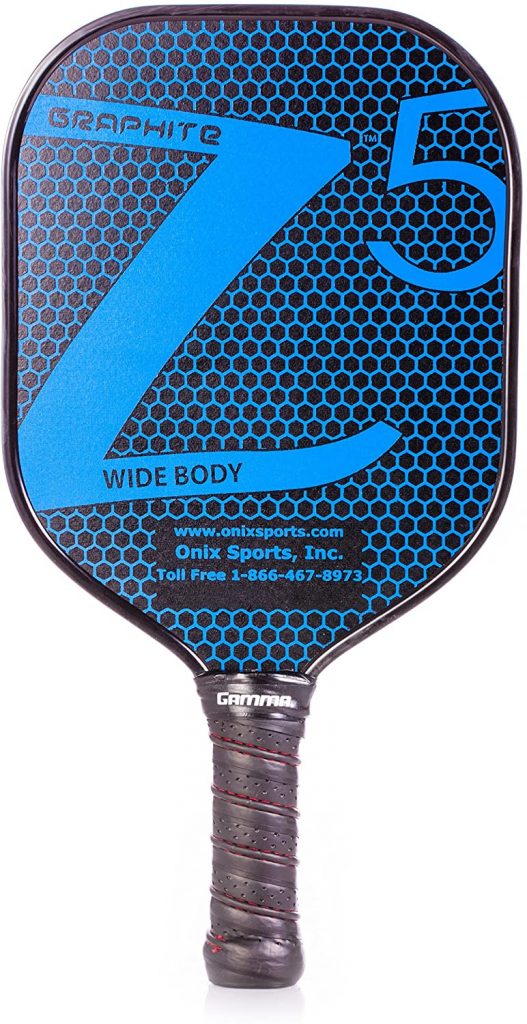 Nomex Honeycomb Core for Power
You might have seen that the most premium paddles in the market use the Nomex honeycomb core. But what good does it actually do? Well, that helps to give you the most power possible while maintaining perfect control.
The ONIX Graphite Z5 Graphite Carbon Fiber Pickleball Paddle uses the same core. That allows you to get more power in your shots, thus improving your gameplay. The Nomex honeycomb core is another reason why it's perfect for both starters and professionals.
Mid-Weight Paddle
A good paddle for playing pickleball must be lightweight. That gives the player the freedom to swing the paddle with more ease and speed. And those are the two things that you need to play pickleball better.
Whether you are just starting out on pickleball or a seasoned professional, the Onix Graphite Z5 paddle is a solid option for you. It has everything from a comfortable handle to a Wide Body shaped powerful paddle. It can be the right choice If you are a beginner or intermediate Pickleball player.
The Graphite Z5 model is actually a mid-weight paddle. But it weighs only 0.5 lbs, which is pretty amazing for a paddle of that high-quality. You'll get the most speed, pop, and maneuverability using this great paddle.
Durable and Sturdy
It's also a very durable paddle to get. Most of the paddles you'll find on the market will have a tendency to take damage in matches. You'll notice that most of the paddles will develop dark spots on their body.
But that's certainly not a thing for the ONIX Graphite Z5 Graphite Carbon Fiber Pickleball Paddle as it's designed to last you for a long time. So, you can play with more freedom without worrying about your paddle to get ruined in your game.
PROS
• Pretty Lightweight on hand
• Uses Nomex Honeycomb Core
• Extra-wide body for more "Sweet Spot" for hitting
• Tennis handle allows for a good grip

CONS
• Might have a bit more "Pop" than your preference

Final Verdict of the ONIX Z5 Graphite Pickleball Paddle Review
As you went through the Onix z5 graphite pickleball paddle review, you probably can see why this paddle is one of the most popular products by Onix. This paddle really helps you to get the most out of your pickleball game experience.
All the features are dedicated to helping you get the most ease in the matches. And as mentioned earlier, it's definitely a great option no matter what your skill level may be.
[Must Read:
Head Extreme Tour Pickleball Paddle Review
]
Also, it's an amazing paddle for you to practice pickleball as all the amazing features will help you progress much more faster and efficiently.
And all of it is available at such a great price that is pretty affordable. For a product of that high-quality, it's really the best investment you can make in a paddle.
So, if you are someone who's looking for a great paddle for enhancing their pickleball matches, go for the ONIX Graphite Z5 Graphite Carbon Fiber Pickleball Paddle as it will undoubtedly give back the best value for your money.
Readout more about Pickleballs here. Comment down below if you want to share anything or you need to know about the paddle.