There is one thing that most tennis players have in their vanity, which is a stringing machine that makes sure that your racquets have maximum life. Without these best tennis stringing machines, you would have to constantly buy new racquets, which does not sound like a very cost-effective option.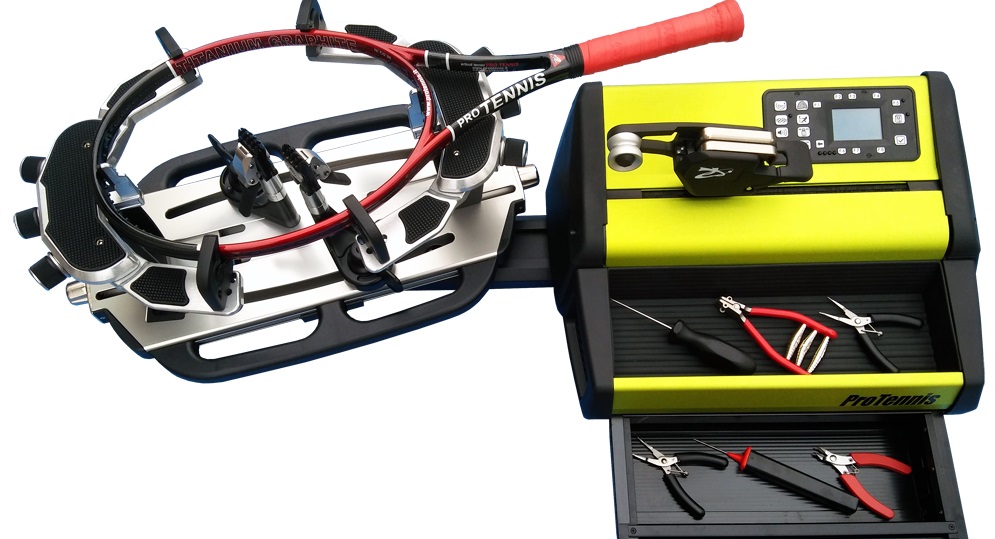 But, there are so many options for tennis string machines in the market that it becomes almost impossible to pick the one that is good for everything. It is the very reason why we have shortlisted the 7 best tennis stringing machines in 2022. So, keep reading.
Top 7 Tennis Stringing Machines
All the tennis stringing machines we are listing below are analyzed and tested several times before finalizing, so rest assured, you won't be disappointed by them. Just pick the one you think is suitable for your gameplay, and that is pretty much it.
1. Gamma X-Stringer Stringing Machine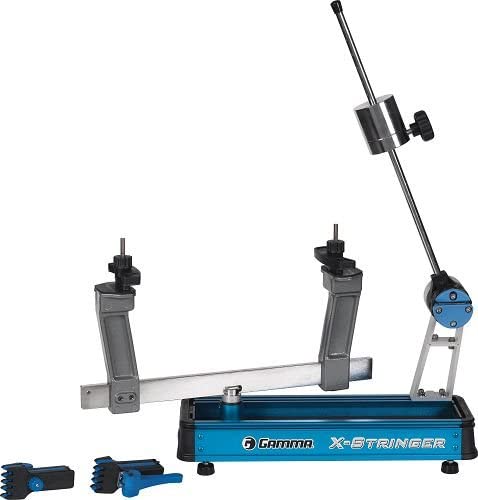 It holds the racquets firmly for a better stringing experience and cokes with two floating clamps. This machine has a turntable tendency of about 360 degrees, and its range changes anywhere from 9lb to 90lb.
The stringing machine comes with an extrusion that is made of aluminum; the rotation ratchet also is pretty impressive as it is coated with diamond. The overall design of this machine looks very durable, and it is one of the highest-rated machines.
The best thing about this machine is that it is very easy to use and comes with a lifetime warranty too. This whole set of tools also comes with a carrying bag to make things convenient for you.
Key Features
A mounting system to maintain a grip on rackets
Provides tension from 9lb to 90lb
The turntable of this machine is 360 degrees
The base is aluminum, while the gripper is diamond coated
It comes with wrenches and cutters
Pros
Easy and convenient to use
Offers a limited lifetime warranty
Highly durable design
Comes with a complete toolset and carrying bag
Cons
Not completely accurate as there could be a difference of a few pounds
The uneven surface can cause problems too
2. Gamma Progression Tennis Racquet Stringing Machine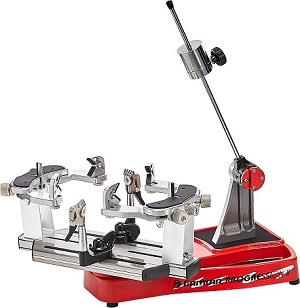 It is yet another machine from Gamma, so it is pretty evident that they make the finest stringing machines. This particular machine provides you with the perfect tensioning of 9lb to 90lb with a turntable of 360 degrees.
Gamma Progression Tennis Racquet Stringing Machine comes with a mounting option of 6 points which makes it highly convenient to use. Even if you haven't used a stringing machine before, you can use this quite easily. The stringer can work with not just tennis racquets but rackets of squash and badminton too.
It also has a built-in tray which makes it easier for you to reach certain tools. Gamma stringing machine comes with different kinds of awls, wrenches, and pliers for better results.
Key Features
Mounting is about 6 points
The turntable is 360 degrees, made of steel
Provides tensioning from 9lb to 90lb.
It comes with a built-in tray
Weighs 29 pounds
Pros
It saves a lot of money
Provides accuracy
Highly adjustable
Made of high-quality material
Cons
Does not have all the required equipment to string a badminton racquet as claimed
The placement of the lock knob could be improved
3. Gamma Progression 200 Stringing Machine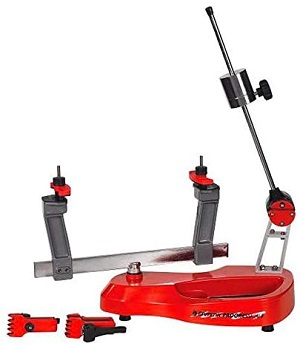 Gamma progression 200 is the third Gamma product on this list, and this brand really makes the best tennis stringing machines. The design of this particular machine is not that mainstream, and it is a pretty broad base design. A tool tray is also included in this machine to make it more convenient, and you also get a pretty wide area for mounting.
String clamps of this machine are pretty efficient, too, and help with the two-point mounting of this machine. Gamma is known to mainly deal with weights from 9lb to 90lb, and this machine, too, does the same. The rotation of the turntable in this machine is 360, too, and the only difference we see in the Gamma stringing machines mainly is in design and slight performance.
The weight of this machine might be a little more, but it is worth the effort because, in the end, you get a very accurately stringed racquet.
Key Features
It comes with two string clamps
It has a tool tray
The machine uses a two-point mounting
Drop weight is about 9lb to 90lb
Weighs 10,000 grams
Pros
Great for professional use
It saves money in the long run
Comes with a partial lifetime warranty
Well-built, sturdy, and accurate
Cons
Stringing takes a lot of time
The frame is not that secure
4. Klippermate Tennis Racquet/Racket Stringer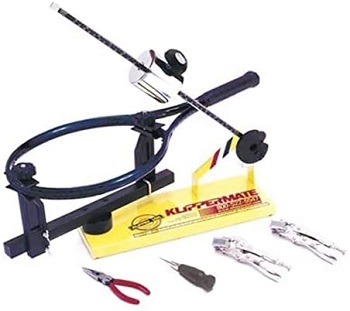 We are here with Klippermate now, which claims to be the most accurate stringing machine in 2022. It is not a very expensive machine but provides impressive results while not costing an arm and a leg.
In most stringing machines, you have to go through the process of assembling them, but that is not the case with this particular one as it comes assembled, and you also get a free string with it.
The built of this stringing machine is steel which makes it a lot sturdier than the machines that are made with fiberglass.
It also comes with a money-back guarantee which is not really the case in most stringing machines. And the weight of this particular one is not going to be a problem for you either.
Key Features
It weighs about 25 pounds
Made with alloy steel
It comes with a string package for free
It does not need to be assembled
30 days money-back guarantee
Pros
Provides accurate results
Highly affordable
It comes in a complete tool kit
Has lifetime warranty
Cons
Difficult to use for beginners
Slower in comparison with high-end machines
5. Gamma Progression II Els Tennis Stringing Machine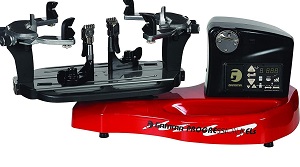 Gamma progression II is an electronic stringing machine which is a new thing. It is a comparatively new invention and provides very accurate results. The pull tensioner is from around 11 to 90 pounds, while the other ones typically are 9 to 90 pounds.
Another good thing about this particular machine is that it has a 6-point mounting, which makes it very safe and hassle-free. The design of this machine is pretty advanced too, and it comes in a very attractive red color.
Versatility is the main goal of Gamma, which is why the progression stringer can be used for squash, racquetball, badminton, and above all, tennis. The built-in trays are also available with this stringing machine which is like a cherry on top.
Toolsets are not usually available with stringers, but this particular one also comes with a complete toolset that includes pliers, hex, wrenches, cutters, and awl. It comes in either black color or diamond color, but both look great.
Key Features
It has a 6-point mounting
Suitable for 11lb to 90lb
It comes with a tool tray
Electronic stringing machine
It has a control panel that is digital
Pros
It saves a lot of time and energy
Very versatile
Accurate stringing
Has different attachments for multiple racquets
Cons
The manual is not easy to figure out
It is expensive
6. Tourna 300-CS Crank Stringing Machine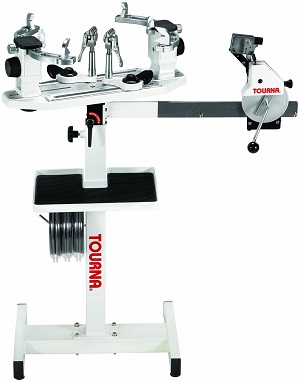 The Tourna stringing machine is quite a hype on the internet, too, mainly because of how great it looks. Tourna Crank design is nothing like the other machines, and it is a highly reliable stringing machine, despite being slightly expensive.
The durability of this machine is great, too, and its knob is highly adjustable. You can mount the tennis racquet on this machine very quickly, and it does not take a lot of time in stringing either. It also has a manual lock which makes sure that the grip on the tennis racquet is sturdy.
The turntable with this machine is around 360 degrees, and it also has a brake. The fix is quite good with 5 teeth. Base of this machine is very smooth, which makes stringing more even, and does not cause fatigue either, which makes it one of the best tennis stringing machines.
The height of this stringing machine is very impressive, too, and it comes with an adjustable stand that you can use at any time to suit your height. It comes in white color and with black hardware, which makes this machine very attractive and a must-have for any professional tennis player.
Key Features
It has a 6-point mounting
Turntable of 360 degree
It has five different fixed clamps
Two-year warranty
Self-leveling with a smooth base
Pros
Provides an even surface
Grips the racquet properly
Comfortable and durable
It does not cause fatigue
Cons
It does not provide manual adjustment options
Has problems with proper tension retention
7. Gamma X-ST Racquet Stringing Machine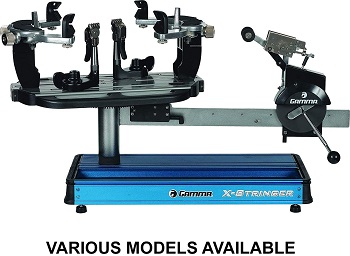 Gamma evidently is ruling over the stringing machine industry because its machines are practically everywhere. This particular one looks very robust, and it works flawlessly too. It is a manual stringer, so you might need a little extra time to understand it, but other than that, it provides very accurately tensioning according to your racquet type.
It can cater from 9lb to 90lb, just like all the other Gamma stringing machines, and the turntable is 360 degrees. Best thing about this machine is its hold and grip, which is very firm and which helps with fewer chances of error during the stringing process.
It is a 6 point mounting machine made with aluminum, and it also has a string guide that rotates. A complete toolset is also included in this package, and you get wrenches, different awls, pliers, and cutters too.
The best thing about Gamma stringing machines is that they are very easy to use and convenient for the users. The cherry on top is the lifetime warranty that comes with this machine. When it comes to design, Gamma pays close attention to the details, which is why all its stringing machines have a very different design.
Key Features
It has a range of 9lb to 90lb
The turntable of this machine is 360 degrees
It has a 6-point mounting
Has an aluminum base
Comes with a limited lifetime warranty
Pros
Very easy and convenient to use
Has multiple parts for accurate stringing
Has a very firm grip
It comes with a complete toolset
Cons
It is a high-end stringer which makes it very expensive
Provides slower stringing
Buying Guide ( Best Tennis Stringing Machines)
Now that you have gone through all of our best picks, you might still be a little confused about how exactly you are supposed to buy a stringing machine because it is not a cakewalk. And for that, we are bringing you a detailed guide to understanding all the nooks and crannies of the best tennis stringing machines. So. Let's get right into it;
1. Mounting System
When it comes to mounting systems, you get three different options. Most basic machines have two mounting points, while those that are a bit more advanced have 4-to -6 point mounting system.
2 Point Mounting
Stringing machines that have 2 point mounting usually are very cost-effective and basic. These are made for people who are just getting to know the mechanics of a stringing machine and for occasional players too.
The thing about 2 point mounting is that it does not provide you with a very accurate result which is why it is not recommended for professionals to use this sort of machine. However, if you are on a very limited budget, this machine is not that bad either and does its job.
4-6 Point Mounting
When it comes to 4-6 point mounting, these machines are quite expensive and high-end. Most brands that make these machines specially design them for professional use. Though 4-6 point mounting machines take a little more time to set up they provide you a great grip.
End results from these machines would be accurate too, which is why most experts recommend that if you are a professional tennis player, you should always go for either point 4 mounting or point six mounting for a better stringing experience.
2. Convenience
Convenience plays a key role in picking your stringing machine because there are two different types, and you have to pick one according to your convenience.
Tabletop
The tabletop is more of a portable type of stringing machine, and it is not that expensive either. If you want to travel with your stringing machine, the tabletop should be your pick as it is very convenient to carry.
Standalone
We cannot ignore standalone machines either because they provide a great option for accurate tensioning, and they are quite robust with a firm grip. However, standalone ones are a bit more expensive and harder to travel with. So, pick your machine accordingly.
3. Type of stringing
The stringing type of your machine also matters a lot when you are picking the best tennis stringing machines for you, so keep an eye on that too. There are three different types of stringing machines:
Crank
A crank is the type of machine that uses a very fast engine and close precision. As a result, your racquet is stringed a lot faster by pressuring the strings. If you want to change the precision, you can do it too.
Electronic
Electronic stringing machines are mainly automatic, and they also provide very quick stringing. Though the results are not as accurate but they still are pretty good and give you complete digital control of the machine.
Drop Weight
This type of machine is suitable for you if you don't want to spend hundreds of dollars on a stringing machine. You don't have to worry about their maintenance a lot, and these machines provide great stability too. Though drop weight machines are not very fast but they still provide pretty impressive results.
FAQs
Q.1: Can I string my racquets at home?
Ans: Yes, you can do the stringing of racquets at home too, only if you have a good quality stringing machine. In fact, it saves you a lot of time and money to do the stringing yourself.
Q.2: How often should I restring my racquets?
Ans: The stringing depends upon how often a player is using his racquets. If the racquets are being used once a week, then restringing would only need to be done once a year, but if the player is using the strings thrice a week, then the stringing would have to be done at least three times annually.
Q.3: Do I need to use a stringing machine every time my strings break?
Ans: No, you don't have to use a stringing machine every time the string breaks because that happens almost every week. Only use a stringing machine when the line itself is broken because that is a bigger problem.
Conclusion
Lastly, stringing machines are a one-time investment, so make sure that you buy the one that lasts you a lifetime. When it comes to price, you might find some of them slightly expensive, but in the long run, these machines are going to save you a lot of time. Also, it is a totally different experience to fix your string all by yourself, which makes your tennis playing even more fun. So, if you play tennis frequently, you certainly need a stringing machine in your life. Make sure to go through our best tennis stringing machines to make your choice easier.