Sports enthusiasts must believe on practice makes a man/player perfect. Tennis itself is a very conscientious game that will not be effective if you will play it all alone. A partner is a must thing in tennis but if you don't have a partner, you can take advantage of tennis rebounder nets. It will not only help you to practice solo but also improve your sports abilities.
Well, a partner cannot be available anytime to practice. However, tennis rebounder nets are the productive alternative of gaming partners. They will not only provide you the alternative of partner or tennis court but also it has a lot of workout benefits. Some of them are multi-sports tools.
Now the question is what are the tennis rebounder nets? They are the tennis practicing tool, a duplicate of the wall. Here, I have gathered the best tennis rebounder nets for solo practice. So, give them a look one by one.
Best Tennis Rebounder Nets Review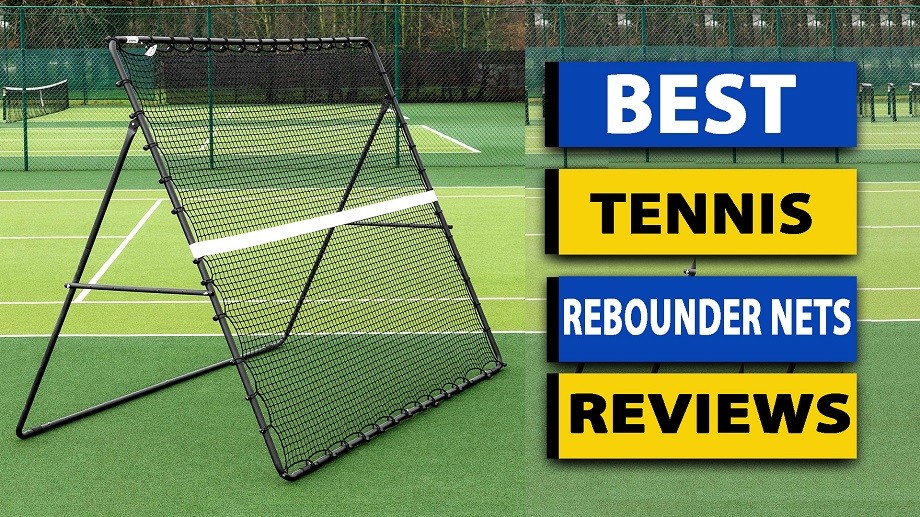 1. RapidFire Mega Tennis Rebounder Net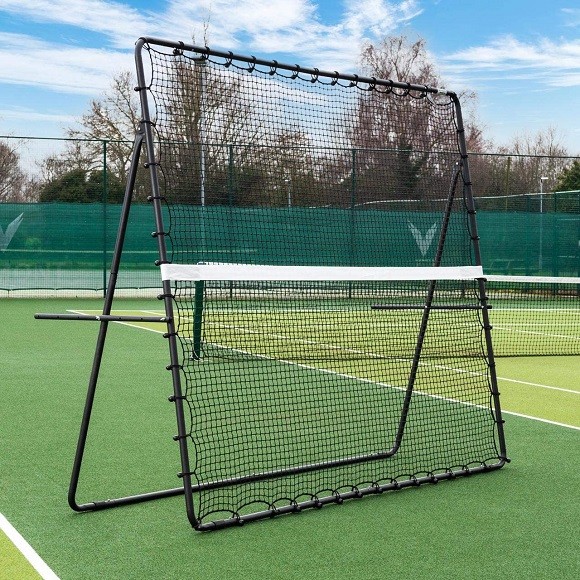 It is an incredible addition to the Net world sports store. RapidFire Mega is the must-have tennis tool that every sports enthusiast would love to have. The anxious ball returning quality of this specific tool will make you crazy to practice again and again and you will enjoy it a lot. It is user-friendly in all ways, whether you would like to use it in the backyard or tennis court.
Features
No doubt about the productivity of RapidFire mega. The framing of the net is consisting of galvanized steel which is 1mm thick to enhance its durability. It can be available in two sizes (5ft * 6ft) and (7ft * 8ft). It is fully adjustable to adjust according to your requirements. RapidFire Mega featured a 2mm knotless tensioned net which bounce the ball consistently. It is an amazing storage saver tennis net because it can be folded after use and 100% weatherproof and waterproof. That's means you can use it during any kind of weather.
RapidFire Mega offers the players to be their coach due to its fully adjustable angle feature. No, you can smoothly try various kinds of shots. The gentlest rebounding net to improve volleying of the tennis. It is recommended if you want to practice and improve your ground stroking.
Pros
Fully adjustable
Thick and sturdy framing
Storage saver
Superior durability
Weather-resistance
Available in two sizes
Cons
Smaller version cannot elevate it a few feet
Hard to assemble
2. Rukket Tennis Practice Rebounder Net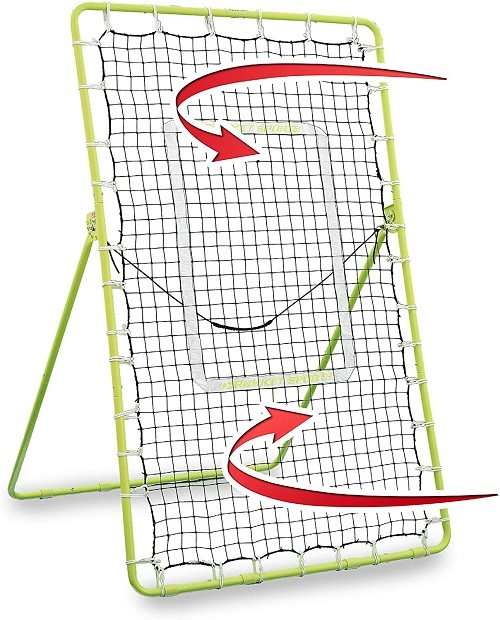 The ultimate recommendation of tennis rebounder net to use for solo practice. You will find it the best one to improve your stroking. In the beginning, maybe you will feel unfamiliar with it but with time your bond with the Rukket tennis rebounder net will get stronger.
Features
There are a lot of incredible features to mention about this surprising rebounding net. It can bounce thousands of rebounder balls confidently due to its sturdy and durable construction. It offers fully adjustable angles that allow you to practice diverse shots. Moreover, you are allowed to perform multiple stroking because it has a large surface that is a great opportunity to practice hard.
To adjust the net, you will find the Paracord pull and plunger bolt systems to set up the product conveniently. The rubber feet help it to place on the floor and prevent it from damage or slipping out. The stroke targets are helpful to make your practice a proper game. To maintain the strength of your stroking, it has industrial strength bungees.
Pros
Sturdy and durable construction
Easy to assemble
Fully adjustable angles
Huge surface to bounce back
Rubber feet
Industrial strength bungees
Cons
Net does not work for pickleball
Due to the knot at every corner, you may not have a true bounce every time.
3. XK Sports Tennis Rebounder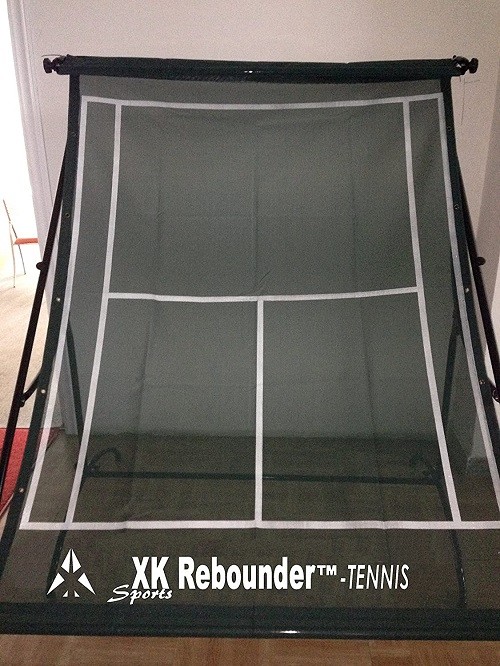 This is a famous addition to the XK sports. This rebounding net is not only a good choice to practice tennis but also capable to accommodate every kind of sport. You cannot find any other alternative to the XK sports tennis rebounder by the mean of its strength and versatility. If you have extra-ordinary power to stroke the net and you are confused about the capability of the rebounder nets, then this one should be a priority. It will make your imaginary stroking come true.
Features
This linguistic yet productive rebounding net offers amazingly adjustable angles to perform diverse kinds of stroking. The framing is made up of heavy-duty steel that makes it long-lasting and durable. Non-tennis players also love to perform cardio and different kinds of energetic workouts. It is highly capable to accommodate full power swings. It can be placed in an open area or sports court.
Moreover, it is very easy to assemble you won't be needed another person for help in assembling. It is medium in size so it is not going to occupy a lot of space. It can be used in all weathers because it is weather-resistance. No fog or rain will damage it. If you are looking for one sports tool, then you definitely should go for it.
Pros
Heavy-duty steel construction
It can handle full power hits
Easy to assemble
Light-weighted
Weather-resistant
Gently bounce the ball return for the next shot
highly-professional
long-lasting
Cons
It doesn't include a "how to assemble" guide.
Required maintenance
4. Tennis Trainer Rebounder Net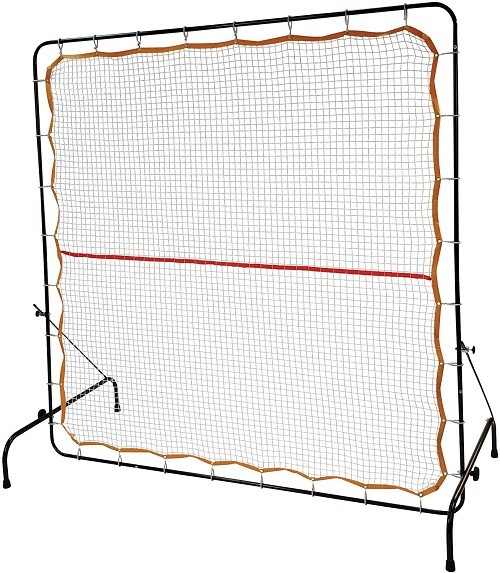 Another magnificent sports tool featured by Jaques of London. It is the best rebounding net for solo practicing. Tennis itself is a little fascinated game that requires a lot of practice and hard work. This gentle sports tool will make your practice enjoyable and consistent. It works like a magic because it will polish your sports skills magically.
Features
The multifunctional tennis rebounder net is made up of highly waterproof and sturdy steel. The incredibly adjustable tensions provide you the facility to try different kinds of games and strokes. It is 100% weather resistant, so place it in a garden or sports court or wherever you want. It is never going to give you a tough time. But the thing to notice is that it is light-weighted to carry, easy to assemble and it doesn't contain sharp edges so, it will be very convenient to have it as your home gaming setup.
However, it doesn't have proper guidance to assemble the product but if you have watched YouTube videos, then you can easily assemble it in a person. No doubt, that the product is pocket friendly you could not find this quality in same prices anywhere. The best thing about the product is that it includes springs to tension the frame which enhances the bounce-back ability. It is recommended for both beginners and experts.
Pros
Light weighted
Sturdy construction with no sharp edges
Durable
Springs to tensioning the rebounding net
Weather-resistant
Easy to assemble
Easy to maintain
Best for other workouts
Capable of taking hard shots
Overly fast return action
Cons
Sometimes, springs don't work properly
Proper instructions to assemble it is not available
5. Tourna Deluxe Rebound Tennis Net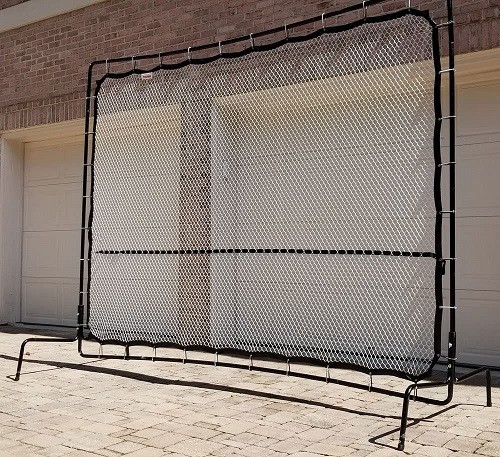 Due to the covid-19 or lack of sport courts, Tourna introduced the best of it Deluxe rebound tennis net. This is the linguistic sports tool to use at home. Although, it is not a true rebounding net users demand it because it provides the opportunity for amazing workouts and cardio while staying at home. It is recommended among the basic tennis players because you can expect 1 bounce from 15 feet away and so on. It is a perfect choice for intermediate tennis players and the ones who want multi-sports tools.
Features
Tourna Deluxe measures 7 x 9. It is the perfect one for extra-large spaces and long rebounding balls. Due to its sturdy and hard construction, it has proven robust for hard-hit balls. It offers the tilt option to adjust its angles. It is the most flexible net to perform diverse stroking styles. Whether you are using it for tennis or pickleball, it will always provide you with gentle strokes.
Two sizes are available 10 and 18 in Tourna net. Now it depends upon you if you like to play tennis at your home or driveway. Choose the size accordingly. It is highly portable and light-weighted to shift anywhere easily. Both sizes can be disassembled quickly and can be stored in a bag. It also has fill-n-drill tennis training and an extra ball feature to practice your strokes harder and to warm up yourself before the match.
You can easily assemble it in person and no tools are required to assemble or disassemble. The bungee cord inside the poles of the net makes them frequent and orderly. A very reasonable sports net for the youth to practice tennis or pickleball at home or driveway.
Pros
Portable
Light-weighted
Sturdy construction
Best to hard-hitting balls
User-friendly
Easy to assemble and disassemble
Storage saver
Affordable
Cons
Sometimes frame gets too much lighter
Saggy center
6. Ksports Tennis Rebounder Net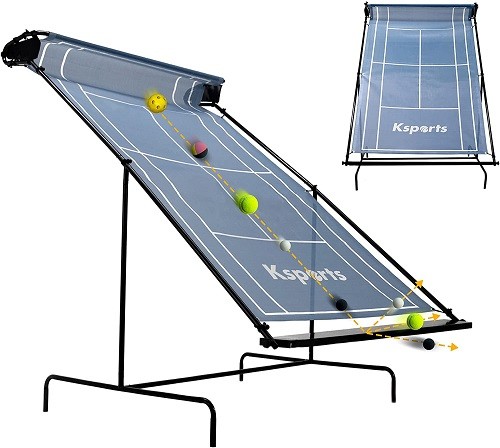 The last recommendation but not the least. Ksports always produce unique sports designs. Ksports tennis rebounder net is also a unique creation for the convenience of racket players. You can use it as per the safety of your home, in the driveway, street, or garage. All you need is the 10 square yard space to enhance the quality of stroking and rebounding. It is the exclusive design of Ksports to manage the timings of stroke shots like 1.5 to 2.5 seconds after every shot. Imitating the sports court, this only net would provide you the best practice to try even your imaginary shots.
Features
The robust construction of this exclusive tennis net is made up of polyester which is waterproof and weatherproof. While the framing is made up of heavy-duty powder-coated steel. It features multi-racket sports handling that includes tennis, table tennis, pickleball, paddle, squash, and workouts as you like. It is highly capable to endure hard-hitting. The most likely feature about it is that it can be assembled and disassemble in the blink of an eye. If you are using it in the backyard and suddenly it starts raining, you can disassemble it quickly and can store it in a carry bag. No tools are required in assembling and disassembling.
As it can be disassembled quickly and all the parts can be carried in a carry bag so you can easily take it with you whenever you want to take it. It is highly portable for sure. The 600D oxford cloth carry bag is also durable and waterproof. However, it is an incredible multi-sports tool to improve yourself as a player. It can take your strokes to fast perfection, can make you the next level player in very little time.
This product is not only confined for you but yes you can share it with your siblings or group of friends to practice better.
Pros
Portable
Quick assembly and disassembly
It offers multi-sports and workouts
includes carry bag
It can endure hard-hitting balls
Adjustable angles to perform versatile kind of shots
It works like a robust
Light weighted
Durable
Cons
Not convenient for beginners
Conclusion
Above the 6 best tennis rebounder nets for solo practice are mentioned. Every rebounding net has the same function but we should choose the quality and the one which doesn't cost too much in return. If you don't have any partner to practice or if you don't want the interference of any human in the practice, then you should go for these rebounding nets.
Apart from the sports tools, you should be consistent and dedicated enough to practice solo otherwise there is no advantage of having sports tools. Do practice and win.